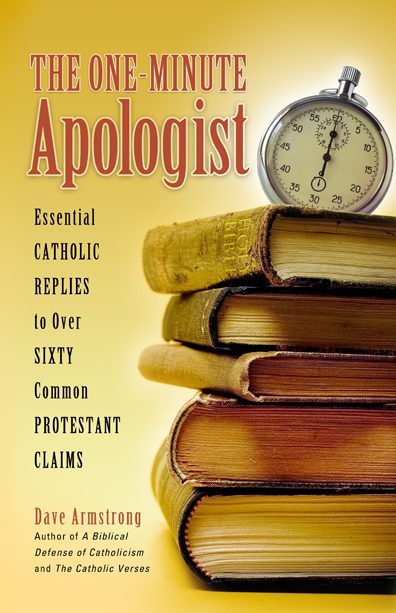 [see the information page for this book, for full details and all purchase options]
(published by Sophia Institute Press in May 2007; 143 pages)
* * * * *
This was the brainchild of the editor I have worked with the most since 2003, Todd Aglialoro (formerly of Sophia Institute Press; he now works for Catholic Answers).
It was one of the most difficult books for me to write because the format was a challenge. But (like physical exercise) it was a "good" kind of pain, and had a positive result. The idea was to provide fast answers to charges that we Catholics typically hear from our Protestant friends. Each topic gets two pages devoted to it, in a standardized format that is vaguely reminiscent of St. Thomas Aquinas' Summa Theologica.
The title of each section is given from a negative, "polemical" slant: how folks object to some Catholic teaching or practice; e.g., "The Catholic Church Added Illegitimate Books to the Bible." Then a little bit longer summary statement of the objection is provided below the title. After that, "the one-minute apologist" (yours truly!) gives a summary counter-statement, followed by 3-5 paragraphs or so of the Catholic argument on the point.
Then there is another section, called: "A Protestant Might Further Object," followed by my second defense or counter-argument. Each two-page section ends with a relevant quotation from a notable Catholic or Protestant writer.
I usually provide several scriptural references, with additional ones footnoted.
It has been a bestseller in its field and is still selling well after 8+ years. I think it is because the Summa-like format (from Todd) was a great idea, and because the book fills a need for quick, practical aids to sharing the faith. Most of my bestsellers are of that nature. The New Catholic Answer Bible has sold more than any of my books, and it has one page devoted to each apologetics topic. My current book, Proving the Catholic Faith is Biblical contains eighty short essays. Revelation! 1001 Bible Answers to Theological Topics provides a short answer from the Bible itself to each question.
I think it works! I hope some of you reading this will think so, too, and will purchase and read! The paperback is $18.95; Amazon Kindle or Nook Book just $9.47. But I sell more versions on my own e-booksite: Microsoft Excel Spreadsheet, ePub, mobi for my regular rock-bottom price of only $2.99.