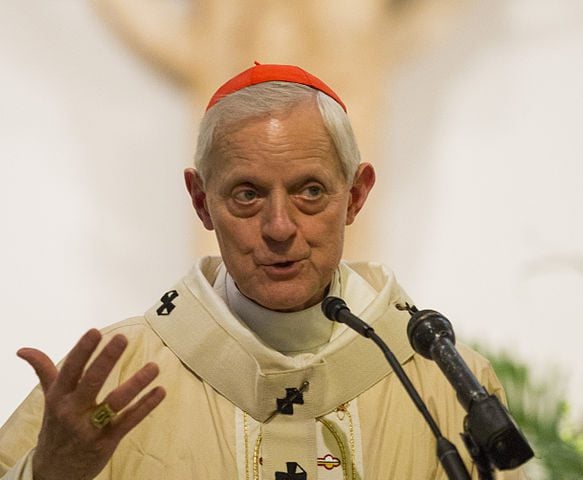 Cardinal Donald William Wuerl (b. 1940): Archbishop of Washington, D.C. since 2006; photo from 5 May 2015  [public domain / Wikimedia Commons]
* * *
From the manuscript for my book, The One-Minute Apologist (2007). All passages RSV.
* * * * *
"Scripture does not teach only one form of Church government. The Catholic hierarchy stands contrary to the egalitarian spirit of the Bible and the early Church."
The One-Minute Apologist Says:
The Bible provides plenty of support for episcopal government of the Church, which is why the early Church was clearly hierarchical.
In this area, as in many concerning the biblical evidence for Catholicism, the best method is to get out of the way and simply let the Bible speak for itself. Bishops (Greek: episkopos) are specifically mentioned in Acts 1:20 ("office"), 20:28; Philippians 1:1 ("To all the saints in Christ Jesus who are at Philip'pi, with the bishops and deacons"); 1 Timothy 3:1-2; Titus 1:7; and 1 Peter 2:25. Furthermore, we see in Scripture particular duties assigned to men who were regarded as overseers over regions, rather than individual churches: the power to ordain priests or appoint elders (Acts 14:23), the prerogative to excommunicate, management and administration of church affairs, and a special duty of defending the faith (emphases added):
Acts 20:28 Take heed to yourselves and to all the flock, in which the Holy Spirit has made you overseers, to care for the church of God which he obtained with the blood of his own Son.
1 Timothy 3:1-5 The saying is sure: If any one aspires to the office of bishop, he desires a noble task. Now a bishop must be above reproach, the husband of one wife, temperate, sensible, dignified, hospitable, an apt teacher, no drunkard, not violent but gentle, not quarrelsome, and no lover of money. He must manage his own household well, keeping his children submissive and respectful in every way; for if a man does not know how to manage his own household, how can he care for God's church?
Titus 1:5-9 This is why I left you in Crete, that you might amend what was defective, and appoint elders in every town . . . a bishop, as God's steward, must be blameless . . . he must hold firm to the sure word as taught, so that he may be able to give instruction in sound doctrine and also to confute those who contradict it.
1 Peter 2:25 For you were straying like sheep, but have now returned to the Shepherd and Guardian [episkopos] of your souls.
In that last verse, Jesus Himself is called a "bishop," thus demonstrating the analogy of authority and oversight from God to the Church.
A Protestant Might Further Object:
Sure, the word "bishop" appears in the Bible, but hierarchical distinctions do not.
The Bible teaches that bishops, elders, and deacons are all synonymous terms for the same office: roughly that of a pastor today. It doesn't indicate that bishops are higher than these other offices.
The One-Minute Apologist Says:
To the contrary; in Titus 1:5 the bishop is higher than an elder because he is charged to "appoint" them "in every town." This suggests both hierarchy and regional administration or jurisdiction. "Bishops and deacons" are both mentioned in Philippians 1:1, which would be odd if they were synonymous. 1 Timothy 3:1-7 also discusses bishops, then goes on to treat deacons separately (3:8-10: "Deacons likewise . . .").
We would expect some overlapping or variability in function of ministers in the early Church, because it was just the beginning of the development of ecclesiology. The doctrine of the Church and its government would take time to develop, just as the Trinitarian and Christological doctrine would for several centuries. Even the Apostle Paul called himself a "minister" or deacon (Greek, diakonos) more than once (1 Cor. 3:5; 2 Cor. 3:6, 6:4; Eph. 3:7; Col. 1:23,25), but no one thinks that is all he was.
We can reasonably conclude, then, that the sometimes fluid nature of the early Church's government does not overcome the passages about the function and necessity of bishops, nor the later history of increasing hierarchical structure in the Church of the first few centuries.
"For the apostolic origin of episcopacy the following points may be made: (1) The position of James, who evidently stood at the head of the church in Jerusalem [Acts 15:13; 21:18] . . . (2) The office of the assistants and delegates of the apostles, like Timothy, Titus, Silas, Epaphroditus, Luke, Mark, who had a sort of supervision of several churches and congregational officers . . . (3) The angels of the seven churches of Asia [Rev. 1:20], who, if regarded as individuals, look very like the later bishops, and indicate a monarchical shaping of the church government in the days of John . . . (4) The testimony of Ignatius of Antioch, a disciple of John, in his seven (or three) epistles from the beginning of the second century . . . presupposes the episcopate, in distinction from the presbyterate, as already existing, though as a new institution, yet in its growth. (5) The statement of Clement of Alexandria, that John instituted bishops after his return from Patmos; and the accounts of Irenaeus, Tertullian, Eusebius, and Jerome, that the same apostle nominated and ordained Polycarp (with whom Irenaeus was personally acquainted) bishop of Smyrna."
(Protestant Church historian Philip Schaff, History of the Christian Church, Vol. II: Ante-Nicene Christianity: A.D. 100-325, Grand Rapids, Michigan: Eerdmans, 1970; from the 5th revised edition of 1910, 135-136)