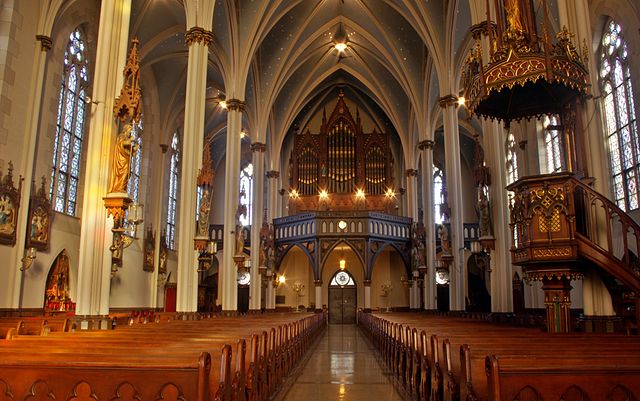 St. Joseph Church, Detroit, Michigan (my own home parish since 1991): view to the rear. Photo by "Nheyob" on 14 November 2013 [Wikimedia Commons / Creative Commons Attribution-Share Alike 3.0 Unported license]
* * *
(6-4-07; revised and expanded on 1-22-16)
* * *
Many Christians are tempted to "go through the motions" when worshiping at church and to not have a strong commitment  as disciples to Jesus Christ. One of the criticisms of Catholics is that the Mass is too ritualistic, or supposedly "cold" or "dead" — leading (according to these critics) to a rote or merely "ritualistic" observance without wholehearted intent. Are there any biblical passages, on the other hand, that support the notion of form prayers and ritual? 
One obvious example is Psalm 136, where the same exact phrase ("for his steadfast love endures for ever") is repeated for twenty-six straight verses. If formal worship or religious ritual were always opposed to a sincere, heartfelt adoration and praise of God, then certainly God wouldn't have commanded it in the Bible. Yet we find that He does exactly that, in many places.
Elaborate, painstaking instructions for the ark of the covenant (Ex 25:1-22), the tabernacle (Ex 25:23-40; chapters 26-27), and the temple (1 Kings, chapters 6-7) illustrate the highly ritualistic nature of Hebrew worship (see also Leviticus 23:37-38 and 24:5-8).
God did assuredly often warn the people against hypocritical worship: performing of rituals without the proper attitude of heart towards God. This is an ongoing human tendency that we all must be vigilant to avoid. God opposes deceit and hypocrisy, not formality, and rituals performed without a committed spirit and devotion, or in light of continued sin and disobedience on other grounds:
Amos 5:11-14, 21-24 (RSV) Therefore because you trample upon the poor and take from him exactions of wheat, you have built houses of hewn stone, but you shall not dwell in them; you have planted pleasant vineyards, but you shall not drink their wine. [12] For I know how many are your transgressions, and how great are your sins — you who afflict the righteous, who take a bribe, and turn aside the needy in the gate. [13] Therefore he who is prudent will keep silent in such a time; for it is an evil time. [14] Seek good, and not evil, that you may live; and so the LORD, the God of hosts, will be with you, as you have said . . . [21] I hate, I despise your feasts, and I take no delight in your solemn assemblies. [22] Even though you offer me your burnt offerings and cereal offerings, I will not accept them, and the peace offerings of your fatted beasts I will not look upon. [23] Take away from me the noise of your songs; to the melody of your harps I will not listen. [24] But let justice roll down like waters, and righteousness like an ever-flowing stream.

Proverbs 15:8 The sacrifice of the wicked is an abomination to the LORD, but the prayer of the upright is his delight.

Proverbs 21:27-29  The sacrifice of the wicked is an abomination; how much more when he brings it with evil intent. [28] A false witness will perish, but the word of a man who hears will endure. [29] A wicked man puts on a bold face, but an upright man considers his ways.

Jeremiah 6:19-20 Hear, O earth; behold, I am bringing evil upon this people, the fruit of their devices, because they have not given heed to my words; and as for my law, they have rejected it. [20] To what purpose does frankincense come to me from Sheba, or sweet cane from a distant land? Your burnt offerings are not acceptable,
nor your sacrifices pleasing to me.

Malachi 1:6-14 "A son honors his father, and a servant his master. If then I am a father, where is my honor? And if I am a master, where is my fear? says the LORD of hosts to you, O priests, who despise my name. You say, `How have we despised thy name?' [7] By offering polluted food upon my altar. And you say, `How have we polluted it?' By thinking that the LORD's table may be despised. [8] When you offer blind animals in sacrifice, is that no evil? And when you offer those that are lame or sick, is that no evil? Present that to your governor; will he be pleased with you or show you favor? says the LORD of hosts. [9] And now entreat the favor of God, that he may be gracious to us. With such a gift from your hand, will he show favor to any of you? says the LORD of hosts. [10] Oh, that there were one among you who would shut the doors, that you might not kindle fire upon my altar in vain! I have no pleasure in you, says the LORD of hosts, and I will not accept an offering from your hand. [11] For from the rising of the sun to its setting my name is great among the nations, and in every place incense is offered to my name, and a pure offering; for my name is great among the nations, says the LORD of hosts. [12] But you profane it when you say that the LORD's table is polluted, and the food for it may be despised. [13] `What a weariness this is,' you say, and you sniff at me, says the LORD of hosts. You bring what has been taken by violence or is lame or sick, and this you bring as your offering! Shall I accept that from your hand? says the LORD. [14] Cursed be the cheat who has a male in his flock, and vows it, and yet sacrifices to the Lord what is blemished; for I am a great King, says the LORD of hosts, and my name is feared among the nations. 

James 1:26-27 If any one thinks he is religious, and does not bridle his tongue but deceives his heart, this man's religion is vain. [27] Religion that is pure and undefiled before God and the Father is this: to visit orphans and widows in their affliction, and to keep oneself unstained from the world.
When His people obeyed His commands, however, then God was pleased with the same sacrifices (see, e.g., Is 56:6-7: "their burnt offerings and their sacrifices will be accepted on my altar"; Jer 17:24-26: "But if you listen to me . . ."; Mal 1:11: "a pure offering"; many others).
Jesus didn't oppose all repetition whatsoever, but rather, "vain" repetition or "empty phrases" (Matthew 6:7). He described such vain worship in another passage:
Matthew 15:7-9: You hypocrites! Well did Isaiah prophesy of you, when he said: "This people honors me with their lips, but their heart is far from me; in vain do they worship me, teaching as doctrines the precepts of men." (cf. Mk 7:6-7)
Formal and ritualistic ceremonies and worship services are recorded as taking place even in heaven itself (Rev 4:8-11, 5:8-14), complete with repetitious prayer (Rev 4:8: "they never cease to sing . . ."), repeated chants or hymns (4:11, 5:9-10), an altar and incense (8:3-4), and sacrifice (5:6).
Stay in touch! Like Biblical Evidence for Catholicism on Facebook: