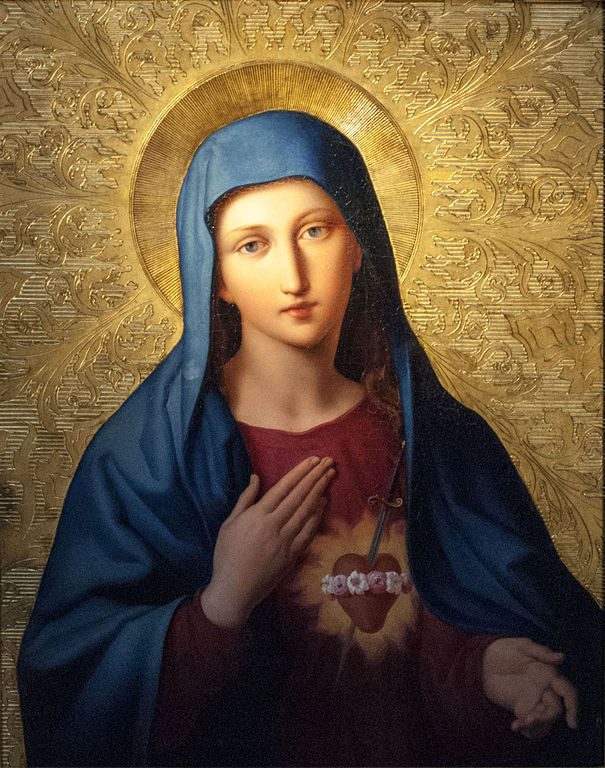 (6-8-10)
* * *
The longstanding Catholic pious tradition of devotion to the Immaculate Heart of Mary (see the Catholic Encyclopedia article on that) was developed over centuries, perhaps in part from an implicit biblical basis in passages like the following:
Luke 2:16-19 (RSV)And they went with haste, and found Mary and Joseph, and the babe lying in a manger. And when they saw it they made known the saying which had been told them concerning this child; and all who heard it wondered at what the shepherds told them. But Mary kept all these things, pondering them in her heart.
Luke 2:35 (and a sword will pierce through your own soul [heart in some translations] also), that thoughts out of many hearts may be revealed."
Luke 2:51 And he went down with them and came to Nazareth, and was obedient to them; and his mother kept all these things in her heart.
The devotion is analogous to the devotion to the Sacred Heart of Jesus (see Catholic Encyclopedia article and Doctrinal Foundation of Devotion to the Sacred Heart by Fr. John A. Hardon, S.J.).
St. Paul refers to his own "heart" in similar fashion, in several passages:
Romans 9:2-3 . . . I have great sorrow and unceasing anguish in my heart. For I could wish that I myself were accursed and cut off from Christ for the sake of my brethren, my kinsmen by race.
Romans 10:1 Brethren, my heart's desire and prayer to God for them is that they may be saved.
2 Corinthians 2:4 For I wrote you out of much affliction and anguish of heart and with many tears, not to cause you pain but to let you know the abundant love that I have for you.
2 Corinthians 6:11 Our mouth is open to you, Corinthians; our heart is wide.
2 Corinthians 7:3 I do not say this to condemn you, for I said before that you are in our hearts, to die together and to live together. (cf. Acts 21:13)
Therefore, one could speak of Paul, based on explicit biblical data, in much the same way as Mary, referring to his "saving" of others, and of returning to his "heart" — that is, to conform to his will, just as he urged his followers to imitate him (1 Cor 4:16; Phil 3:17; 2 Thess 3:7-9), as he imitated Christ (1 Cor 11:1; 1 Thess 1:6).
In a Bible search I couldn't find anything about the "heart of Jesus" but there are a few passages about the heart of God or the Lord in the OT (which amounts to the same thing — spiritually speaking — since all three persons in the Holy Trinity are one God).
Deuteronomy 10:15 yet the LORD set his heart in love upon your fathers and chose their descendants after them, you above all peoples, as at this day.
1 Samuel 13:14 But now your kingdom shall not continue; the LORD has sought out a man after his own heart; . . .
1 Chronicles 17:19 For thy servant's sake, O LORD, and according to thy own heart, thou hast wrought all this greatness, in making known all these great things.
Psalm 33:11 The counsel of the LORD stands for ever, the thoughts of his heart to all generations.
Jeremiah 15:1 Then the LORD said to me, "Though Moses and Samuel stood before me, yet my heart would not turn toward this people. Send them out of my sight, and let them go!
Acts 13:22 And when he had removed him, he raised up David to be their king; of whom he testified and said, `I have found in David the son of Jesse a man after my heart, who will do all my will.'
Some commentators, however (hat tip to David Obeid in the combox), think the following two passages refer to our Lord's heart:
John 19:34 But one of the soldiers pierced his side with a spear, and at once there came out blood and water.
John 21:20 Peter turned and saw following them the disciple whom Jesus loved, who had lain close to his breast at the supper and had said, "Lord, who is it that is going to betray you?"
In Biblical, Hebraic terms, the heart represented the soul or spiritual part of a person: basically the person's deepest desires or essence. So it is simply a pungent Hebrew way of saying we are worshiping Jesus, to be devoted to His sacred heart.
With the Blessed Virgin Mary it is different; we are honoring her sinlessness and holiness in the devotion to her immaculate heart, rather than worshiping her. All glory and honor for that goes to God, just as she herself honored God as her savior, in the Magnificat.