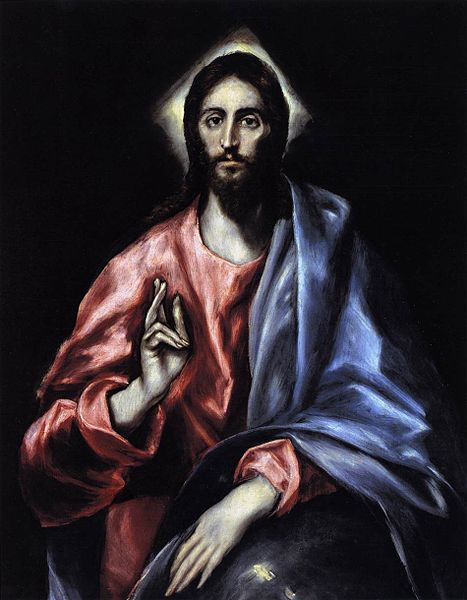 Christ as Savior (bet. 1610-1614), by El Greco (1541-1614) [public domain / Wikimedia Commons]
* * * * *
The title was the key point of a meme from a Protestant that I saw today. It also stated that "Nowhere does Jesus teach that performing certain works for sin will make restitution for sin." Then it affirmed the necessity of repentance. But typically of Protestant thought, it dichotomizes repentance and any works (in God's grace) having to do with repentance. The following passages put the lie to these claims:
Matthew 19:17, 21 (RSV) ". . . If you would enter life, keep the commandments. . . ." [21] Jesus said to him, "If you would be perfect, go, sell what you possess and give to the poor, and you will have treasure in heaven; and come, follow me."
Luke 18:18, 22 And a ruler asked him, "Good Teacher, what shall I do to inherit eternal life?" . . . [22] . . . Jesus . . . said to him, "One thing you still lack. Sell all that you have and distribute to the poor, and you will have treasure in heaven; and come, follow me."
The act or "ritual" of selling all that he owned was part and parcel of the rich young ruler's salvation. Without them, he could not be saved.
Mark 16:16 He who believes and is baptized will be saved; but he who does not believe will be condemned.
Acts 2:38 And Peter said to them, "Repent, and be baptized every one of you in the name of Jesus Christ for the forgiveness of your sins; and you shall receive the gift of the Holy Spirit.
Acts 22:16 And now why do you wait? Rise and be baptized, and wash away your sins, calling on his name.
Note how the ritual, baptism, precedes salvation, forgiveness, removal of sins, and receiving the Holy Spirit, and is alongside the repentance and confession of belief.
Luke 17:11-19 On the way to Jerusalem he was passing along between Sama'ria and Galilee. [12] And as he entered a village, he was met by ten lepers, who stood at a distance [13] and lifted up their voices and said, "Jesus, Master, have mercy on us." [14] When he saw them he said to them, "Go and show yourselves to the priests." And as they went they were cleansed. [15] Then one of them, when he saw that he was healed, turned back, praising God with a loud voice; [16] and he fell on his face at Jesus' feet, giving him thanks. Now he was a Samaritan. [17] Then said Jesus, "Were not ten cleansed? Where are the nine? [18] Was no one found to return and give praise to God except this foreigner?" [19] And he said to him, "Rise and go your way; your faith has made you well."
This man who gave thanks to God was made "right with Jesus" by performing the ritual that Jesus commanded Him to do: showing himself to the priests. He, with nine other lepers were on their way to doing that, and "as they went they were cleansed." In the act of doing the ritual, Jesus healed them. He doesn't minimize or discount all ritual, as large strains of Protestant thought seek to do.
John 20:23 If you forgive the sins of any, they are forgiven; . . .
Matthew 18:18 . . . whatever you loose on earth shall be loosed in heaven.
2 Corinthians 2:10 Any one whom you forgive, I also forgive. . . .
James 5:14-16 Is any among you sick? Let him call for the elders of the church, and let them pray over him, anointing him with oil in the name of the Lord; [15] and the prayer of faith will save the sick man, and the Lord will raise him up; and if he has committed sins, he will be forgiven. [16] Therefore confess your sins to one another, and pray for one another, that you may be healed. The prayer of a righteous man has great power in its effects. (cf. 1 Jn 1:9)
This is absolution: priests delegated as God's representatives, forgiving sin on his behalf. In order to do that, people have to go to them to divulge and confess their sins. And hence, we have the ritual of repentance, confession, and absolution. It involves a sort of ritualistic transaction, in order for men to receive God's forgiveness through the priest. Getting the elders of the church (or particularly righteous persons) to pray for one is a variation of the same sort of ritual. It's a means of forgiveness and healing; hence, again, "making one's heart right with Jesus."
So we see that the Bible does not pit ritual against heartfelt repentance. Oftentimes, the two are presented as alongside each other, or hand-in-hand. The Bible and Catholic thought view things in "both / and" terms. Protestantism often engages in false dichotomies or "either / or" thought.