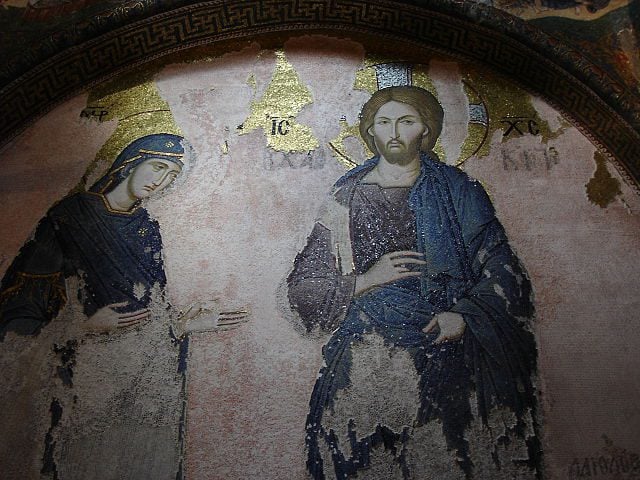 Istanbul: Chora Church Museum (Kariye Cami). Nartex. A mosaic showing the Virgin Mary beside Jesus. Photograph by Giovanni Dall'Orto, May 29, 2006. Released into public domain by the photographer [Wikimedia Commons]
* * *
(10-29-08)
* * *
I was asked on the CHNI board:
The passage where Jesus says "who are my mothers and brothers" in answer to someone saying his mother was there. The pastor wonders if we are supposed to show such veneration to Christ's mother, why didn't He do it Himself in that instance?

Here are the passages:
Matthew 12:46-50 (RSV) While he was still speaking to the people, behold, his mother and his brothers stood outside, asking to speak to him. But he replied to the man who told him, "Who is my mother, and who are my brothers?" And stretching out his hand toward his disciples, he said, "Here are my mother and my brothers! For whoever does the will of my Father in heaven is my brother, and sister, and mother." [note: v. 47 is a disputed text, and is actually skipped in the RSV and other recent translations]
Mark 3:31-35 And his mother and his brothers came; and standing outside they sent to him and called him. And a crowd was sitting about him; and they said to him, "Your mother and your brothers are outside, asking for you." And he replied, "Who are my mother and my brothers?" And looking around on those who sat about him, he said, "Here are my mother and my brothers! Whoever does the will of God is my brother, and sister, and mother."
Luke 8:19-21 Then his mother and his brothers came to him, but they could not reach him for the crowd. And he was told, "Your mother and your brothers are standing outside, desiring to see you." But he said to them, "My mother and my brothers are those who hear the word of God and do it."

The Catholic Encyclopedia ("The Blessed Virgin Mary") comments on this:
At first sight, it seems that Jesus Himself depreciated the dignity of His Blessed Mother. When He was told: "Behold thy mother and thy brethren stand without, seeking thee", He answered: "Who is my mother, and who are my brethren? And stretching forth his hand towards his disciples, he said: Behold my mother and my brethren. For whosoever shall do the will of my Father, that is in heaven, he is my brother, and my sister, and my mother" (Matthew 12:47-50; cf. Mark 3:31-35; Luke 8:19-21). On another occasion, "a certain woman from the crowd, lifting up her voice, said to him: Blessed is the womb that bore thee, and the paps that gave thee suck. But he said: Yea rather, blessed are they who hear the word of God, and keep it" (Luke 11:27-28).
In reality, Jesus in both these passages places the bond that unites the soul with God above the natural bond of parentage which unites the Mother of God with her Divine Son. The latter dignity is not belittled; as men naturally appreciate it more easily, it is employed by Our Lord as a means to make known the real value of holiness. Jesus, therefore, really, praises His mother in a most emphatic way; for she excelled the rest of men in holiness not less than in dignity. Most probably, Mary was found also among the holy women who ministered to Jesus and His apostles during their ministry in Galilee (cf. Luke 8:2-3); the Evangelists do not mention any other public appearance of Mary during the time of Jesus's journeys through Galilee or Judea. But we must remember that when the sun appears, even the brightest stars become invisible.
Earlier in the article, the author dealt with the similar question of the miracle of the wedding at Cana (used in Protestant "anti-Marian" polemics in the same skeptical way):
The evangelists connect Mary's name with three different events in Our Lord's public life: with the miracle in Cana, with His preaching, and with His passion. The first of these incidents is related in John 2:1-10.

There was a marriage feast in Cana of Galilee. . .and the mother of Jesus was there. And Jesus also was invited, and his disciples, to the marriage. And the wine failing, the mother of Jesus saith to him: They have no wine. And Jesus saith to her: Woman, what is that to me and to thee? my hour is not yet come.

One naturally supposes that one of the contracting parties was related to Mary, and that Jesus had been invited on account of his mother's relationship. The couple must have been rather poor, since the wine was actually failing. Mary wishes to save her friends from the shame of not being able to provide properly for the guests, and has recourse to her Divine Son. She merely states their need, without adding any further petition. In addressing women, Jesus uniformly employs the word "woman" (Matthew 15:28; Luke 13:12; John 4:21; 8:10; 19:26; 20:15), an expression used by classical writers as a respectful and honourable address. The above cited passages show that in the language of Jesus the address "woman" has a most respectful meaning. The clause "what is that to me and to thee" renders the Greek ti emoi kai soi, which in its turn corresponds to the Hebrew phrase mah li walakh. This latter occurs in Judges 11:12; 2 Samuel 16:10; 19:23; 1 Kings 17:18; 2 Kings 3:13; 9:18; 2 Chronicles 35:21.
The New Testament shows equivalent expressions in Matthew 8:29; Mark 1:24; Luke 4:34; 8:28; Matthew 27:19. The meaning of the phrase varies according to the character of the speakers, ranging from a most pronounced opposition to a courteous compliance. Such a variable meaning makes it hard for the translator to find an equally variable equivalent. "What have I to do with thee", "this is neither your nor my business", "why art thou troublesome to me", "allow me to attend to this", are some of the renderings suggested. In general, the words seem to refer to well or ill-meant importunity which they endeavour to remove. The last part of Our Lord's answer presents less difficulty to the interpreter: "my hour is not yet come", cannot refer to the precise moment at which the need of wine will require the miraculous intervention of Jesus; for in the language of St. John "my hour" or "the hour" denotes the time preordained for some important event (John 4:21-23; 5:25-28; 7:30; 8:29; 12:23; 13:1; 16:21; 17:1).
Hence the meaning of Our Lord's answer is: "Why are you troubling me by asking me for such an intervention? The divinely appointed time for such a manifestation has not yet come"; or, "why are you worrying? has not the time of manifesting my power come?" The former of these meanings implies that on account of the intercession of Mary Jesus anticipated the time set for the manifestation of His miraculous power; the second meaning is obtained by understanding the last part of Our Lord's words as a question, as was done by St. Gregory of Nyssa, and by the Arabic version of Tatian's "Diatessaron" (Rome, 1888). Mary understood her Son's words in their proper sense; she merely warned the waiters, "Whatsoever he shall say to you, do ye" (John 2:5). There can be no question of explaining Jesus' answer in the sense of a refusal.