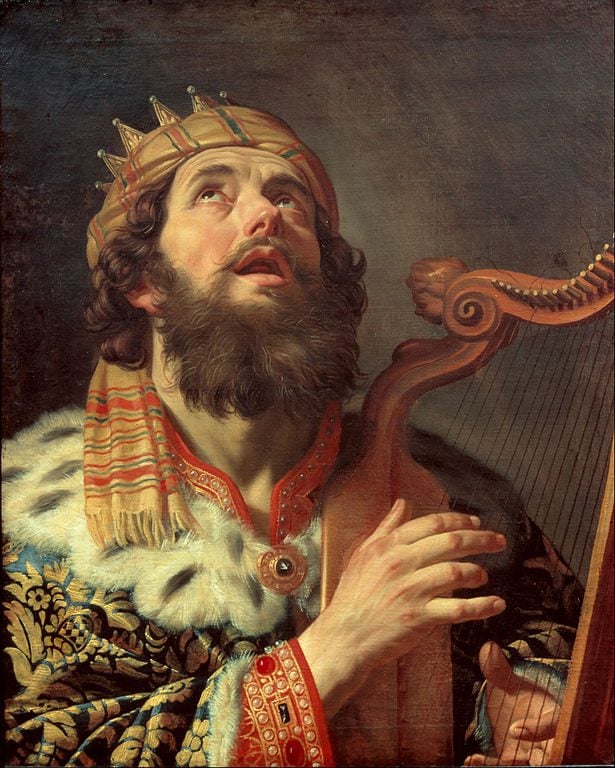 King David Playing the Harp (1622), by Gerard van Honthorst (1590-1656)
[public domain /
Wikimedia Commons
]
* * *
(3-22-04)
* * *
Revised Standard Version (RSV)
Psalm 9:9-10 The LORD is a stronghold for the oppressed, a stronghold in times of trouble.
10 And those who know thy name put their trust in thee, for thou, O LORD, hast not forsaken those who seek thee.
Psalm 23 (all)
1 A Psalm of David. The LORD is my shepherd, I shall not want;
2 he makes me lie down in green pastures. He leads me beside still waters;
3 he restores my soul. He leads me in paths of righteousness for his name's sake.
4 Even though I walk through the valley of the shadow of death, I fear no evil; for thou art with me; thy rod and thy staff, they comfort me.
5 Thou preparest a table before me in the presence of my enemies; thou anointest my head with oil, my cup overflows.
6 Surely goodness and mercy shall follow me all the days of my life; and I shall dwell in the house of the LORD for ever.
Psalm 27:5 For he will hide me in his shelter in the day of trouble; he will conceal me under the cover of his tent, he will set me high upon a rock.
Psalm 27:14 Wait for the LORD; be strong, and let your heart take courage; yea, wait for the LORD!
Psalm 30:5 For his anger is but for a moment, and his favor is for a lifetime. Weeping may tarry for the night, but joy comes with the morning.
Psalm 31
1 To the choirmaster. A Psalm of David. In thee, O LORD, do I seek refuge; let me never be put to shame; in thy righteousness deliver me!
2 Incline thy ear to me, rescue me speedily! Be thou a rock of refuge for me, a strong fortress to save me!
3 Yea, thou art my rock and my fortress; for thy name's sake lead me and guide me,
4 take me out of the net which is hidden for me, for thou art my refuge.
5 Into thy hand I commit my spirit; thou hast redeemed me, O LORD, faithful God.
6 Thou hatest those who pay regard to vain idols; but I trust in the LORD.
7 I will rejoice and be glad for thy steadfast love, because thou hast seen my affliction, thou hast taken heed of my adversities,
8 and hast not delivered me into the hand of the enemy; thou hast set my feet in a broad place.
Psalm 33:20 Our soul waits for the LORD; he is our help and shield.
Psalm 34 (all)
1 A Psalm of David, when he feigned madness before Abimelech, so that he drove him out, and he went away. I will bless the LORD at all times; his praise shall continually be in my mouth.
2 My soul makes its boast in the LORD; let the afflicted hear and be glad.
3 O magnify the LORD with me, and let us exalt his name together!
4 I sought the LORD, and he answered me, and delivered me from all my fears.
5 Look to him, and be radiant; so your faces shall never be ashamed.
6 This poor man cried, and the LORD heard him, and saved him out of all his troubles.
7 The angel of the LORD encamps around those who fear him, and delivers them.
8 O taste and see that the LORD is good! Happy is the man who takes refuge in him!
9 O fear the LORD, you his saints, for those who fear him have no want!
10 The young lions suffer want and hunger; but those who seek the LORD lack no good thing.
11 Come, O sons, listen to me, I will teach you the fear of the LORD.
12 What man is there who desires life, and covets many days, that he may enjoy good?
13 Keep your tongue from evil, and your lips from speaking deceit.
14 Depart from evil, and do good; seek peace, and pursue it.
15 The eyes of the LORD are toward the righteous, and his ears toward their cry.
16 The face of the LORD is against evildoers, to cut off the remembrance of them from the earth.
17 When the righteous cry for help, the LORD hears, and delivers them out of all their troubles.
18 The LORD is near to the brokenhearted, and saves the crushed in spirit.
19 Many are the afflictions of the righteous; but the LORD delivers him out of them all.
20 He keeps all his bones; not one of them is broken.
21 Evil shall slay the wicked; and those who hate the righteous will be condemned.
22 The LORD redeems the life of his servants; none of those who take refuge in him will be condemned.
Psalm 37
1 A Psalm of David. Fret not yourself because of the wicked, be not envious of wrongdoers!
2 For they will soon fade like the grass, and wither like the green herb.
3 Trust in the LORD, and do good; so you will dwell in the land, and enjoy security.
4 Take delight in the LORD, and he will give you the desires of your heart.
5 Commit your way to the LORD; trust in him, and he will act.
6 He will bring forth your vindication as the light, and your right as the noonday.
7 Be still before the LORD, and wait patiently for him; fret not yourself over him who prospers in his way, over the man who carries out evil devices!
8 Refrain from anger, and forsake wrath! Fret not yourself; it tends only to evil.
Psalm 40
1 To the choirmaster. A Psalm of David. I waited patiently for the LORD; he inclined to me and heard my cry.
2 He drew me up from the desolate pit, out of the miry bog, and set my feet upon a rock, making my steps secure.
3 He put a new song in my mouth, a song of praise to our God. Many will see and fear, and put their trust in the LORD.
4 Blessed is the man who makes the LORD his trust, who does not turn to the proud, to those who go astray after false gods!
Psalm 41:1 To the choirmaster. A Psalm of David. Blessed is he who considers the poor! The LORD delivers him in the day of trouble;

Psalm 46
1 To the choirmaster. A Psalm of the Sons of Korah. According to Alamoth. A Song. God is our refuge and strength, a very present help in trouble.
2 Therefore we will not fear though the earth should change, though the mountains shake in the heart of the sea;
3 though its waters roar and foam, though the mountains tremble with its tumult. [Selah]
10 "Be still, and know that I am God. I am exalted among the nations, I am exalted in the earth!"
11 The LORD of hosts is with us; the God of Jacob is our refuge. [Selah]
Psalm 50:15 and call upon me in the day of trouble; I will deliver you, and you shall glorify me."
Psalm 55:22 Cast your burden on the LORD, and he will sustain you; he will never permit the righteous to be moved.
Psalm 59:9 O my Strength, I will sing praises to thee; for thou, O God, art my fortress.
Psalm 62
5 For God alone my soul waits in silence, for my hope is from him.
6 He only is my rock and my salvation, my fortress; I shall not be shaken.
7 On God rests my deliverance and my honor; my mighty rock, my refuge is God.
8 Trust in him at all times, O people; pour out your heart before him; God is a refuge for us.
Psalm 71:20 Thou who hast made me see many sore troubles wilt revive me again; from the depths of the earth thou wilt bring me up again.
Psalm 73:26 My flesh and my heart may fail, but God is the strength of my heart and my portion for ever.
Psalm 94
12 Blessed is the man whom thou dost chasten, O LORD, and whom thou dost teach out of thy law
13 to give him respite from days of trouble, until a pit is dug for the wicked.
14 For the LORD will not forsake his people; he will not abandon his heritage;
15 for justice will return to the righteous, and all the upright in heart will follow it.
16 Who rises up for me against the wicked? Who stands up for me against evildoers?
17 If the LORD had not been my help, my soul would soon have dwelt in the land of silence.
18 When I thought, "My foot slips," thy steadfast love, O LORD, held me up.
19 When the cares of my heart are many, thy consolations cheer my soul.
Psalm 119
50 This is my comfort in my affliction that thy promise gives me life.
67 Before I was afflicted I went astray; but now I keep thy word.
71 It is good for me that I was afflicted, that I might learn thy statutes.
75 I know, O LORD, that thy judgments are right, and that in faithfulness thou hast afflicted me.
93 I will never forget thy precepts; for by them thou hast given me life.
Psalm 126:5 May those who sow in tears reap with shouts of joy!
Psalm 130:5 I wait for the LORD, my soul waits, and in his word I hope;
Psalm 138
3 On the day I called, thou didst answer me, my strength of soul thou didst increase.
7 Though I walk in the midst of trouble, thou dost preserve my life; thou dost stretch out thy hand against the wrath of my enemies, and thy right hand delivers me.
Psalm 145
14 The LORD upholds all who are falling, and raises up all who are bowed down.
16 Thou openest thy hand, thou satisfiest the desire of every living thing.
Psalm 147:3 He heals the brokenhearted, and binds up their wounds.