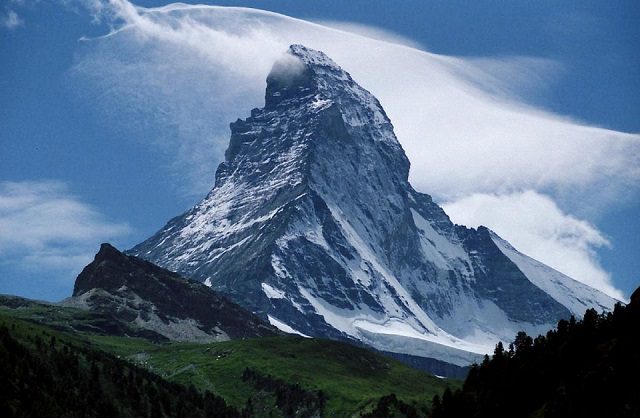 The Matterhorn (Alps, Switzerland, 14,692 ft / 4,478 m). Image by "skeeze" [CCO public domain / Pixabay]
* * *
Catholics believe that the Catholic Church cannot and will not ever fall away from the fullness of apostolic, biblical truth. These Bible passages (KJV except where noted) are the reasons for why we believe this. Taken from my book, Revelation: 1001 Bible Answers to Theological Questions.
* * * * *
19. Indefectible
19-1. Is the Davidic covenant a permanent one?
Psalm 89:34-37 My covenant will I not break, nor alter the thing that is gone out of my lips. [35] Once have I sworn by my holiness that I will not lie unto David. [36] His seed shall endure forever, and his throne as the sun before me. [37] It shall be established for ever as the moon, and as a faithful witness in heaven. Selah.
19-2. Do any of Jesus' parables imply indefectibility of the Church?
Matthew 7:24-25 Therefore whosoever heareth these sayings of mine, and doeth them, I will liken him unto a wise man, which built his house upon a rock: [25] And the rain descended, and the floods came, and the winds blew, and beat upon that house; and it fell not: for it was founded upon a rock.
19-3. Does Jesus state that the Chuch will always prevail?
Matthew 16:18 And I say also unto thee, That thou art Peter, and upon this rock I will build my church; and the gates of hell shall not prevail against it.
19-4. Is Jesus always with us; implying that His Church will be, also?
Matthew 28:20 (RSV) . . . lo, I am with you always, to the close of the age.
19-5. How long will the Holy Spirit be with us, as our "Counselor"?
John 14:16-17 And I will pray the Father, and he shall give you another Comforter, that he may abide with you for ever; [17] Even the Spirit of truth; . . .
19-6. Did St. Paul assume that the Eucharist would be celebrated till Christ's return?
1 Corinthians 11:26 For as often as ye eat this bread, and drink this cup, ye do shew the Lord's death till he come.
19-7. Did St. Paul teach that the Church was the Body of Christ; therefore, as unending as Jesus Himself is?
1 Corinthians 12:27 (RSV) Now you are the body of Christ and individually members of it.