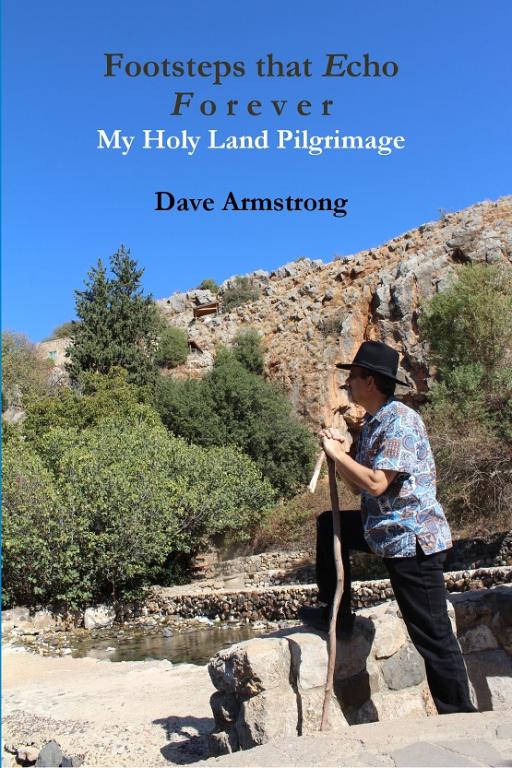 [see the information page for this book, for full details and all purchase options]
(published in November 2014 by Lulu, 165 pages)
* * * * *
This is my favorite of my 49 books. It's special to me, due to the subject matter, and because it was the result of a dream trip of a lifetime. It includes lots of cutting-edge biblical archaeology, with some conclusions that may be surprising, but (technically) not against tradition or contrary to the Bible. For example, you thought you knew the actual historical route of the Via Dolorosa and where Jesus was judged before Pontius Pilate? I did, too, till I looked into much fascinating archaeological research.
Secondly, it's a personal favorite because it's thoroughly soaked in the Bible, and that is my specialty as an apologist. This is a book for Bible lovers: a feast! And it's the book above all my other ones, where I really want to reach and touch readers' hearts and souls.
*
Thirdly, I am thrilled to be able to present some sections of my wife Judy (a very spiritual and "deep" person) explaining her intensely spiritual experiences at holy sites in Israel, as well similar expressions from Margie Prox Sindelar. These I consider (far and away) the best portions of the book, because they are extraordinarily descriptive: akin to the great Catholic mystics (whose works I recently compiled into a quotes book).
*
This was a central goal for me in this volume: to convey to readers exactly what it felt like at these holy places. The ladies did a far better job at that than I did, which is fine: as long as the goal is met (I love working with a "team")! You can read examples of that in the online content for "Day Three," but their reports / comments for Day Eight and Nine in Bethlehem and Jerusalem are (trust me) astonishing beyond words. They send a chill up and down my spine every time I read them.
As I wrote in the Introduction, here is the idea of the upcoming book, as I conceived it. It has five different complementary elements:
1) The pilgrimage and spiritual journey, written about in a very personal way: how I feel, what I experience; firsthand descriptions and impressions of these holy sites.

2) Survey of archaeological findings and their significance.

3) Citing of related Scripture, with occasional exposition.

4) A running narrative, tying it all together as an exciting journey or odyssey; an adventure.
I wrote about my feelings and reflections and experiences every night in our chalet or hotel, as it was fresh in my mind.
I've been intensely studying the Bible as a disciple of Jesus for 39 years, have been doing apologetics and evangelism for 35 (25 of those years as a Catholic). This was my first trip to Israel or to see anything at all related to the Bible. I don't go there every year (or to Rome, etc.), like so many apologists do.
What you will get in this book, then, is the account of a very excited and (no doubt) spiritually overwhelmed and joy-filled pilgrim going to the Holy Land for the first time at age 56. It's (if I do say so) something fresh, new, and different; incorporating lots of apologetics (as anyone would expect from me!): concentrating on new archaeological discoveries. A lot of the latter was written about and researched before I visited. I add my personal, experiential thoughts about them as we visit each site.
New and wonderful discoveries have been made in the last 30 years. Joshua's altar was discovered (utterly unknown before) in 1980. The excavations in Jordan at Jesus' baptism site have only been going on since 1994 (!): though it has been known for some time that the site may be in Jordan, east of the river (the actual baptism is thought to have been in a spring nearby, or stream that empties into the Jordan). It has already been visited by three popes, but the site was opened to the public only in 2011. That's how new these momentous discoveries (or spectacular confirmations of same) are.
Other new and rather amazing excavations include the ancient city of David, currently being actively explored right outside the Old City of Jerusalem and temple mount, and another city from the time of David that is in the valley where David fought Goliath. Many archaeologists (even so-called "biblical" ones) had been denying that David even existed, or that he had any kind of significant kingdom, or that Joshua (if he existed at all) made a conquest of Canaan. Now we are literally finding artifacts from David's (1000 B. C.) and Joshua's time (a few hundred years earlier), that prove these skeptics to have been dead-wrong. We lovers of the Bible always knew they were wrong (and rather foolish and stupid at that!), but some folks are slow learners.
Thus, this book is a little different from most pilgrimage accounts, because of the incorporation of much archaeological content and Bible commentary: bringing the whole thing vividly to life for Christians who have an interest in the Bible and the lives of the great men and women described in it (Bible or salvation history). I've never been as excited about biblical archaeology as I was before and after my pilgrimage, reading about and researching these wonderful new finds, as well as personally visiting them (a thrill beyond words).
I hope to pass some of that excitement and newfound knowledge along to you! And if you like more "personal" writing from me: along the lines of my various conversion stories, there is plenty of that in this book. I'm quite able to do that kind of writing, too. I have a strong mystical and contemplative streak in me. Thanks for reading!
***