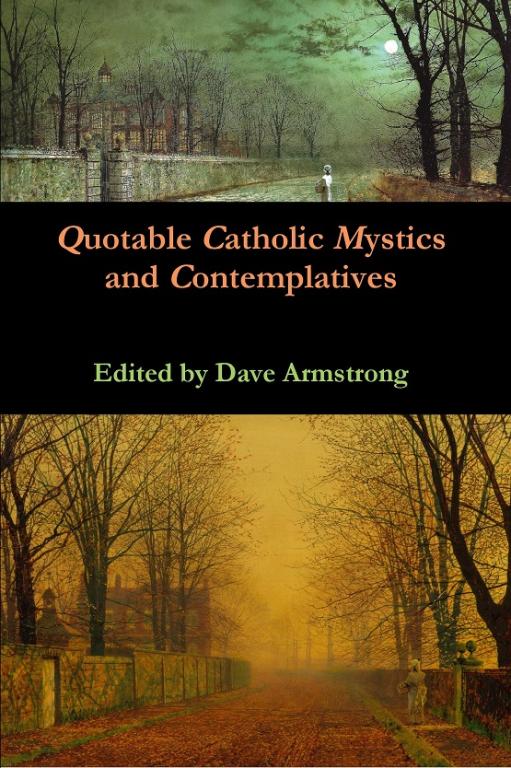 [see the information page for this book, for full details and all purchase options. Available for as low as $2.99 (ePub / mobi / Amazon Kindle / Nook Book / iTunes / Kobo) ]
* * *
(published in May 2014 by Lulu, 304 pages; 14 mystics or mystical works from 22 books from the 12th-16th centuries. Arranged chronologically in 215 topical categories.)
* * * * *
Authors and anonymous books included, listed in chronological order, are (Doctors of the Church in blue):
St. Bernard of Clairvaux (1090-1153) / On Loving God: French Cistercian and Doctor of the Church.

St. Bonaventure (c. 1217-1274) / The Mind's Road to God: Italian Franciscan and Doctor of the Church.

Blessed John of Ruysbroeck (c. 1293-1381): Flemish / Belgian priest.

Blessed Henry Suso (1295-1366): German Dominican.

Johannes Tauler (c. 1300-1361): German Dominican.

Walter Hilton (c. 1340/45 -1396): English Augustinian.

Julian[a] of Norwich (c. 1342-c. 1416): English anchoress.

St. Catherine of Siena (1347-1380) / Dialog: Italian Dominican and Doctor of the Church.

The Cloud of Unknowing: late 14th century anonymous English work.

Theologia Germanica: late 14th century work by an anonymous German priest (member of the Teutonic Order).

Thomas à Kempis (c. 1380-1471) / The Imitation of Christ: German Augustinian.

St. Catherine of Genoa (1447-1510): Italian layperson.

St. Teresa of Avila (1515-1582): Spanish Carmelite and Doctor of the Church.

St. John of the Cross (1542-1591): Spanish Carmelite and Doctor of the Church.
Introduction by the Anglo-Catholic expert on mysticism, Evelyn Underhill. The collection includes five women and five Doctors of the Church. Orders of the Church included are Dominican (3), Augustinian (2), Carmelite (2), Franciscan, and Cistercian.
Here is an example:
[I]n the abundance of My charity, I give them time, and do not order the earth to open and swallow them up on account of their sins. I even wait for them, and command the earth to give them of her fruits, the sun to give them light and warmth, and the sky to move above them. And in all things created and made for them, I use My charity and mercy, withdrawing neither on account of their sins. I even give equally to the sinner and the righteous man, and often more to the sinner than to the righteous man, because the righteous man is able to endure privation, and I take from him the goods of the world that he may the more abundantly enjoy the goods of heaven. So that in worldly men My mercy and charity shine, . . .

(St. Catherine of Siena, The Dialogue, "A Treatise of Prayer")
Many excerpts are linked on the Info-page. at the top.
I was greatly blessed and felt that I grew spiritually in compiling this book. Wonderful authors, lots of edifying and educational thoughts collected . . . My favorite of all was St. Teresa of Avila, but it's tough to choose, among all these priceless spiritual treasures.
The great disappointment was not finding any Orthodox mystical books not in copyright. I wanted to include at least St. Gregory Palamas or the Philokalia, but I came up with nothing. The latter is available at Internet Archive, but I'm not at all sure if it is public domain. The text seems to be a 1979 translation.
I also wanted to include Matthias Scheeben's Mysteries of Christianity (late 19th century), but it seems to be copyrighted and not online.
I wanted St. Hildegard of Bingen (1098-1179; Doctor of the Church), too, but there is nothing to speak of in English, that is also public domain.
I decided to start after 1000 AD, because I already have compiled three books of quotations of the Church Fathers.