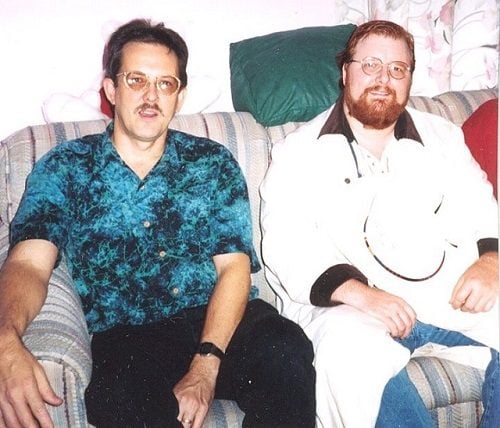 Catholic apologist and friend Jimmy Akin, visiting my home in 2004 [family photo]
*****
I have compiled many papers on this topic from the archives of my old Blogspot site (and Facebook articles). Be sure to allow Internet Archive a minute or two for the papers to upload, and select versions from July 2015 or earlier.
*****
DEFENDING DEFENDING
Apologia for Apologists and Apologetics [1-29-04]
Yet Another Reply to Bum Raps Against Apologetics [1-27-08]
The Certitude of Faith and Cardinal Newman / Defense of the Lay Apologetic Vocation Contra False "Traditionalist" Claims [9-30-08]
Reply to an Academic's Insults of My Work and Supposed Profound Intellectual Shortcomings / History of Non-Academic Lay Apologetics [9-29-12]
My Apologetics Apostolate and its Relation to Journalism and the Internet [Facebook, 3-6-14]
GENERAL
The Trials & Tribulations (but Mostly Joys) of Being an Apologist [10-14-04]
The Pleasures and Perils of a Catholic Apologetics Apostolate [This Rock, Nov. 2004]
Does Anyone Do Apologetics and/or Theology Anymore? [11-26-06]
Scott Hahn's New Apologetics Book "Reasons to Believe" and Kind Remark About Contemporary Apologists [2-2-07]
My Use of Satirical Humor: Essentially Contrary to the Ironic Humor of Our Lord Jesus and St. Paul? [6-2-07]
I Certainly Waited (To Do Apologetics After My Conversion to Catholicism) [9-18-07]
Dialogue on the Relationship of Reason, Logic, and Supernatural Faith, with a Christian "Pluralist" (i.e., Theological Liberal) [1-19-10]
"Young Guns" in Catholic Online Apologetics: How Different Are They from the "Old Guard"? / Apologetics is Always a Difficult Spiritual Battle [8-30-11]
Catholic Apologist "Young Guns" Take Savage Satirical Revenge Against Yours Truly in Hilarious Polemical Shootout, Complete with Appropriate "Gunfighter" Visuals [9-9-11]
On a Confident Catholic Faith and Apologetics [Facebook, 1-30-14]
Apologetics: Never having to say you're sorry for your faith [article for The Michigan Catholic, 5-13-14]
Competing Goals and Demands of Scholarship and Apologetics in Dealing with Protestant-Catholic Issues (with Dr. Edwin Tait) [Facebook, 6-23-14]
METHODOLOGY
Catholic Apologetic Method, Epistemology, and Open-Mindedness [4-19-04]
Brief Critique of Presuppositionalism [10-14-04]
Blaise Pascal, Peter Kreeft, & Soren Kierkegaard on Persuasion & Apologetic Method [9-2-05]
Critique of Presuppositionalist Christian Apologetics (Specifically the Van Tillian Version) [2-26-07]
More James White Orwellian "Doublethink": Greg Bahnsen Thought R.C. Sproul & John Gerstner Were Exceedingly Stupid Too, Regarding Presuppositionalism [4-13-07]
Biblical Evidence For Vigorously, Passionately Arguing in Favor of One's Religious Truth Claims [6-4-07]
On the "Celebrity" Status of Scott Hahn / Our Call to Effectively Share the Catholic Faith With Non-Catholics in Terms That They Can Understand [2-18-08]
Am I a "Protestantizing" Catholic Now Or Was I Formerly a "Catholicizing" Protestant? [7-24-08]
Apologetics Must be Done with Gentleness and Love (1 Peter 3:15), but Sometimes (Sadly) Also Entails the Necessity of Conflict and "Vinegar"-Type Replies (Still with a Motivation of Love and Correction) [Facebook, 3-11-14]
Was Jesus Being "Spiteful" When He Said to "Shake the Dust Off of Your Feet" (Against Those Who Refused the Gospel)? [Facebook, 10-4-14]
Defense of the Use of (Relevant) Links as Valid, Perfectly Acceptable Argumentation [Facebook, 10-8-14]
*****
Meta Description: Many papers from Catholic apologist Dave Armstrong about how to become an apologist & the proper approach & attitude, etc.
Meta Keywords: Catholic apologetics, becoming an apologist, goals of apologetics, nature of apologetics, apologetics training