People Have Very Short Memories (Cruz's Remarkable Metamorphosis Re Donald Trump)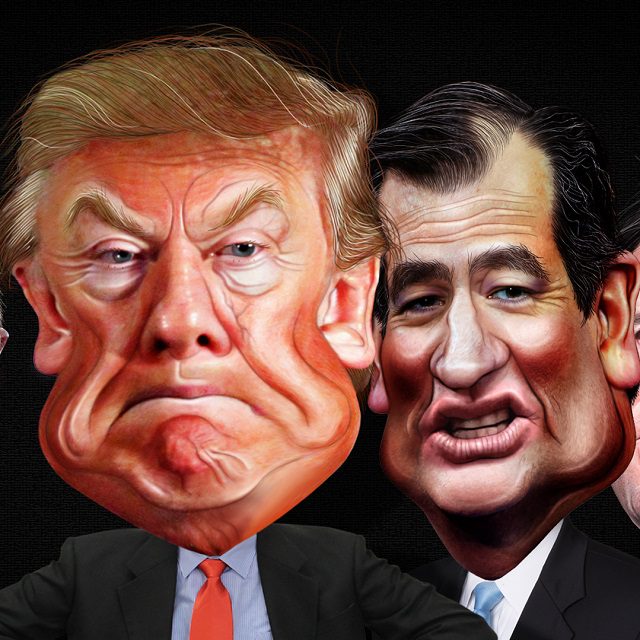 Caricatures by "DonkeyHotey". The caricatures of Donald Trump and Ted Cruz were adapted, respectively, from Creative Commons licensed images from Max Goldberg's flickr photostream and Gage Skidmores's Flickr photostream. Uploaded on 4 March 2016 [Flickr / CC BY-SA 2.0 license]
*****
Full disclosure / background: Sen. Cruz was my favorite GOP candidate at one point. I was neither predisposed nor inclined (politically or "temperamentally") to dislike him. I had enjoyed and agreed with his comments on political talk shows for several years, and appreciated (and still do) his public stands for conservative principles. I switched to Rubio after Iowa, but I also liked Dr. Ben Carson a lot, and would have voted for Kasich in the Michigan primary, if I had voted.
I liked almost all of the Republican candidates (Pataki is a pro-abort: always an instant disqualifier for me). It was a great field. Trump was my 14th choice out of the original 17. I said all along that I would vote for the GOP nominee, whoever it was (just as all of the main candidates took a pledge to do: several — including Sen. Cruz — later going back on their own word).
What I don't like, for sure, is two-faced crass opportunism and sore losers (otherwise, I would never "pile on" or "lick a man when he is down"). Readers may make up their own minds in interpreting the following extraordinarily polarized (and quite typically "politician-like") opinions and actions, from Senator Ted Cruz. Don't get mad at me; I'm just the "chronicler."
Sen. Cruz's own words will be in blue. Words in black are from various secular news articles (follow the bracketed "source" links for full bibliographical information). I won't bother to put everything in quotation marks. These are all quotations. The dates are those of the articles cited.
*****
16 June 2015 [Cruz tweet] I'm pleased to welcome @realDonaldTrump into the race for the 2016 GOP nomination for President of the United States. [source]
30 June 2015 "I like Donald Trump. I think he's terrific, I think he's brash, I think he speaks the truth," Cruz said Tuesday morning on Fox News. . . . Cruz, whose father is Cuban, said he doesn't believe Trump should apologize for his remarks, pointing out that "the American people are fed up" with the illegal immigration problem in the United States. "He has a way of speaking that gets attention," Cruz said on Tuesday. "And I credit him for focusing on an issue that needs to be focused on." [source]
15 July 2015 Trump and Cruz will meet Wednesday at New York's Trump Tower, according to the Washington Post. Trump said on MSNBC's "Morning Joe" that Cruz called him to set it up. . . . The rivals for the 2016 Republican presidential nomination have been friendly for years, according to the Post, . . . "I've sat down with Donald multiple times before he was a candidate for president, and I'm happy to sit down with him now," . . . "One of the reasons you're seeing so many 2016 candidates go out of their way to smack Donald Trump is they don't like politicians that speak directly about the challenges of illegal immigration," said Cruz on Wednesday. [source]
*
*
*
*
*
25 March 2016 "If you look at a number of the candidates that took on Donald Trump early on," Sen. Ted Cruz told Wisconsin radio host Charlie Sykes on Wednesday, "they ended up as roadkill." . . . [from August 2015] "I'm not going to engage in the back-and-forth on personalities," he said. "I get the media loves that. That's what you want to cover, is the soap opera of back-and-forth." [source]
3 May 2016 It might be easier to believe Ted Cruz's latest condemnations of Donald Trump if Cruz hadn't spent months saying the exact opposite. . . . So, which is it? Should voters believe Ted Cruz when he says Trump is "a pathological liar," or should voters believe the other Ted Cruz who insisted Trump "speaks the truth"? As recently as December, Cruz said on Twitter the political establishment may be waiting for some kind of "catch" between the two candidates, but it wouldn't happen. "Sorry to disappoint," Cruz said at the time, "[but Trump] is terrific." Apparently, Trump was terrific before he was serial philandering narcissist. I realize, of course, that Cruz's previous praise for Trump was a calculated strategy. The Texas senator believed that Trump's candidacy would eventually falter, and if Cruz could position himself as the principal beneficiary once Trump's supporters shifted their allegiance to a new candidate, Cruz could reap a windfall. . . . The Texan is now reduced to effectively telling the public, "Never mind all of that stuff I said before that I didn't really mean. What really matters are the attacks I'm willing to make now." Or put another way, Cruz is now admitting that he lied about the candidate he considers a pathological liar. [source]
I'm going to do something I haven't done for the entire campaign, for those of y'all who have traveled with me all across the country. I'm going to tell you what I really think of Donald Trump. This man is a pathological liar. He doesn't know the difference between truth and lies. He lies practically every word that comes out of his mouth. And, in a pattern that I think is straight out of a psychology textbook, his response is to accuse everybody else of lying. He accuses everybody on that debate stage of lying, and it's simply a mindless yell. Whatever he does, he accuses everyone else of doing.
The man cannot tell the truth, but he combines it with being a narcissist. A narcissist at a level – I don't think this country's ever seen. Donald Trump is such a narcissist that Barack Obama looks at him and goes, "Dude, what's your problem?" Everything in Donald's world is about Donald.
And he combines being a pathological liar…and I say pathological because I actually think Donald, if you hooked him up to a lie detector test, he could say one thing in the morning, one thing at noon, and one thing in the evening, all contradictory, and he'd pass the lie detector test each time. Whatever lie he's telling at that minute, he believes it.
But the man is utterly amoral. [Reporter starts a question] Let, let me finish this, please. The man is utterly amoral. Morality does not exist for him. It's why he went after Heidi directly and smeared my wife. Attacked her. . . . 
But Donald is a bully. You know, we just visited with fifth graders. Every one of us knew bullies in elementary school. Bullies don't come from strength, bullies come from weakness. Bullies come from a deep, yawning cavern of insecurity. There is a reason Donald builds giant buildings and puts his name on them everywhere he goes.
And I will say, there are millions of people in this country who are angry. They're angry at Washington, they're angry at politicians who have lied to them, I understand that anger. I share that anger. And Donald is cynically exploiting that anger, and he is lying to his supporters.
Donald will betray his supporters on every issue. If you care about immigration, Donald is laughing at you. And he's telling the moneyed elites that he doesn't believe what he's saying, he's not gonna build a wall – that's what he told the New York Times, he will betray you on every issue across the board. [source]
. . . people who are insecure about who they are, Donald is terrified by strong women. He lashes out at them. . . . Do you wanna spend the next five years with your kids bragging about infidelity . . . he does the same projection, just like a pathological liar, he accuses everyone of lying . . . He accuses others of doing what he is doing. . . . We are staring at the abyss . . . [source]
If Indiana does not act, this country could well plunge into the abyss. I don't believe that's who we are. We are not a proud, boastful, self-centered, mean-spirited, hateful, bullying nation. . . . Donald Trump laughs at the people of this state: laughs, bullies, attacks, insults. I don't believe that's America.  [source: video at the end]
*****
Meta Description: Ted Cruz's incredible 9-month odyssey, from being a Trump "fan" to thinking he is the scum of the earth & pathological scoundrel.
Meta Keywords: 2016 presidential campaign, 2016 Republican primaries, Ted Cruz, Donald Trump, American politics