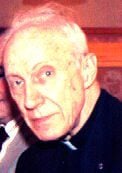 Personal family photo, at a restaurant after my son Paul's baptism in 1991.
****
(1 January 2001)
***
Servant of God Fr. John A. Hardon is being
considered for possible future canonization
. I had the great honor and privilege of knowing him personally. I met him in 1990, just as I was starting to consider the fuller truth of Catholicism. I studied with him for many months, with others, in Ignatian Catechist courses. He had me read his
Catholic Catechism
as the condition for receiving me into the church. That occurred on 8 February 1991. Our marriage was also sacramentalized at the time, and my wife returned to the Church. He later wrote the Foreword of my first book,
A Biblical Defense of Catholicism
. I wrote this tribute just two days after he died.
*****
Fr. John A. Hardon (1914-2000) was a holy man. No greater thing can be said about a person. He worked tirelessly for the propagation of the gospel, and for the Church, regardless of frequent ill health and (eventually) great age. He was a close associate and advisor of Pope Paul VI, Pope John Paul II, and Mother Teresa and the Missionaries of Charity. He had a profound eucharistic and Marian devotion (he would often – if not always – write his papers and books before Our Lord in the Blessed Eucharist), and emphasized the family, the indissolubility of marriage, home schooling, and the pro-life viewpoint in his writings and talks. He was one of the leading catechists in the world (who highly influenced the Catechism of the Catholic Church), and was also an expert in the field of comparative religion.
Fr. Hardon was a wonderful, humble man and teacher and writer. It almost felt like being in the presence of an Apostle, to listen to him teach, and to take in his extraordinary insight and wisdom. I have had the honor of knowing him personally. Meeting him proved to be a watershed event in my life, and that of my family. He helped me to convert in 1990, received me into the Church, and also baptized my first two children. Performing baptisms meant a great deal to him not only because of the sacramental graces conveyed, but — on a personal level — because, as a Jesuit priest without his own parish, he didn't do many baptisms.
*
I always felt that our children possessed a great spiritual advantage to be baptized (and no doubt prayed for often) by such a holy and dedicated priest. It was a tremendous blessing to be able to attend his informal catechetical classes every week at the University of Detroit. This was as good an introduction to Catholicism as anyone could ever hope to receive, and I shall always be grateful and thankful for it.
He was one of the great and persevering orthodox giants of our time, always faithful and obedient to the Church and the Holy Father, and was much concerned about orthodox and otherwise committed Catholics who were tempted to join schismatic breakaway groups such as the SSPX. He understood perfectly well why they were troubled, and was sympathetic to their concerns (insofar as possible), but he never for a moment accepted the premise that a schismatic act was ever justified. I know this for a fact because I heard him speak about it on many occasions. He encouraged us — as lay catechists — to reach out to such people and attempt to bring them back into full communion with the Church. Yet he yielded nothing to the modernist dissidents on the opposite end of the spectrum either, to put it very mildly. He was simply, well, an orthodox Catholic.
*
In many ways, Fr. Hardon might be said to be the "Father of Internet Evangelism," as he has always stressed the use of writing, the modern media, and assertive evangelism. He was fond of saying that it was great to share the faith one-on-one, but that if a Catholic wrote, then potentially "thousands" of people could benefit from Catholic truths. He would also often assert that "what you memorize literally becomes part of your brain," so that it was supremely important for us to carefully select our reading material and to monitor habits such as television-watching. To further this end, he wrote The Catholic Lifetime Reading Plan (Royal Oak, Michigan: Grotto Press, Updated Version, 1998), and edited The Treasury of Catholic Wisdom (San Francisco: Ignatius Press, 1995).
He especially encouraged the laity to become more active in the Church, and had been training Marian and Ignatian catechists for at least the past ten years, at the direct request of the Holy Father. He was instrumental in establishing the annual Call to Holiness conference in Michigan, which is an antidote to the dissident group Call to Action. And he founded the excellent magazine The Catholic Faith, which is available on the Internet or as a conventional magazine. He had a huge influence on Tom Monaghan, the Catholic philanthropist, who is currently undertaking many Catholic endeavors of outreach and education in Ann Arbor, Michigan, such as a radio station, a college, a law school, and a flourishing newspaper (Credo), among other things.
I could list Fr. Hardon's extraordinary credentials and educational and academic achievements (and it would take a good deal of writing) but I suspect he would (perhaps even now) solemnly shake his head at the notion, thus vetoing such accolades of himself, so I will desist.
*
Fr. Hardon's manifest virtue of humility was one of his leading character traits. He would habitually refer to himself as "this sinner," which always reminded me of the Apostle Paul calling himself "the chief of sinners." The last time I saw him was about a year ago at a conference for Catholic radio, where he was to be given a well-deserved award for lifetime achievement. I knew that he would be very uncomfortable with this because undoubtedly he would regard it as improperly extolling him. Yet he was far too courteous to ever consider refusing to accept the honor. His words upon receiving the award were entirely what I expected from such a humble servant of God. He rose from his chair in the middle of the crowd. I paraphrase, but his entire "acceptance speech" was essentially as follows: "Thank you very much. To God be all the glory — all the glory." If I remember correctly, he also blessed the audience. And then he sat down.
My wife and I were determined to say hello to him that night. He was already visibly ill and we weren't sure if he even knew who we were, but it mattered not. He said hello, shook our hands, and immediately blessed us, and that was worth more than any words we could have spoken. As usual, his thoughts went immediately to others; what he could do to help them in some fashion.
*
He — unfortunately — endured much completely unnecessary and unjust persecution from within the ranks of his own (less orthodox and committed) colleagues. I and friends of mine who knew Fr. Hardon and had the inestimable privilege of studying under him actually observed this on occasion with our own eyes. Father would (on rare occasions) make veiled, passing references to it, with his characteristically accepting smile — that of a person who well understood God's higher (often inscrutable) purposes of suffering and mortification, and was perfectly willing to joyfully endure it for the sake of souls –, but he was far too humble and charitable to ever elaborate. Nevertheless, we could put two and two together.
*
It saddened us (his students) greatly to know that a man of God we loved so dearly and respected so highly had to experience such painful hurt from within the Church, but this is the way of things with fallen humanity. One often comes across such sorrowful experience when reading about the saints (St. John of the Cross comes to mind). Saints are willing to suffer (even to the extent of joyfully embracing it), and since suffering is a means of accomplishing redemption for other souls, God will let those go through trials, who understand this and accept the sublimity and (for lack of a better word) efficacy of it — one more tangible evidence of Fr. Hardon's saintly character.
On a somewhat related note: I heard recently that some (probably again, colleagues – maybe envious ones, I suspect) had apparently regarded him as an "intellectual bully." I can testify that — at least as far as I am concerned, in my dozens of hours spent with him, both before and after my conversion — I never observed the slightest hint of this, though it is undeniable that his was an intellect of extraordinary power and incisiveness. It was a humble intellect, and always first and foremost a thoroughly Catholic intellect (which might strike some as a self-evident point, but which actually isn't always a given, even for a priest, in this strange day and age in which we find ourselves).
He possessed many charming, endearing qualities as a teacher, which is how I knew him best. For example, he would be lecturing on something or other going on in the Church, of a scandalous or undesirable or heterodox nature. The lectures were always taped for future reference. When it came time to speak about a particularly controversial aspect of a problem (even mentioning a person in some cases), he would ask for the tape player to be shut off until after he finished with the information, and then turned back on. He joked once — flashing that ingratiating, disarming smile of his — about the humiliating and deflating experience of finding one of his books at a used bookstore for a quarter (I have a big smile myself as I write).
*
He seemed to take a liking to me in the early days of my conversion, or slightly before it, in 1990 (I soon came to admire him immensely), because he had had much experience with Protestants and was very comfortable interacting with them, having once even taught at a non-Catholic college for many years (Western Michigan University). He would occasionally — at the Ignatian Catechist meetings I attended — quiz me on the spot (gently), to keep me on my toes, I guess.
*
One night, the group said the Our Father (or the Lord's Prayer, as we used to refer to it as evangelicals) together. Upon its completion, he turned and looked right at me and asked me to recite the usual Protestant ending: "for thine is the kingdom, and the power, and the glory, forever and ever, Amen." Something about that incident, and others like it — perhaps too difficult to accurately express in words — struck me then (and continues to now) as a delightful manifestation of the man's charm and warmth, which was revealed in so many ways.
My father (a lifelong Methodist, but not a particularly observant one) felt this, too, I believe. When my first child was baptized by Fr. Hardon in 1991, he spent a great deal of time afterwards talking to my dad, who developed an affection for him immediately. My father would say to me later, whenever I mentioned Fr. Hardon, "I like that old guy a lot." And he would ask about him, out of the blue. This wasn't indicative of any theological affinity or desire to convert (far from it), but was simply (or so I would guess) the result of an earned respect; the result of being shown courtesy and consideration from a true pastor of souls, for whom charity was a way of life, as natural as breathing.
Please pray for the soul of this godly, dedicated servant of God, and offer thanks for all that he accomplished in his earthly sojourn. He lived a life of truly heroic sanctity and service. I am happy that he has been relieved of the terrible physical sufferings of his last days, but of course we grieve for the tremendous loss, and the orthodox Catholic world will miss him terribly. His writings live on, however, and will continue to have great effect in changing souls and bringing them closer to Christ. No one who met him or heard him speak could have easily forgotten the experience, nor his kindly, wise, scholarly, spiritual manner (in a word, his "holiness"). I suppose this was the closest I have come in my life to meeting a saint.
*
I can easily picture our Lord God saying to Father John A. Hardon (more than to any other person alive save His Holiness John Paul II), "Well done, thou good and faithful servant."
*****
Meta Description: Personal tribute to Servant of God Fr. John A. Hardon (1914-2000), whose cause for canonization is now being considered.
*
Meta Keywords: John A. Hardon, Servants of God, causes for canonization, Fr. Hardon, American Jesuits, American catechists