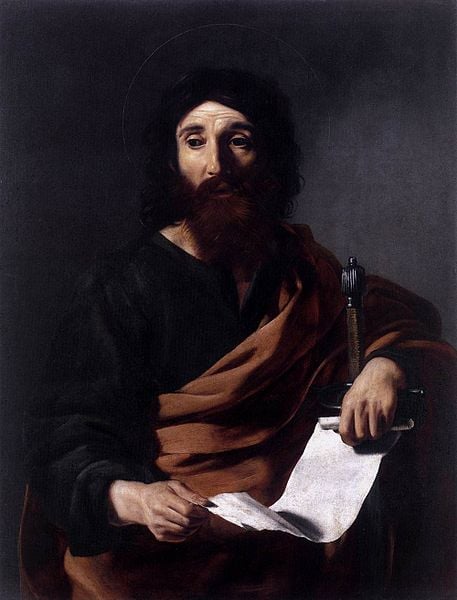 St. Paul (1625-1626), by Nicolas Tournier (1590-1639) [public domain / Wikimedia Commons]
*****
[12-20-07]
***
SANCTIFICATION AS PART OF SALVATION
*
Sanctification: Catholic Definition
Being made holy. The first sanctification takes place at baptism, by which the love of God is infused by the Holy Spirit (Romans 5:5). Newly baptized persons are holy because the Holy Trinity begins to dwell in their souls and they are pleasing to God. The second sanctification is a lifelong process in which a person already in the state of grace grows in the possession of grace and in likeness to God by faithfully corresponding with divine inspirations. The third sanctification takes place when a person enters heaven and becomes totally and irrevocably united with God in the beatific vision. (John A. Hardon, S. J., Pocket Catholic Dictionary, New York: Doubleday Image, 1980, 393)
Acts 26:18 (RSV) to open their eyes, that they may turn from darkness to light and from the power of Satan to God, that they may receive forgiveness of sins and a place among those who are sanctified by faith in me. [Phillips: "made holy by their faith in me"] [cf. Acts 20:32; Jude 1]
This would appear to contradict a strict notion of sola fide, or faith alone: one of the two "pillars" of the so-called "Reformation", because it connects sanctification directly to faith; indeed, it comes "by" faith. Here is another passage that connects sanctification with faith (traditionally associated with justification):
Acts 15:8-9 And God who knows the heart bore witness to them, giving them the Holy Spirit just as he did to us; and he made no distinction between us and them, but cleansed their hearts by faith.
The Greek word for "cleansed" used here is katharizo. It is used many times in the Gospels in reference to the cleansing of lepers (e.g., Mt 10:8; Lk 7:22). We see this dynamic also in Hebrews:
Hebrews 9:12-14 he entered once for all into the Holy Place, taking not the blood of goats and calves but his own blood, thus securing an eternal redemption. For if the sprinkling of defiled persons with the blood of goats and bulls and with the ashes of a heifer sanctifies for the purification of the flesh, how much more shall the blood of Christ, who through the eternal Spirit offered himself without blemish to God, purify your conscience from dead works to serve the living God. (cf. 1 John 1:7, 9: same word: katharizo)
Thus, the "eternal redemption" secured by Jesus Christ with "his own blood" leads inexorably to a purified conscience, and a new ability to serve God, just as flesh was purified by the old sacrificial system. Sanctification seems intimately connected to justification, or in any event, redemption.
Perhaps the clearest verse in the New Testament that directly connects sanctification to salvation itself, is this one:
2 Thessalonians 2:13 But we are bound to give thanks to God always for you, brethren beloved by the Lord, because God chose you from the beginning to be saved, through sanctification by the Spirit and belief in the truth.
Another biblical passage that conveys a similar notion is a bit more difficult to easily interpret:
Romans 5:10 For if while we were enemies we were reconciled to God by the death of his Son, much more, now that we are reconciled, shall we be saved by his life.
The first part of the verse has to do with justification, and the second with sanctification. But the second is what is tied into "salvation." Sanctification is thus part of salvation. Some commentators have interpreted the latter clause "his life" as the indwelling, based on the contextual evidence of Romans 5:5: "God's love has been poured into our hearts through the Holy Spirit which has been given to us."
Indeed, The Living Bible translates this as "he is living within us!" and Phillips has a similar "we may be perfectly certain of our salvation through his living in us." Charles B. Williams renders the phrase "saved through his new life". Note the Protestant bias in Phillips, with the notion of eternal security smuggled in, whereas more literal translations render it "we shall be saved" (KJV, NASB, NKJV), "shall we be saved" (NIV), "will we be saved" (NRSV).
If we follow the idea of the indwelling being referred to, then the passage might arguably mean something like "Jesus in us, leads us to be increasingly sanctified and holy, which then saves us." Paul enlarges upon his connecting of Jesus' life and ours in chapter 6, and makes a further parallel of sanctification and salvation:
Romans 6:22 But now that you have been set free from sin and have become slaves of God, the return you get is sanctification and its end, eternal life.
The author of Hebrews maintains the same motif:
Hebrews 10:10 And by that will we have been sanctified through the offering of the body of Jesus Christ once for all.

Hebrews 10:14 For by a single offering he has perfected for all time those who are sanctified.

Hebrews 10:29 How much worse punishment do you think will be deserved by the man who has spurned the Son of God, and profaned the blood of the covenant by which he was sanctified, and outraged the Spirit of grace?

Hebrews 13:12 So Jesus also suffered outside the gate in order to sanctify the people through his own blood.
MERIT AND "DOING SOMETHING" WITH REGARD TO ONE'S SALVATION
*
Merit: Catholic Definition
John A. Hardon, S.J.
Divine reward for the practice of virtue. It is Catholic doctrine that by his good works a person in the state of grace really acquires a claim to supernatural reward from God. 'The reward given for good works is not won by reason of actions which precede grace, but grace, which is unmerited, precedes actions in order that they may be performed meritoriously' (II Council of Orange [529 A.D.], Denzinger, 388) . . .
The meritorious work must be morally good, that is, in accordance with the moral law in its object, intent, and circumstances . . .

Strictly speaking only a person in the state of grace can merit . . .

Merit depends on the free ordinance of God to reward with everlasting happiness the good works performed by his grace. On account of the infinite distance between Creator and creature, a human being alone cannot make God his or her debtor, if God does not do so by his own free ordinance. That God has made such an ordinance is clear from his frequent promises, e.g., the Beatitudes and the prediction of the Last Judgment.

The object of supernatural merit is an increase of sanctifying grace, eternal life (if the person dies in divine friendship), and an increase of heavenly glory. (Pocket Catholic Dictionary, New York: Doubleday Image, 1980, 259)
2 Timothy 2:15, 21-22 Do your best to present yourself to God as one approved, a workman who has no need to be ashamed, rightly handling the word of truth. . . . If any one purifies himself from what is ignoble, then he will be a vessel for noble use, consecrated and useful to the master of the house, ready for any good work. So shun youthful passions and aim at righteousness, faith, love, and peace, along with those who call upon the Lord from a pure heart.

Hebrews 10:24 and let us consider how to stir up one another to love and good works,

Hebrews 10:36, 38-39 For you have need of endurance, so that you may do the will of God and receive what is promised. . . . but my righteous one shall live by faith, and if he shrinks back, my soul has no pleasure in him." But we are not of those who shrink back and are destroyed, but of those who have faith and keep their souls.

2 Peter 1:10 Therefore, brethren, be the more zealous to confirm your call and election, for if you do this you will never fall;

Jude 1:20-21 But you, beloved, build yourselves up on your most holy faith; pray in the Holy Spirit; keep yourselves in the love of God; wait for the mercy of our Lord Jesus Christ unto eternal life.
*****

*

Meta Description: Biblical data brought to bear regarding the Catholic distinctives of sanctification tied closely to justification, and merit.

*

Meta Keywords: appropriation of grace, Catholic soteriology, co-laborers with God, cooperation with God's grace, Faith Alone, fellow workers, grace, grace alone, heaven, imputed justification, infused justification, Justification, merit, Pelagianism, Philippians 2:12, Salvation, sanctification, semi-Pelagianism, soteriology, synergy, faith, faith & works