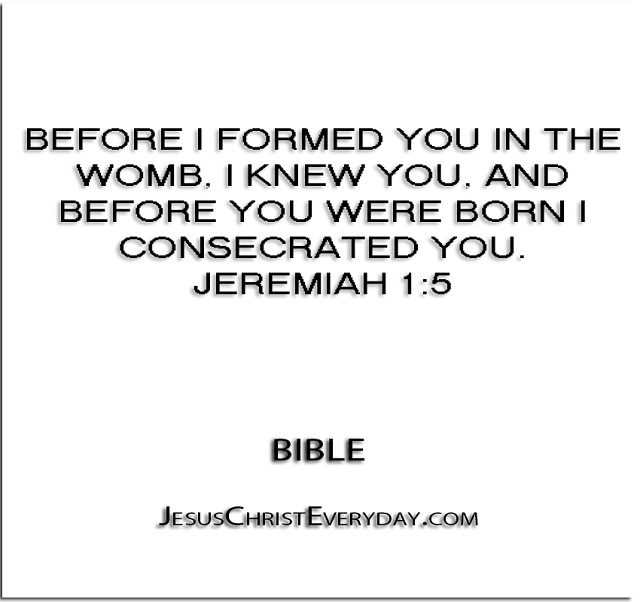 (3-8-09)
***
[all verses: RSV. Passages in blue are not included in my book, Bible Proofs for Catholic Truths; and the Bible version in the book is KJV rather than RSV]
***
FULL PERSONHOOD OF THE CHILD IN THE WOMB
*
Genesis 16:11 And the angel of the LORD said to her, "Behold, you are with child, and shall bear a son; you shall call his name Ish'mael; because the LORD has given heed to your affliction."
Genesis 19:36 Thus both the daughters of Lot were with child by their father.
Genesis 25:21-22 And Isaac prayed to the LORD for his wife, because she was barren; and the LORD granted his prayer, and Rebekah his wife conceived. The children struggled together within her; . . .
Genesis 38:24 . . . she is with child by harlotry. . . . "By the man to whom these belong, I am with child" . . . .
Numbers 5:28 But if the woman has not defiled herself and is clean, then she shall be free and shall conceive children.
Judges 16:17 And he told her all his mind, and said to her, "A razor has never come upon my head; for I have been a Nazirite to God from my mother's womb. . . ."
Ruth 1:11 Have I yet sons in my womb that they may become your husbands?
2 Samuel 11:5 And the woman conceived; and she sent and told David, "I am with child." (cf. 2 Ki 8:12; 15:16; Ecc 11:5; Amos 1:13)
2 Kings 19:3 They said to him, "Thus says Hezeki'ah, This day is a day of distress, of rebuke, and of disgrace; children have come to the birth, and there is no strength to bring them forth."
Job 3:3 . . . "A man-child is conceived."
Job 3:16 Or why was I not as a hidden untimely birth, as infants that never see the light?
Job 31:18 (for from his youth I reared him as a father, and from his mother's womb I guided him);
Psalm 51:5 Behold, I was brought forth in iniquity, and in sin did my mother conceive me.
Psalm 102:18 Let this be recorded for a generation to come, so that a people yet unborn may praise the LORD:
Psalm 139:13-16 For thou didst form my inward parts, thou didst knit me together in my mother's womb. I praise thee, for thou art fearful and wonderful. Wonderful are thy works! Thou knowest me right well; my frame was not hidden from thee, when I was being made in secret, intricately wrought in the depths of the earth. Thy eyes beheld my unformed substance; in thy book were written, every one of them, the days that were formed for me, when as yet there was none of them.
Song of Solomon 8:2 I would lead you and bring you into the house of my mother, and into the chamber of her that conceived me.
Isaiah 49:1, 5 . . . The LORD called me from the womb, from the body of my mother he named my name. . . . And now the LORD says, who formed me from the womb to be his servant, . . . (cf. 44:2,24)
Jeremiah 1:5 Before I formed you in the womb I knew you, and before you were born I consecrated you; I appointed you a prophet to the nations.
Hosea 12:3 In the womb he took his brother by the heel, . . .
Tobit 4:4 Remember, my son, that she faced many dangers for you while you were yet unborn. . . .
Wisdom 7:1 I also am mortal, like all men, a descendant of the first-formed child of earth; and in the womb of a mother I was molded into flesh,
Sirach 49:7 . . . he had been consecrated in the womb as prophet, . . .
2 Maccabees 7:22-23 I do not know how you came into being in my womb. It was not I who gave you life and breath, nor I who set in order the elements within each of you. Therefore the Creator of the world, who shaped the beginning of man and devised the origin of all things, will in his mercy give life and breath back to you again, since you now forget yourselves for the sake of his laws
2 Maccabees 7:27 . . . I carried you nine months in my womb, . . .
Matthew 1:18 Now the birth of Jesus Christ took place in this way. When his mother Mary had been betrothed to Joseph, before they came together she was found to be with child of the Holy Spirit;
Matthew 18:10 See that you do not despise one of these little ones; for I tell you that in heaven their angels always behold the face of my Father who is in heaven.
Matthew 24:19 And alas for those who are with child and for those who give suck in those days! (cf. Mk 13:17)
Matthew 25:40 And the King will answer them, "Truly, I say to you, as you did it to one of the least of these my brethren, you did it to me."
Luke 1:15 . . . he will be filled with the Holy Spirit, even from his mother's womb.
Luke 1:35-36 And the angel said to her, "The Holy Spirit will come upon you, and the power of the Most High will overshadow you; therefore the child to be born will be called holy, the Son of God." And behold, your kinswoman Elizabeth in her old age has also conceived a son; and this is the sixth month with her who was called barren.
Luke 1:44 For behold, when the voice of your greeting came to my ears, the babe in my womb leaped for joy.
Luke 2:5 to be enrolled with Mary, his betrothed, who was with child.
Luke 2:21 And at the end of eight days, when he was circumcised, he was called Jesus, the name given by the angel before he was conceived in the womb.
Romans 9:10 And not only so, but also when Rebecca had conceived children by one man, our forefather Isaac,
Galatians 1:15 . . . he who had set me apart before I was born, and had called me through his grace,


MURDER AND "INNOCENT BLOOD"  

Exodus 21:22 When men strive together, and hurt a woman with child, so that there is a miscarriage, and yet no harm follows, the one who hurt her shall be fined, according as the woman's husband shall lay upon him; and he shall pay as the judges determine.
Exodus 23:7 . . . do not slay the innocent and righteous, for I will not acquit the wicked.
Numbers 35:30 If any one kills a person, the murderer shall be put to death on the evidence of witnesses; but no person shall be put to death on the testimony of one witness.
Deuteronomy 19:13 . . . you shall purge the guilt of innocent blood from Israel, so that it may be well with you. (cf. 19:10; 21:8-9)
Deuteronomy 27:25 Cursed be he who takes a bribe to slay an innocent person . . .
2 Kings 14:6 . . . the LORD commanded, "The fathers shall not be put to death for the children, or the children be put to death for the fathers; but every man shall die for his own sin." (cf. Dt 24:16)
2 Kings 21:16 Moreover Manas'seh shed very much innocent blood, till he had filled Jerusalem from one end to another, . . .
2 Kings 24:4 and also for the innocent blood that he had shed; for he filled Jerusalem with innocent blood, and the LORD would not pardon.
Psalm 9:12 For he who avenges blood is mindful of them; he does not forget the cry of the afflicted.
Isaiah 26:21 For behold the LORD comes out of His place to punish the inhabitants of the earth for their iniquity; the earth will also disclose her blood, and will no more cover her slain.
Jeremiah 2:34 Also on your skirts is found the lifeblood of guiltless poor; . . .
Jeremiah 7:6-7 if you do not oppress the alien, the fatherless or the widow, or shed innocent blood in this place, and if you do not go after other gods to your own hurt, then I will let you dwell in this place, in the land that I gave of old to your fathers for ever. (cf. 22:3,17)
Jeremiah 19:4 Because the people have forsaken me, and have profaned this place by burning incense in it to other gods whom neither they nor their fathers nor the kings of Judah have known; and because they have filled this place with the blood of innocents,
Jeremiah 22:17 But you have eyes and heart only for your dishonest gain, for shedding innocent blood, and for practicing oppression and violence. (cf. Ezek 9:9; 22:4; 35:6; 36:18)
Joel 3:19 Egypt shall become a desolation and Edom a desolate wilderness, for the violence done to the people of Judah, because they have shed innocent blood in their land.
1 Maccabees 2:37 . . . Let us all die in our innocence; heaven and earth testify for us that you are killing us unjustly.
Matthew 23:37-38 O Jerusalem, Jerusalem, killing the prophets and stoning those who are sent to you! . . . . . Behold, your house is forsaken and desolate.
Revelation 19:2 For true and righteous are His judgments, because He has judged the great harlot who corrupted the earth with her fornication; and he has avenged on her the blood of His servants shed by her.
THE ABOMINATION OF CHILD SACRIFICE

*
Leviticus 18:21 You shall not give any of your children to devote them by fire to Molech, and so profane the name of your God: I am the LORD.
Leviticus 20:2-3 Say to the people of Israel, Any man of the people of Israel, or of the strangers that sojourn in Israel, who gives any of his children to Molech shall be put to death; the people of the land shall stone him with stones. I myself will set my face against that man, and will cut him off from among his people, because he has given one of his children to Molech, defiling my sanctuary and profaning my holy name.
Deuteronomy 12:31 . . . every abominable thing which the LORD hates they have done for their gods; for they even burn their sons and their daughters in the fire to their gods.
2 Kings 16:2-3 Ahaz was twenty years old when he began to reign, and he reigned sixteen years in Jerusalem. And he did not do what was right in the eyes of the LORD his God, as his father David had done, but he walked in the way of the kings of Israel. He even burned his son as an offering, according to the abominable practices of the nations whom the LORD drove out before the people of Israel.
2 Kings 17:17-18 And they burned their sons and their daughters as offerings, and used divination and sorcery, and sold themselves to do evil in the sight of the LORD, provoking him to anger. Therefore the LORD was very angry with Israel, and removed them out of his sight; none was left but the tribe of Judah only.
2 Kings 23:10 And he defiled To'pheth, which is in the valley of the sons of Hinnom, that no one might burn his son or his daughter as an offering to Molech.
2 Chronicles 28:3 and he burned incense in the valley of the son of Hinnom, and burned his sons as an offering, according to the abominable practices of the nations whom the LORD drove out before the people of Israel.
2 Chronicles 33:6 And he burned his sons as an offering in the valley of the son of Hinnom, and practiced soothsaying and augury and sorcery, and dealt with mediums and with wizards. He did much evil in the sight of the LORD, provoking him to anger.
Psalm 106:36-39 They served their idols, which became a snare to them. They sacrificed their sons and their daughters to the demons; they poured out innocent blood, the blood of their sons and daughters, whom they sacrificed to the idols of Canaan; and the land was polluted with blood. Thus they became unclean by their acts, and played the harlot in their doings.
Jeremiah 7:31-32 And they have built the high place of Topheth, which is in the valley of the son of Hinnom, to burn their sons and their daughters in the fire; which I did not command, nor did it come into my mind. Therefore, behold, the days are coming, says the LORD, when it will no more be called Topheth, or the valley of the son of Hinnom, but the valley of Slaughter: for they will bury in Topheth, because there is no room elsewhere.
Jeremiah 19:5 and have built the high places of Ba'al to burn their sons in the fire as burnt offerings to Ba'al, which I did not command or decree, nor did it come into my mind;
Jeremiah 32:35 They built the high places of Ba'al in the valley of the son of Hinnom, to offer up their sons and daughters to Molech, though I did not command them, nor did it enter into my mind, that they should do this abomination, to cause Judah to sin.
Ezekiel 16:20-21 And you took your sons and your daughters, whom you had borne to me, and these you sacrificed to them to be devoured. Were your harlotries so small a matter that you slaughtered my children and delivered them up as an offering by fire to them?
Ezekiel 16:36 Thus says the Lord GOD, Because your shame was laid bare and your nakedness uncovered in your harlotries with your lovers, and because of all your idols, and because of the blood of your children that you gave to them,
Ezekiel 20:21 When you offer your gifts and sacrifice your sons by fire, you defile yourselves with all your idols to this day. . . .
Ezekiel 20:31 When you offer your gifts and sacrifice your sons by fire, you defile yourselves with all your idols to this day. And shall I be inquired of by you, O house of Israel? As I live, says the Lord GOD, I will not be inquired of by you.
Ezekiel 23:37-39 For they have committed adultery, and blood is upon their hands; with their idols they have committed adultery; and they have even offered up to them for food the sons whom they had borne to me. Moreover this they have done to me: they have defiled my sanctuary on the same day and profaned my sabbaths. For when they had slaughtered their children insacrifice to their idols, on the same day they came into my sanctuary to profane it. And lo, this is what they did in my house.
Wisdom 12:3-6 Those who dwelt of old in thy holy land thou didst hate for their detestable practices, their works of sorcery and unholy rites, their merciless slaughter of children, and their sacrificial feasting on human flesh and blood. These initiates from the midst of a heathen cult, these parents who murder helpless lives, thou didst will to destroy by the hands of our fathers,

ABORTIONISTS AND PRO-ABORTION POLITICIANS AND JUDGES

*
Exodus 1:15-17 Then the king of Egypt said to the Hebrew midwives, one of whom was named Shiph'rah and the other Pu'ah, "When you serve as midwife to the Hebrew women, and see them upon the birthstool, if it is a son, you shall kill him; but if it is a daughter, she shall live." But the midwives feared God, and did not do as the king of Egypt commanded them, but let the male children live.
2 Kings 8:12 And Haz'ael said, "Why does my lord weep?" He answered, "Because I know the evil that you will do to the people of Israel; you will set on fire their fortresses, and you will slay their young men with the sword, and dash in pieces their little ones, and rip up their women with child."
2 Kings 15:16 At that time Men'ahem sacked Tappuah and all who were in it and its territory from Tirzah on; because they did not open it to him, therefore he sacked it, and he ripped up all the women in it who were with child.
Psalm 5:6 Thou destroyest those who speak lies; the LORD abhors bloodthirsty and deceitful men.
Psalm 10:2-11 In arrogance the wicked hotly pursue the poor; let them be caught in the schemes which they have devised. For the wicked boasts of the desires of his heart, and the man greedy for gain curses and renounces the LORD. In the pride of his countenance the wicked does not seek him; all his thoughts are, "There is no God." His ways prosper at all times; thy judgments are on high, out of his sight; as for all his foes, he puffs at them. He thinks in his heart, "I shall not be moved; throughout all generations I shall not meet adversity." His mouth is filled with cursing and deceit and oppression; under his tongue are mischief and iniquity. He sits in ambush in the villages; in hiding places he murders the innocent. His eyes stealthily watch for the hapless, he lurks in secret like a lion in his covert; he lurks that he may seize the poor, he seizes the poor when he draws him into his net. The hapless is crushed, sinks down, and falls by his might. He thinks in his heart, "God has forgotten, he has hidden his face, he will never see it."
Psalm 94:20-21 Can wicked rulers be allied with thee, who frame mischief by statute? They band together against the life of the righteous, and condemn the innocent to death.
Proverbs 1:10-11 My son, if sinners entice you, do not consent. If they say, "Come with us, let us lie in wait for blood, let us wantonly ambush the innocent;
Proverbs 6:16-19 There are six things which the LORD hates, seven which are an abomination to him: haughty eyes, a lying tongue, and hands that shed innocent blood, a heart that devises wicked plans, feet that make haste to run to evil, a false witness who breathes out lies, and a man who sows discord among brothers.
Proverbs 29:10 Bloodthirsty men hate one who is blameless, and the wicked seek his life.
Isaiah 5:20 Woe to those who call evil good, and good evil; Who put darkness for light, and light for darkness; Who put bitter for sweet, and sweet for bitter!
Isaiah 13:18 Their bows will slaughter the young men; they will have no mercy on the fruit of the womb; their eyes will not pity children.
Isaiah 57:4-5 . . . Are you not children of transgression, the offspring of deceit, you who burn with lust among the oaks, under every green tree; who slay your children in the valleys, under the clefts of the rocks?
Isaiah 59:7 Their feet run to evil, and they make haste to shed innocent blood; their thoughts are thoughts of iniquity, desolation and destruction are in their highways.
Hosea 4:2 there is swearing, lying, killing, stealing, and committing adultery; they break all bounds and murder follows murder.
Amos 1:13 Thus says the LORD: "For three transgressions of the Ammonites, and for four, I will not revoke the punishment; because they have ripped up women with child in Gilead, that they might enlarge their border.
Wisdom 1:12-14 Do not invite death by the error of your life, nor bring on destruction by the works of your hands; because God did not make death, and he does not delight in the death of the living. For he created all things that they might exist, and the generative forces of the world are wholesome, and there is no destructive poison in them; and the dominion of Hades is not on earth.
Wisdom 14:22-26 Afterward it was not enough for them to err about the knowledge of God, but they live in great strife due to ignorance, and they call such great evils peace. For whether they kill children in their initiations, or celebrate secret mysteries, or hold frenzied revels with strange customs, they no longer keep either their lives or their marriages pure, but they either treacherously kill one another, or grieve one another by adultery, and all is a raging riot of blood and murder, theft and deceit, corruption, faithlessness, tumult, perjury, confusion over what is good, forgetfulness of favors, pollution of souls, sex perversion, disorder in marriage, adultery, and debauchery.
Sirach 8:7 Do not rejoice over any one's death; remember that we all must die.
1 John 3:15 . . . and you know that no murderer has eternal life abiding in him.
Revelation 9:21 nor did they repent of their murders or their sorceries or their immorality or their thefts.
Revelation 12:4 . . . And the dragon stood before the woman who was about to bear a child, that he might devour her child when she brought it forth;
Revelation 21:8 But as for the cowardly, the faithless, the polluted, as for murderers, fornicators, sorcerers, idolaters, and all liars, their lot shall be in the lake that burns with fire and sulphur, which is the second death.

RESPONSIBILITY TO RESCUE CHILDREN BEING LED TO SLAUGHTER

*
Psalm 82:2-4 How long will you judge unjustly and show partiality to the wicked? Give justice to the weak and the fatherless; maintain the right of the afflicted and the destitute. Rescue the weak and the needy; deliver them from the hand of the wicked.
Proverbs 24:10-12 If you faint in the day of adversity, your strength is small. Rescue those who are being taken away to death; hold back those who are stumbling to the slaughter. If you say, "Behold, we did not know this," does not he who weighs the heart perceive it? Does not he who keeps watch over your soul know it, and will he not requite man according to his work?
Proverbs 31:8 Open your mouth for the dumb [i.e., those who can't speak], for the rights of all who are left desolate.
Jeremiah 22:3 Thus says the LORD: Do justice and righteousness, and deliver from the hand of the oppressor him who has been robbed. And do no wrong or violence to the alien, the fatherless, and the widow, nor shed innocent blood in this place. (cf. Tobit 1:17)
*****
Meta Description: Comprehensive compendium of biblical passages related to the topic of abortion, or childkilling.
*
Meta Keywords: Abortion, Bible & abortion, Christianity & abortion, Childkilling, fetal development, fetus, genocide, holocaust, infanticide, murder, personhood, preborn child, prenatal, pro-abortion, pro-choice, pro-life, slaughter, unborn child