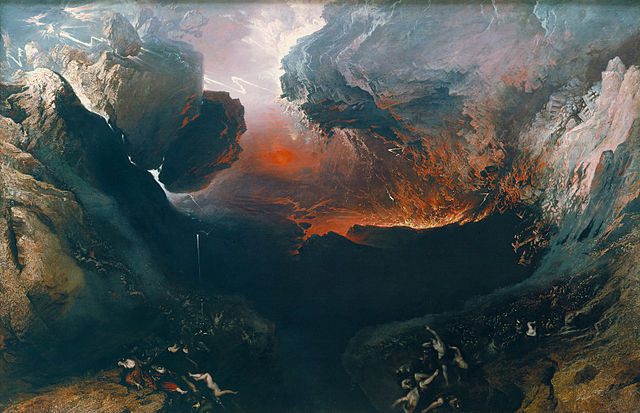 The Great Day of His Wrath (c. 1851), by John Martin (1789-1854)
[public domain /
Wikimedia Commons
]
***
***
Hats off to blog regular Maroun for citing a great argument of this sort in an open forum combox, from St. John Chrysostom, who wrote:
Of what honor, of what blessedness are these words? And He said not, Take, but, "Inherit," as one's own, as your Father's, as yours, as due to you from the first. For, before you were, saith He, these things had been prepared, and made ready for you, forasmuch as I knew you would be such as you are.
And in return for what do they receive such things? For the covering of a roof, for a garment, for bread, for cold water, for visiting, for going into the prison. For indeed in every case it is for what is needed; and sometimes not even for that. For surely, as I have said, the sick and he that is in bonds seeks not for this only, but the one to be loosed, the other to be delivered from his infirmity. But He, being gracious, requires only what is within our power, or rather even less than what is within our power, leaving to us to exert our generosity in doing more.
But to the others He saith, "Depart from me, ye cursed," (no longer of the Father; for not He laid the curse upon them, but their own works), "into the everlasting fire, prepared," not for you, but "for the devil and his angels." For concerning the kingdom indeed, when He had said, "Come, inherit the kingdom," He added, "prepared for you before the foundation of the world;" but concerning the fire, no longer so, but, "prepared for the devil." I, saith He, prepared the kingdom for you, but the fire no more for you, but "for the devil and his angels;" but since ye cast yourselves therein, impute it to yourselves. And not in this way only, but by what follows also, like as though He were excusing Himself to them, He sets forth the causes.
(Homily 78 on Matthew 25:1-30; NPNF 1-10]
This put in my head the idea of doing a Scripture study of "prepare" and "called" and "predestined" and other similar terms, in relation to heaven, to see if these are ever used in a parallel fashion of hell as well, so that there is an equivalence: "prepared (etc.) for heaven" / "prepared for hell." Matthew 25 shows that this is not the case. What do other related passages teach us about this?
* * * * *
[all Bible passages: RSV]
Green highlighting = allusions to heaven or election
Blue highlighting = "prepared" or "called" motifs
Red highlighting = hell or damnation motifs
***
Matthew 25:34, 41 Then the King will say to those at his right hand, 'Come, O blessed of my Father, inherit the kingdom prepared for you from the foundation of the world';. . . [41] Then he will say to those at his left hand, 'Depart from me, you cursed, into the eternal fire prepared for the devil and his angels';
Matthew 20:23 He said to them, "You will drink my cup, but to sit at my right hand and at my left is not mine to grant, but it is for those for whom it has been prepared by my Father."
Mark 10:40 but to sit at my right hand or at my left is not mine to grant, but it is for those for whom it has been prepared.
John 10:27-28 My sheep hear my voice, and I know them, and they follow me; [28] and I give them eternal life, and they shall never perish, and no one shall snatch them out of my hand.
John 14:2-3 In my Father's house are many rooms; if it were not so, would I have told you that I go to prepare a place for you? [3] And when I go and prepare a place for you, I will come again and will take you to myself, that where I am you may be also.
John 17:2-3 since thou hast given him power over all flesh, to give eternal life to all whom thou hast given him. [3] And this is eternal life, that they know thee the only true God, and Jesus Christ whom thou hast sent.
Acts 13:46, 48 And Paul and Barnabas spoke out boldly, saying, "It was necessary that the word of God should be spoken first to you. Since you thrust it from you, and judge yourselves unworthy of eternal life, behold, we turn to the Gentiles. . . . [48] And when the Gentiles heard this, they were glad and glorified the word of God; and as many as were ordained to eternal life believed.
We see precisely what the Catholic Church — and Orthodoxy and Lutheran and Arminian and Wesleyan Protestantism — teaches, and what Calvinism rejects: God didn't select the damned from all eternity; they judged themselves by rejecting the gospel, making themselves "unworthy of eternal life." But those who would attain eternal life were ordained or predestined to that, though not without their free will consent.
*
Romans 1:6-7
including yourselves
who are called to
belong to Jesus Christ
; [7] To all
God's beloved
in Rome, who are
called
to be saints
: . . .
*
Romans 2:6-8
For he will render to every man according to his works: [7] to those who by patience in well-doing seek for glory and honor and immortality,
he will give eternal life
; [8] but
for those who are factious and do not obey the truth, but obey wickedness, there will be wrath and fury.
*
Note the lack of equivalent descriptions: to the elect God will "give eternal life." But for the reprobate "there will be wrath and fury": a more neutral description that doesn't on the face of it seem to imply predestination from all eternity.
*
Romans 6:23
For
the wages of sin is death
, but the
free gift of God
is
eternal life
in Christ Jesus our Lord.
*
Again, we see a lack of parallelism: the fate of the damned is more passive in relation to God's hand in it, whereas the predestination of the elect is the positive "free gift of God".
*
Romans 8:28-30
We know that in everything God works for good with
those who love him, who
are called according to his purpose
. [29] For
those whom
he foreknew he also predestined
to be
conformed to the image of his Son
, in order that he might be the first-born among many
brethren
. [30] And
those
whom he predestined he also called
; and those whom he
called
he also
justified
; and those whom he
justified
he also
glorified
.
*
Romans 9:23-24
in order to make known the
riches of his glory for the vessels of mercy
, which he has
prepared beforehand for
glory
, [24]
even us
whom he has called
, not from the Jews only but also from the Gentiles?
*
Romans 11:2, 5
God has not rejected
his people
whom he
foreknew
. . . . [5] So too at the present time there is
a remnant,
chosen
by grace.
*
1 Corinthians 1:2, 9
To the church of God which is at Corinth, to those
sanctified in Christ Jesus
,
called
to be saints
together with all
those who in every place call on the name of our Lord Jesus Christ
, both their Lord and ours: . . . [9] God is faithful,
by whom
you were
called
into the
fellowship of his Son, Jesus Christ our Lord
.
*
1 Corinthians 1:24
. . .
those
who are called
, both Jews and Greeks, . . . (cf. 7:20-22, 24; Eph 4:1, 4; Col 3:15; 1 Thess 4:7; 1 Pet 1:15; 2:9, 21; 3:9; 2 Pet 1:3)
*
1 Corinthians 2:9
But, as it is written, "What no eye has seen, nor ear heard, nor the heart of man conceived,
what God has prepared for
those who love him
,"
*
2 Corinthians 5:4-5
For while we are still in this tent, we sigh with anxiety; not that we would be unclothed, but that we would be
further clothed
, so that what is mortal may be swallowed up by
life
. [5]
He who has prepared
us for this very thing
is God, who has given us the Spirit as a
guarantee
.
*
Galatians 1:15
. . . he who had
set
me
apart before I was born
,
and had called
me
through his grace,
*
Yet Galatians 1:6 shows that this call and grace is not irrevocable or irresistible; i.e., not ordered by God apart from our free will, since it can be deserted: "I am astonished that you are so quickly
deserting
him who
called
you in the
grace of Christ
and
turning to a different gospel
".
*
Ephesians 1:3-8
Blessed be the God and Father of our Lord Jesus Christ, who has blessed us in Christ with every spiritual blessing in the heavenly places, [4] even as
he chose
us
in him before the foundation of the world
, that we should be holy and blameless before him. [5] He
destined
us in love to be his
sons through Jesus Christ
, according to the
purpose of his will
, [6] to the praise of his glorious grace which he freely bestowed on us in the Beloved. [7] In him
we have redemption
through his blood, the forgiveness of our trespasses, according to the riches of his grace [8] which he lavished upon us. (cf. 1:9, 11-12)
*
Ephesians 1:17-20
that the God of our Lord Jesus Christ, the Father of glory, may
give
you a spirit of wisdom and of revelation in the knowledge of him
, [18] having the
eyes of your hearts
enlightened
, that you may know what is
the hope
to which he has
called
you, what are the
riches of his glorious inheritance in the saints
, [19] and what is the immeasurable greatness of his power in
us who believe
,
according to the working of his great might
[20] which he
accomplished in Christ
when he raised him from the dead and made him sit at his right hand in the heavenly places,
*
Colossians 3:12
. . . God's
chosen
ones
. . .
*
1 Thessalonians 1:4
For we know,
brethren beloved by God
, that he has
chosen
you
;
*
1 Thessalonians 5:9
For God has not
destined us for wrath
, but to obtain
salvation
through our Lord Jesus Christ,
*
The latter passage might be interpreted as implying the possibility of being predestined to damnation, and indeed this is logically possible, but it doesn't necessarily follow from this language. In the absence of positive assertions elsewhere in Scripture of predestination to damnation (along with positive ones about election: see, e.g., Acts 13:48; Rom 8:29-20; Eph 1:4-5; Rev 13:8 elsewhere in this paper) , it is more plausible to interpret this as simply saying, "God did not do x in our case" — theologically extrapolated in light of the absence of cross-reference corroboration to, "God does not do x."
*
2 Thessalonians 1:7-9
when the Lord Jesus is revealed from heaven with his mighty angels in flaming fire, [8] inflicting vengeance upon
those who do not know God and upon those who do not obey the gospel of our Lord Jesus.
[9]
They shall suffer the punishment of eternal destruction and exclusion from the presence of the Lord and from the glory of his might,
*
The damned are in that horrible state not
only
because of the fall of Adam and Eve and God's decree from all eternity, but precisely because they did "not obey the gospel of our Lord Jesus." Judgment as to whether one is saved or not is consistently rendered on this basis in Scripture. I found, in fact,
50 passages asserting this notion
; this not only asserts aspects of Calvinism and TULIP, but also the
sola fide
doctrine of larger Protestantism. Cf. Heb 5:9: "he became the source of
eternal salvation to all who
obey
him".
*
2 Thessalonians 2:13-14
But we are bound to give thanks to God always for you,
brethren beloved by the Lord
, because God
chose
you
from the beginning
to be saved, through sanctification by the Spirit and belief in the truth. [14] To this he
called
you
through our gospel, so that
you may obtain the glory of our Lord Jesus Christ.
*
1 Timothy 6:12
Fight the good fight of the faith; take hold of the
eternal life
to which you were called
when you made the good confession in the presence of many witnesses.
*
This is very interesting insofar as the calling seems to take place at the time the confession is made, rather than from all eternity; there can be different senses of "call" in the Bible, as with most words, but it is fascinating that "eternal life" seems directly tied with individual acceptance rather than God's predestination. Again, we see the mysterious paradoxical existence of free will alongside predestination. Both are asserted in Scripture, so the Bible student must accept both; not rule one out because some man-made tradition dictates it.
*
2 Timothy 1:9
who
saved
us
and
called
us
with a
holy calling
, not in virtue of our works but in virtue of
his own purpose and the grace which he gave
us
in Christ Jesus ages ago
,
*
Hebrews 9:15
Therefore he is the mediator of a new covenant, so that
those
who are
called
may
receive the promised eternal inheritance
, since a death has occurred which
redeems the
m from the transgressions under the first covenant.
*
Hebrews 11:16
But as it is,
they desire a better country, that is, a heavenly one
. Therefore God is not ashamed to be called their God, for
he has prepared for them
a city
.
*
1 Peter 1:1-2
Peter, an
apostle of Jesus Christ
, To the exiles of the Dispersion in Pontus, Galatia, Cappado'cia, Asia, and Bithyn'ia, [2]
chosen and destined by God the Father
and sanctified by the Spirit for
obedience to Jesus Christ
and for sprinkling with his blood: (cf. 2:4, 9)
*
1 Peter 5:10
. . . the God of all grace, who has
called
you
to
his eternal glory
in Christ . . .
*
Jude 6-8
And the angels that did not keep their own position but left their proper dwelling have been
kept by him in eternal chains in the nether gloom until the judgment of the great day
; [7] just as Sodom and Gomor'rah and the surrounding cities, which likewise
acted immorally and indulged in unnatural lust, serve as an example by undergoing a punishment of eternal fire
. [8] Yet in like manner these men in their dreamings defile the flesh, reject authority, and revile the glorious ones.
*
Behavior and rejection of God is the cause for damnation, not a predestined decree by God that made it impossible for the fate of the damned to be otherwise.
*
2 Peter 2:1, 15
But
false prophets
also arose among the people, just as there will be
false teachers among you, who will secretly bring in destructive heresies
, even
denying the Master who bought them, bringing upon themselves swift destruction.. . .
[15]
Forsaking the right way they have gone astray . . .
*
This contradicts Calvinism all over the place (a very fitting thing for the first Catholic pope to do!). If these are people who never were saved (as a Calvinist would say), then how can it be stated that Jesus "bought them"? That would refute Limited Atonement, since Jesus only "buys" those who are indeed saved and of the elect, and Perseverance as well, since they were bought by Jesus but yet later denied Him. Secondly, they are here sentencing themselves and in effect casting themselves into hell (with free will and post-Fall rebellion against God), rather than God decreeing and ordaining and predestining and deciding that from all eternity.
They were once "in" the "right way," otherwise they could not be described as "forsaking" it. Nor can one go "astray" from a state one was never in. Peter states in 2:17 that "for them the nether gloom of darkness has been reserved," but this is not the same as saying it was predestined for eternity that they should go there. This is one of many many cases where the Bible teaches one thing, Calvinism another. Later in the chapter, Peter makes a very strong denial of Perseverance of the Saints and Irresistible Grace:
2 Peter 2:20-22
For if, after they have
escaped the defilements of the world through the knowledge of our Lord and Savior Jesus Christ
, they are
again entangled in them and overpowered, the last state has become worse for them than the first
. [21] For it would have been better for them never to have known
the way of righteousness than after knowing it
to turn back from the holy commandment delivered to them
. [22] It has happened to them according to the true proverb,
The dog turns back to his own vomit, and the sow is washed only to wallow in the mire.
*
These people escaped "the defilements," meaning they were in good graces with God by means of Jesus' work. They went from a "bad" state to a "good" one. They left their "vomit" but then later returned to it. When Peter says "they are again entangled in them and overpowered," it is yet more proof that they were in the pool of the saved and the justified, but went back to their old ways. If indeed this was not possible: that no one can ever go from one state to the other, then the very words "again" and "escaped" and "turned back" comparisons of one state over against another (with these folks having been in both camps) would be perfectly senseless; literally nonsense. But we can't accuse inspired Scripture of that, so it must be Calvinism that is the nonsense.
While we're on the theme of additional disproofs of Calvinism, here is another refutation of Limited Atonement:
Acts 3:26
God, having raised up his servant, sent him to you first, to bless you in
turning every one of you
from your wickedness.
*
God doesn't select just a few for His elect and let the others go to hell by His non-action. He desires to save "every one".
*
Revelation 13:8
and all who dwell on earth will worship it, every one whose name has not been
written before the foundation of the world
in the
book of life
of the Lamb that was slain.
*
Revelation 17:8 . . . the dwellers on earth whose names have not been written in the book of life from the foundation of the world . . .(cf. 17:14: "called and chosen and faithful")
There is no "book of death," as if that were predestined from all eternity, too. There is only a "book of life": positive predestination for the elect, but not predestined reprobation, or negative predestination (or, double predestination).
See also the biblical use of "elect" — referring to those who will be eschatologically saved and attain heaven, but never applied to the damned (Matt 24:22, 24, 31; Mk 13:20, 22, 27; Lk 18:7; Rom 8:33; 11:7; 2 Tim 2:10; Titus 1:1; 1 Pet 1:10).
There are only a few passages I could find in my fairly comprehensive scriptural survey that imply that God predestines the damned to their fate:
Romans 11:7-10
What then? Israel failed to obtain what it sought.
The elect obtained it
, but
the rest were hardened
, [8] as it is written, "God gave them a spirit of stupor,
eyes that should not see and ears that should not hear
, down to this very day." [9] And David says, "Let their table become a snare and a trap, a pitfall and a retribution for them; [10]
let their eyes be darkened so that they cannot see
, and bend their backs for ever."
*
This language of "hardening," I have explained adequately, I think, in several past papers, showing that it is pungent Hebraic idiomatic language for God's Providence. He utilizes men's sin for His purposes and plan, but it doesn't follow that He Himself hardens anyone apart from their own previous free will decision (or that He ever is the author of sin and evil).
Even beyond the argument from use of biblical language and anthropomorphic language with reference to God, this cannot logically apply to predestination from eternity anyway, unless it is applied to a supralapsarian scenario, whereby God predestined even the fall of man (rather than it being a free choice). Supralapsarianism is rejected by the majority of Calvinists throughout history. Many Calvinists claim that even John Calvin rejected it (my position is that he was indeed a supralapsarian).
If it is an eternal decree of hardening, it had to apply to the state of man before the fall, because at that time he was good, since God created him good. But this would entail a good God after a good creation deliberately decreeing that certain of his good created men would be damned. They were created to be damned. This would clearly make God the author of evil and cast serious doubts on His character as a loving, merciful God and His justice. That is supralapsarian, and we can readily see why even most Calvinists, historically, and presently, reject it.
The same Scripture cannot apply to infralapsarianism because after the fall, the whole of humanity was in sin and fallen; therefore, men (all men) already were hardened and He couldn't have chosen from the whole group to harden some. If they already were in such a state, then God couldn't have decreed that some should attain to that, unless He had in fact decreed it before the fall ever took place, or (more accurately, if we want to get technical) as applied logically to pre-fallen man.
Romans 11:28-32
As regards the gospel they are
enemies of God
, for your sake; but as regards
election
they are beloved for the sake of their forefathers. [29] For
the gifts and the call of God are irrevocable
. [30] Just as you were once disobedient to God but now have received mercy because of their disobedience, [31] so they have now been disobedient in order that by the mercy shown to you they also may receive mercy. [32] For God has
consigned
all men to disobedience, that he may have
mercy upon all
. (cf. 1 Peter 2:8)
*
This looks like a very difficult passage for a Calvinist to explain according to his system. The Jews are described as "enemies of God" insofar as they largely rejected the gospel. Yet they are also described as of the elect, since "the call of God" is "irrevocable." If this call of God can never be affected by free will, then it looks like Paul is here teaching that all Jews will be saved, since they are elect and chosen. But we know that to not be the case. Therefore, Paul's type of language and idiom must somehow explain his thought otherwise. To top it off, he says that "God has consigned all men to disobedience" (that is, they all fell). That doesn't work with Calvinism, either, because according to them, He only consigned some to that. Nor does having "mercy upon all" fit into the Limited Atonement schema. For the Calvinist, God doesn't even desire of decree mercy for all; He does so only for some: the elect.