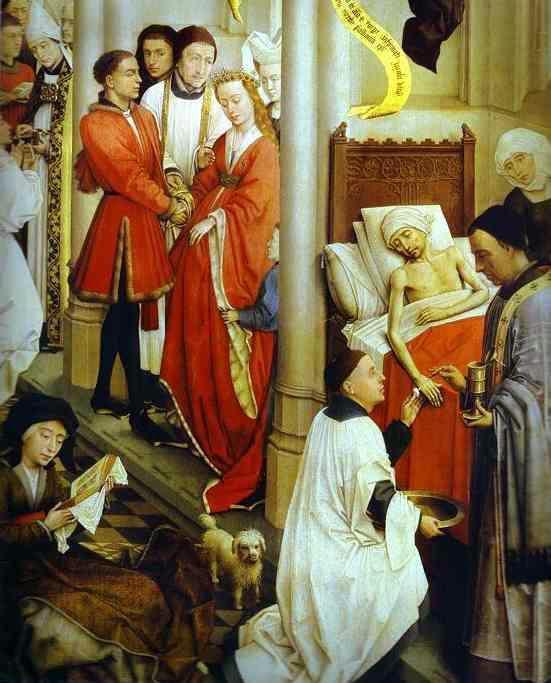 Seven Sacraments Altarpiece; detail: Ordination, Marriage, and Extreme Unction (c. 1450), by Rogier van der Weyden (c. 1400-1464) [public domain / Wikimedia Commons]
***
[2009; Addendum added on 1-10-17]
***
[all passages: RSV]
***
DISCIPLES AND ELDERS ANOINT WITH OIL TO HEAL
Mark 6:12-13 So they went out and preached that men should repent. And they cast out many demons, and anointed with oil many that were sick and healed them.
James 5:14-15 Is any among you sick? Let him call for the elders of the church, and let them pray over him, anointing him with oil in the name of the Lord; and the prayer of faith will save the sick man, and the Lord will raise him up; and if he has committed sins, he will be forgiven.
LAYING ON OF HANDS FOR HEALING
Mark 6:5 And he could do no mighty work there, except that he laid his hands upon a few sick people and healed them.
Luke 4:40 Now when the sun was setting, all those who had any that were sick with various diseases brought them to him; and he laid his hands on every one of them and healed them.
Luke 22:51 But Jesus said, "No more of this!" And he touched his ear and healed him.
John 9:6-7 As he said this, he spat on the ground and made clay of the spittle and anointed the man's eyes with the clay, saying to him, "Go, wash in the pool of Silo'am" (which means Sent). So he went and washed and came back seeing.
Acts 28:8 It happened that the father of Publius lay sick with fever and dysentery; and Paul visited him and prayed, and putting his hands on him healed him.
HEALING FROM TOUCH APART FROM HANDS
Mark 3:10 for he had healed many, so that all who had diseases pressed upon him to touch him.
Luke 6:19 And all the crowd sought to touch him, for power came forth from him and healed them all.
HEALINGS WITH SPIRITUAL (NOT JUST PHYSICAL) BENEFIT (DEMON-POSSESSED MEN)
Matthew 4:24 . . . they brought him all the sick, those afflicted with various diseases and pains, demoniacs, epileptics, and paralytics, and he healed them.
Matthew 8:16 That evening they brought to him many who were possessed with demons; and he cast out the spirits with a word, and healed all who were sick.
Matthew 10:1, 8 And he called to him his twelve disciples and gave them authority over unclean spirits, to cast them out, and to heal every disease and every infirmity. . . . Heal the sick, raise the dead, cleanse lepers, cast out demons. . . .
Matthew 12:22 Then a blind and dumb demoniac was brought to him, and he healed him, so that the dumb man spoke and saw.
Mark 1:34 And he healed many who were sick with various diseases, and cast out many demons; . . .
Luke 8:2 and also some women who had been healed of evil spirits and infirmities: Mary, called Mag'dalene, from whom seven demons had gone out,
Luke 9:42 While he was coming, the demon tore him and convulsed him. But Jesus rebuked the unclean spirit, and healed the boy, and gave him back to his father.
Acts 5:16 The people also gathered from the towns around Jerusalem, bringing the sick and those afflicted with unclean spirits, and they were all healed.
Acts 8:7 For unclean spirits came out of many who were possessed, crying with a loud voice; and many who were paralyzed or lame were healed.
*****
ADDENDUM: ARGUMENTS FROM PLAUSIBILITY
We see that the essential elements of the Catholic sacrament of anointing are present in Holy Scripture. It doesn't follow that for each passage, the sacrament of anointing was specifically in the author's mind. It's a matter of simple logic. I don't claim that Scripture explicitly "proves" the sacrament of anointing.
Arguments that "x is consistent with y" (where x is a set of Scripture passages and y is a doctrine), are not arguments that "x proves y." This paper (and other similar ones, like my treatment of confirmation) is an example of the former, not the latter: what I sometimes call, "a plausibility structure."
Plausibility is not technically "proof". It is arguing that one view seems more likely to be true than another, all things considered, or that it is not unreasonable to speculate that particular view y might turn out to be true in the end.
See related web page: Baptism & Sacramentalism