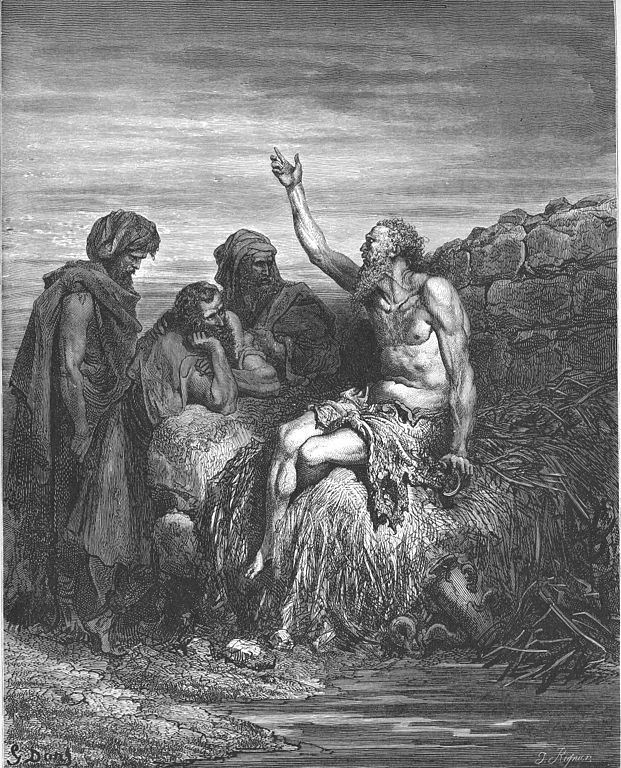 Job Speaks with His Friends (Job 2:1-13) [1866], by Gustave Doré (1832-1883) [public domain / Wikimedia Commons]
***
(1981)
***
I've been inevitably encouraged and spiritually elevated and blessed by reading these passages during times of suffering, for over 35 years now . . .
* * * * *
Genesis 50:20 As for you, you meant evil against me; but God meant it for good, to bring it about that many people should be kept alive, as they are today.
Deuteronomy 8:5, 16 Know then in your heart that, as a man disciplines his son, the LORD your God disciplines you . . . that he might humble you and test you, to do you good in the end.
2 Samuel 22:7 In my distress I called upon the LORD; to my God I called. From his temple he heard my voice, and my cry came to his ears.
1 Chronicles 5:20 and when they received help against them, the Hagrites and all who were with them were given into their hands, for they cried to God in the battle, and he granted their entreaty because they trusted in him.
1 Chronicles 16:11 Seek the LORD and his strength, seek his presence continually!
2 Chronicles 33:12 And when he was in distress he entreated the favor of the LORD his God and humbled himself greatly before the God of his fathers.
Nehemiah 8:10 . . . do not be grieved, for the joy of the LORD is your strength."
Job 5:17-18 "Behold, happy is the man whom God reproves; therefore despise not the chastening of the Almighty. 18 For he wounds, but he binds up; he smites, but his hands heal.
Job 23:10 But he knows the way that I take; when he has tried me, I shall come forth as gold.
Psalm 9:9-10 The LORD is a stronghold for the oppressed, a stronghold in times of trouble.
10 And those who know thy name put their trust in thee, for thou, O LORD, hast not forsaken those who seek thee.
Psalm 23 (all)
1 A Psalm of David. The LORD is my shepherd, I shall not want;
2 he makes me lie down in green pastures. He leads me beside still waters;
3 he restores my soul. He leads me in paths of righteousness for his name's sake.
4 Even though I walk through the valley of the shadow of death, I fear no evil; for thou art with me; thy rod and thy staff, they comfort me.
5 Thou preparest a table before me in the presence of my enemies; thou anointest my head with oil, my cup overflows.
6 Surely goodness and mercy shall follow me all the days of my life; and I shall dwell in the house of the LORD for ever.
Psalm 27:5 For he will hide me in his shelter in the day of trouble; he will conceal me under the cover of his tent, he will set me high upon a rock.
Psalm 27:14 Wait for the LORD; be strong, and let your heart take courage; yea, wait for the LORD!
Psalm 30:5 For his anger is but for a moment, and his favor is for a lifetime. Weeping may tarry for the night, but joy comes with the morning.
Psalm 31
1 To the choirmaster. A Psalm of David. In thee, O LORD, do I seek refuge; let me never be put to shame; in thy righteousness deliver me!
2 Incline thy ear to me, rescue me speedily! Be thou a rock of refuge for me, a strong fortress to save me!
3 Yea, thou art my rock and my fortress; for thy name's sake lead me and guide me,
4 take me out of the net which is hidden for me, for thou art my refuge.
5 Into thy hand I commit my spirit; thou hast redeemed me, O LORD, faithful God.
6 Thou hatest those who pay regard to vain idols; but I trust in the LORD.
7 I will rejoice and be glad for thy steadfast love, because thou hast seen my affliction, thou hast taken heed of my adversities,
8 and hast not delivered me into the hand of the enemy; thou hast set my feet in a broad place.
Psalm 33:20 Our soul waits for the LORD; he is our help and shield.
Psalm 34 (all)
1 A Psalm of David, when he feigned madness before Abimelech, so that he drove him out, and he went away. I will bless the LORD at all times; his praise shall continually be in my mouth.
2 My soul makes its boast in the LORD; let the afflicted hear and be glad.
3 O magnify the LORD with me, and let us exalt his name together!
4 I sought the LORD, and he answered me, and delivered me from all my fears.
5 Look to him, and be radiant; so your faces shall never be ashamed.
6 This poor man cried, and the LORD heard him, and saved him out of all his troubles.
7 The angel of the LORD encamps around those who fear him, and delivers them.
8 O taste and see that the LORD is good! Happy is the man who takes refuge in him!
9 O fear the LORD, you his saints, for those who fear him have no want!
10 The young lions suffer want and hunger; but those who seek the LORD lack no good thing.
11 Come, O sons, listen to me, I will teach you the fear of the LORD.
12 What man is there who desires life, and covets many days, that he may enjoy good?
13 Keep your tongue from evil, and your lips from speaking deceit.
14 Depart from evil, and do good; seek peace, and pursue it.
15 The eyes of the LORD are toward the righteous, and his ears toward their cry.
16 The face of the LORD is against evildoers, to cut off the remembrance of them from the earth.
17 When the righteous cry for help, the LORD hears, and delivers them out of all their troubles.
18 The LORD is near to the brokenhearted, and saves the crushed in spirit.
19 Many are the afflictions of the righteous; but the LORD delivers him out of them all.
20 He keeps all his bones; not one of them is broken.
21 Evil shall slay the wicked; and those who hate the righteous will be condemned.
22 The LORD redeems the life of his servants; none of those who take refuge in him will be condemned.
Psalm 37
1 A Psalm of David. Fret not yourself because of the wicked, be not envious of wrongdoers!
2 For they will soon fade like the grass, and wither like the green herb.
3 Trust in the LORD, and do good; so you will dwell in the land, and enjoy security.
4 Take delight in the LORD, and he will give you the desires of your heart.
5 Commit your way to the LORD; trust in him, and he will act.
6 He will bring forth your vindication as the light, and your right as the noonday.
7 Be still before the LORD, and wait patiently for him; fret not yourself over him who prospers in his way, over the man who carries out evil devices!
8 Refrain from anger, and forsake wrath! Fret not yourself; it tends only to evil.
Psalm 40
1 To the choirmaster. A Psalm of David. I waited patiently for the LORD; he inclined to me and heard my cry.
2 He drew me up from the desolate pit, out of the miry bog, and set my feet upon a rock, making my steps secure.
3 He put a new song in my mouth, a song of praise to our God. Many will see and fear, and put their trust in the LORD.
4 Blessed is the man who makes the LORD his trust, who does not turn to the proud, to those who go astray after false gods!
Psalm 41:1 To the choirmaster. A Psalm of David. Blessed is he who considers the poor! The LORD delivers him in the day of trouble;
Psalm 46
1 To the choirmaster. A Psalm of the Sons of Korah. According to Alamoth. A Song. God is our refuge and strength, a very present help in trouble.
2 Therefore we will not fear though the earth should change, though the mountains shake in the heart of the sea;
3 though its waters roar and foam, though the mountains tremble with its tumult. [Selah]
10 "Be still, and know that I am God. I am exalted among the nations, I am exalted in the earth!"
11 The LORD of hosts is with us; the God of Jacob is our refuge. [Selah]
Psalm 50:15 and call upon me in the day of trouble; I will deliver you, and you shall glorify me."
Psalm 55:22 Cast your burden on the LORD, and he will sustain you; he will never permit the righteous to be moved.
Psalm 59:9 O my Strength, I will sing praises to thee; for thou, O God, art my fortress.

Psalm 62
5 For God alone my soul waits in silence, for my hope is from him.
6 He only is my rock and my salvation, my fortress; I shall not be shaken.
7 On God rests my deliverance and my honor; my mighty rock, my refuge is God.
8 Trust in him at all times, O people; pour out your heart before him; God is a refuge for us.
Psalm 71:20 Thou who hast made me see many sore troubles wilt revive me again; from the depths of the earth thou wilt bring me up again.
Psalm 73:26 My flesh and my heart may fail, but God is the strength of my heart and my portion for ever.
Psalm 94
12 Blessed is the man whom thou dost chasten, O LORD, and whom thou dost teach out of thy law
13 to give him respite from days of trouble, until a pit is dug for the wicked.
14 For the LORD will not forsake his people; he will not abandon his heritage;
15 for justice will return to the righteous, and all the upright in heart will follow it.
16 Who rises up for me against the wicked? Who stands up for me against evildoers?
17 If the LORD had not been my help, my soul would soon have dwelt in the land of silence.
18 When I thought, "My foot slips," thy steadfast love, O LORD, held me up.
19 When the cares of my heart are many, thy consolations cheer my soul.
Psalm 119
50 This is my comfort in my affliction that thy promise gives me life.
67 Before I was afflicted I went astray; but now I keep thy word.
71 It is good for me that I was afflicted, that I might learn thy statutes.
75 I know, O LORD, that thy judgments are right, and that in faithfulness thou hast afflicted me.
93 I will never forget thy precepts; for by them thou hast given me life.
Psalm 126:5 May those who sow in tears reap with shouts of joy!
Psalm 130:5 I wait for the LORD, my soul waits, and in his word I hope;
Psalm 138
3 On the day I called, thou didst answer me, my strength of soul thou didst increase.
7 Though I walk in the midst of trouble, thou dost preserve my life; thou dost stretch out thy hand against the wrath of my enemies, and thy right hand delivers me.
Psalm 145
14 The LORD upholds all who are falling, and raises up all who are bowed down.
16 Thou openest thy hand, thou satisfiest the desire of every living thing.
Psalm 147:3 He heals the brokenhearted, and binds up their wounds.
Proverbs 3
5 Trust in the LORD with all your heart, and do not rely on your own insight.
6 In all your ways acknowledge him, and he will make straight your paths.
11 My son, do not despise the LORD's discipline or be weary of his reproof,
12 for the LORD reproves him whom he loves, as a father the son in whom he delights.
Ecclesiastes 7
3 Sorrow is better than laughter, for by sadness of countenance the heart is made glad.
14 In the day of prosperity be joyful, and in the day of adversity consider; God has made the one as well as the other, so that man may not find out anything that will be after him.
Isaiah 25
4 For thou hast been a stronghold to the poor, a stronghold to the needy in his distress, a shelter from the storm and a shade from the heat; for the blast of the ruthless is like a storm against a wall,
8 He will swallow up death for ever, and the Lord GOD will wipe away tears from all faces, and the reproach of his people he will take away from all the earth; for the LORD has spoken.
Isaiah 26
3 Thou dost keep him in perfect peace, whose mind is stayed on thee, because he trusts in thee.
4 Trust in the LORD for ever, for the LORD GOD is an everlasting rock.
Isaiah 35:10 And the ransomed of the LORD shall return, and come to Zion with singing; everlasting joy shall be upon their heads; they shall obtain joy and gladness, and sorrow and sighing shall flee away.
Isaiah 40
29 He gives power to the faint, and to him who has no might he increases strength.
31 but they who wait for the LORD shall renew their strength, they shall mount up with wings like eagles, they shall run and not be weary, they shall walk and not faint.
Isaiah 41:10 fear not, for I am with you, be not dismayed, for I am your God; I will strengthen you, I will help you, I will uphold you with my victorious right hand.
Isaiah 48:10 Behold, I have refined you, but not like silver; I have tried you in the furnace of affliction.
Isaiah 49:23 ". . . those who wait for me shall not be put to shame."
Isaiah 50
7 For the Lord GOD helps me; therefore I have not been confounded; therefore I have set my face like a flint, and I know that I shall not be put to shame;
8 he who vindicates me is near. Who will contend with me? Let us stand up together. Who is my adversary? Let him come near to me.
Isaiah 66:13 As one whom his mother comforts, so I will comfort you; you shall be comforted in
Jerusalem.
Jeremiah 31:25 For I will satisfy the weary soul, and every languishing soul I will replenish."
Lamentations 3
24 "The LORD is my portion," says my soul, "therefore I will hope in him."
25 The LORD is good to those who wait for him, to the soul that seeks him.
32 but, though he cause grief, he will have compassion according to the abundance of his steadfast love;
33 for he does not willingly afflict or grieve the sons of men.
57 Thou didst come near when I called on thee; thou didst say, 'Do not fear!'
Hosea 12:6 "So you, by the help of your God, return, hold fast to love and justice, and wait continually for your God."
Micah 7
7 But as for me, I will look to the LORD, I will wait for the God of my salvation; my God will hear me.
8 Rejoice not over me, O my enemy; when I fall, I shall rise; when I sit in darkness, the LORD will be a light to me.
Nahum 1:7 The LORD is good, a stronghold in the day of trouble; he knows those who take refuge in him.
Matthew 5
3 "Blessed are the poor in spirit, for theirs is the kingdom of heaven.
4 "Blessed are those who mourn, for they shall be comforted.
10 "Blessed are those who are persecuted for righteousness' sake, for theirs is the kingdom of heaven.
11 "Blessed are you when men revile you and persecute you and utter all kinds of evil against you falsely on my account.
12 Rejoice and be glad, for your reward is great in heaven, for so men persecuted the prophets who were before you.
Matthew 6
33 But seek first his kingdom and his righteousness, and all these things shall be yours as well.
34 "Therefore do not be anxious about tomorrow, for tomorrow will be anxious for itself. Let the day's own trouble be sufficient for the day.
Matthew 10
22 and you will be hated by all for my name's sake. But he who endures to the end will be saved.
28 And do not fear those who kill the body but cannot kill the soul; rather fear him who can destroy both soul and body in hell.
Matthew 11:28 Come to me, all who labor and are heavy laden, and I will give you rest.
Matthew 26:39 And going a little farther he fell on his face and prayed, "My Father, if it be possible, let this cup pass from me; nevertheless, not as I will, but as thou wilt."
Luke 6
21 "Blessed are you that hunger now, for you shall be satisfied. "Blessed are you that weep now, for you shall laugh.
22 "Blessed are you when men hate you, and when they exclude you and revile you, and cast out your name as evil, on account of the Son of man!
Luke 21:19 By your endurance you will gain your lives.
John 14
16 And I will pray the Father, and he will give you another Counselor, to be with you for ever,
18 "I will not leave you desolate; I will come to you.
27 Peace I leave with you; my peace I give to you; not as the world gives do I give to you. Let not your hearts be troubled, neither let them be afraid.
John 15:18 "If the world hates you, know that it has hated me before it hated you.
John 16
20 Truly, truly, I say to you, you will weep and lament, but the world will rejoice; you will be sorrowful, but your sorrow will turn into joy.
22 So you have sorrow now, but I will see you again and your hearts will rejoice, and no one will take your joy from you.
33 I have said this to you, that in me you may have peace. In the world you have tribulation; but be of good cheer, I have overcome the world."
Acts 5:41 Then they left the presence of the council, rejoicing that they were counted worthy to suffer dishonor for the name.
Acts 14:22 strengthening the souls of the disciples, exhorting them to continue in the faith, and saying that through many tribulations we must enter the kingdom of God.
Romans 5
2 Through him we have obtained access to this grace in which we stand, and we rejoice in our hope of sharing the glory of God.
3 More than that, we rejoice in our sufferings, knowing that suffering produces endurance,
4 and endurance produces character, and character produces hope,
5 and hope does not disappoint us, because God's love has been poured into our hearts through the Holy Spirit which has been given to us.
Romans 8
18 I consider that the sufferings of this present time are not worth comparing with the glory that is to be revealed to us.
28 We know that in everything God works for good with those who love him, who are called according to his purpose.
35 Who shall separate us from the love of Christ? Shall tribulation, or distress, or persecution, or famine, or nakedness, or peril, or sword?
37 No, in all these things we are more than conquerors through him who loved us.
Romans 15:4 For whatever was written in former days was written for our instruction, that by steadfastness and by the encouragement of the scriptures we might have hope.
Romans 16:20 then the God of peace will soon crush Satan under your feet. The grace of our Lord Jesus Christ be with you.
1 Corinthians 10:13 No temptation has overtaken you that is not common to man. God is faithful, and he will not let you be tempted beyond your strength, but with the temptation will also provide the way of escape, that you may be able to endure it.
2 Corinthians 1
4 who comforts us in all our affliction, so that we may be able to comfort those who are in any affliction, with the comfort with which we ourselves are comforted by God.
5 For as we share abundantly in Christ's sufferings, so through Christ we share abundantly in comfort too.
9 Why, we felt that we had received the sentence of death; but that was to make us rely not on ourselves but on God who raises the dead;
2 Corinthians 4:17 For this slight momentary affliction is preparing for us an eternal weight of glory beyond all comparison,
2 Corinthians 7
4 I have great confidence in you; I have great pride in you; I am filled with comfort. With all our affliction, I am overjoyed.
6 But God, who comforts the downcast, comforted us by the coming of Titus,
2 Corinthians 9:8 And God is able to provide you with every blessing in abundance, so that you may always have enough of everything and may provide in abundance for every good work.
2 Corinthians 12
7 And to keep me from being too elated by the abundance of revelations, a thorn was given me in the flesh, a messenger of Satan, to harass me, to keep me from being too elated.
8 Three times I besought the Lord about this, that it should leave me;
9 but he said to me, "My grace is sufficient for you, for my power is made perfect in weakness." I will all the more gladly boast of my weaknesses, that the power of Christ may rest upon me.
10 For the sake of Christ, then, I am content with weaknesses, insults, hardships, persecutions, and calamities; for when I am weak, then I am strong.
Galatians 6:9 And let us not grow weary in well-doing, for in due season we shall reap, if we do not lose heart.
Ephesians 6
10 Finally, be strong in the Lord and in the strength of his might.
11 Put on the whole armor of God, that you may be able to stand against the wiles of the devil.
12 For we are not contending against flesh and blood, but against the principalities, against the powers, against the world rulers of this present darkness, against the spiritual hosts of wickedness in the heavenly places.
16 besides all these, taking the shield of faith, with which you can quench all the flaming darts of the evil one.
Philippians 1:29 For it has been granted to you that for the sake of Christ you should not only believe in him but also suffer for his sake,
Philippians 3
7 But whatever gain I had, I counted as loss for the sake of Christ.
8 Indeed I count everything as loss because of the surpassing worth of knowing Christ Jesus my Lord. For his sake I have suffered the loss of all things, and count them as refuse, in order that I may gain Christ
10 that I may know him and the power of his resurrection, and may share his sufferings, becoming like him in his death,
11 that if possible I may attain the resurrection from the dead.
14 I press on toward the goal for the prize of the upward call of God in Christ Jesus.
20 But our commonwealth is in heaven, and from it we await a Savior, the Lord Jesus Christ,
Philippians 4
6 Have no anxiety about anything, but in everything by prayer and supplication with thanksgiving let your requests be made known to God.
7 And the peace of God, which passes all understanding, will keep your hearts and your minds in Christ Jesus.
11 Not that I complain of want; for I have learned, in whatever state I am, to be content.
13 I can do all things in him who strengthens me.
19 And my God will supply every need of yours according to his riches in glory in Christ Jesus.
Colossians 1
11 May you be strengthened with all power, according to his glorious might, for all endurance and patience with joy,
24 Now I rejoice in my sufferings for your sake, and in my flesh I complete what is lacking in Christ's afflictions for the sake of his body, that is, the church,
1 Thessalonians 3:3 that no one be moved by these afflictions. You yourselves know that this is to be our lot.
2 Thessalonians 3:3 But the Lord is faithful; he will strengthen you and guard you from evil.
Hebrews 2:18 For because he himself has suffered and been tempted, he is able to help those who are tempted.
Hebrews 4
15 For we have not a high priest who is unable to sympathize with our weaknesses, but one who in every respect has been tempted as we are, yet without sin.
16 Let us then with confidence draw near to the throne of grace, that we may receive mercy and find grace to help in time of need.
Hebrews 5:8 Although he was a Son, he learned obedience through what he suffered;
Hebrews 12
2 looking to Jesus the pioneer and perfecter of our faith, who for the joy that was set before himendured the cross, despising the shame, and is seated at the right hand of the throne of God.
3 Consider him who endured from sinners such hostility against himself, so that you may not grow weary or fainthearted.
7 It is for discipline that you have to endure. God is treating you as sons; for what son is there whom his father does not discipline?
8 If you are left without discipline, in which all have participated, then you are illegitimate children and not sons.
9 Besides this, we have had earthly fathers to discipline us and we respected them. Shall we not much more be subject to the Father of spirits and live?
10 For they disciplined us for a short time at their pleasure, but he disciplines us for our good, that we may share his holiness.
11 For the moment all discipline seems painful rather than pleasant; later it yields the peaceful fruit of righteousness to those who have been trained by it.
Hebrews 13:6 Hence we can confidently say, "The Lord is my helper, I will not be afraid; what can man do to me?"
James 1
2 Count it all joy, my brethren, when you meet various trials,
3 for you know that the testing of your faith produces steadfastness.
4 And let steadfastness have its full effect, that you may be perfect and complete, lacking in nothing.
12 Blessed is the man who endures trial, for when he has stood the test he will receive the crown of life which God has promised to those who love him.
James 4:7 Submit yourselves therefore to God. Resist the devil and he will flee from you.
James 5
10 As an example of suffering and patience, brethren, take the prophets who spoke in the name of the Lord.
11 Behold, we call those happy who were steadfast. You have heard of the steadfastness of Job, and you have seen the purpose of the Lord, how the Lord is compassionate and merciful.
13 Is any one among you suffering? Let him pray. Is any cheerful? Let him sing praise.
2 Timothy 1:8 Do not be ashamed then of testifying to our Lord, nor of me his prisoner, but share in suffering for the gospel in the power of God,
2 Timothy 2
3 Share in suffering as a good soldier of Christ Jesus.
10 Therefore I endure everything for the sake of the elect, that they also may obtain salvation in Christ Jesus with its eternal glory.
11 The saying is sure: If we have died with him, we shall also live with him;
12 if we endure, we shall also reign with him; if we deny him, he also will deny us;
13 if we are faithless, he remains faithful–for he cannot deny himself.
2 Timothy 3:12 Indeed all who desire to live a godly life in Christ Jesus will be persecuted,
1 Peter 1
6 In this you rejoice, though now for a little while you may have to suffer various trials,
7 so that the genuineness of your faith, more precious than gold which though perishable is tested by fire, may redound to praise and glory and honor at the revelation of Jesus Christ.
1 Peter 2
20 For what credit is it, if when you do wrong and are beaten for it you take it patiently? But if when you do right and suffer for it you take it patiently, you have God's approval.
21 For to this you have been called, because Christ also suffered for you, leaving you an example, that you should follow in his steps.
1 Peter 3
14 But even if you do suffer for righteousness' sake, you will be blessed. Have no fear of them, nor be troubled,
17 For it is better to suffer for doing right, if that should be God's will, than for doing wrong.
1 Peter 4
12 Beloved, do not be surprised at the fiery ordeal which comes upon you to prove you, as though something strange were happening to you.
13 But rejoice in so far as you share Christ's sufferings, that you may also rejoice and be glad when his glory is revealed.
14 If you are reproached for the name of Christ, you are blessed, because the spirit of glory and of God rests upon you.
15 But let none of you suffer as a murderer, or a thief, or a wrongdoer, or a mischief-maker;
16 yet if one suffers as a Christian, let him not be ashamed, but under that name let him glorify God.
17 For the time has come for judgment to begin with the household of God; and if it begins with us, what will be the end of those who do not obey the gospel of God?
18 And "If the righteous man is scarcely saved, where will the impious and sinner appear?"
19 Therefore let those who suffer according to God's will do right and entrust their souls to a faithful Creator.
1 Peter 5
7 Cast all your anxieties on him, for he cares about you.
8 Be sober, be watchful. Your adversary the devil prowls around like a roaring lion, seeking some one to devour.
9 Resist him, firm in your faith, knowing that the same experience of suffering is required of your brotherhood throughout the world.
10 And after you have suffered a little while, the God of all grace, who has called you to his eternal glory in Christ, will himself restore, establish, and strengthen you.
2 Peter 2:9 then the Lord knows how to rescue the godly from trial, and to keep the unrighteous under punishment until the day of judgment,
Revelation 2:10 Do not fear what you are about to suffer. Behold, the devil is about to throw some of you into prison, that you may be tested, and for ten days you will have tribulation. Be faithful unto death, and I will give you the crown of life.
Revelation 3
10 Because you have kept my word of patient endurance, I will keep you from the hour of trial which is coming on the whole world, to try those who dwell upon the earth.
21 He who conquers, I will grant him to sit with me on my throne, as I myself conquered and sat down with my Father on his throne.
Revelation 7:17 For the Lamb in the midst of the throne will be their shepherd, and he will guide them to springs of living water; and God will wipe away every tear from their eyes."
Revelation 21
4 he will wipe away every tear from their eyes, and death shall be no more, neither shall there be mourning nor crying nor pain any more, for the former things have passed away."
5 And he who sat upon the throne said, "Behold, I make all things new." Also he said, "Write this, for these words are trustworthy and true."
6 And he said to me, "It is done! I am the Alpha and the Omega, the beginning and the end. To the thirsty I will give from the fountain of the water of life without payment.
7 He who conquers shall have this heritage, and I will be his God and he shall be my son.