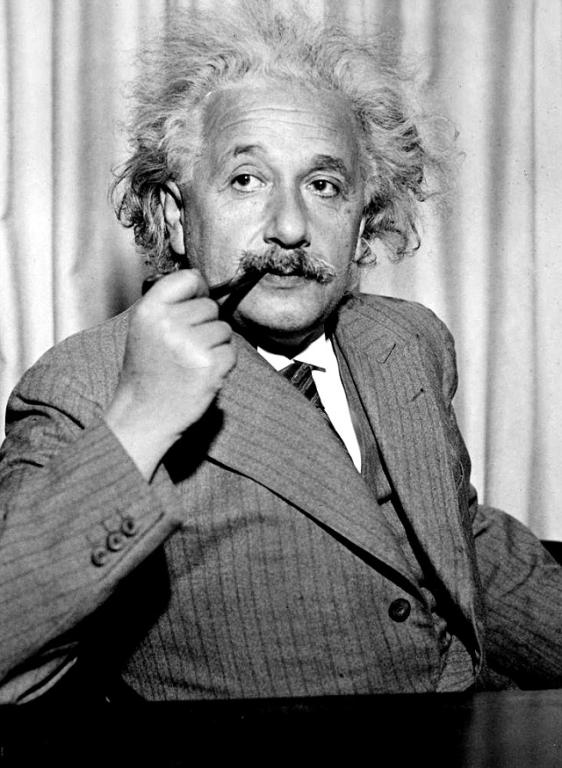 Photo of Albert Einstein in Princeton, New Jersey, soon after he fled Germany (18 October 1933) [public domain / Wikimedia Commons]
***
(originally 2-17-03; expanded greatly on 8-26-10)
***
"In view of such harmony in the cosmos which I, with my limited human mind, am able to recognize, there are yet people who say there is no God. But what makes me really angry is that they quote me for support of such views." (c. 1941)
 *
"I'm not an atheist." (1930)
 *
"Try and penetrate with our limited means the secrets of nature and you will find that, behind all the discernible concatenations, there remains something subtle, intangible and inexplicable. Veneration for this force beyond anything that we can comprehend is my religion. To that extent I am, in point of fact, religious." (1927)
*
"No myth is filled with such life. . . . No man can deny the fact that Jesus existed, nor that his sayings are beautiful. Even if some them have been said before, no one has expressed them so divinely as he." (1929)
*****
Philosophically, God's existence is something that is reasoned to (as with all other propositions whatever, as well). In a larger epistemology, including religious faith, it is not. I would argue that man is inherently religious (anthropology easily bears this out), so that the religious impulse must be stifled in an atheist. It is already there.
If even rigorous philosophical and scientific minds like
David Hume
and Einstein look at the universe and immediately sees some sort of Intelligence behind it (though not the 
Christian 
God), surely there is something to even Paul's assertion of the "plainness" of God's existence, in Romans 1. Hume even stated that "no rational enquirer can, after serious reflection, suspend his belief a moment with regard to the primary principles of genuine Theism and Religion . . ." Einstein made a number of such statements:
My comprehension of God comes from the deeply felt conviction of a superior intelligence that reveals itself in the knowable world. In common terms, one can describe it as 'pantheistic' (Spinoza). (Answer to the question, "What is your understanding of God?" Kaizo, 5, no. 2, 1923, 197; in Alice Calaprice, editor, The Expanded Quotable Einstein, Princeton University Press, 2000, 203)
Now, I would ask an atheist: whence comes Einstein's "deeply felt conviction"? Is it a philosophical reason or the end result of a syllogism? He simply has it. It is an intuitive or instinctive feeling or "knowledge" or "sense of wonder at the incredible, mind-boggling marvels of the universe". Atheists don't possess this intuition, but my point is that it is not utterly implausible or unable to be held by even the most rigorous, "non-dogmatic" intellects, such as Einstein and Hume. And the atheist has to account for that fact somehow, it seems to me.
My religiosity consists of a humble admiration of the infinitely superior spirit that reveals itself in the little that we can comprehend about the knowable world. That deeply emotional conviction of the presence of a superior reasoning power, which is revealed in the incomprehensible universe, forms my idea of God. (Calaprice, ibid., 204 / To a banker in Colorado, 1927. Einstein Archive 48-380; also quoted in Helen Dukas and Banesh Hoffmann, Albert Einstein, the Human Side [Princeton Univ. Press, 1981], 66, and in the New York Times obituary, April 19, 1955)
I believe in Spinoza's God who reveals himself in the harmony of all that exists, but not in a God who concerns himself with the fate and actions of human beings. (Ibid., 204 / Telegram to a Jewish newspaper, 1929; to Rabbi Herbert S. Goldstein of the Institutional Synagogue in New York . Einstein Archive 33-272)
What do atheists think Einstein meant here when he used the word "believe"? Do they think he had an elaborate argument that ended in his conclusion: "I believe in Spinoza's God"?
I am of the opinion that all the finer speculations in the realm of science spring from a deep religious feeling. (

Calaprice, ibid.

, 206 / 

Forum and Century

 83, 1930, 373)
What does Einstein mean by "deep religious feeling"? Is this a philosophical and/or demonstrable or provable concept? Or is it more like an intuition? How can it be epistemologically justified? How can a man like Einstein hold such a view in the first place, according to the atheist? Perhaps he himself provides an answer of sorts:
It is very difficult to elucidate this [cosmic religious] feeling to anyone who is entirely without it . . . In my view, it is the most important function of art and science to awaken this feeling and keep it alive in those who are receptive to it. (Calaprice, ibid., 207 / Einstein on Cosmic Religion and Other Opinions & Aphorisms, 1931, 48-49)
In what way would an atheist think Einstein would say such people are "deficient"? He denies that a personal God put this knowledge in people, yet on the other hand he clearly assumes it is innate, normal, and self-evident. How can he do that?
[T]he belief in the existence of basic all-embracing laws in Nature also rests on a sort of faith. All the same this faith has been largely justified so far by the success of scientific research. But, on the other hand, everyone who is seriously involved in the pursuit of science becomes convinced that a spirit is manifest in the laws of the universe — a spirit vastly superior to that of man, and one in the face of which we with our modest powers must feel humble. In this way the pursuit of science leads to a religious feeling of a special sort, which is indeed quite different from the religiosity of someone more naive. (To student Phyllis Right, who asked if scientists pray, January 24, 1936. Einstein Archive 42-601, 52-337; from Dukas and Hoffman, ibid., pp. 32-33)
At first, then, instead of asking what religion is I should prefer to ask what characterizes the aspirations of a person who gives me the impression of being religious: a person who is religiously enlightened appears to me to be one who has, to the best of his ability, liberated himself from the fetters of his selfish desires and is preoccupied with thoughts, feelings and aspirations to which he clings because of their super-personal value . . . Accordingly a religious person is devout in the sense that he has no doubt of the significance of those super-personal objects and goals which neither require nor are capable of rational foundation . . . If one conceives of religion and science according to these definitions then a conflict between them appears impossible. For science can only ascertain what is, but not what should be, and outside of its domain value judgments of all kinds remain necessary. . . . Now, even though the realms of religion and science in themselves are clearly marked off from each other, nevertheless there exist between the two strong reciprocal relationships and dependencies . . . science can only be created by those who are thoroughly imbued with the aspiration toward truth and understanding. This source of feeling, however, springs from the sphere of religion. To this there also belongs the faith in the possibility that the regulations valid for the world of existence are rational, that is, comprehensible to reason. I cannot conceive of a genuine scientist without that profound faith. The situation may be expressed by an image: science without religion is lame, religion without science is blind. . . . a legitimate conflict between science and religion cannot exist. . . . But whoever has undergone the intense experience of successful advances made in this domain is moved by profound reverence for the rationality made manifest in existence. By way of the understanding he achieves a far-reaching emancipation from the shackles of personal hopes and desires, and thereby attains that humble attitude of mind toward the grandeur of reason incarnate in existence, and which, in its profoundest depths, is inaccessible to man. This attitude, however, appears to me to be religious, in the highest sense of the word. ("Science and Religion": Address at the Conference on Science, Philosophy, and Religion in Their Relation to the Democratic Way of Life, New York, 1940; in Ideas and Opinions [Crown: New York, 1954, 1982], p. 46; also published in Nature, 146: 605-607 [1940] )
In view of such harmony in the cosmos which I, with my limited human mind, am able to recognize, there are yet people who say there is no God. But what makes me really angry is that they quote me for support of such views. (Ibid., 214 / reply to German anti-Nazi diplomat and author Hubertus zu Lowenstein around 1941. Quoted in the latter's book, Towards the Further Shore, London, 1968, 156)
Then there are the fanatical atheists whose intolerance is the same as that of the religious fanatics, and it springs from the same source . . . They are creatures who can't hear the music of the spheres. (Ibid., 214 / 7 August 1941. Einstein Archive 54-297)
I have found no better expression than 'religious' for confidence in the rational nature of reality, insofar as it is accessible to human reason. Whenever this feeling is absent, science degenerates into uninspired empiricism. (Ibid., 216 / To Maurice Solovine, 1 January 1951. Einstein Archive 21-474; published in Letters to Solovine, 119)
The bigotry of the nonbeliever is for me nearly as funny as the bigotry of the believer. (quoted in Robert N. Goldman, Einstein's God: Albert Einstein's Quest as a Scientist and as a Jew to Replace a Forsaken God  [Jason Aronson: 1997] )
Many similar utterances of Einstein can be found:
I do not believe in a personal God and I have never denied this but have expressed it clearly. If something is in me which can be called religious then it is the unbounded admiration for the structure of the world so far as our science can reveal it. (Letter to an atheist [24 March 1954] as quoted in Albert Einstein: The Human Side [Princeton University Press: 1981], edited by Helen Dukas and Banesh Hoffman, p. 43)
*

*

*

*

*

*

*

*

*

It is true that convictions can best be supported with experience and clear thinking. On this point one must agree unreservedly with the extreme rationalist. The weak point of his conception is, however, this, that those convictions which are necessary and determinant for our conduct and judgments cannot be found solely along this solid scientific way.

*

For the scientific method can teach us nothing else beyond how facts are related to, and conditioned by, each other. The aspiration toward such objective knowledge belongs to the highest of which man is capable, and you will certainly not suspect me of wishing to belittle the achievements and the heroic efforts of man in this sphere. Yet it is equally clear that knowledge of what is does not open the door directly to what should be. One can have the clearest and most complete knowledge of what is, and yet not be able to deduct from that what should be the goal of our human aspirations.

*

Objective knowledge provides us with powerful instruments for the achievements of certain ends, but the ultimate goal itself and the longing to reach it must come from another source. And it is hardly necessary to argue for the view that our existence and our activity acquire meaning only by the setting up of such a goal and of corresponding values. The knowledge of truth as such is wonderful, but it is so little capable of acting as a guide that it cannot prove even the justification and the value of the aspiration toward that very knowledge of truth. Here we face, therefore, the limits of the purely rational conception of our existence.. . .

*

*

Does there truly exist an insuperable contradiction between religion and science? Can religion be superseded by science? The answers to these questions have, for centuries, given rise to considerable dispute and, indeed, bitter fighting. Yet, in my own mind there can be no doubt that in both cases a dispassionate consideration can only lead to a negative answer.

*

. . . the function of setting up goals and passing statements of value transcends its domain. While it is true that science, to the extent of its grasp of causative connections, may reach important conclusions as to the compatibility and incompatibility of goals and evaluations, the independent and fundamental definitions regarding goals and values remain beyond science's reach.. . .

*

There are many such questions which, from a rational vantage point, cannot easily be answered or cannot be answered at all. Yet, I do not think that the so-called "relativistic" viewpoint is correct, not even when dealing with the more subtle moral decisions.. . .

*

*

GUEST: I have a letter that Albert Einstein wrote to my father in 1943. In 1940, my father read a "Time Magazine" article that stated that Einstein was quoted as saying that the only social institution that stood up to Nazism was the Christian Church. My father is a Presbyterian minister in a little northern Michigan town called Harbor Springs. And he quoted Einstein in a sermon, and a member of the congregation wrote my father a letter saying, "Where did you get your information?" So my father wrote "Time Magazine" and "Time Magazine" wrote him back, and I have that letter, too, but they didn't give the source, so my father wrote Einstein and he wrote back, saying, yes, he did say that the Christian Church was standing up to Hitler and Nazism. [ . . . ]

*

Our time is distinguished by wonderful achievements in the fields of scientific understanding and the technical application of those insights. Who would not be cheered by this? But let us not forget that human knowledge and skills alone cannot lead humanity to a happy and dignified life. Humanity has every reason to place the proclaimers of high moral standards and values above the discoverers of objective truth. What humanity owes to personalities like Buddha, Moses, and Jesus ranks for me higher than all the achievements of the enquiring and constructive mind.

*

*

*

The longing to behold this pre-established harmony is the source of the inexhaustible patience and perseverance with which Planck has devoted himself, as we see, to the most general problems of our science, refusing to let himself be diverted to more grateful and more easily attained ends. I have often heard colleagues try to attribute this attitude of his to extraordinary will-power and discipline — wrongly, in my opinion. The state of mind which enables a man to do work of this kind is akin to that of the religious worshiper or the lover; the daily effort comes from no deliberate intention or program, but straight from the heart. ("Principles of Research": address by Albert Einstein in 1918 for the Physical Society, Berlin, on the occasion of Max Planck's sixtieth birthday)

*

*

*

*

*

You find it strange that I consider the comprehensibility of the world (to the extent that we are authorized to speak of such a comprehensibility) as a miracle or an eternal mystery. Well a priori one should expect a chaotic world which cannot be grasped by the mind in anyway. One could (yes one should) expect the world to be subjected to law only to the extent that we order it through our intelligence. Ordering of this kind would be like the alphabetical ordering of the words of a language. By contrast, the kind of order created by Newton's theory of gravitation, for instance, is wholly different. Even if the axioms of the theory are proposed by man, the success of such a project presupposes a high degree of ordering of the objective world, and this could not be expected a priori. That is the "miracle" which is being constantly re-enforced as our knowledge expands.

*

*
 *****