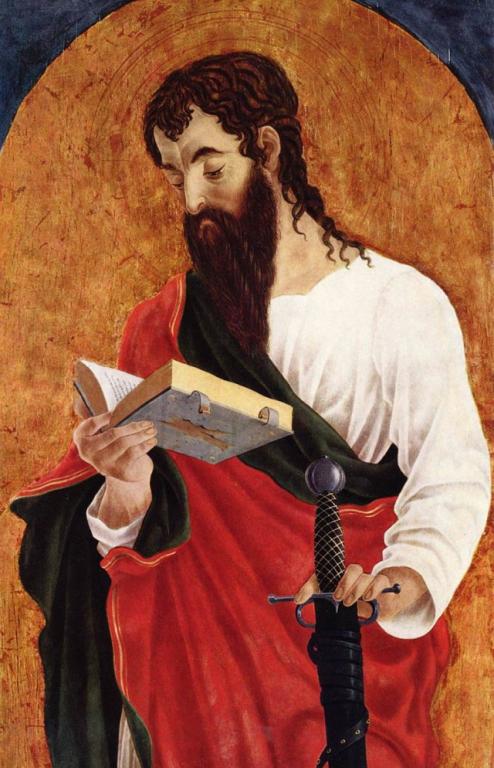 (12-16-09; reformulated and abridged on 3-15-17)
***
Catholics believe in sola gratia, but reject sola fide as an unbiblical innovation. The fact remains that works are profoundly involved in the salvation (ultimately by grace) in some sense:
St. Paul's Teaching on the Organic Relationship of Grace / Faith and Works / Action / Obedience (Collection of 50 Pauline Passages)
More "Catholic Verses" and Biblical Defenses of Catholicism: On Sanctification as Part of Salvation, and Merit and "Doing Something for Salvation" 
Works are even central to the criteria of how God will decide who is saved and who isn't, as I have proven from no less than 50 Bible passages:
Final Judgment in Scripture is Always Associated With Works And Never With Faith Alone
I was asked in debate with Matt Slick (the big cheese at CARM) what I would say if I got to heaven and God asked me why I should be let in. I replied that we had biblical data as to what God would actually say at such a time, and it was all about works, not faith alone at all. And I found that quite striking (after studying it in greater depth), though it never surprises me to find profound biblical support for Catholicism. I always do whenever I study the Bible.
Works are always central in every discussion of the final judgment that I could find in Scripture. Why is this the case if God supposedly wants to completely separate any notion of works or acts from salvation itself? Why is the aspect of faith (let alone faith alone) so glaringly absent in these 50 accounts of judgment, if in fact it is the central, fundamental consideration, according to Protestantism?
We interpret all of this scriptural data in a non-Pelagian fashion (Pelagians believed in salvation by works). We incorporate all of Scripture, not just our favorite pet verses. Protestants believe that works are only in the realm of sanctification and have nothing whatever directly to do with justification and salvation.
I agree with what C. S. Lewis said: asking one to choose between faith and works is as senseless as saying which blade of a pair of scissors is more important.
It's an organic relationship. Actually, Catholics and Protestants, rightly understood, are not far apart on this in the final analysis. It's mostly mutual misunderstandings and unfortunate semantic confusion.
The Bible doesn't at all read as it should, were Protestant soteriology true, and Catholic soteriology false. I contend that it would read much differently indeed. As it is, it appears to overwhelmingly favor the Catholic positions.
The Catholic position is not one that ignores faith or grace. Our position is that salvation is by grace alone, through faith, which is not alone, and includes works by its very nature.
We also are falsely accused of believing in sola ecclesia when in fact our position on authority is the "three-legged stool" of Scripture-Tradition-Church. It's simply Protestant either/or thinking applied to us.
John 11:25-26 (RSV) Jesus said to her, "I am the resurrection and the life; he who believes in me, though he die, yet shall he live,
[26] and whoever lives and believes in me shall never die. Do you believe this?"
The Greek for "believe" is pistuo, which is considered the counterpart of "does not obey" (apitheo) in John 3:36. 1 Peter 2:7 also opposes the two same Greek words. In other words, "believe" in the biblical sense already includes within it the concept of obedience (i.e., works). Hence, "little Kittel" observes:
pisteuo as "to obey." Heb. 11 stresses that to believe is to obey, as in the OT. Paul in Rom. 1:8; 1 Th. 1:8 (cf. Rom. 15:18; 16:19) shows, too, that believing means obeying. He speaks about the obedience of faith in Rom. 1:5, and cf. 10:3; 2 Cor. 9:13." (p. 854)
Jesus joins faith ("belief" / pistuo) and works together, too, when He states:
John 14:12 Truly, truly, I say to you, he who believes in me will also do the works that I do; and greater works than these will he do, because I go to the Father.
The "belief" mentioned in these passages is (through cross-referencing) seen to include obeying and works, and we're back to the Catholic organic relationship between the two, rather than the Protestant ultra-abstraction of the two into the justification and sanctification categories.
"Faith alone" is tough to verify from Scripture once everything is taken into account and not just the garden-variety Protestant passages that are always utilized.
In classic Protestantism, works are relegated to post-justification status, as part of a separate sanctification and the realm of differential rewards of those already saved. I used to believe the exact same thing, so I'm very familiar with it.
The problem is that Scripture doesn't teach such a view. The disproofs are already in my papers linked above, in many passages that directly connect or associate salvation with the works that one does: therefore, works are not unrelated to either justification or eschatological salvation:
Matthew 25:34-36 Then the King will say to those at his right hand, `Come, O blessed of my Father, inherit the kingdom prepared for you from the foundation of the world; for I was hungry and you gave me food, I was thirsty and you gave me drink, I was a stranger and you welcomed me, I was naked and you clothed me, I was sick and you visited me, I was in prison and you came to me.'
The "for" shows the causal relationship: "you are saved because you did all these works." That's what the text actually asserts, before false Protestant presuppositions and eisegesis are applied to it in the effort to make sure works never have to do directly with salvation (no matter how much faith and grace is there with them, so that we're not talking about Pelagianism).
If Protestantism were true, the Bible should have had a passage something like this (Revised Protestant Version [RPV] ):
But when the Son of Man comes in His glory, and all the angels with Him, then He will sit on His glorious throne. Then He will also say to those on His left, "Depart from Me, accursed ones, into the eternal fire which has been prepared for the devil and his angels; for you did not believe in Me with Faith Alone." These will go away into eternal punishment, but the righteous who believed with Faith Alone into eternal life.
But alas, it doesn't read like that, does it?
John 5:28-29 . . . the hour is coming when all who are in the tombs will hear his voice and come forth, those who have done good, to the resurrection of life, and those who have done evil, to the resurrection of judgment.
A direct correlation: the ones who do good works are saved; the ones who do evil are damned.
Romans 2:6-8, 13 For he will render to every man according to his works: To those who by patience in well-doing seek for glory and honour and immortality, he will give eternal life; but for those who are factious and do not obey the truth, but obey wickedness, there will be wrath and fury. . . . For it is not the hearers of the law who are righteous before God, but the doers of the law who will be justified.
Again, works are directly tied to eternal life and justification; they are not portrayed as merely acts of gratefulness that will lead to differential rewards for the saved; no, the differential reward is either salvation or damnation. Paul totally agrees with Jesus.
2 Thessalonians 1:7-9 . . . when the Lord Jesus is revealed from heaven with his mighty angels in flaming fire, inflicting vengeance upon those who do not know God and upon those who do not obey the gospel of our Lord Jesus. They shall suffer the punishment of eternal destruction and exclusion from the presence of the Lord and from the glory of his might,
Note that simply believing the gospel and knowing God is not enough for salvation. One has to also "obey the gospel" (and that involves works).
Revelation 2:5 Remember then from what you have fallen, repent and do the works you did at first. If not, I will come to you and remove your lampstand from its place, unless you repent.
If we don't do the works, we can lose our salvation; therefore works have to do with salvation; they are not separated from that by abstracting them into a separate category of sanctification, that is always distinguished from justification. That ain't biblical teaching. That is the eisegesis and false premises of Melanchthon and Calvin and Zwingli.
Revelation 20:11-13 Then I saw a great white throne and him who sat upon it; from his presence earth and sky fled away, and no place was found for them. And I saw the dead, great and small, standing before the throne, and books were opened. Also another book was opened, which is the book of life. And the dead were judged by what was written in the books, by what they had done. And the sea gave up the dead in it, Death and Hades gave up the dead in them, and all were judged by what they had done.
Same thing again. Obviously, St. John, St. Paul, and our Lord Jesus need to attend a good Calvinist or evangelical seminary and get up to speed on their soteriology. They don't get it. The passage should have been written something like the following:
". . . and the dead were judged from the things which were written in the books, according to whether they had Faith Alone. And the sea gave up the dead which were in it, and death and Hades gave up the dead which were in them; and they were judged, every one of them according to whether they had Faith Alone."
Perhaps we should get together a council and rewrite the Bible so that it doesn't have so many "Romish" errors throughout its pages . . . The King James White version or sumpin' . . .
Part of the problem with Protestant soteriology is that not only do so many of the relevant passages mention works without mentioning faith (and especially not faith alone), but also the surrounding context gives us further reason to believe that faith alone isn't involved.
Since the Catholic believes in the triumvirate of grace —> faith —> works as the criteria for salvation, passages dealing with faith pose no problem. The more the merrier. We are saying that faith alone is the unbiblical doctrine, not faith. We're not against faith at all, but rather, a false definition of faith, that restricts and confines it in a way that the Bible doesn't do.
But since the Protestant position is faith alone (in terms of salvation itself), they have to explain away or rationalize all passages suggesting an important place of works in the equation, in a way that we're not required to do (given our position) with all the passages about faith that Protestants produce. Bringing out ten, twenty, fifty passages that mention faith does nothing against our position, because we don't reject faith as part of the whole thing.
The problem for Protestants remains: how to interpret the centrality of works in the judgment / salvation passages, in a way that preserves the "faith alone" doctrine.
I contend that it is impossible. To do so does violence to the Bible and what it teaches. We must base our teaching squarely on biblical theology and not the arbitrary, self-contradictory traditions of men (folks like Calvin), who eisegete Holy Scripture and substitute for biblical thought, their own traditions.
Sometimes it's easy to confuse those traditions with biblical teaching itself. But by examining Holy Scripture more deeply and over time, I think anyone can eventually see that it supports the Catholic positions every time.
Using John 5 as an example, we see that the usual Protestant dichotomies don't apply. 5:21-22 mentions resurrection and judgment. But what it doesn't do is give the criteria for these judgments and who is resurrected. That has to come by reading on (further context).
John 5:24 . . . he who hears my word and believes him who sent me, has eternal life; he does not come into judgment, but has passed from death to life."
This is a generalized statement: one could perhaps paraphrase it as "Christian believers have eternal life" or (to bring it down to a Sunday School nursery level): "all good Christians go to heaven."
It doesn't follow from a general statement like this that no Christian can ever fall away (though Calvinism requires this, over against many biblical passages to the contrary), or that works have nothing to do with it. We need to look at the deeper meaning of "believe" (as I have already done).
As we read on (the same discourse from Jesus) we get to 5:29: ". . . those who have done good, to the resurrection of life, and those who have done evil, to the resurrection of judgment."
Now, Protestants would tend to highlight 5:24 and de-emphasize 5:29. I can gladly consider both of them in the entire equation. It's once again the Catholic (Hebraic) "both/and" vs. the Protestant (and more Greek) "either/or". Scripture is asserting two truths:
5:24 "he who hears my word and believes him who sent me, has eternal life"

5:29 "those who have done good, to the resurrection of life,"
Faith and works. For us, the two passages are entirely compatible and in harmony with our Catholic theology: one is saved by grace through faith, in believing in Jesus, and this belief entails and inherently includes good works.
But Protestants can't do that, because they wrongly conclude that any presence of good works in the equation of both justification and salvation itself is somehow "anti-faith" or antithetical to grace alone; and is Pelagianism. This doesn't follow.
Because of these false, unbiblical premises, Protestants have to explain 5:29 as merely differential rewards for the saved (who are saved by faith alone); whereas the actual text does not teach that. It teaches a direct correlation between good works and eternal life. It explains 5:24 in greater depth; just as I noted earlier that Jesus Himself places works and faith in direct relationship:
John 14:12 Truly, truly, I say to you, he who believes in me will also do the works that I do . . .
Baptism is also equated with regeneration and entrance into the kingdom, so this is hardly an example amenable overall to the Protestant position:
Acts 2:38, 41 And Peter said to them, "Repent, and be baptized every one of you in the name of Jesus Christ for the forgiveness of your sins; and you shall receive the gift of the Holy Spirit." . . . So those who received his word were baptized, and there were added that day about three thousand souls.
The order is not:
1) faith
2) forgiveness
3) indwelling Holy Spirit
4) baptism
but rather,
1) faith
2) baptism
3) forgiveness (directly because of baptism)
4) indwelling Holy Spirit (directly because of baptism)
Because of the baptism, souls were added to the kingdom. They weren't already in the kingdom, and then decided to be baptized out of obedience. Therefore, the work of baptism directly ties into both justification and final salvation.
Galatians 3:26-27 for in Christ Jesus you are all sons of God, through faith. For as many of you as were baptized into Christ have put on Christ.

Colossians 2:12 and you were buried with him in baptism, in which you were also raised with him through faith in the working of God, who raised him from the dead.
Faith and baptism are virtually equivalent in their importance. One is "in" Jesus both through faith and through baptism. Both/and.
Baptism is not a separate, optional work. It is part and parcel of the process. Insofar as it, too, is regarded as a "work" then here we have again the Catholic grace-faith-works (and efficacious sacraments) paradigm.
***
Photo credit: St Paul (c. 1468), by Marco Zoppo (1433-1478) [public domain / Wikimedia Commons]
***