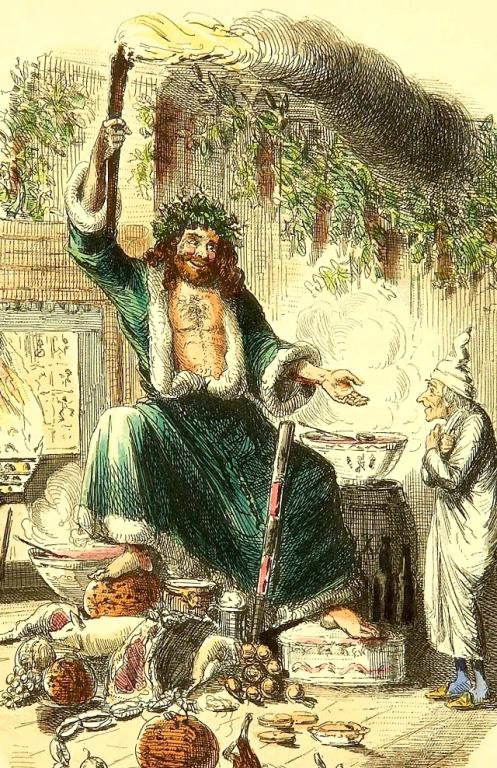 (12-14-06)
***
On Christmas and its Modern Detractors
*
If ever a faith is firmly grounded again, it will be at least interesting to notice those few things that have bridged the gulf, that stood firm when faith was lost, and were still standing when it was found again. Of these really interesting things one, in all probability, will be the English celebration of Christmas. Father Christmas was with us when the fairies departed; and please God he will still be with us when the gods return. Of course, it is covered up, like every other living thing, with a sort of moss of convention and the unmeaning use of words . . .
*
There is nothing really wrong with the whole modern world except that it does not fit in with Christmas. The modern world will have to fit in with Christmas or die . . . All Christmas feasts, all Christmas freaks, are founded on human equality: at least, upon what is now called equality of opportunity . . . The real basis of life is not scientific; the strongest basis of life is sentimental. People are not economically obliged to live. Anybody can die for nothing. People romantically desire to live – especially at Christmas. ("The Wrong Books at Christmas," The Illustrated London News, 9 January 1909)
Dickens' A Christmas Carol
The beauty and the real blessing of the story do not lie in the mechanical plot of it, the repentance of Scrooge, probable or improbable; they lie in the great furnace of real happiness that glows through Scrooge and everything around him; that great furnace, the heart of Dickens. Whether the Christmas visions would or would not convert Scrooge, they convert us. (Charles Dickens: Last of the Great Men, New York: Press of the Readers Club, 1942 [orig. 1906], 123)
Christmas Comfort
Comfort, especially this vision of Christmas comfort, is the reverse of a gross or material thing. It is far more poetical, properly speaking, than the Garden of Epicurus. It is far more artistic than the Palace of Art. It is more artistic because it is based upon a contrast, a contrast between the fire and wine within the house and the winter and roaring rains without. It is far more poetical, because there is in it a note of defense, almost of war; a note of being besieged by the snow and hail; of making merry in the belly of a fort. (Ibid., 118-119)
The First Christmas
A mass of legend and literature, which increases and will never end, has repeated and rung the changes on that single paradox; that the hands that had made the sun and stars were too small to reach the huge heads of the cattle. Upon this paradox, we might almost say upon this jest, all the literature of our faith is founded . . . When that contrast between the cosmic creation and the little local infancy has been repeated, reiterated, underlined, emphasised, exulted in, sung, shouted, roared, not to say howled, in a hundred thousand hymns, carols, rhymes, rituals, pictures, poems, and popular sermons, it may be suggested that we hardly need a higher critic to draw our attention to something a little odd about it; especially one of the sort that seems to take a long time to see a joke, even his own joke . . .
*
Every Catholic child has learned from pictures, and even every Protestant child from stories, this incredible combination of contrasted ideas as one of the very first impressions on his mind. It is not merely a theological difference. It is a psychological difference which can outlast any theologies. It really is, as that sort of scientist loves to say about anything, incurable. Any agnostic or atheist whose childhood has known a real Christmas has ever afterwards, whether he likes it or not, an association in his mind between two ideas that most of mankind must regard as remote from each other; the idea of a baby and the idea of unknown strength that sustains the stars. His instincts and imagination can still connect them, when his reason can no longer see the need of the connection; for him there will always be some savour of religion about the mere picture of a mother and a baby; some hint of mercy and softening about the mere mention of the dreadful name of God.
*
But the two ideas are not naturally or necessarily combined. They would not be necessarily combined for an ancient Greek or a Chinaman, even for Aristotle or Confucius. It is no more inevitable to connect God with an infant than to connect gravitation with a kitten. It has been created in our minds by Christmas because we are Christians, because we are psychological Christians even when we are not theological ones. In other words, this combination of ideas has emphatically, in the much disputed phrase, altered human nature. There is really a difference between the man who knows it and the man who does not. It may not be a difference of moral worth, for the Moslem or the Jew might be worthier according to his lights; but it is a plain fact about the crossing of two particular lights, the conjunction of two stars in our particular horoscope. Omnipotence and impotence, or divinity and infancy, do definitely make a sort of epigram which a million repetitions cannot turn into a platitude. It is not unreasonable to call it unique. Bethlehem is emphatically a place where extremes meet. (The Everlasting Man)
Charles Dickens
Who can be insensible to the outpourings of good feeling, and the honest interchange of affectionate attachment, which abound at this season of the year? A Christmas family-party! We know nothing in nature more delightful! There seems a magic in the very name of Christmas. Petty jealousies and discords are forgotten; social feelings are awakened, in bosoms to which they have long been strangers; father and son, or brother and sister, who have met and passed with averted gaze, or a look of cold recognition, for months before, proffer and return the cordial embrace, and bury their past animosities in their present happiness. Kindly hearts that have yearned towards each other but have been withheld by false notions of pride and self-dignity, are again reunited, and all is kindness and benevolence! (from Sketches by Boz, 1836)
*
Do not select the merriest of the [days] for your doleful recollections, but draw your chair nearer the blazing fire – fill the glass and send round the song – and if your room be smaller than it was a dozen years ago, or if your glass be filled with reeking punch, instead of sparkling wine, put a good face on the matter, and empty it off-hand, and fill another, and troll off the old ditty you used to sing, and thank God it's no worse . . . (Ibid.)
*
At last the dinner was all done, the cloth was cleared, the hearth swept, and the fire made up. The compound in the jug being tasted, and considered perfect, apples and oranges were put upon the table, and a shovel-full of chestnuts on the fire. Then all the Cratchit family drew round the hearth, in what Bob Cratchit called a circle, meaning half a one; and at Bob Cratchit's elbow stood the family display of glass. Two tumblers, and a custard-cup without a handle.
*
These held the hot stuff from the jug, however, as well as golden goblets would have done; and Bob served it out with beaming looks, while the chestnuts on the fire sputtered and cracked noisily. Then Bob proposed:
*
'A Merry Christmas to us all, my dears. God bless us!' Which all the family re-echoed. 'God bless us every one!' said Tiny Tim, the last of all. (from A Christmas Carol, 1843)
***
Photo credit:
A colorized edit of an engraving of Charles Dickens' "Ghost of Christmas Present" character from A Christmas Carol, by John Leech (1843)
[public domain /
Wikimedia Commons
]
*
***