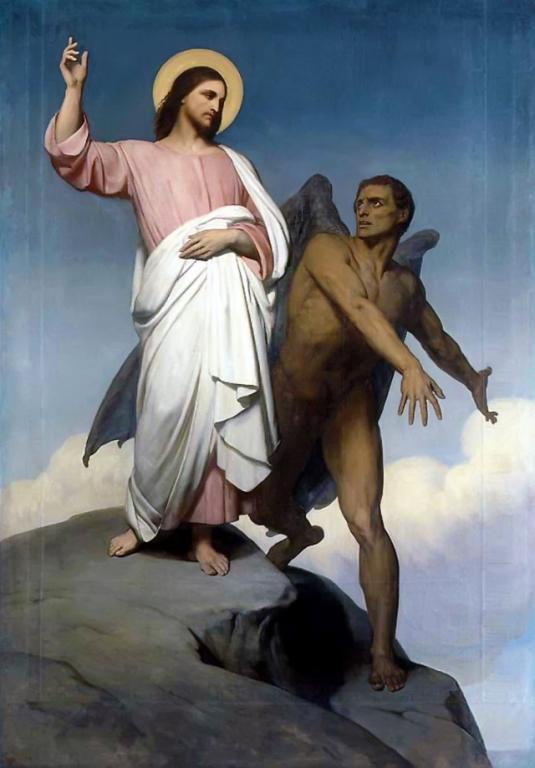 Someone asked me:
Dave, if Jesus could not have sinned, how is it that he was actually tempted as the Bible says? How can it be tempting to do something that is impossible to do?
The Bible states that Jesus was tempted, just as it states that God the Father and the Holy Spirit were tempted, in the sense that Satan can try to do this, but he has no chance of succeeding, and is too stupid to know that he has no prospects of success at all.
It's like saying (to use an exaggerated analogy for effect), "a child tempted a skyscraper to become like silly putty." The child may think it is possible but the reality is otherwise. The entire emphasis is on the one doing the tempting and trying to cause even God to falter and sin. But this is not possible for God to do. His absolute resistance to sin is far stronger than the natural laws of physics that would preclude a building from turning into silly putty (absent extraordinary conditions like a nuclear blast or huge meteorite or something).
Or consider an analogy to sexual seduction. Some men will succumb to deliberately designed seduction / temptation. Others (like Joseph in the Bible) will not. God is so holy that He can't possibly be successfully tempted to sin. He's like the man who always resists seduction. So it is not inconceivable at all to understand God as a Being who may be tempted by Satan in many ways, but Who always resists and cannot not resist or fall.
Here are passages where God the Father or the Holy Spirit were (unsuccessfully) tempted or tested (RSV):
Deuteronomy 6:16 You shall not put the LORD your God to the test, as you tested him at Massah.

Psalm 78:18, 41, 56 They tested God in their heart by demanding the food they craved. . . . They tested him again and again, and provoked the Holy One of Israel. . . . Yet they tested and rebelled against the Most High God, and did not observe his testimonies,

Psalm 106:14 But they had a wanton craving in the wilderness, and put God to the test in the desert;

Isaiah 7:12 But Ahaz said, "I will not ask, and I will not put the LORD to the test."

Judith 8:12 Who are you, that have put God to the test this day, and are setting yourselves up in the place of God among the sons of men?

Acts 5:9 But Peter said to her, "How is it that you have agreed together to tempt the Spirit of the Lord? Hark, the feet of those that have buried your husband are at the door, and they will carry you out."

1 Corinthians 10:9 We must not put the Lord to the test, as some of them did and were destroyed by serpents;

Hebrews 3:8-9 do not harden your hearts as in the rebellion, on the day of testing in the wilderness, where your fathers put me to the test and saw my works for forty years.

James 1:13 Let no one say when he is tempted, "I am tempted by God"; for God cannot be tempted with evil and he himself tempts no one;
And here are others where Jesus was unsuccessfully tempted:
Matthew 4:1, 3, 7 Then Jesus was led up by the Spirit into the wilderness to be tempted by the devil. . . . And the tempter came and said to him, "If you are the Son of God, command these stones to become loaves of bread." . . . Jesus said to him, "Again it is written, `You shall not tempt the Lord your God.'"

Matthew 22:18 But Jesus, aware of their malice, said, "Why put me to the test, you hypocrites?

Mark 1:13 And he was in the wilderness forty days, tempted by Satan; and he was with the wild beasts; and the angels ministered to him.

Mark 8:11 The Pharisees came and began to argue with him, seeking from him a sign from heaven, to test him.

Mark 10:2 And Pharisees came up and in order to test him asked, "Is it lawful for a man to divorce his wife?"

Mark 12:15 Should we pay them, or should we not?" But knowing their hypocrisy, he said to them, "Why put me to the test? Bring me a coin, and let me look at it."

Luke 4:2, 12-13 for forty days in the wilderness, tempted by the devil. And he ate nothing in those days; and when they were ended, he was hungry. . . . And Jesus answered him, "It is said, `You shall not tempt the Lord your God.'" And when the devil had ended every temptation, he departed from him until an opportune time.

Luke 11:16 while others, to test him, sought from him a sign from heaven.

Hebrews 4:15 For we have not a high priest who is unable to sympathize with our weaknesses, but one who in every respect has been tempted as we are, yet without sin.
Needless to say, Jesus is perfectly holy and without sin:
John 8:46 Which of you convicts me of sin? . . .

Hebrews 7:26 For it was fitting that we should have such a high priest, holy, blameless, unstained, separated from sinners, exalted above the heavens.

Hebrews 9:14 . . . Christ, who through the eternal Spirit offered himself without blemish to God,  . . .

1 Peter 1:19 but with the precious blood of Christ, like that of a lamb without blemish or spot.

1 Peter 2:22 He committed no sin; no guile was found on his lips.

1 John 3:5 You know that he appeared to take away sins, and in him there is no sin.

(cf. Mk 1:24; Lk 1:35; 4:34; Acts 3:14; 4:27, 30; 13:35; Rev 3:7)
***
(originally 9-9-08)
Photo credit: The Temptation of Christ (1854), by Ary Scheffer (1795-1858) [public domain / Wikimedia Commons]
***