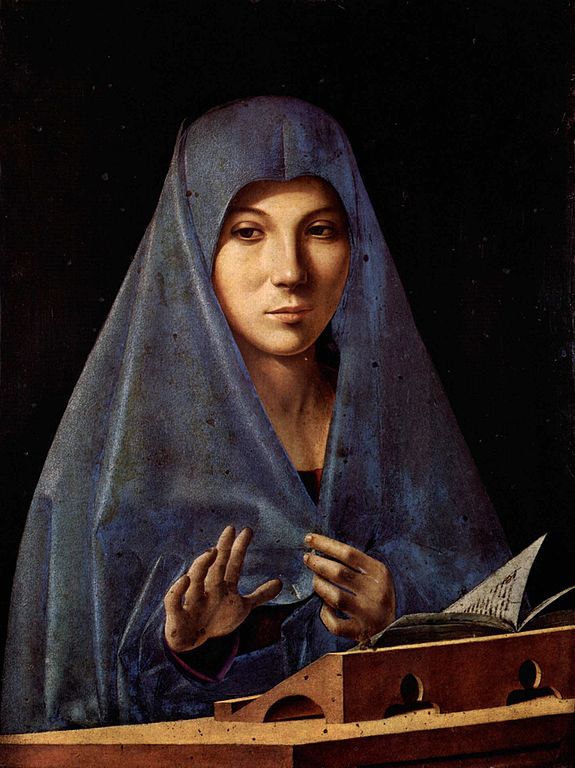 [this started on a thread under an article of mine on the perpetual virginity of Mary. I paraphrase the words of my Protestant critic (first two exchanges). Then I had further public exchanges (below)]
***
Protestant: It bothers me that perpetual virginity indicates an opinion that sex is sinful.
I see. So you are equally concerned, I imagine, when Paul (in 1 Corinthians 7) praises those who are voluntarily celibate for the sake of undistracted devotion to the kingdom (i.e., those who lived as he did). I guess he, too, thinks sex is sinful because of that advice. Jesus must agree that it is sinful as well, since He talked approvingly about those who made themselves eunuchs for the kingdom (Matthew 19).
Why anyone would conclude that heroic virginity or celibacy according to the evangelical counsels and St. Paul's advice is somehow anti-sex is beyond me. It's like saying, "I prefer and 'choose' apples over oranges; therefore I am anti-oranges." Huh? The reductio ad absurdum shows the fallacy in the original assertion.
It's not normal for wives to be celibate.
Mary wasn't a normal Jewish wife. She was miraculously impregnated by the Holy Spirit, and gave birth to Jesus: God the Son, without having had sexual relations (most Protestants still accept the Virgin Birth, I think). Consecrated virginity is far less notable than those two events, which Protestants (excepting liberal ones who are scarcely historic Protestants at all) all agree with.
**
Randall Davis: Dave, the only problem is you made all of these excellent points, but it is still highly unlikely that you convinced the Protestant.
It's always tough to convince anyone of anything, but I think that if a person doesn't have a built-in bias against it and is willing to follow biblical data to wherever it leads, there is a fair chance of persuading a person like that.
The bias is the killer. When a person is convinced that we believe in the PVM because we hate sex (that this accounts for the very origin of it), and other nonsense notions like that, then forget it: the Bible is helpless to convince such a person, with their preconceived false ideas.
Reynaldo de Leon: Being married and remaining a virgin even after the birth of Christ contradicts the purpose of marriage in the first place.
Does the Virgin Birth contradict the purpose of sex too?
You're missing the point Dave, I think almost every Protestant throughout history has pointed out that to remain a virgin after the birth of Christ is virtually pointless, and furthermore to make the claim valid would mean that you would have find a legal loophole to say that remaining a virgin in marriage is healthy.
Why be a virgin during a birth then? That's against the purpose of sex for procreation! Doesn't God know that!? They were married then, too, from the time of the Annunciation till the birth of Jesus.
She had to be a virgin at the time of the birth, so there were several months of married virginity up till then, even in your belief. Why, if that goes against the nature of marriage, etc.?
Jesus even sanctioned leaving wives for the sake of the kingdom and discipleship (which is essentially mutual agreement to separate, as is believed to be the case with St. Peter):
Luke 18:29-30 (RSV) And he said to them, "Truly, I say to you, there is no man who has left house or wife or brothers or parents or children, for the sake of the kingdom of God, [30] who will not receive manifold more in this time, and in the age to come eternal life."
Again Dave, this is the issue: After the birth of Christ, why would it be necessary for Mary to remain a virgin when (1) it goes against the nature of marriage and (2) it does not logically fit with the Scriptures? Even if we were to assume Mary did this for the sake of the kingdom, we have no proof that she chose to do this for that purpose or for that matter, enough evidence that Christ's teaching applies to this particular instance.
Why would it be necessary for Mary to remain a virgin after being married, till the day of Jesus' birth if it goes against the nature of marriage?
We're talking about after Dave, not before.  Mary was engaged with Joseph, she was a virgin throughout because she was pregnant at the time.
It's not required to abstain from sex during pregnancy (thank heavens). So that "argument" falls flat. It remains true that if marital chastity is some terrible, unnatural thing in all cases at all times, then it is from the time of the Annunciation till Jesus' birth as well. I never thought of that before. Thanks for helping me develop a good new argument, by being so obstinate, Rey! Praise be to God!
[see also the excellent  related discussions on Facebook, including superb contributions from my friend, Lutheran pastor Ken Howes (LCMS) ]
***
(originally 5-21-14)
Photo credit: Virgin Annunciate (1475), by Antonello da Messina (1430-1479) [public domain / Wikimedia Commons]
***