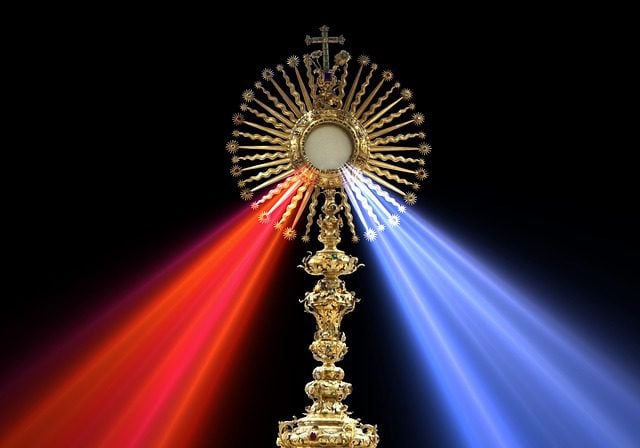 I received a remarkably critical letter (in the worst sense of that term), in response to my last column in The Michigan Catholic, entitled, "The Sunday Mass obligation makes perfect sense." The woman more or less completely misunderstood my central point, which was not to say that we should attend Mass only out of some dead legalistic obligation (see my first paragraph and several other parts that denied that), but that the Mass obligation was a good thing for the sake of the spiritually weak or the newcomer. This woman wrote:
Every time I read your column in the MC, I feel a twinge of "uugh!" I felt the need to write and send. I know you have written books, but where is the heart of the matter? We don't get power from going to church!! "which gives us all sort[s] of power and sustenance". Where is that in the catechism? Jesus didn't preach about power. He did not come in power. (see all references to Nativity for proof). . . .

*

You have the opportunity to teach people with real spiritual food, not baby paplum [sic]. Are you still basing your columns on 4th grade understanding like many newspapers do?
Here is how I responded to her accusation regarding the notion of receiving "power" at the Mass:
*
You say, "Jesus didn't preach about power." Really? Now we are reading different Bibles, too, I guess. Of course, He did, and so did St. Paul, St. Peter, St. Luke, St. John, and others in Holy Scripture:
Luke 9:1

(RSV) And he called the twelve together and gave them

power

and authority

over all demons and to cure diseases,

*

Luke 10:19

Behold, I have given you

authority

to tread upon serpents and scorpions, and over all the

power

of the enemy; and nothing shall hurt you.|

*

Luke 24:49

And behold, I send the promise of my Father upon you; but stay in the city, until you are

clothed with power

from on high.

*

John 1:12

But to all who received him, who believed in his name,

he gave power

to become children of God;

*

Acts 1:8

But

you shall receive power when the Holy Spirit has come upon you

; and you shall be my witnesses in Jerusalem and in all Judea and Sama'ria and to the end of the earth.

*

Acts 3:12

And when Peter saw it he addressed the people, "Men of Israel, why do you wonder at this, or why do you stare at us, as though by our own

power

or piety we had made him walk?

*

Romans 15:13

May the God of hope fill you with all joy and peace in believing, so that by the

power of the Holy Spirit

you may abound in hope.

*

1 Corinthians 5:4

. . . When you are assembled, and my spirit is present,

with the power of our Lord Jesus

,

*

Ephesians 1:19

and what is the

immeasurable greatness of his power in us

who believe, according to the working of his great might

*

Ephesians 3:20

Now to him who by

the power at work within us

is able to do far more abundantly than all that we ask or think,

*

Colossians 1:11

May you be

strengthened with all power

, according to his glorious might, for all endurance and patience with joy,

*

2 Timothy 1:7-8

for God did not give us a spirit of timidity but

a spirit of power

and love and self-control. [8] Do not be ashamed then of testifying to our Lord, nor of me his prisoner, but share in suffering for the gospel in the power of God,

*

1 Peter 1:5

who by God's power are guarded

through faith for a salvation ready to be revealed in the last time.

*
You ask, "Where is that in the catechism?"
It's all over that, too
. Do you not have the ability to do a simple search of a word in the Bible and the Catechism before lashing out and saying silly things like this? See in particular,
#1468
, which was about the power of the sacrament of penance, whereas I wrote about the power that we receive from the Holy Eucharist. See
#1988
and
#736
too (and
many others
).
#1111
specifically ties the Holy Eucharist to "power" just as I did:
Christ's work in the liturgy is sacramental: because his mystery of salvation is made present there by the power of his Holy Spirit; because his Body, which is the Church, is like a sacrament (sign and instrument) in which the Holy Spirit dispenses the mystery of salvation; and because through her liturgical actions the pilgrim Church already participates, as by a foretaste, in the heavenly liturgy.
We must therefore consider the Eucharist as:
– thanksgiving and praise to the Father;
– the sacrificial memorial of Christ and his Body;
– the presence of Christ by the power of his word and of his Spirit.
Likewise,
#2837
teaches similarly, in the following clause:
The Eucharist is our daily bread.

The power belonging to this divine food makes it a bond of union

. Its effect is then understood as unity, so that, gathered into his Body and made members of him,

we may become what we receive

.
In addition to the Anointing of the Sick, the Church offers those who are about to leave this life the Eucharist as viaticum. Communion in the body and blood of Christ, received at this moment of "passing over" to the Father, has a particular significance and importance. It is the seed of eternal life and the power of resurrection, according to the words of the Lord: "He who eats my flesh and drinks my blood has eternal life, and I will raise him up at the last day." The sacrament of Christ once dead and now risen, the Eucharist is here the sacrament of passing over from death to life, from this world to the Father.
. . . [he wanted] to leave to his beloved spouse the Church a visible sacrifice (as the nature of man demands) by which the bloody sacrifice which he was to accomplish once for all on the cross would be re-presented, its memory perpetuated until the end of the world, and its salutary power be applied to the forgiveness of the sins we daily commit.
#1266
refers to the power received from baptism, another sacrament (again, which was my very
point
: sacraments give us power, among many other things):
The Most Holy Trinity gives the baptized sanctifying grace, the grace of justification:
– enabling them to believe in God, to hope in him, and to love him through the theological virtues;
– giving them the power to live and act under the prompting of the Holy Spirit through the gifts of the Holy Spirit;
– allowing them to grow in goodness through the moral virtues.
Thus the whole organism of the Christian's supernatural life has its roots in Baptism.
That's an awful lot to miss in both the Bible and the Catechism. But you managed to do it, instead choosing to lecture me as if I am a theological and spiritual ignoramus who has no business teaching others in my apologetics writing. I just produced for you five passages in the Catechism that specifically tie the Holy Eucharist to "power" that we receive from it. That was exactly my point.
*
There's a reason why I have had many published books and am blessed to be able to write regularly for Michigan Catholic and National Catholic Register. Catholic publishers and magazines aren't stupid. They can distinguish a good Catholic writer from a bad one.
*
Thank you for the opportunity, at least, to explain myself. You came in like gangbusters, condescendingly lecturing me. I think you have learned a few things after reading this letter. Maybe I'm not quite as inadequate of a writer and apologist as you thought. Maybe you don't know quite as much as you
thought
you did. Perhaps you'll be less quick to condemn next time, and will instead,
exhort
a fellow Catholic and worker in the field, as Scripture
admonishes you to do
.
May God bless you abundantly,
Dave Armstrong
*
***