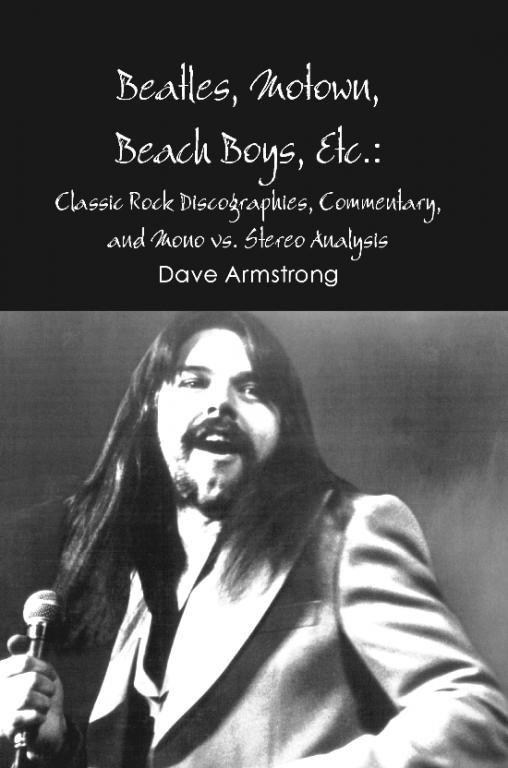 As a native of Detroit and lifelong resident in the city or close suburbs (I currently live right outside the southwest side of the city, where I grew up), there are things we are extremely proud of, music-wise: Motown (of course), Aretha Franklin (the Queen of Soul), John Lee Hooker, and Bob Seger (born in 1945), recent long-overdue inductee to the Rock and Roll Hall of Fame. Eminem and Kid Rock? Yuck!
We knew of Seger's greatness ten years before the rest of the country caught on, with the albums Live Bullet and Night Moves in 1976. Seger's music was all over Detroit (and nearby Windsor, Ontario, with its legendary station CKLW, the "big 8!") radio. He put out a single in 1967 called Heavy Music that was one of the wildest, most raucous R&B or soul-style songs ever heard on vinyl from a white guy (or any kind of guy), up to that time (and to this day).
Seger was influenced by Motown, like all the white rock and rollers in Detroit at that time (Mitch Ryder, Grand Funk Railroad, Ted Nugent, etc.), but the Southern soul sounds of James Brown and Wilson Pickett were even more influential in his style.
He was what is called a "blue-eyed soul" singer: a white man influenced mostly by black music, rather than the prevailing trends in the white rock world. Others along these lines would be Joe Cocker (whose biggest influence was Ray Charles), Eric Burdon of the Animals, Van Morrison, Mick Jagger, Rod Stewart (who idolized Otis Redding and above all, Sam Cooke), the Rascals, The Righteous Brothers, Michael McDonald, John Fogerty, and Robert Plant.
Bob Seger had a mildly successful nationwide hit, Ramblin' Gamblin' Man, in 1968, but had rotten luck hitting it big (on two occasions, his record company folded right at the time his single came out). In the early 70s, he would play as many as 265 concert dates a year; many in dinky bars, doing things like driving 25 hours straight from Detroit to Florida. But back in Dee-troit he could play an arena or even a stadium. What was wrong with the rest of the country?! Didn't they get it?
He wrote some of the best anti-war songs of the late 60s and early 70s, like the passionate 2 + 2 = ? (1968) and Lookin' Back (1970), and recorded scorchers like Lucifer (1970), Turn on Your Lovelight (1972), Back in '72 (1973), and Get Out of Denver (1974), featuring his incredible raspy, Fogerty- and Little Richard-like vocals (in my opinion, one of the very best in rock history: also very expressive in ballads).
Seger even made an album of all ballads, Brand New Morning (1971), but it didn't go over very well, even in Detroit, and he (a sensitive man) was hurt by that failure. Even great fans like myself can admit that Seger ballads don't always succeed. There are, no doubt, many brilliant ones (Turn the Page, Beautiful Loser, Mainstreet, Ship of Fools, and the Van Morrison-inspired Against the Wind) but also others that are mediocre at best (especially, I think, in more recent albums, which I find quite uneven quality-wise).
He finally caught on with the rest of the country, after his recording Live Bullet, one of the two best live albums ever made (along with The Allman Brothers Band at Fillmore East). It was so brilliant that no one could deny any longer that Seger was a force to be reckoned with. I remember riding a train back in 1978 out to the Grand Canyon (I hiked to the bottom) and the west coast, and these two guys were playing Bob Seger in the train. I was thinking to myself (filled with Detroit pride), "well, they finally figured out how good he is."
Big-time commercial success then followed. Some of my favorite songs of this period are the magnificent Night Moves (1976), arguably his greatest song (it is to him what Good Vibrations is to Brian Wilson: the career masterpiece), Sunburst, The Fire Down Below, Come to Poppa (all 1976), Old Time Rock and Roll (1978), Fire Lake, Shinin' Brightly (1980), Roll me Away, Makin' Thunderbirds, and House Behind a House (all 1983). From his 1991 album, I like the title cut, The Fire Inside and The Real Love; and the standouts from his 1995 album It's a Mystery are Hands in the Air and 16 Shells From a 30-6.
Seger remains the quintessential "midwest rocker" (along with John Mellencamp; but Seger's songwriting — I submit, recognizing my bias — is much better and more wide-ranging). He is also often compared to Bruce Springsteen (pretty favorably, I think).
He's a great songwriter. As an example of a typical Seger lyric (sort of a mix of Midwest down-to-earth, no-nonsense or frills realism and semi-Romanticism), I offer a portion of You'll Accompany Me (1980):
I've seen you smiling in the summer sun
I've seen your long hair flying when you run
I've made my mind up that it's meant to be
Someday lady you'll accompany me
Someday lady you'll accompany me
Out where the rivers meet the sounding sea
You're high above me now
You're wild and free ah, but
Someday lady you'll accompany me
Someday lady you'll accompany me

Some people say that love's a losing game
You start with fire
But you lose the flame
The ashes smoulder
But the warmth's soon gone
You end up cold and lonely on your own
I'll take my chances babe
I'll risk it all
I'll win your love
Or I'll take the fall
I've made my mind up girl
It's meant to be
Someday lady you'll accompany me
Someday lady you'll accompany me
Seger's usual lyrical quest is not for paradise and Utopia, but for normalcy and contentment. He recognizes the inherent risks in life, but he wants to "go for it," and he believes he will succeed eventually and "get it right," even if he must endure several failures. He never loses hope, and never becomes cynical or a run-of-the-mill game-player.
These are the classic midwestern values (decency, perseverance, enjoyment of good things earned through hard work and struggle), born of his working-class upbringing (which included the crushing blow of his father abandoning the family).
Roll me Away (1983) is another example of Seger's uniquely midwestern yearnings and aspirations. It is about simply taking off and riding a motorcycle out west; "getting away"; feeling the freedom and the wind in your hair. The ending of that song is classic Seger:
Stood alone on a mountain top starin' out at the Great Divide
I could go east I could go west it was all up to me to decide
Just then I saw a young hawk flyin' and my soul began to rise
And pretty soon
My heart was singin'

Roll roll me away I'm gonna roll me away tonight
Gotta keep rollin' gotta keep ridin' keep searchin' till I find what's right
And as the sunset faded I spoke to the faintest first starlight
And I said next time
Next time
We'll get it right
Bob Seger is said to be one of the most genuinely "nice guys" in the music industry. He's never been comfortable with the whole "big star" routine, doesn't seek the spotlight, and is basically (like so many artists in music and acting) a shy sort. He's quite the family man these days (apparently happily married), and (like John Lennon from 1975 to 1980) decided to get out of the touring / recording rat race and concentrate mainly on spending time with his two children after his last album in 1995. He still lives near Detroit and always has season tickets for the Pistons.
Face the Promise, his 2006 album, is his best, in my opinion, since 1982's The Distance. Like that classic piece of "midwestern working man's rock," every song is good (rare for any album to achieve). The standouts are the first six cuts: all rockers except for the marvelous mid-tempo ballad Wait for Me. Seger can still kick 'em out and rock the house down. My only minor complaint is that his voice (similar to John Fogerty) has lost some of its grittiness and growl and obviously strains in the upper range; but his passion and the great instrumental play, songwriting and lyrics, more than make up for that.
Seger deserves a good box set of his music, because there are some excellent early recordings which are quite rare and hard to find, which deserve a wider hearing (going right back to his debut 1966 single, East Side Story, which I believe I have heard exactly once on the radio, when the local Detroit classic rock station, WCSX, did one of their "Seger A to Z" marathons).
Seger's early work (1966-1974) is, unfortunately, very unknown outside of Detroit (where we knew of his music and owned the record albums in the late 60s and early 70s; he even outsold the Beatles in metro Detroit). Most of this music isn't even available on CD (amazingly enough, for one who is in the Rock and Roll Hall of Fame).
His earlier marvelous music was chronicled on Live Bullet. In this period, he was considerably more "wild" and "untamed" than he was, post-1976 (the live version of Heavy Music sounds like Perry Como compared to the riveting original). He sang like a white version of James Brown, with just as much soul and the intensity ratcheted up about three times (if one can even imagine that: but hearing is believing).
His voice was a little higher and with more vibrato then (one still hears this "trembling" style in, e.g., the song Night Moves). Granted, most of us mellow a bit as we get older (musicians are no different), but it seems that something is lost as well. By definition, those who are past a certain age can hardly retain the enthusiasms and "vigor of youth."
His band in the old days (The Bob Seger System) was almost equally powerful and sounded like a late 60s proto-punk version of the Clash or the Ramones, whereas the Silver Bullet Band sounds more like neo-Chuck Berry, which is good, just considerably different in style and approach.
The great "lost" album of Seger's "unknown journeyman rocker" phase is Mongrel (1970). Every cut is fabulous, and the style is consistently more funky and soulful than some of his songs from this period, that sometimes lapsed into (in retrospect, silly) Grateful Dead-like psychedelia too often (but of a far more interesting type that at least kept one awake). Of additional note are the early singles Persecution Smith (1966; similar to Dylan's Subterranean Homesick Blues), and Lookin' Back (1971).
James Brown was where it's at (and forward-looking), not the "San Francisco sound". Soul and funk have had a profound lasting effect on music, whereas hippie music is pretty much now relegated to the dustbins of past musical folly.
Here's to you, Bob, the hometown Detroit hero (virtually legendary around here — in his last concert tour something like 100,000 tickets were gone in one hour), for a classy career and a well-earned, well-deserved spot in the Rock and Roll Hall of Fame. We Detroiters are proud as we can be, and very happy for this recognition that you have achieved. This was one time nice guys didn't finish last.
Related Reading:
Early Bob Seger: Glorious "Lost" Classic Rock Music
***
(originally from 2004; later included in my 2012 book, Beatles, Motown, Beach Boys, Etc. [pictured above, with a public domain photograph of Bob Seger in 1977] )
***