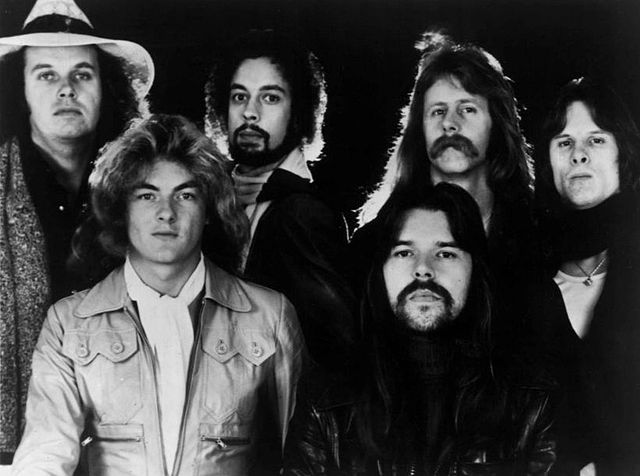 I'd like to call attention to Bob Seger's early work, that is, unfortunately, very unknown outside of my home town of Detroit (where we knew of his music and owned the record albums in the late 60s and early 70s; he even outsold the Beatles in metro Detroit). Most of his pre-1975 work isn't even available on CD (amazingly enough, for one who is in the Rock and Roll Hall of Fame).
He hit it big nationwide only in 1976, with Live Bullet and Night Moves. I remember riding a train out to the west in 1978 and some guy going on and on about Bob Seger, like this was some new thing. I was proud as a peacock that I had known about him for eleven years (starting with the 45 record of Heavy Music, which my sister owned). We loved him first.
His earlier marvelous music was chronicled on Live Bullet. In this period, he was considerably more "wild" and "untamed" than he was, post-1976 (the live version of Heavy Music sounds like Perry Como compared to the riveting original). He sang like a white version of James Brown, with just as much soul and the intensity ratcheted up about three times (if one can even imagine that: but hearing is believing).
His voice was a little higher and with more vibrato then (one still hears this "trembling" style in, e.g., the song Night Moves). Granted, most of us mellow a bit as we get older (musicians are no different), but it seems that something is lost as well. By definition, those who are past a certain age can hardly retain the enthusiasms and "vigor of youth."
His band in the old days (The Bob Seger System) was almost equally powerful and sounded like a late 60s proto-punk version of The Clash or The Ramones, whereas the Silver Bullet Band sounds more like neo-Chuck Berry, which is good, just considerably different in style and approach. One Internet music ratings site gives an idea of how distinct his early stuff is from the later famous canon of classic (and far more known) songs:
"Great stuff from Bob. Hard to believe it's him. Quality rock /psyche/blues/garage hybrid."

"For anyone that thinks Bob Seger sucks and hasn't heard this album before you could be in for the surprise of your life. As Bob grew older he became more tame and conventional."

"No one believes this is the same classic rock radio Seger when they hear this great lp [Ramblin' Gamblin' Man]."
For you youngsters out there who barely know what "record" is: "lp" means "long-playing" or "record album."
Stephen Thomas Erlewine, of All Music Guide reviewed Seger's Ramblin' Gamblin' Man album (1968). The album is (it seems obvious to me) is of variable quality. I myself like only five of eleven songs. But those five are killer cuts. Erlewine largely agrees with my assessment:
The Bob Seger System throw everything into Ramblin' Gamblin' Man, dabbling in folk, blues-rock, psychedelia, and piledriving rock & roll synonymous with Detroit. Typical of such a wide-ranging debut, not everything works. . . . But the songs that do work are absolute monsters, highlighted by the title track, a thunderous bit of self-mythology driven by a relentless rhythm, wailing organ riff, and gospel chorus. It's a stunningly great record, and while nothing here quite equals it, the songs that come close . . . are sterling examples of spare, bluesy, angry Michigan rock & roll. Tales of Lucy Blue has a spooky, menacing edge, Ivory is a great Motown-styled raver, and Down Home rides a manic riff and a simple blues harp to be one of the best rockers on the record. Then there's 2 +2 = ?, a ferocious antiwar song in the vein of Creedence Clearwater Revival's Fortunate Son, but here Seger can't imagine why the nice guy in high school is now buried in the mud. It's a frightening, visceral song that stands among the best anti-Vietnam protests. . . . an exciting, flawed debut that winds up being a symbol of its times by its very diversity.
These five are the same ones I like. He mentions one more, the closing cut. If you want to hear some amazing rock and roll, buy this album. See also the reviews on amazon.com.
The other great "lost" album of Seger's early "unknown journeyman rocker" phase is Mongrel (1970). Every cut is fabulous on this disc, and the style is consistently more funky and soulful than the earlier record, which lapsed into (in retrospect, silly) Grateful Dead-like psychedelia too often (but of a far more interesting type that at least kept one awake).
James Brown was where it's at (and forward-looking), not the "San Francisco sound". Soul and funk have had a profound lasting effect on music, whereas hippie music is pretty much now relegated to the dustbins of past musical folly. One of the reviews (suitably, from a Michigander) on the amazon page for this album gives a good idea of the soundscape of Mongrel:
Unless you grew up in Detroit You've probably never heard of this album. . . . Why this recording is not a staple of the classic rock airwaves is a mystery. Every song on this album (or CD if you can find one) is top notch Bob Seger hard rock. This particular group smoked! . . .This is protoype classic early hard rock. Fantastic vocals, scorching leads, and thunderous drums. This jam demands top volume and throbbing eardrums after. A totally overlooked classic. Again why this album wasn't a smash back then remains a mystery. I would chalk it up to Seger only being a regional act at the time and the competition . . . Beg, buy, or steal a copy of Mongrel; you won't regret it . CRANK IT UP !!!!!!!!!!!!!!!!! Then buy some new speakers!
Erlewine offers another spot-on review:
. . . superb . . . Never before, and never since, has Seger rocked as recklessly and viciously as he did here – after a spell in the wilderness, he's found his voice. He's so assured, he elevates his Ramblin' Gamblin' Man characters Lucy Blue and Chicago Green to mythic status in the pulverizing Lucifer, perhaps the greatest song on this lean, muscular record. That assurance carries over not just through the ferocious rockers that dominate the album – Evil Edna, Highway Child, Leanin' on My Dream, and Song to Rufus all hit harder than latter-day MC5 – but to quieter moments like Big River, where he first hits upon the wistful, passionate ballad style later popularized with Night Moves. The fact that the System connects on both illustrates that Seger is not just fronting an excellent band, but that he's developing into a first-class songwriter. . . . the truly remarkable thing is that Mongrel showcases a band so powerful and a songwriter so distinctive, that it still sounds white-hot decades after its release.
Here are the other pre-Live Bullet "early" Bob Seger albums (linked to Amazon pages):
Noah (1969; mostly not written by Seger, and it suffers for it. Standout cuts are Innervenus Eyes and Death Row)
Brand New Morning (1971; a ballad album)
Smokin' O.P.'s (1972; includes the dynamite 1967 song Heavy Music, the ultra-funky, irresistible Turn on Your Love Light, and a sizzling Bo Diddley)
Back in '72 (1973; the title cut is wonderful; the rest not as great)
Seven (1974; a fairly weak effort, in my opinion, but not without its moments)
Beautiful Loser (1975; good enough to have been a big hit. Contains the fabulous Katmandu, the unsung classic Black Night, and four others made famous on Live Bullet)
Of additional note are the early songs (and singles) East Side Story (1966), Persecution Smith (1966; similar to Dylan's Subterranean Homesick Blues), and Lookin' Back (1971). The latter appears to be unavailable for purchase at the present time. But the version of it on Live Bullet is really good (some might say: better than the original). You can also listen to the original on You Tube (with many great still photos)
Update (Dec. 2018):
Heavy Music: The Complete Cameo Recordings 1966-1967 was released in September 2018 and contains Heavy Music, East Side Story, Persecution Smith, and additional obscure songs.
Further Bob Seger Information and Videos:
The Bob Seger File (packed with trivia about everything Seger)
BobSeger.com (official site)
"Where Have All The Bob Seger Albums Gone?" (NPR Music, 3-29-17)
Video of Seger singing Still the Same in 1978
You Tube Video of Seger singing Hollywood Nites in 1978
All Bob Seger Lyrics A-Z (LyricsFreak)
Video on YouTube of Bob Seger in 1968 (age 232) lip-synching Ramblin' Gamblin' Man on TV
Video on You Tube of Seger singing Roll Me Away (mid-80s?)
I hope many of you reading this, who like Bob Seger and are unfamiliar with his early material (or those who didn't know anything about him till now), will purchase some of it. Let me know what you think!
Related Reading:
Detroit's Own "Blue-Eyed Soul" Singer: Bob Seger [2004]
***
(originally 9-23-06; revised and updated on 12-26-18)
Photo credit: Bob Seger (bottom right) and the Silver Bullet Band in 1977 [public domain / Wikimedia Commons]
***