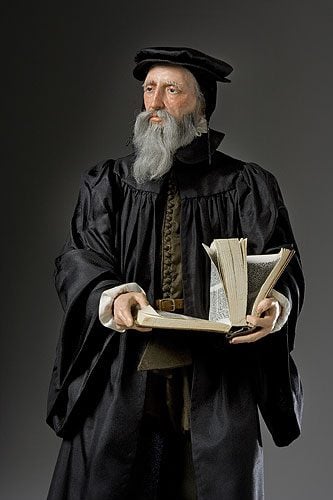 This is an installment of a series of replies (see the Introduction and Master List) to much of Book IV (Of the Holy Catholic Church) of Institutes of the Christian Religion, by early Protestant leader John Calvin (1509-1564). I utilize the public domain translation of Henry Beveridge, dated 1845, from the 1559 edition in Latin; available online. Calvin's words will be in blue. All biblical citations (in my portions) will be from RSV unless otherwise noted.
Related reading from yours truly:
Biblical Catholic Answers for John Calvin (2010 book: 388 pages)
A Biblical Critique of Calvinism (2012 book: 178 pages)
Biblical Catholic Salvation: "Faith Working Through Love" (2010 book: 187 pages; includes biblical critiques of all five points of "TULIP")
*****
IV, 2:1
***
Book IV
CHAPTER 2.
COMPARISON BETWEEN THE FALSE CHURCH AND THE TRUE.
*
1. Recapitulation of the matters treated in the previous chapter. Substance of the present chapter—viz. Where lying and falsehood prevail, no Church exists. There is falsehood wherever the pure doctrine of Christ is not in vigour.
How much the ministry of the word and sacraments should weigh with us, and how far reverence for it should extend, so as to be a perpetual badge for distinguishing the Church, has been explained;
But if Calvin has ditched five of the seven existing, received sacraments in the Church, it is altogether reasonable to inquire of him and his followers: "on what basis; by what authority, do you do that?" It will not do to simply assume something without argument, as a virtual axiom, and then proceed to build upon that castle of sand. But we'll see that Calvin often does this. It's very clever. Most readers won't notice the logical sleight-of-hand that has taken place, but than that is one reason I am here: to provide a little "helpful reminder."
for we have shown, first, that wherever it exists entire and unimpaired,
But of course he has begged the question of what "entire and unimpaired" is, because he deliberately chose to not retain several elements that had always been present before in the Church.
no errors of conduct, no defects should prevent us from giving the name of Church;
This is highly important to remember as we proceed, because it is often thought today that the Protestant Revolution occurred primarily because of corruption of morals and conduct. Calvin (and at times, Luther) hold, on the other hand, that it occurred because of what they claim was doctrinal corruption, not personal or moral corruption. Note what Luther stated (Calvin appears to agree):
Our manner of life is as evil as is that of the papists. Wickliffe and Huss assailed the immoral conduct of papists; but I chiefly oppose and resist their doctrine; I affirm roundly and plainly, that they preach not the truth. To this am I called; I take the goose by the neck, and set the knife to its throat. When I can show that the papists doctrine is false, which I have shown, then I can easily prove that their manner of life is evil. For when the word remains pure, the manner of life, though something therein be amiss, will be pure also. The pope has taken away the pure word and doctrine, and brought in another word and doctrine, which he has hanged upon the church. I shook all popedom with this one point, that I teach uprightly, and mix up nothing else. We must press the doctrine onwards, for that breaks the neck of the pope. (Table-Talk, translated by William Hazlitt, CCCCXII; dated Autumn 1533; quoted also by biographers Mead and Oberman; German source: WATr 1, 294.19-23, no. 624)

[William Hazlitt (1778-1830) was a Protestant, who would have no reason to exaggerate Luther's statements in a negative direction. Edwin Doak Mead (1849-1937) also translates: "Our manner of life is as evil as that of the papists". He was a staunch Protestant, and wrote, e.g., in 1888: "I do not love the Roman Catholic Church. There is much in it that I bitterly dislike and that I dread. . . . I have spoken more sharply of its bigotries and superstitions, past and present, than I have ever spoken of almost anything else."]

[Leading (Protestant) Luther biographer Heiko Oberman, however, translates as follows: "Life is as evil among us as among the papists, thus we do not argue about life but about doctrine. Whereas Wyclif and Hus attacked the immoral lifestyle of the papacy, I challenge primarily its doctrine." Translation bias is seemingly alive and well, and not, alas, only among "papists"]

[See further documentation: a different translation]
and, secondly, that trivial errors in this ministry ought not to make us regard it as illegitimate.
That will be quite a necessary disclaimer, as Protestantism continued — even in Calvin's lifetime — and continues to this day, to splinter and divide over all sorts of "trivial errors". But Protestants often beg the question as to what is a "trivial error" and hold to be trivial or "secondary" that which is arguably far more than that, and not to be considered as optional, as if Christianity were relative in outlook according to group and person.
Moreover, we have shown that the errors to which such pardon is due, are those by which the fundamental doctrine of religion is not injured, and by which those articles of religion, in which all believers should agree, are not suppressed, while, in regard to the sacraments, the defects are such as neither destroy nor impair the legitimate institution of their Author.
Here we begin to see the incipient relativism and watering-down of the Catholic notion of "one truth" and "one Church." Once one allows these differences to creep in, with high sanction of self-proclaimed "pseudo-bishops" like Calvin (who possess no true authority), then it is a slippery slope and there is no end to it. The fruit of these ideas is now sadly, painfully evident after nearly 500 years.
But as soon as falsehood has forced its way into the citadel of religion,
How is this "falsehood" defined? Who determines orthodoxy? That's the bottom line. It's been abundantly proven by Protestant history that Scripture alone doesn't suffice. There has to be some human interpretation and doctrinal standard and authority, for men left on their own will always distort even a fairly clear, perspicuous Scripture. For the Catholic, that authority and standard is the Catholic Church, headed by the popes and bishops and councils, with unbroken apostolic succession and authority down through the centuries. For Calvin and other Protestants, the authority is always arbitrary. Calvin simply assumes he has the authority to question received doctrine, as all heretics through the centuries had done.
as soon as the sum of necessary doctrine is inverted, and the use of the sacraments is destroyed, the death of the Church undoubtedly ensues, just as the life of man is destroyed when his throat is pierced, or his vitals mortally wounded.
The Church cannot possibly die, because it is indefectible (as the Church had always taught). Calvin apparently lacks the faith to believe that this is the case. For him, the Church can supposedly die completely. Are God's hands too small to preserve the Church that He Himself established (Matthew 16)? Calvin thinks so, which is strange, given his constant (commendable) emphasis on God's sovereignty, omnipotence, and majesty.
This is clearly evinced by the words of Paul when he says, that the Church is "built upon the foundation of the apostles and prophets, Jesus Christ himself being the chief corner-stone" (Eph. 2:20). If the Church is founded on the doctrine of the apostles and prophets, by which believers are enjoined to place their salvation in Christ alone, then if that doctrine is destroyed, how can the Church continue to stand?
How can the Church and true doctrine be destroyed in the first place if God is the force behind it, is the real question? This is very odd, since in previous sections Calvin argued that the OT Jews had an eternal covenant with God, no matter how much they strayed and rebelled and became corrupt. God always restored them. The covenant and idea of the "chosen people" always remained. There was at least a remnant.
So Calvin doesn't apply his idea to that scenario, yet he does with the Church, which is guided by the Holy Spirit and the much greater power available since the death of Jesus. He would have us believe that God had more power to preserve His people under the Old Covenant than He has under the New Covenant, made possible by the incarnation, Jesus' work on the cross, Jesus' Resurrection and Ascension, and the indwelling of the Holy Spirit.
Why in the world would he think that? Well, my guess is that he must think this in order to bolster up his counter-claim as being in the true Church, over against the Catholic Church, headed by the popes, with the long, unbroken history back to the apostles. It's a case where he becomes quite inconsistent where it serves his "anti-Catholic" ends. It's a polemical requirement.
He simply assumes the ludicrous premise without argument and starts building upon it, hoping no one will notice the initial absurdity and biblical impossibility. Yet another reason why it is important that a Catholic systematically respond to Calvin's systematic reasoning (and frequent lack thereof). Many folks could do far better than I am doing, but in any event, my meager efforts are better than nothing.
The Church must necessarily fall whenever that sum of religion which alone can sustain it has given way.
The Church cannot fall because God is the power and sustaining force behind it. Calvin lacks faith in God.
Again, if the true Church is "the pillar and ground of the truth" (1 Tim. 3:15), it is certain that there is no Church where lying and falsehood have usurped the ascendancy.
I wholeheartedly agree, but again, the problem is to have a consistent, sensible method by which to determine where heresy is present: to distinguish the heretical false Church (that never was a Church) from the orthodox, true one (that always was the Church and cannot ever cease to be). The only way to do that, it seems to me, is to appeal back to apostolic history and received doctrine, passed down consistently. And that leads inexorably to the Catholic Church, for a great variety of reasons (too many to delve into in this context). But this is the very Church that Calvin seeks to reject, making his position radically self-defeating.
His odd, curious denial of the indefectibility of the one true Church flies in the face of a great deal of Scripture (thanks to Dr. Ludwig Ott for the following biblical passages):
OT Messianic prophecies refer to an unending covenant between God and His people (by extension the Church, led by Jesus Christ) and the unvanquishable Kingdom of Christ:
Psalm 89:34-37 I will not violate my covenant, or alter the word that went forth from my lips. [35] Once for all I have sworn by my holiness; I will not lie to David. [36] His line shall endure for ever, his throne as long as the sun before me. [37] Like the moon it shall be established for ever; it shall stand firm while the skies endure."

Isaiah 9:6-7 For to us a child is born, to us a son is given; and the government will be upon his shoulder, and his name will be called "Wonderful Counselor, Mighty God, Everlasting Father, Prince of Peace." [7] Of the increase of his government and of peace there will be no end, upon the throne of David, and over his kingdom, to establish it, and to uphold it with justice and with righteousness from this time forth and for evermore. The zeal of the LORD of hosts will do this.

Isaiah 55:3 Incline your ear, and come to me; hear, that your soul may live; and I will make with you an everlasting covenant, my steadfast, sure love for David.

Isaiah 61:8 . . . I will faithfully give them their recompense, and I will make an everlasting covenant with them.

Jeremiah 32:38-40 And they shall be my people, and I will be their God. [39] I will give them one heart and one way, that they may fear me for ever, for their own good and the good of their children after them. [40] I will make with them an everlasting covenant, that I will not turn away from doing good to them; and I will put the fear of me in their hearts, that they may not turn from me.

Daniel 2:44 And in the days of those kings the God of heaven will set up a kingdom which shall never be destroyed, nor shall its sovereignty be left to another people. It shall break in pieces all these kingdoms and bring them to an end, and it shall stand for ever;

Daniel 7:14 And to him was given dominion and glory and kingdom, that all peoples, nations, and languages should serve him; his dominion is an everlasting dominion, which shall not pass away, and his kingdom one that shall not be destroyed.

Daniel 7:27 And the kingdom and the dominion and the greatness of the kingdoms under the whole heaven shall be given to the people of the saints of the Most High; their kingdom shall be an everlasting kingdom, and all dominions shall serve and obey them.'

Luke 1:32-33 He will be great, and will be called the Son of the Most High; and the Lord God will give to him the throne of his father David, [33] and he will reign over the house of Jacob for ever; and of his kingdom there will be no end."
Jesus' parables of the kingdom strongly imply an indefectibility of the Church:
Matthew 7:24-27 "Every one then who hears these words of mine and does them will be like a wise man who built his house upon the rock; [25] and the rain fell, and the floods came, and the winds blew and beat upon that house, but it did not fall, because it had been founded on the rock. [26] And every one who hears these words of mine and does not do them will be like a foolish man who built his house upon the sand; [27] and the rain fell, and the floods came, and the winds blew and beat against that house, and it fell; and great was the fall of it." (cf. parable of the wheat and the tares: 13:24-30,36-43 and of the net and fish: 13:47-50)
The classic passage in favor of indefectibility is very clear:
Matthew 16:15-19 He said to them, "But who do you say that I am?" [16] Simon Peter replied, "You are the Christ, the Son of the living God." [17] And Jesus answered him, "Blessed are you, Simon Bar-Jona! For flesh and blood has not revealed this to you, but my Father who is in heaven. [18] And I tell you, you are Peter, and on this rock I will build my church, and the powers of death shall not prevail against it. [19] I will give you the keys of the kingdom of heaven, and whatever you bind on earth shall be bound in heaven, and whatever you loose on earth shall be loosed in heaven."
The fact that Jesus and the Holy Spirit would always be "with" Christians implies the same:
Matthew 28:18-20 And Jesus came and said to them, "All authority in heaven and on earth has been given to me. [19] Go therefore and make disciples of all nations, baptizing them in the name of the Father and of the Son and of the Holy Spirit, [20] teaching them to observe all that I have commanded you; and lo, I am with you always, to the close of the age."

John 14:16-17 And I will pray the Father, and he will give you another Counselor, to be with you for ever, [17] even the Spirit of truth, whom the world cannot receive, because it neither sees him nor knows him; you know him, for he dwells with you, and will be in you.
St. Paul assumes that the Eucharist would be celebrated till Christ returns:
1 Corinthians 11:26 For as often as you eat this bread and drink the cup, you proclaim the Lord's death until he comes.
The Church cannot ever defect from the truth because Jesus is her foundation and because God dwells within us, His "temple":
1 Corinthians 3:9, 11, 16 For we are God's fellow workers; you are God's field, God's building. . . . [11] For no other foundation can any one lay than that which is laid, which is Jesus Christ. . . . [16]Do you not know that you are God's temple and that God's Spirit dwells in you?

1 Corinthians 6:19 Do you not know that your body is a temple of the Holy Spirit within you, which you have from God? You are not your own;

Ephesians 3:20-21 Now to him who by the power at work within us is able to do far more abundantly than all that we ask or think, [21] to him be glory in the church and in Christ Jesus to all generations, for ever and ever. Amen.

Colossians 1:17-18 He is before all things, and in him all things hold together. [18] He is the head of the body, the church; he is the beginning, the first-born from the dead, that in everything he might be pre-eminent.
The Church is Christ's own Body; therefore it is as unending as Christ Himself:
Romans 12:4-5 For as in one body we have many members, and all the members do not have the same function, [5] so we, though many, are one body in Christ, and individually members one of another.

1 Corinthians 12:27 Now you are the body of Christ and individually members of it.

Ephesians 4:12 to equip the saints for the work of ministry, for building up the body of Christ,

Colossians 1:24 Now I rejoice in my sufferings for your sake, and in my flesh I complete what is lacking in Christ's afflictions for the sake of his body, that is, the church,
If the Church is the pillar of truth, then the implication is that it will always be present to provide the standard by which doctrinal truth is judged:
1 Timothy 3:15 . . . the household of God, which is the church of the living God, the pillar and bulwark of the truth.
Once all this is taken into consideration, it is completely ludicrous for Calvin to speak in terms of "the death of the Church" and "how can the Church continue to stand?" and "The Church must necessarily fall". To do so he has to ignore the biblical passages above, and demonstrate a remarkable lack of faith in God and His promises.
***
(originally 5-16-09)
Photo credit: Historical mixed media figure of John Calvin produced by artist/historian George S. Stuart and photographed by Peter d'Aprix: from the George S. Stuart Gallery of Historical Figures archive [Wikimedia Commons / Creative Commons Attribution-Share Alike 3.0 Unported license]
***