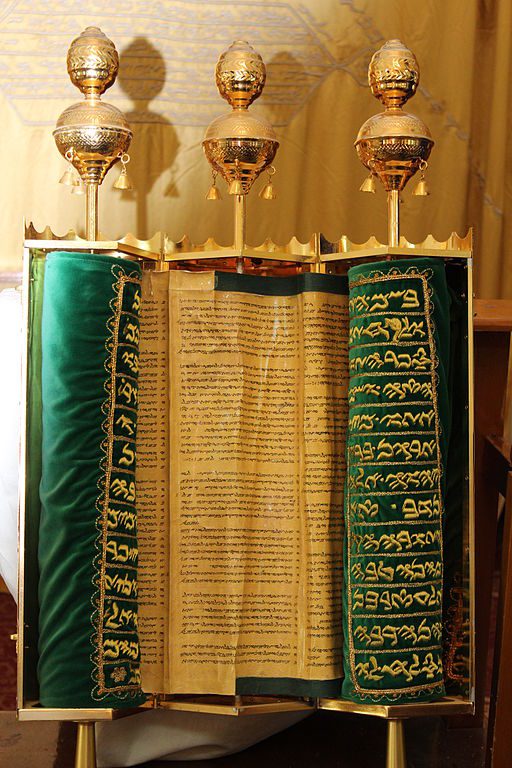 Mitch / "ProfMTH" (words in
blue
below) is about 46 years old and is an atheist and former Catholic. In his video,
The Book of Job – Part One
(at 0:57 – 1:03), Mitch says he was getting ready to graduate from high school in 1981 and at the same time "was considering entering religious life, to study for the priesthood." In a comment under his August 2009 video,
The "Real" Paul
, Mitch states, "I teach various law courses and courses on debate." I am responding to this prolific atheist's You Tube video,
"But is it Scripture?"
The summary on the video page reads:
The Gospel of John (specifically, 7:38) purports to have Jesus quoting "the scripture," although what Jesus says does not appear anywhere in the Jewish scriptures.

This video examines one proposed way to handle this problem, and it invites Christians to offer their thoughts on the matter.
I'm delighted to have the opportunity to do so. I've already touched on the general principles of NT citation of OT Scripture in my reply to Mitch's video, "Jesus Was Not the Messiah," Part I, in discussing "the nature and parameters of ancient Hebrew citation." I wrote:
Was it exactly the same as our practice today (no)? Was there a latitude in terms of minute accuracy and word-for-word repetition (yes)? Mitch casually presupposes that ancient citation practices would be exactly the same as ours today. But this is simply not the case.
In order to illustrate this, I cited an article, "New Testament Use of the Old Testament," by Roger Nicole, from Revelation and the Bible, edited by Carl. F. H. Henry (Grand Rapids, Michigan: Baker, 1958), pp. 137-151. The article offers the observation on the nature of paraphrased citations and then provides many scriptural examples: the consideration of which leads one to adopt the general principle in the first place. Nicole wrote (note the inclusion of John 7:38):
In certain cases the New Testament writers do not refer to a single passage, but rather summarize the general teaching of the canonical books on certain subjects in phrasing appropriate to the New Testament, although as to the essential thought they express indebtedness to, or agreement with, the Old Testament. This method of referring to the Old Testament teachings is obviously legitimate. The following passages might be viewed as examples of "quotations of substance," as Franklin Johnson calls them in his able treatise on The Quotations of the New Testament from the Old Considered in the Light of General Literature (London, Baptist Tract and Book Society, 1896): Matthew 2:23; 5:31, 33; 12:3, 5; 19:7; 22:24; 24:15; 26:24, 54, 56; Mark 2:25; 9:12, 13;10:4; 12:19; 14:21, 49; Luke 2:22; 6:3; 11:49; 18:31; 20:28; 21:22; 24:27, 32, 44-46; John 1:45; 5:39, 46; 7:38, 42; 8:17; 17:12; 19:7, 28; 20:9; Acts 1:16; 3:18; 7:51; 13:22, 29; 17:2, 3; Romans 3:10; 1 Corinthians 2:9; 14:34; 15:3, 4, 25-27; 2 Corinthians 4:6; Galatians 3:22; 4:22; Ephesians 5:14; James 4:5; 2 Peter 3:12, 13.
Ronald F. Youngblood, in his chapter, "Old Testament Quotations in the New Testament," [link now defunct] from The NIV: The Making of a Contemporary Translation (edited by Kenneth L. Barker; Acadamie Books, 1986, chapter ten) concurs:
3 What is meant by "quotations"? Roger Nicole reminds us that the New Testament writers did not have the same rules for quoting that we take for granted today. They neither had nor used quotation marks, ellipsis marks, brackets, or footnote references. They were therefore unable to indicate readily where quotations began and ended, whether omissions occurred in their citations, whether editorial comments were being inserted or intercalated, whether more than one Old Testament passage was being quoted, etc.

*
In addition "quotations" should be understood to include allusions and paraphrases, since the NT writers often quoted from memory and therefore with greater or lesser degrees of freedom. The minds of the New Testament authors were so saturated with Old Testament texts and teachings that they referred to the Old Testament in a variety of ways—now quoting precisely, now alluding to this or that passage, now paraphrasing—but never deviating from its life-transforming message. . . .
In a very few cases, no suitable Old Testament passage can be found as the source for what clearly seems to be direct citations of Scripture in the New Testament. In such instances it would seem that the New Testament writer was freely summarizing Old Testament teaching and did not intend to quote—either verbatim ac litteratim or ad sensum—a specific Old Testament verse. . . .
When New Testament writers cited the Old Testament, they were often alluding not only to the specific passage quoted but also to its context, whether near or remote. An excellent example is Hebrews 12:21: "The sight was so terrifying that Moses said, 'I am trembling with fear.' " The NIV correctly footnotes Deuteronomy 9:19 as the closest Old Testament parallel, but the previous footnote recognizes Exodus 19 as the overall contextual setting. It was to be expected that most first-century readers and hearers, steeped in the Old Testament Scriptures, would see in their mind's eye the entire context of any Old Testament verse or two brought to their attention. . . .
5. How do New Testament writers quote from the Old Testament? Wenham maintains:

We have … no right to demand of believers in verbal inspiration that they always quote Scripture verbatim, particularly when the Scriptures are not written in the native language of either writer or reader. As with the word preached, we have a right to expect that quotations should be sufficiently accurate not to misrepresent the passage quoted; but, unless the speaker makes it clear that his quotation is meant to be verbatim, we have no right to demand that it should be so. In the nature of the case, the modern scholarly practice of meticulously accurate citation, with the verification of all references, was out of the question. . . .

Various combinations of passages cited from two or more Old Testament books are not uncommon in the New Testament. A fine example is Romans 3:10-18, which, according to the NIV footnotes there, quotes from the Psalms, Isaiah, and (perhaps) Ecclesiastes. A noteworthy variation of this phenomenon is the so-called h+a98araz ("chain," "necklace"; the same Hebrew root is used in Song of Songs 1:10, where it is translated "strings of jewels"), which intersperses a series of quotations with conjunctions, introductory formulas, and the like (see, e.g., Rom. 9:25-29 and NIV footnotes there).
Here is the passage under present consideration:
John 7:38 (RSV) He who believes in me, as the scripture has said, "Out of his heart shall flow rivers of living water.'"
Now, granting that the above hermeneutical principle is legitimate, and that a NT quotation can in some cases be a paraphrase and composite of several passages, touching upon their substance and agreeing in the essentials, can we find this sort of notion (from John 7:38) in the Old Testament? We certainly can do so. Here are several passages that are wholly consistent with the concept that Jesus expressed:
Psalm 51:6-7, 10-11 [6] Behold, thou desirest truth in the inward being; therefore teach me wisdom in my secret heart.
[7] Purge me with hyssop, and I shall be clean;
wash me, and I shall be whiter than snow. . . .
[10] Create in me a clean heart, O God,
and put a new and right spirit within me.
[11] Cast me not away from thy presence,
and take not thy holy Spirit from me.

Proverbs 4:23 Keep your heart with all vigilance; for from it flow the springs of life.

Proverbs 21:1 The king's heart is a stream of water in the hand of the LORD; he turns it wherever he will.

Song of Solomon 4:12, 15 A garden locked is my sister, my bride, a garden locked, a fountain sealed. . . . [15] a garden fountain, a well of living water, and flowing streams from Lebanon.

Isaiah 12:3 With joy you will draw water from the wells of salvation.

Isaiah 44:3 For I will pour water on the thirsty land, and streams on the dry ground; I will pour my Spirit upon your descendants, and my blessing on your offspring. (cf. 35:6; 41:18; 43:19-20; Ps 107:35)

Isaiah 58:11 And the LORD will guide you continually, and satisfy your desire with good things, and make your bones strong; and you shall be like a watered garden, like a spring of water, whose waters fail not.

Jeremiah 17:8 He is like a tree planted by water, that sends out its roots by the stream, and does not fear when heat comes, for its leaves remain green, and is not anxious in the year of drought, for it does not cease to bear fruit. (cf. 31:12)

Ezekiel 36:25-27 I will sprinkle clean water upon you, and you shall be clean from all your uncleannesses, and from all your idols I will cleanse you. [26] A new heart I will give you, and a new spirit I will put within you; and I will take out of your flesh the heart of stone and give you a heart of flesh. [27] And I will put my spirit within you, and cause you to walk in my statutes and be careful to observe my ordinances. (cf. the "new covenant" passage: Jer 31:31-34)

Zechariah 13:1 On that day there shall be a fountain opened for the house of David and the inhabitants of Jerusalem to cleanse them from sin and uncleanness. (cf. 14:8; Joel 3:18)
In the Old Testament (and New) water is a metaphor for spirit and cleanliness, and sometimes for the Holy Spirit. Thus, collectively, we can find all of the essential concepts expressed by Jesus in these passages. We can't prove exactly which ones might have been in mind, but we can show that the notions were present, and given that quotations can be composite, I submit that the "problem" is solved to the satisfaction of most fair-minded inquirers who aren't previously disposed to reject any scriptural solutions to the endless array of proposed atheist "Bible difficulties."
***
(originally 7-4-10)
Photo credit: Samaritan Torah scrolls, Mount Gerizim Samaritan synagogue. Photo by Deror_avi (4-25-13) [Wikimedia Commons / Creative Commons Attribution-Share Alike 3.0 Unported, 2.5 Generic, 2.0 Generic and 1.0 Generic license]
***