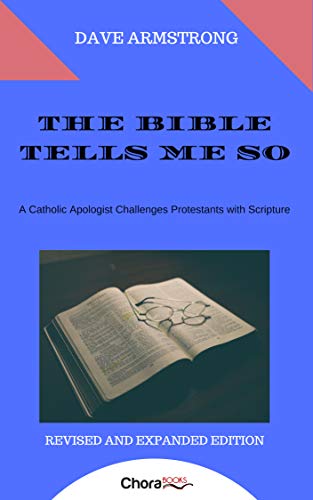 [originally a pamphlet, published by Chorabooks: 5 August 2016; greatly expanded to thirty chapters and published in a revised 161-page edition on 10 January 2019]
—– To purchase, go to the bottom of the page —–
Introduction
Veteran Catholic apologist Dave Armstrong (author of 49 books, including the bestsellers, A Biblical Defense of Catholicism, The One-Minute Apologist, The New Catholic Answer Bible, and The Catholic Verses) tackles the hottest issue in Catholic-Protestant apologetics discussion: the relationship of the Bible to sacred tradition and the Church. Indeed, Dave's specialty in his 25 years of Catholic apologetics, has been "biblical evidence for Catholicism" (the name of his popular blog).
In thirty succinct, right-to-the-point chapters, he addresses questions such as the Catholic Church's approach to the Bible through the centuries, the Bible's "perspicuity" (i.e., alleged self-evident clearness in the main), the seven deuterocanonical or so-called "apocryphal" books, Catholics and Bible-reading, the alleged necessity of explicit biblical "proof texts", aspects of the interpretation of Scripture, the question of whether the Catholic Church views itself as "above" the Bible, and the Protestant rule of faith, known as sola Scriptura or "Scripture Alone" (as the final infallible authority in theology), along with many more Bible-related topics.
The book serves as a helpful and handy clarification for Catholics who need to better learn their own Church's teaching, in order to confidently reply to Protestant challenges, and for Protestants who may be misinformed regarding the Catholic Church's true opinions about Holy Scripture. In the final analysis, it is happily demonstrated that the two sides have far more in common in this regard, than disagreement.
Chapters
1. Fictional Dialogue on Scripture Alone
2. Tradition is Not a "Dirty Word"; it's a Great Gift!
3. Must Every Doctrine Have Explicit Proof in the Bible?
4. The Perspicuity (Clarity) of Holy Scripture
5. Ten-Point Biblical Refutation of Sola Scriptura
6. Does the Catholic Church Claim to be "Above" the Bible and Its "Creator"?
7. "Why Don't Catholics Read Their Bibles?"
8. Did Luther Rescue the Bible in German from Utter Obscurity?
9. Has the Catholic Church Historically Been an "Enemy" of the Bible?
10. Are All the Books in the Bible Self-Evidently Inspired?
11. Sola Scriptura, the Old Testament, and Ancient Jewish Practice
12. St. Paul's Word Selection vs. Sola Scriptura
13. Sola Scriptura, 2 Timothy 3:16-17, and "Man of God"
14. 1 Timothy 3:15: Sola Scriptura or Visible Church Authority?
15. Reply to William Whitaker's Sola Scriptura Arguments
16. Catholic Bible Interpretation: Debunking the Myths
17. Why Do Catholic Bibles Have Seven More Books?
18. Scripture Alone Cannot Establish the Biblical Canon
19. New Testament Canon as a "Late" Doctrine (Protestant Difficulties)
20. St. Augustine's Position on Bible and Tradition Documented
21. Did St. Athanasius Believe in Sola Scriptura?
22. Martin Luther's Remarkably "Pro-Tradition" Strain of Thought
23. Arbitrary Bias in the NIV Bible Translation Against "Tradition"
24. Sola Scriptura is Logically Circular
25. Apostolic Succession as Seen in the Jerusalem Council
26. C. S. Lewis vs. St. Paul Regarding Future Binding Church Authority
27. Mass Baptisms in Acts and Infallible, Binding Church Doctrine
28. The Analogy of an Infallible Bible to an Infallible Church
29. Catholic Binding Authority and Old Testament Analogies
30. Biblical Arguments for Apostolic Succession
Purchase Options
***
[PAPERBACK: Amazon: 14.86] [iTUNES: 6.99] [KINDLE: 5.71] [KOBO: 6.99] [NOOK: 6.99]
***
Last Updated on 15 October 2019