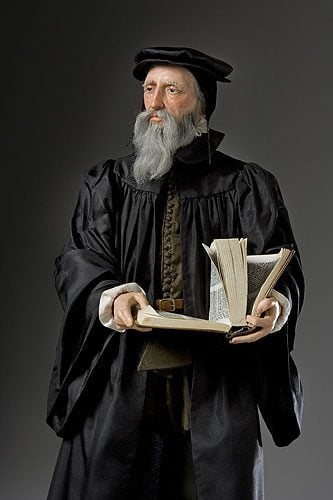 This is an installment of a series of replies (see the Introduction and Master List) to much of Book IV (Of the Holy Catholic Church) of Institutes of the Christian Religion, by early Protestant leader John Calvin (1509-1564). I utilize the public domain translation of Henry Beveridge, dated 1845, from the 1559 edition in Latin; available online. Calvin's words will be in blue. All biblical citations (in my portions) will be from RSV unless otherwise noted.
Related reading from yours truly:
Biblical Catholic Answers for John Calvin (2010 book: 388 pages)
A Biblical Critique of Calvinism (2012 book: 178 pages)
Biblical Catholic Salvation: "Faith Working Through Love" (2010 book: 187 pages; includes biblical critiques of all five points of "TULIP")
*****
IV, 12:20
***
Book IV
CHAPTER 12
OF THE DISCIPLINE OF THE CHURCH, AND ITS PRINCIPAL USE IN CENSURES AND EXCOMMUNICATION.
*
20. Owing to an excess of this kind the observance of Lent was established. This superstitious observance refuted by three arguments. It was indeed used by the ancients, but on different grounds.
*
Then the superstitious observance of Lent had everywhere prevailed: for both the vulgar imagined that they thereby perform some excellent service to God, and pastors commended it as a holy imitation of Christ; though it is plain that Christ did not fast to set an example to others, but, by thus commencing the preaching of the gospel, meant to prove that his doctrine was not of men, but had come from heaven. 
Here we have the annoyingly repetitious fallacy often seen in Calvin. He extolls the essence of a thing that is fully Catholic (as we have seen in his treatment of fasting and penitential practices, above). For that, at least, we can be grateful. But then he goes on to denigrate the same thing when Catholics do it, by implying that when they do it, it is thoroughly corrupt and gutted of its essence and spiritual usefulness. In other words, the motives and acts of Catholics always have to be painted in the most unfavorable light.
And that is reprehensible, because it is slanderous and the bearing of false witness. He could just as easily have treated true corruptions of individuals when they were found (with documentation), but he usually decided, instead, to engage in demonizing propaganda of the entire group of Catholics.
Everything we do has to be bad, in Calvin's eyes. And so we see the same bigoted mentality today. If we dare to disagree with anti-Catholic reasoning on anything whatever, then obviously (so they think) we must be deceiving liars. I've personally been accused of this hundreds of times. No honest disagreement is possible. We have to always be wrong (and culpable for deliberate deception, or paganism, or superstition, etc.) whenever we differ with a Protestant. And people wonder why the 16th century became so bloody and chaotic?
And it is strange how men of acute judgment could fall into this gross delusion, which so many clear reasons refute: for Christ did not fast repeatedly (which he must have done had he meant to lay down a law for an anniversary fast), but once only, when preparing for the promulgation of the gospel. 
But He specifically explained why this was. It doesn't support Calvin's argument at all:
Matthew 9:15 And Jesus said to them, "Can the wedding guests mourn as long as the bridegroom is with them? The days will come, when the bridegroom is taken away from them, and then they will fast. (cf. Mk 2:19-20; Lk 5:34-35)
Nor does he fast after the manner of men, as he would have done had he meant to invite men to imitation; he rather gives an example, by which he may raise all to admire rather than study to imitate him. 
Of course He didn't fast, because He was the bridegroom. But after He departed, He said that His disciples would fast. Jesus did, however, observe all the Jewish feasts, and certainly some of them involved fasting.
In short, the nature of his fast is not different from that which Moses observed when he received the law at the hand of the Lord (Exod. 24:18; 34:28). For, seeing that that miracle was performed in Moses to establish the law, it behoved not to be omitted in Christ, lest the gospel should seem inferior to the law. But from that day, it never occurred to any one, under pretence of imitating Moses, to set up a similar form of fast among the Israelites. Nor did any of the holy prophets and fathers follow it, though they had inclination and zeal enough for all pious exercises; for though it is said of Elijah that he passed forty days without meat and drink (1 Kings 19:8), this was merely in order that the people might recognise that he was raised up to maintain the law, from which almost the whole of Israel had revolted. It was therefore merely false zeal, replete with superstition, which set up a fast under the title and pretext of imitating Christ; although there was then a strange diversity in the mode of the fast, as is related by Cassiodorus in the ninth book of the History of Socrates: "The Romans," says he, "had only three weeks, but their fast was continuous, except on the Lord's day and the Sabbath. The Greeks and Illyrians had, some six, others seven, but the fast was at intervals. Nor did they differ less in the kind of food: some used only bread and water, others added vegetables; others had no objection to fish and fowls; others made no difference in their food." Augustine also makes mention of this difference in his latter epistle to Januarius.
This is untrue. Earlier, Calvin asked why Christians shouldn't imitate what was performed in the Old Covenant. There is plenty of indication of communal fasting:
Ezra 8:21, 23 Then I proclaimed a fast there, at the river Aha'va, that we might humble ourselves before our God, to seek from him a straight way for ourselves, our children, and all our goods. . . . So we fasted and besought our God for this, and he listened to our entreaty. (cf. 9:5)

Nehemiah 9:1 Now on the twenty-fourth day of this month the people of Israel were assembled with fasting and in sackcloth, and with earth upon their heads.

Esther 4:3 And in every province, wherever the king's command and his decree came, there was great mourning among the Jews, with fasting and weeping and lamenting, and most of them lay in sackcloth and ashes.

Esther 4:16 Go, gather all the Jews to be found in Susa, and hold a fast on my behalf, and neither eat nor drink for three days, night or day. I and my maids will also fast as you do. Then I will go to the king, though it is against the law; and if I perish, I perish.

Esther 9:31 that these days of Purim should be observed at their appointed seasons, as Mor'decai the Jew and Queen Esther enjoined upon the Jews, and as they had laid down for themselves and for their descendants, with regard to their fasts and their lamenting.

Jeremiah 36:9 In the fifth year of Jehoi'akim the son of Josi'ah, king of Judah, in the ninth month, all the people in Jerusalem and all the people who came from the cities of Judah to Jerusalem proclaimed a fast before the LORD.

Joel 1:14 Sanctify a fast, call a solemn assembly. . . . (cf. 2:15)

Zechariah 8:19 Thus says the LORD of hosts: The fast of the fourth month, and the fast of the fifth, and the fast of the seventh, and the fast of the tenth, shall be to the house of Judah seasons of joy and gladness, and cheerful feasts; therefore love truth and peace. (cf. 7:3, 5)
It's not required that we imitate Jesus' fast for forty days in every minute particular, but there are many analogies between His fast and Lent. Why that should be frowned upon by Calvin (except, of course, that it is Catholic, and therefore, wicked by definition) is a mystery.