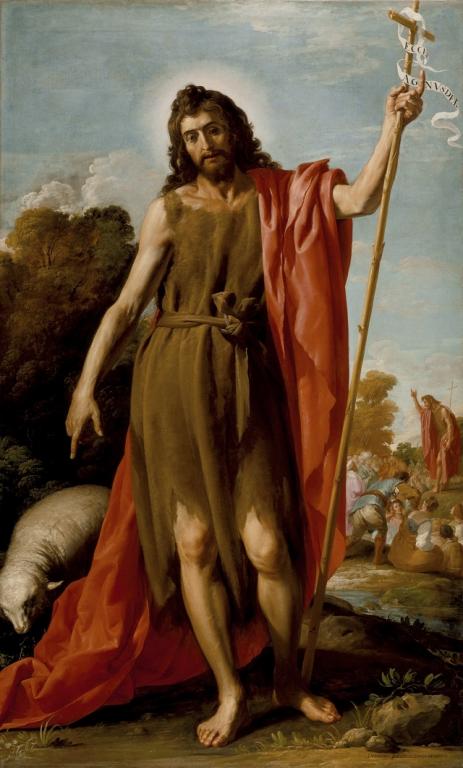 The well-known Protestant reference work, New Bible Dictionary (edited by J. D. Douglas, Grand Rapids, Michigan: Wm. B. Eerdmans Pub. Co., 1962, "Sackcloth," p. 1112), describes biblical sackcloth:
A coarse cloth . . . usually made of goat's hair . . . Sackcloth was worn as a sign of mourning for the dead . . . , or of mourning for personal or national disaster . . . or of penitence for sins (1 Ki. 21:27; Ne. 9:1; Jon. 3:5; Mt. 11:21), or of special prayer for deliverance . . .

The form of the symbolic sackcloth was often a band or kilt tied around the waist . . . it was usually worn next to the skin (2 Ki. 6:30; Jb. 16:15; 2 Macc. 3:19), and was sometimes kept on all night (1 Ki. 21:27; Joel 1:13) . . . Sometimes the sackcloth was spread out to lie on (2 Sa. 21:10; Is. 58:5) . . .

Prophets sometimes wore it as a symbol of the repentance which they preached (Is. 20:2; Rev. 11:3).
***
Exodus 17:9-12 (RSV) And Moses said to Joshua, "Choose for us men, and go out, fight with Am'alek; tomorrow I will stand on the top of the hill with the rod of God in my hand." [10] So Joshua did as Moses told him, and fought with Am'alek; and Moses, Aaron, and Hur went up to the top of the hill. [11] Whenever Moses held up his hand, Israel prevailed; and whenever he lowered his hand, Am'alek prevailed. [12] But Moses' hands grew weary; so they took a stone and put it under him, and he sat upon it, and Aaron and Hur held up his hands, one on one side, and the other on the other side; so his hands were steady until the going down of the sun.
Deuteronomy 9:18-19 Then I lay prostrate before the LORD as before, forty days and forty nights; I neither ate bread nor drank water, because of all the sin which you had committed, in doing what was evil in the sight of the LORD, to provoke him to anger. [19] For I was afraid of the anger and hot displeasure which the LORD bore against you, so that he was ready to destroy you. But the LORD hearkened to me that time also. (cf. 9:9; Ex 34:28)
1 Chronicles 21:14-17 So the LORD sent a pestilence upon Israel; and there fell seventy thousand men of Israel. [15] And God sent the angel to Jerusalem to destroy it; but when he was about to destroy it, the LORD saw, and he repented of the evil; and he said to the destroying angel, "It is enough; now stay your hand." And the angel of the LORD was standing by the threshing floor of Ornan the Jeb'usite. [16] And David lifted his eyes and saw the angel of the LORD standing between earth and heaven, and in his hand a drawn sword stretched out over Jerusalem. Then David and the elders, clothed in sackcloth, fell upon their faces. [17] And David said to God, "Was it not I who gave command to number the people? It is I who have sinned and done very wickedly. But these sheep, what have they done? Let thy hand, I pray thee, O LORD my God, be against me and against my father's house; but let not the plague be upon thy people."
Ezra 9:1-7 After these things had been done, the officials approached me and said, "The people of Israel and the priests and the Levites have not separated themselves from the peoples of the lands with their abominations, from the Canaanites, the Hittites, the Per'izzites, the Jeb'usites, the Ammonites, the Moabites, the Egyptians, and the Amorites. [2] For they have taken some of their daughters to be wives for themselves and for their sons; so that the holy race has mixed itself with the peoples of the lands. And in this faithlessness the hand of the officials and chief men has been foremost." [3] When I heard this, I rent my garments and my mantle, and pulled hair from my head and beard, and sat appalled. [4] Then all who trembled at the words of the God of Israel, because of the faithlessness of the returned exiles, gathered round me while I sat appalled until the evening sacrifice. [5] And at the evening sacrifice I rose from my fasting, with my garments and my mantle rent, and fell upon my knees and spread out my hands to the LORD my God, [6] saying: "O my God, I am ashamed and blush to lift my face to thee, my God, for our iniquities have risen higher than our heads, and our guilt has mounted up to the heavens. [7] From the days of our fathers to this day we have been in great guilt; and for our iniquities we, our kings, and our priests have been given into the hand of the kings of the lands, to the sword, to captivity, to plundering, and to utter shame, as at this day.
Esther 4:15-16 Then Esther told them to reply to Mor'decai, [16] "Go, gather all the Jews to be found in Susa, and hold a fast on my behalf, and neither eat nor drink for three days, night or day. I and my maids will also fast as you do. Then I will go to the king, though it is against the law; and if I perish, I perish."
Psalm 35:13 But I, when they were sick — I wore sackcloth, I afflicted myself with fasting. I prayed with head bowed on my bosom,
Ezekiel 4:1-8 "And you, O son of man, take a brick and lay it before you, and portray upon it a city, even Jerusalem; [2] and put siegeworks against it, and build a siege wall against it, and cast up a mound against it; set camps also against it, and plant battering rams against it round about. [3] And take an iron plate, and place it as an iron wall between you and the city; and set your face toward it, and let it be in a state of siege, and press the siege against it. This is a sign for the house of Israel. [4] "Then lie upon your left side, and I will lay the punishment of the house of Israel upon you; for the number of the days that you lie upon it, you shall bear their punishment. [5] For I assign to you a number of days, three hundred and ninety days, equal to the number of the years of their punishment; so long shall you bear the punishment of the house of Israel. [6] And when you have completed these, you shall lie down a second time, but on your right side, and bear the punishment of the house of Judah; forty days I assign you, a day for each year.
Daniel 9:3-6, 16 Then I turned my face to the Lord God, seeking him by prayer and supplications with fasting and sackcloth and ashes. [4] I prayed to the LORD my God and made confession, saying, "O Lord, the great and terrible God, who keepest covenant and steadfast love with those who love him and keep his commandments, [5] we have sinned and done wrong and acted wickedly and rebelled, turning aside from thy commandments and ordinances; [6] we have not listened to thy servants the prophets, who spoke in thy name to our kings, our princes, and our fathers, and to all the people of the land. . . . [16] O Lord, according to all thy righteous acts, let thy anger and thy wrath turn away from thy city Jerusalem, thy holy hill; because for our sins, and for the iniquities of our fathers, Jerusalem and thy people have become a byword among all who are round about us.
Acts 13:2-3 While they were worshiping the Lord and fasting, the Holy Spirit said, "Set apart for me Barnabas and Saul for the work to which I have called them." [3] Then after fasting and praying they laid their hands on them and sent them off.
Acts 14:23 And when they had appointed elders for them in every church, with prayer and fasting they committed them to the Lord in whom they believed.
Colossians 1:23-24 provided that you continue in the faith, stable and steadfast, not shifting from the hope of the gospel which you heard, which has been preached to every creature under heaven, and of which I, Paul, became a minister. [24] Now I rejoice in my sufferings for your sake, and in my flesh I complete what is lacking in Christ's afflictions for the sake of his body, that is, the church,
***
Photo credit: Saint John the Baptist in the Wilderness (c. 1635), by José Leonardo (Spain, 1601-before 1653). Matthew 3:4 (RSV): "Now John wore a garment of camel's hair, . . ." [public domain / Wikimedia Commons]
***