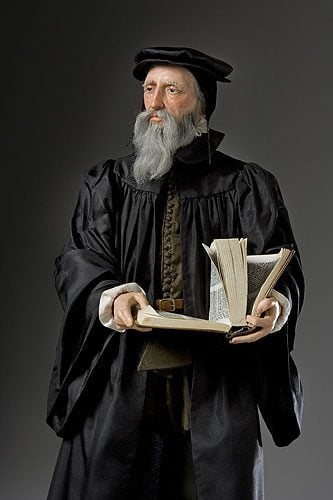 This is an installment of a series of replies (see the Introduction and Master List) to much of Book IV (Of the Holy Catholic Church) of Institutes of the Christian Religion, by early Protestant leader John Calvin (1509-1564). I utilize the public domain translation of Henry Beveridge, dated 1845, from the 1559 edition in Latin; available online. Calvin's words will be in blue. All biblical citations (in my portions) will be from RSV unless otherwise noted.
Related reading from yours truly:
Biblical Catholic Answers for John Calvin (2010 book: 388 pages)
A Biblical Critique of Calvinism (2012 book: 178 pages)
Biblical Catholic Salvation: "Faith Working Through Love" (2010 book: 187 pages; includes biblical critiques of all five points of "TULIP")
*****
IV, 19:24, 29
***
Book IV
CHAPTER 19
OF THE FIVE SACRAMENTS, FALSELY SO CALLED. THEIR SPURIOUSNESS PROVED, AND THEIR TRUE CHARACTER EXPLAINED.
OF ECCLESIASTICAL ORDERS.
24. The greater part of these orders empty names implying no certain office. Popish exorcists.
*
Still, lest they should be able to impose on silly women, their vanity must be exposed in passing. With great pomp and solemnity they elect their readers, psalmists, doorkeepers, acolytes, to perform those services which they give in charge, either to boys, or at least to those whom they call laics. Who, for the most part, lights the tapers, who pours wine and water from the pitcher, but a boy or some mean person among laics, who gains his bread by so doing? Do not the same persons chant? Do they not open and shut the doors of Churches? Who ever saw, in their churches, either an acolyte or doorkeeper performing his office? Nay, when he who as a boy performed the office of acolyte, is admitted to the order of acolyte, he ceases to be the very thing he begins to be called, so that they seem professedly to wish to cast away the office when they assume the title. See why they hold it necessary to be consecrated by sacraments, and to receive the Holy Spirit! It is just to do nothing. If they pretend that this is the defect of the times, because they neglect and abandon their offices, let them, at the same time, confess that there is not in the Church, in the present day, any use or benefit of these sacred orders which they wondrously extol, and that their whole Church is full of anathema, since the tapers and flagons, which none are worthy to touch but those who have been consecrated acolytes, she allows to be handled by boys and profane persons; since her chants, which ought to be heard only from consecrated lips, she delegates to children.
There is scarcely any argument here. Calvin seems to sneer at children in a way that our Lord certainly did not:
Matthew 18:3 Truly, I say to you, unless you turn and become like children, you will never enter the kingdom of heaven.

Matthew 19:13-14 Then children were brought to him that he might lay his hands on them and pray. The disciples rebuked the people; [14] but Jesus said, "Let the children come to me, and do not hinder them; for to such belongs the kingdom of heaven."

Luke 18:17 Truly, I say to you, whoever does not receive the kingdom of God like a child shall not enter it.
And to what end, pray, do they consecrate exorcists? I hear that the Jews had their exorcists, but I see they were so called from the exorcisms which they practised (Acts 19:13). Who ever heard of those fictitious exorcists having given one specimen of their profession? It is pretended that power has been given them to lay their hands on energumens, catechumens, and demoniacs, but they cannot persuade demons that they are endued with such power, not only because demons do not submit to their orders, but even command themselves. Scarcely will you find one in ten who is not possessed by a wicked spirit. All, then, which they babble about their paltry orders is a compound of ignorant and stupid falsehoods.
There are plenty of biblical examples of exorcisms in the casting out of demons:
Matthew 4:24 . . . they brought him all the sick, those afflicted with various diseases and pains, demoniacs, epileptics, and paralytics, and he healed them.

Matthew 8:16 That evening they brought to him many who were possessed with demons; and he cast out the spirits with a word, and healed all who were sick.

Matthew 10:1, 8 And he called to him his twelve disciples and gave them authority over unclean spirits, to cast them out, and to heal every disease and every infirmity. . . . Heal the sick, raise the dead, cleanse lepers, cast out demons. . . .

Matthew 12:22 Then a blind and dumb demoniac was brought to him, and he healed him, so that the dumb man spoke and saw.

Mark 1:34 And he healed many who were sick with various diseases, and cast out many demons; . . .

Luke 8:2 and also some women who had been healed of evil spirits and infirmities: Mary, called Mag'dalene, from whom seven demons had gone out,

Luke 9:42 While he was coming, the demon tore him and convulsed him. But Jesus rebuked the unclean spirit, and healed the boy, and gave him back to his father.

Acts 5:16 The people also gathered from the towns around Jerusalem, bringing the sick and those afflicted with unclean spirits, and they were all healed.

Acts 8:7 For unclean spirits came out of many who were possessed, crying with a loud voice; and many who were paralyzed or lame were healed.
According to Calvin, apparently we should all ignore these kinds of things as of no import or relevance. We have no need any longer to cast out a demon, like Jesus and the disciples did. That was only a valid concern in the first century, not the 21st, or 16th. Again, we see a surprising skepticism and almost "Enlightenment"-like excessive rationalism afoot in Calvin's thinking.
Of the ancient acolytes, doorkeepers, and readers, we have spoken when explaining the government of the Church. All that we here proposed was to combat that novel invention of a sevenfold sacrament in ecclesiastical orders of which we nowhere read except among silly raving Sorbonnists and Canonists.
More of the same sneering non-argument . . .
[ . . . ]
29. Absurd imitation of our Saviour in breathing on his apostles.
With the reality the ceremonies perfectly agree. When our Lord commissioned the apostles to preach the gospel, he breathed upon them (John 20:22). By this symbol he represented the gift of the Holy Spirit which he bestowed upon them. This breathing these worthy men have retained; and, as they were bringing the Holy Spirit from their throat, mutter over their priestlings, "Receive the Holy Spirit." Accordingly, they omit nothing which they do not preposterously mimic.
Why does such a thing have to be mocked in this fashion? Is it not praiseworthy to imitate our Lord, and with the same purpose He had in doing the thing that is imitated: to ordain men for special ministerial service to God?
I say not in the manner of players (who have art and meaning in their gestures), but like apes who imitate at random without selection.
A nice touch . . .
We observe, say they, the example of the Lord. But the Lord did many things which he did not intend to be examples to us. Our Lord said to his disciples, "Receive the Holy Spirit" (John 20:22). He said also to Lazarus, "Lazarus, come forth" (John 11:43). He said to the paralytic, "Rise, take up thy bed, and walk" (John 5:8).
Jesus certainly intended for these to be examples (there can be no possible argument on this point), since He said: "Heal the sick, raise the dead, cleanse lepers, cast out demons. . . ." (Matthew 10:8). Calvin is again decisively proven wrong by Scripture. The disciples and apostles did all these things. Peter raised the dead (Acts 9:36-41: Tabitha); so did Paul (Acts 20:7-12). They prayed for others to receive the Holy Spirit, and they did (Acts 2:38; 8:15-17; 19:6).
They healed many people (Mk 6:13; 16:20; Lk 9:6; Acts 4:7-10; 5:15-16; 8:7; 9:34; 19:12; 28:8-9), and cast out demons (Mk 6:13; 16:17; Lk 10:17; Acts 5:16; 8:7; 19:12), exactly as the Lord had commanded them to do, since Holy Scripture informs us that "he called to him his twelve disciples and gave them authority over unclean spirits, to cast them out, and to heal every disease and every infirmity" (Matthew 10:1).
Jesus had also said to them, "I have given you authority to tread upon serpents and scorpions, and over all the power of the enemy; and nothing shall hurt you. Nevertheless do not rejoice in this, that the spirits are subject to you . . ." (Luke 10:19-20). And again, it is recorded that "he sent them out to preach the kingdom of God and to heal" (Luke 9:2). And yet again: "And he appointed twelve, to be with him, and to be sent out to preach and have authority to cast out demons" (Mark 3:14-15).
In one of my papers I noted a book that documented many people raised from the dead from the early patristic period all the way up to Calvin's time and afterwards. These miracles were attested by St. Justin Martyr, St. Gregory of Nazianzus, the historian Sozomen, St. Gregory of Nyssa, St. Hilary of Poitiers, and St. Ambrose. St. Augustine recounted at least four such stories (one of them in City of God, Book XXII, chapter 8).
St. Irenaeus casually assumed that these things still took place, and that it was folly for heretics to disbelieve it (Against Heresies, Book II, chapter 31, 2). They were far far from believing (like Calvin, with no reason at all) that these miracles had ceased after the apostolic age.
St. Martin of Tours (316-397) was said to have raised three persons from the dead. Pope St. Gregory the Great tells the story of St. Benedict doing the same. St. Bernard of Clairvaux (1090-1153) is reported to have performed this miracle. Bernard himself testifies that his friend St. Malachy (1095-1148) had raised a woman from the dead.
Others who were used by God to perform this extraordinary miracle are St. Patrick, St. Anthony of Padua (1195-1231), Blessed Margaret of Castello (1287-1320), St. Elizabeth of Hungary, St. Catherine of Sweden, St. Joan of Arc, St. Bernardine, St. Dominic, St. Ignatius Loyola, St. Francis Xavier, St. Philip Neri, St. John Bosco, St. Martin de Porres, St. Vincent Ferrer, and St. Padre Pio.
But now Calvin wants to come and "veto" express instructions from our Lord Jesus and pretend as if they were only intended for a few generations only, or one century only; and delude himself that this cessation is somewhere taught in the Bible?
St. Paul specifically lists a gift of healing along with other offices (1 Cor 12:9, 28, 30). There is not the slightest hint that this office was intended to cease. It's right along with the others, that obviously were intended in perpetuity. James (5:16) assumes that healing would occur for all time, because the "prayer of a righteous man has great power in its effects."
Why do they not say the same to all the dead and paralytic? He gave a specimen of his divine power when, in breathing on the apostles, he filled them with the gift of the Holy Spirit. If they attempt to do the same, they rival God, and do all but challenge him to the contest.
Obviously, raising the dead was not to be a frequent occurrence. On the other hand, Jesus did tell His disciples they would be able to do so, and Peter and Paul did it in recorded instances in Scripture. The fathers bear witness of the miracle continuing long after the apostles, and it has occurred all along. But no one is saying it should be a routine thing. Miracles are not for the purpose of "magic" or being puffed up with power, or to titillate those who hunger after signs; they are to demonstrate God's glory and power, in particular circumstances.
But Calvin appears to not understand these elementary biblical themes. He can only mock healing and trivialize it, as if it is ruled out if it isn't on demand. This is spiritual kindergarten and shocking in a man so familiar with the Bible; one who clearly prides himself on his knowledge. My eight-year-old daughter could have told anyone much of this, and Calvin can't figure it out?
[ . . . ]