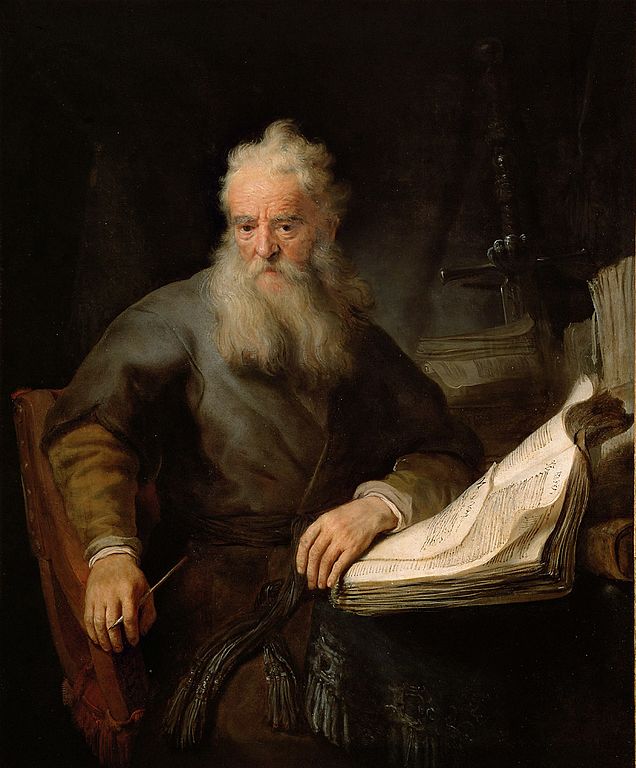 From my book, The Catholic Verses (Sophia Institute Press, 2004, pp. 79-83).
*****
1 Corinthians 9:27 (RSV): "I pommel my body and subdue it, lest after preaching to others I myself should be disqualified."

1 Corinthians 10:12: "Therefore let anyone who thinks that he stands take heed lest he fall."

Galatians 5:1: "For freedom Christ has set us free; stand fast, therefore, and do not submit again to a yoke of slavery."

Galatians 5:4: "You are severed from Christ, you who would be justified by the law; you have fallen away from grace."

Philippians 3:8-14: "Indeed I count everything as loss because of the surpassing worth of knowing Christ Jesus my Lord. For his sake I have suffered the loss of all things, and count them as refuse, in order that I may gain Christ and be found in him, not having a righteousness of my own, based on law, but that which is through faith in Christ, the righteousness from God that depends on faith; that I may know him and the power of his resurrection, and may share his sufferings, becoming like him in his death, that if possible I may attain the resurrection from the dead. Not that I have already obtained this or am already perfect; but I press on to make it my own, because Christ Jesus has made me his own. Brethren, I do not consider that I have made it my own; but one thing I do, forgetting what lies behind and straining forward to what lies ahead, I press on toward the goal for the prize of the upward call of God in Christ Jesus."

1 Timothy 4:1: "Now the Spirit expressly says that in later times some will depart from the faith by giving heed to deceitful spirits and doctrines of demons."
Catholics believe, in accordance with these passages, that salvation can be lost and that one can fall out of faith and the good graces of God. Passages such as these about falling away from faith, or what is called apostasy, present a problem, however, for Calvinist Protestants, because their system requires them to deny the possibility that such a thing can ever take place. For them, sinners are elected by God from eternity and protected from ever falling away. Human participation or vigilance or effort plays no role whatsoever in ultimate salvation.
Therefore, the elect or "saved" person cannot possibly lose his salvation. When a person seems to be on the wrong path (caught up in adultery or some other clearly sinful behavior), the Calvinist community immediately assumes that he was never saved in the first place (or else he would not have sinned so badly). This is circular reasoning, and also contrary to much Scripture, such as the verses above.
[clarifying note from 3-27-19: my wording could have been more precise in the above two paragraphs. Catholics agree that the elect are the ones who are actually saved, and that God elected them from all eternity. The actual elect cannot possibly fall away. What we are contending, on the other hand, is whether a person who by all appearances is "saved" or "born again" (in the Protestant understanding) or regenerated and in God's good graces, can fall from grace or salvation. We (from our limited human knowledge) can't know for sure who is among the elect]
Albert Barnes, in his Notes, makes a fallacious analysis of Galatians 5:4. He tries to apply Paul's words about apostasy to those who never possessed grace to begin with, since they were (like the Judaizers) trying to be saved by the law:
[T]his passage does not prove that anyone who has ever been a true Christian has fallen away. The fair interpretation of the passage does not demand that. Its simple and obvious meaning is that, if a man who had been a professed Christian should be justified by his own conformity to the law, and adopt that mode of justification, then that would amount to a rejection of the mode of salvation by Christ, and would be a renouncing of the plan of justification by grace. (Barnes' Notes on the New Testament, Grand Rapids, Michigan: Baker Book House, 1983)
This makes no sense and, with all due respect to Barnes, cannot be sustained from the text. The fact remains that these people fell away. Whether they fell away from a belief-system of justification by grace or from grace as a state of personal relationship with God, or both, makes no difference. For in both instances, they were either believing as Christians are, or in the state of grace and regeneration that Christians are in, by virtue of baptism and the personal decision to follow Christ.
Secondly, the entire tone and tenor of the epistle to the Galatians shows that Paul believes he is writing to Christians. He refers to "the churches of Galatia" (1:2). In 1:6 he speaks of the Galatians "deserting him who called you in the grace of Christ and turning to a different gospel." This does not read as if they never knew or believed in God's grace. One cannot desert something he never had. One cannot turn to something different if one never possessed the thing that is being contrasted with the different thing.
If St. Paul thought they had never possessed the true gospel in the first place, it seems obvious that he would have used different terminology; he would have written that they never did understand or accept the gospel of grace alone. He would not have expressed his judgment in terms of deserting and turning and falling away and being "severed from Christ." Can a branch be severed from a tree to which it was never attached?
St. Paul assumes throughout that this was a case of apostasy of those who were Christians. He says they "received" the gospel (1:9); he refers to the "grace that was given to me" (2:9) and then says the Galatians had "begun with the Spirit" (3:3); he writes to them that "as many of you as were baptized into Christ have put on Christ. . . . You are all one in Christ Jesus" (3:27-28); he says the Galatians are God's "sons," upon whom He "sent the Spirit of his Son" into "our hearts, crying, 'Abba! Father!' " (4:6).
St. Paul states that they formerly did not know God, but "have come to know God" only to return to bondage again (4:8-9). He believes that the Galatians "were running well; who hindered you from obeying the truth [5:7]?" The entire letter explicitly indicates apostasy. It could hardly be more clear than it is. What else could Paul have written to make it any more obvious?
Thirdly, logically speaking, the fact that some might be turning to salvation by works and law does not prove that they never accepted salvation by grace alone. The two are not intrinsically related. Believing one thing does not prove that one never adhered to a different system formerly. Barnes simply assumes this (as is so often the case in Protestant exegesis — at least where "Catholic" implications are present), because he is not allowed to hold that anyone can ever fall away from faith, no matter what the Bible might inform us about such possibilities.
Fourthly, the Greek word for fallen, ekpipto, is often used elsewhere in the New Testament in the sense of "falling from that estate in which something once was"; for example: the stars from heaven (Mark 13:25); chains falling off hands (Acts 12:7); shipwreck and falling off a boat (Acts 27:26, 29, 32); and apostasy, or at least a spiritual degeneration (Rev. 2:5). Greek scholar Gerhard Kittel discusses the root word pipto in relation to apostasy:
[P]ipto may also be used for loss of faith and separation from grace (1 Cor. 10:12). At issue here is an apostasy from God or Christ which means disqualification (1 Cor. 9:27). In Rom. 14:4 standing and falling are oriented to the fact that each must answer to the Lord as Judge. The use is absolute in Heb. 4:11: a specific sin is not in view but apostasy. In Rev. 2:5 leaving the first love is the point (Theological Dictionary of the New Testament. Edited by Gerhard Kittel and Gerhard Friedrich. Translated and abridged by Geoffrey W. Bromiley. Grand Rapids, Michigan: Eerdmans Pub. Co., 1985, 847)
Much more plausible is, I think, John Henry Newman's sermon on Philippians 3:12 and related scriptures:
[W]e do not know the standard by which God will judge us. Nothing that we are can assure us that we shall answer to what He expects of us; for we do not know what that is. . . . This thought will surely ever keep us from dwelling on our own proficiency. . . .

The doctrine, then, that few are chosen though many be called, properly understood, has no tendency whatever to make us fancy ourselves secure and others reprobate. We cannot see the heart; we can but judge from externals, from words and deeds, professions and habits. But these will not save us, unless we persevere in them to the end; and they are no evidence that we shall be saved, except so far as they suggest hope that we shall persevere. They are but a beginning; they tell for nothing till they are completed. Till we have done all, we have done nothing; we have but a prospect, not possession (Parochial and Plain Sermons, V, 1840, Sermon 18: "Many Called, Few Chosen," 1110-1119).
***
Photo credit: Apostle Paul (1633?), by Rembrandt (1606-1669) [public domain / Wikimedia Commons]
***