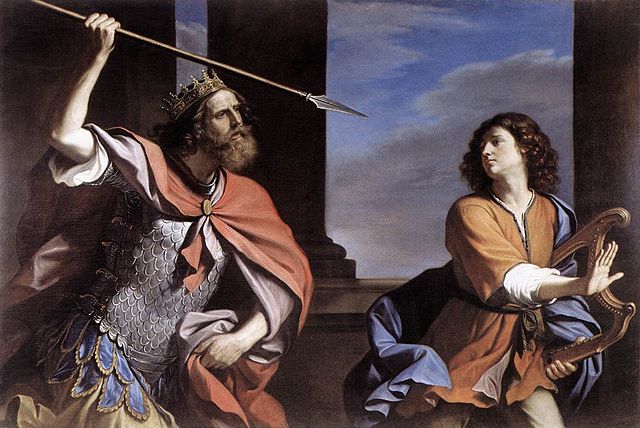 King David honored King Saul even though he was a scoundrel, and seeking to kill him. St. Paul honored the high priest at his trial, citing Old Testament Scripture, "you shall not speak evil of your ruler" (Acts 23:5). St. Peter told (1 Pet 2:17) us to "honor the emperor" (who at the time was Nero: the guy who had both Peter and Paul killed).
2 Samuel 2:5-6 (RSV) David sent messengers to the men of Ja'besh-gil'ead, and said to them, "May you be blessed by the LORD, because you showed this loyalty to Saul your lord, and buried him! [6] Now may the LORD show steadfast love and faithfulness to you! And I will do good to you because you have done this thing.
They were loyal to Saul: the person, who rejected God and likely died in a sinful state. Even after his death, David was urging people to honor and be loyal to him as a person: not just to the office of king. He was no longer even the king, because he was dead. King David couldn't have been honoring the office of the king after Saul died, by honoring the latter, because Saul was dead and David was then king. So that is honor of the person, Saul.
Deacon Steven D. Greydanus made a great comment: "We are not told to "honor fatherhood and motherhood," but to honor your father and mother — a commandment that applies even if they are absolutely terrible parents."
We personally honor a pope because he is pope (not the office), just as we personally honor a mother or father because they are that (we're not merely honoring motherhood and fatherhood: as Deacon Steven noted). It's not that simple to separate the person from their function / role / office. Granted, the line between person and office is often very fine.
Paul was honoring the person of the high priest. He had been insulting him, and then as soon as he found out he was the priest, he totally shut up. If he were merely honoring the office he could have kept talking, saying that he respected the office but not the guy currently occupying it, but the Bible (that he cited in that context) commanded us to not speak evil of the ruler; not of the mere office.
St. Peter didn't say "honor the authority of the emperor." He said, "honor the emperor."
Popes can and may be criticized in rare circumstances, by the right people for the right reasons, at the right time, in private, with extreme deference; but it's done in the wrong way 99% of the time, as I have observed over and over.
Related reading:
Honoring Popes / Scriptural Honor of Even Wicked Rulers
Wicked Rulers Honored (Saul, Solomon, Nero, High Priest)
On Rebuking Popes & Catholic Obedience to Popes
Do I Think Popes Can Never be Criticized for Any Reason? Nope. (I Respectfully Criticize the Prudence of Pope Francis' Repeated Interviews with an Atheist Who Lies About Him [Eugenio Scalfari])
Pope-Criticism: Vigorous Exchanges w Karl Keating
Are Pope-Critics Evil? Reply to Karl Keating
***
(originally 4-11-18 on Facebook)
Photo credit: Saul Attacking David (1646), by Guercino (1591-1666) [public domain / Wikimedia Commons]
***