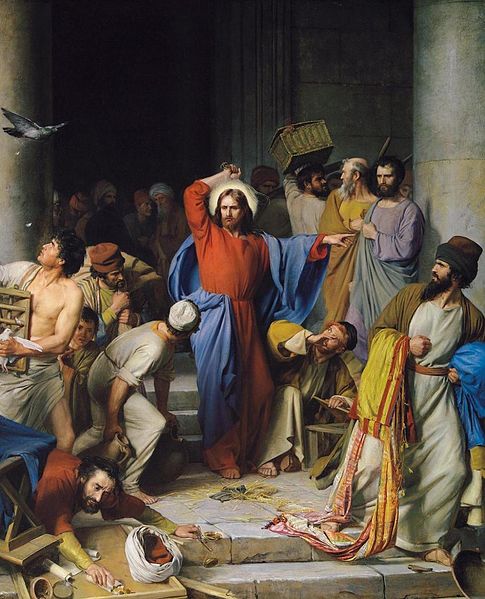 This is an installment of my series of replies to an article by Dr. David Madison: a pastor in the Methodist Church for nine years, who has a PhD in Biblical Studies from Boston University. It's called, "Things We Wish Jesus Hadn't Said" (Debunking Christianity, 7-21-19). His words will be in blue below. Dr. Madison makes several "generic" digs at Jesus and Christianity, in the written portion (it details a series of 12 podcasts):
A challenge for Christians: If you're so sure Jesus existed, then you have some explaining to do. A major frustration is that, while believers are indignant at all the talk about Jesus not existing, they don't know the issues that fuel the skepticism—and are unwilling to inform themselves.
Yes, I'm up to the "challenge." No problem at all. I'm not threatened or "scared" by this in the slightest. It's what I do, as an apologist. The question is whether Dr. Madison is up to interacting with counter-critiques? Or will he act like the voluminous anti-theist atheist polemicist Bob Seidensticker?: who directly challenged me in one of his own comboxes to respond to his innumerable attack-pieces against Christianity and the Bible, and then courageously proceeded to utterly ignore my 35 specific critiques of his claims as of this writing. We shall soon see which course Dr. Madison will decide to take. Anyway, he also states in his post and combox:
[S]o many of the words of Jesus are genuinely shocking. These words aren't proclaimed much from the pulpit, . . . Hence the folks in the pews have absorbed and adored an idealized Jesus. Christian apologists make their livings refiguring so many of the things Jesus supposedly said.
The gospels are riddled with contradictions and bad theology, and Jesus is so frequently depicted as a cult fanatic—because cult fanatics wrote the gospels. We see Jesus only through their theological filters. I just want to grab hold of Christian heads (standing behind them, with a hand on each ear) and force them to look straight ahead, unflinchingly, at the gospels, and then ask "Tell me what you see!" uncoached by apologist specialists, i.e., priests and pastors, who've had a lot of practice making bad texts look good. . . . I DO say, "Deal with the really bad stuff in the gospels." Are you SURE you've not make a big mistake endorsing this particular Lord and Savior? That's the whole point of this series of Flash Podcasts, because a helluva lot of Christians would agree, right away, that these quotes are bad news—if no one told then that they've been attributed to Jesus.
Of course, Dr. Madison — good anti-theist atheist that he is — takes the view that we are not at all sure whether Jesus in fact said anything recorded in the Gospels in the first place. I don't play that game, because there is no end to it. It's like trying to pin jello to the wall. The atheist always has their convenient out (when refuted in argument about some biblical text) that Jesus never said it anyway [wink wink and sly patronizing grin], and/or that the biblical text in question was simply added later by dishonest ultra-biased Christian partisans and propagandists. It's a silly and ultimately intellectually dishonest game, and so I always refuse to play it with atheists or anyone else, because there is no way to "win" with such an absurdly stacked, purely subjective deck.
In my defense of biblical texts, I start with the assumption that the manuscripts we have are quite sufficient for us to know what is in the Bible (believe it or not). Going on from there, I simply defend particular [supposedly "difficult"] texts, and note with appropriate argumentation, that "here, the Bible teaches so-and-so," etc. I deal with the texts as they exist. I don't get into the endlessly arbitrary, subjective games that atheists and theologically liberal biblical skeptics play with the texts, in their self-serving textual criticism.
Dr. Madison himself (fortunately) grants my outlook in terms of practical "x vs. y" debate purposes: "For the sake of argument, I'm willing to say, okay, Jesus was real and, yes, we have gospels that tell the story." And in the combox: "So, we can go along with their insistence that he did exist. We'll play on their field, i.e., the gospels."
Good! So we shall examine his cherry-picked texts and see whether his interpretations of them can stand up to scrutiny. He is issuing challenges, and I as an apologist will be dishing a bunch of my own right back to him. Two can play this game. I will be dealing honestly with his challenges. Will he return the favor, and engage in serious and substantive dialogue? Again, we'll soon know what his reaction will be. A true dialogue is of a confident, inquisitive, "nothing to fear and everything to gain" back-and-forth and interactive nature, not merely "ships passing in the night" or what I call "mutual monologue."
*****
Dr. Madison's ninth podcast of twelve is entitled: "On Matthew 10:14-15, towns that reject the message of the Kingdom of God will be destroyed." Here is the "offending" passage:
Matthew 10:14-15 (RSV) And if any one will not receive you or listen to your words, shake off the dust from your feet as you leave that house or town. [15] Truly, I say to you, it shall be more tolerable on the day of judgment for the land of Sodom and Gomor'rah than for that town. 
. . . two brutal verses . . . if you turned them away, would you deserve destruction on the day of judgment? . . . sounds vindictive and petty, no? . . . Doesn't this sound like typical cult fanaticism, [that] we've heard from religious cranks forever? "If you don't believe me, you'll be sorry' you'll be damned." And Jesus is supposed to be all about love and compassion, right? . . . Don't be so confident that Jesus was a good guy, and that he was a great moral teacher. These verses undercut that.
Dr. Madison apparently doesn't grasp or comprehend (agree or disagree) the notion of ultimate justice and God as Judge at all. It's not that complicated. I tackled this general area in a reply to another atheist, entitled, "God's Judgment of Sin: Analogies for an Atheist Inquirer" (9-6-18). Here are some excerpts (slightly abridged):
God as the Creator has the "prerogative" to judge His creation when they have gone astray.

We have earthly judges (by analogy) who do the same thing. A criminal commits a crime. He is given a fair trial, found guilty, and is then judged, if deemed guilty. 

But it's inconceivable that God is the Cosmic Judge?

Imagine if everyone on earth were like an SS agent (think, Heinrich Himmler). We took out people like that in World War II and everyone thought it was quite moral. But if God does it, suddenly it's immoral.

Well, with the Flood and Sodom and Gomorrah, that's what the Bible says took place: the level of immorality was virtually universal and beyond repair. So God judged. I don't have the slightest problem with it. I think it's exactly what we would expect in a God Who is both perfectly loving and a just judge.

In a blanket judgment by God there will be children who are killed as well. But they are not necessarily condemned to hell. God judges each soul individually. So yes, they may have to die young as a result of being in a hyper-corrupt culture (below the age of reason and guilt, as we Catholic say), but they have an eternal life in front of them and God will judge them justly in that respect.

In the atheist view, on the other hand, there is no ultimate justice at all. Since we are doing Nazi analogies, it would be as if the Nazis had won World War II and were ruling the world right now, doing all the evil they did while they were in power. In a world without God, there would be no ultimate justice. These Nazis would die and cease to exist. They would pay no penalty for their great evils (not even in this life if they aren't defeated). Their victims would die and cease to exist as well, and never receive any good things. All they had was an earthy life which was a living hell under Nazi rule.

There is no justice or meaning or "happy ending" in that scenario. Many people in the world have a terrible life: and very often because of despotic rulers or bad social or religious systems. In the Christian worldview the unrepentant bad guys are judged for their evil (and will end up in hell). People who accept God's grace spend eternity with God in heaven, in great bliss and joy, with no more suffering.

That is meaningful and just.
 I also wrote in a similar article, "Is God an Unjust Judge? Dialogue with an Atheist" (10-30-17):
The Bible says that God is Love and the life of Jesus illustrates that rather dramatically. The Bible also teaches that He is the judge of the world. The two are not mutually exclusive. We don't say that human judges are wicked and evil because they pass sentence (following jury verdicts) for someone to go to jail. We recognize that as due punishment for crimes.

God judges, as the Creator. He desires that none perish, but He does judge folks for the sins that they willingly commit. He doesn't cause anyone to sin, but He judges them for their sins.
And in another paper of mine, "Dialogue w Atheists on Hell & Whether God is Just" (12-5-06; originally posted at Debunking Christianity), I argued by analogy:
When a criminal rebels against the laws of a society and is caught, convicted, and imprisoned for life, we don't say that the "cause" of his imprisonment was the laws of the state that he violated, and rail against the very notion of law as the horrible, unjust cause of this guy's suffering! He brought about his own demise by going astray. Likewise, with human beings, God, and hell.

The penalty for very serious crime in a civil sense is life imprisonment. That's just how it is. Law itself is not to be blamed.

The penalty for very serious sin and rebellion against God in spiritual reality is eternal torment in hell. That's just how it is. God (the ground of moral law) is not to be blamed for that. . . . 

Because God is Creator He also has the prerogative to judge. This is analogous to our experience. Society takes it upon itself to judge the criminal and punish him if he supersedes the "just" laws that govern the society, in order to prevent chaos and suffering. If that is true of human society (one man to another), it is all the more of God, because He is ontologically above us (Creator and created).

So it is perfectly sensible and moral to posit (apart from the data of revelation) a notion of God judging both individuals and nations. God's omniscience is such that He can determine if an entire nation has gone bad ("beyond repair," so to speak) and should be punished. And He did so. Now, even in a wicked nation there may be individuals who are exceptions to the rule. So some innocent people will be killed. But this is like our human experience as well. In wartime, we go to war against an entire nation. In so doing, even if it is unintentional, some innocent non-combatants will be killed. . . . 

Again, the societal analogy is perfectly apt. If someone rebels at every turn against every societal norm and law and appropriate behavior and so forth, is society to be blamed? Say someone grows up thinking that serial rape is fine and dandy and shouldn't be prevented at all. So he goes and does this. Eventually, the legal system catches up with him and he gets his punishment. He rebelled against what most people think is wrong, and more than deserved his punishment.

We don't say that there should be no punishment. We don't blame society for his suffering in prison. We don't deny that society has a right to judge such persons. So if mere human beings can judge each other, why cannot God judge His creation, and (particularly) those of His creation that have rebelled against Him at every turn? What is so incomprehensible about that? One may not believe it, but there is no radical incoherence or inconsistency or monstrous injustice or immorality in this Christian (and Jewish) viewpoint (which is what is always claimed by the critics).
An analogy I've used many times is to compare God to a Governor of a state. He or she have the power to pardon criminals. But the criminal has to accept the pardon. They can refuse it. People who choose to go to hell, do so of their own accord. It never had to happen. God, like the Governor, offers them free grace and salvation if they will but repent and accept it.  But many choose to reject this free offer of salvation, which is universal (unlike Governors' pardons).
It's as absurd to judge God because people rebel against Him and end up in hell, as it would be to blame a Governor because a prisoner ludicrously refuses to be pardoned.
***
Photo credit: Jesus casting out the money changers at the temple, by Carl Bloch (1834-1890) [public domain / Wikimedia Commons]
***