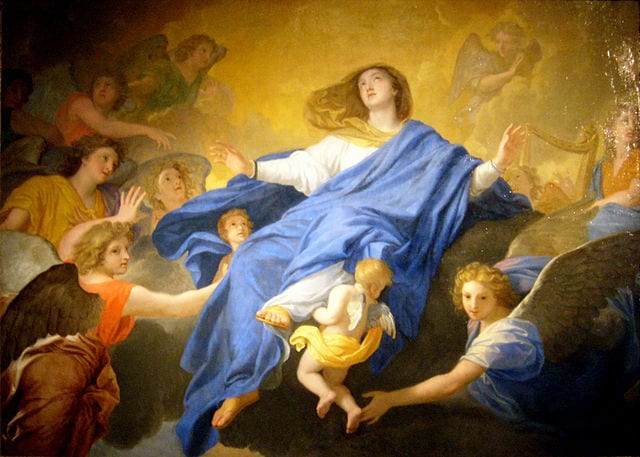 [from my book, Bible Proofs for Catholic Truths (2009), except that RSV is used for the Bible verses, rather than KJV]
* * * * *
No direct biblical indications of Mary's Assumption are to be found. But (as always with Catholic doctrine), there are indirect, deductive arguments from things that are clear in Scripture, and nothing in Scripture that would contradict the possibility of this happening. There were, for example, several instances of bodily resurrection or of persons going bodily to heaven recorded in Scripture that bear some similarity to the Catholic belief in Mary's bodily Assumption:
Genesis 5:24 Enoch walked with God; and he was not, for God took him.
2 Kings 2:1, 11 Now when the LORD was about to take Eli'jah up to heaven by a whirlwind, Eli'jah and Eli'sha were on their way from Gilgal. . . . And as they still went on and talked, behold, a chariot of fire and horses of fire separated the two of them. And Eli'jah went up by a whirlwind into heaven.
Matthew 27:52-53 the tombs also were opened, and many bodies of the saints who had fallen asleep were raised, and coming out of the tombs after his resurrection they went into the holy city and appeared to many.
2 Corinthians 12:2-3 I know a man in Christ who fourteen years ago was caught up to the third heaven — whether in the body or out of the body I do not know, God knows. And I know that this man was caught up into Paradise — whether in the body or out of the body I do not know, God knows –
1 Thessalonians 4:15-17 For this we declare to you by the word of the Lord, that we who are alive, who are left until the coming of the Lord, shall not precede those who have fallen asleep. For the Lord himself will descend from heaven with a cry of command, with the archangel's call, and with the sound of the trumpet of God. And the dead in Christ will rise first; then we who are alive, who are left, shall be caught up together with them in the clouds to meet the Lord in the air; and so we shall always be with the Lord.
Hebrews 11:5 By faith Enoch was taken up so that he should not see death; and he was not found, because God had taken him. Now before he was taken he was attested as having pleased God.
Revelation 11:9-12 For three days and a half men from the peoples and tribes and tongues and nations gaze at their dead bodies and refuse to let them be placed in a tomb, and those who dwell on the earth will rejoice over them and make merry and exchange presents, because these two prophets had been a torment to those who dwell on the earth. But after the three and a half days a breath of life from God entered them, and they stood up on their feet, and great fear fell on those who saw them. Then they heard a loud voice from heaven saying to them, "Come up hither!" And in the sight of their foes they went up to heaven in a cloud.
If one accepts Mary's Immaculate Conception, the Assumption follows from the fact of absence of sin. Bodily death and decay, after all, come about as a result of sin and the fall:
Genesis 3:14, 19 The LORD God said to the serpent, "Because you have done this, cursed are you above all cattle, and above all wild animals; upon your belly you shall go, and dust you shall eat all the days of your life. . . . In the sweat of your face you shall eat bread till you return to the ground, for out of it you were taken; you are dust, and to dust you shall return." (cf. Ps 16:10)
Romans 5:12, 17 Therefore as sin came into the world through one man and death through sin, and so death spread to all men because all men sinned — . . . because of one man's trespass, death reigned . . .
The Blessed Virgin Mary was the "first fruits" (after Jesus) of what will eventually be a general resurrection:
1 Corinthians 15:12-26 Now if Christ is preached as raised from the dead, how can some of you say that there is no resurrection of the dead? But if there is no resurrection of the dead, then Christ has not been raised; if Christ has not been raised, then our preaching is in vain and your faith is in vain. We are even found to be misrepresenting God, because we testified of God that he raised Christ, whom he did not raise if it is true that the dead are not raised. For if the dead are not raised, then Christ has not been raised. If Christ has not been raised, your faith is futile and you are still in your sins. Then those also who have fallen asleep in Christ have perished. If for this life only we have hoped in Christ, we are of all men most to be pitied. But in fact Christ has been raised from the dead, the first fruits of those who have fallen asleep. For as by a man came death, by a man has come also the resurrection of the dead. For as in Adam all die, so also in Christ shall all be made alive. But each in his own order: Christ the first fruits, then at his coming those who belong to Christ. Then comes the end, when he delivers the kingdom to God the Father after destroying every rule and every authority and power. For he must reign until he has put all his enemies under his feet. The last enemy to be destroyed is death. (cf. Mt 27:52-53)
Mary was preserved from sin in order to bear God incarnate. Because of this, she didn't have to undergo the bodily decay that is the lot of all fallen human beings. What more appropriate person should be made the "Second Eve": like Eve was before the fall? It makes perfect sense. The Assumption goes hand in hand with the general resurrection and the Immaculate Conception, and the latter goes hand-in-hand with the Incarnation itself. In biblical thinking, all things have a relationship to each other. Thus we see her being greatly exalted and venerated in heaven:
Revelation 12:1-5 And a great portent appeared in heaven, a woman clothed with the sun, with the moon under her feet, and on her head a crown of twelve stars; she was with child and she cried out in her pangs of birth, in anguish for delivery. And another portent appeared in heaven; behold, a great red dragon, with seven heads and ten horns, and seven diadems upon his heads. His tail swept down a third of the stars of heaven, and cast them to the earth. And the dragon stood before the woman who was about to bear a child, that he might devour her child when she brought it forth; she brought forth a male child, one who is to rule all the nations with a rod of iron, but her child was caught up to God and to his throne,
***
Photo credit: The Assumption of the Virgin, by Charles Le Brun (1619-1690) [public domain / Wikimedia Commons]
***