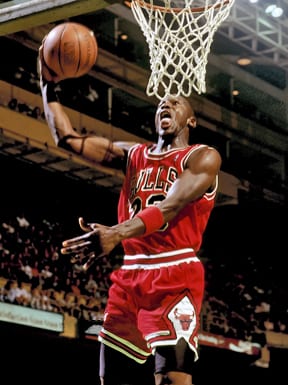 NBA basketball has been my favorite sport to watch for over 30 years now: ever since the Detroit Pistons, led by Isiah Thomas started becoming very good in the late 80s. I was born and raised in Detroit (till age 17) and have lived in metro Detroit my whole life. So I will obviously have that local bias. But I will make a "case" for the "bad boy" Pistons of that era, over against the bum rap that they seem to have gotten, which has been discussed a lot again recently, due in large part to an ESPN documentary about Michael Jordan, called The Last Dance.
It is a point of fact that the Pistons of 1987-1990 were among the greatest teams of all-time, and wound up winning back-to-back championships in 1989-1990 (against the Lakers and Trailblazers) and lost by three points in the 7th game in the 1988 Finals against the Lakers (we later suffered a heartbreaking loss in the last minute of a 7th game against the Spurs in 2005). Isiah Thomas sustained a severe sprained ankle in the 6th game in 1988 but even so, scored an NBA Finals record 25 third-quarter points after his injury, with the Pistons losing (maddeningly!) by one point. Clearly, we would have won the series, but for his injury. And if we had, we would have won three in a row: something even Magic Johnson's Lakers and Larry Bird's Celtics never did; only Jordan's Bulls of 1991-1993 and 1996-1998.
It might be said that we beat the Lakers in the 1989 NBA Finals "only" because Magic Johnson pulled his hamstring muscle near the end of the third quarter in game two. It was certainly a big factor, and starting guard Byron Scott was also out for the series with an injury. But the Pistons had already outplayed the Lakers in the series with Magic Johnson. We had won game one 109-97, and the score in game two was 75-73, with the Lakers leading, when Magic went down. The Pistons wound up sweeping the series, making us the most recent Eastern Conference team to do so in the NBA finals. We also had beaten the Lakers in both games during the regular season: winning by three at home and by eight in their arena, and had the better record during the regular season (a league-best 63-19 to their 57-25).
The Pistons of that era were also notable and unique for having "taken out" Larry Bird's three-time champion Celtics: beating them in 1988 for the eastern conference title. Their last championship was in 1986. We also took out Magic Johnson's Lakers in the 1989 Finals. That team last won the league title in 1988 against us, and were to lose to Jordan's Bulls in 1991. Thus, we eventually dominated the two best teams of the 1980s, and we also were dominant over Jordan's Bulls in three straight eastern playoff series, from 1988-1990. We beat the Bulls by 4-1, 4-2, and 4-3 in those three series: the last two being the eastern finals. And Jordan was already the best player in the league at the time.
This is the background: the "bad boy" Pistons were as good as, and eventually better than the Celtics and Lakers, and better than the Bulls up until 1991 when they went on their run of six championships in eight years (i.e., the last team to "beat Jordan").
Yet with this record of excellence, we wound up being widely despised (I think, most unfairly) as a supposedly uniquely "dirty" and "physical" team. I don't know about "dirty". The team was certainly physical in its defense, though: led by center Bill Laimbeer and forward Rick Mahorn; also future Hall-of-Famer Dennis Rodman. But we were not unique in that respect, and it's unfair to single us out for being so. Reggie Miller on some TV sports show recently pointed out that this was generally the style of play in the eastern conference at that time, and teams like the Knicks, Bucks, Celtics, and Heat were also known for their bruising defensive styles. It was the era of "no easy layups": especially in the playoffs.
But "physical play" was by no means confined to the eastern conference, Karl Malone had the most ever technical fouls with 332, and he played on all western conference teams. Charles Barkley is second with 329 and he played mostly in the west. Rasheed Wallace is third with 317. He wound up with the later Pistons (in the 2003 season), but played his first eight seasons with Portland. Gary Payton was 4th with 250. He played 14 of his 18 seasons in the western conference: mostly with Seattle. Dennis Rodman (more on him below) is 5th on the list with 212. He's the player with the most technical fouls who played almost solely in the east. And he played with the Pistons and the Bulls.
Personally, I care very little for that style of play myself, with deliberate fouls and (I think, unnecessarily) rough play. Basketball is not football or rugby. I've always said that if Bill Laimbeer ("Mr. elbow to the head") had been on another team, I would have intensely disliked him. I'm just making the point that the Pistons were not the only team that played like that. If other teams were doing it, then it became necessary to respond in kind, or be beaten.
In the 1984 NBA Finals between the Lakers and Celtics, the Celtics were down 2-1, having lost game three by 137-104 (the worst playoff loss in the team's history). Larry Bird derided his team for playing like "sissies" and the Celtics decided to start playing with much more physical aggression: eventually winning the series 4-3. Wikipedia describes the physical nature of game four in particular: "The game was also marked by Celtic forward Kevin McHale's clothesline take-down of Laker forward Kurt Rambis on a breakaway layup which triggered the physical aspect of the rivalry. Larry Bird would go after Kareem Abdul-Jabbar later on in the third quarter, . . ."
In describing game six, the article noted: "the Lakers answered the Celtics' rough tactics when Laker forward James Worthy shoved Cedric Maxwell into a basket support." This was, precisely, "bad boy"-style basketball: three years before the Pistons became famous (or notorious) for it. It wasn't just us! In fact, we probably learned it mainly from the Celtics, because they were the team we had to beat in the east. Karl Malone, for example, elbowed Michael Jordan in the face in 1988 and gave Isiah Thomas a vicious sledgehammer elbow in 1991, causing 40 stitches near his eye. Many other such examples can easily be found in searches on You Tube.
This sort of rough, aggressive play caused the NBA to start enacting the "flagrant foul" and establishing "proper penalties for it in 1990-91, to deter contact which, in addition to being against the rules, puts an opponent's safety or health at risk." Between that and the increasing dominance of the three-point shot (Reggie Miller / Ray Allen / Steph Curry), the game has changed quite a bit in the last thirty years.
Much is currently being made of the fact that the Pistons walked off the court at the end of the eastern finals in 1991, without congratulating the winner, thus snubbing Jordan's Bulls, who had finally beaten them, and displaying a lack of sportsmanship that has been widely and roundly criticized. The act was suggested by Bill Laimbeer, with the agreement of Isiah Thomas. Laimbeer in a recent interview, still stood by his decision; calling the Bulls a bunch of "whiners."
Isiah Thomas, on the other hand, agrees that it was wrong (and did so even later that year) and says that he would have acted differently if he could go back. But he has also explained that it was an era of very intensive rivalries, where teams literally "hated" each other. The Bulls-Pistons rivalry was not the only one of that nature. The Lakers and Celtics displayed a much more intense mutual "hatred" that had a long history since the 1960s and the great Bill Russell Celtic teams, that won eleven championships.
Again, I greatly dislike the notion that athletic competitiveness has to descend to virtual hatred. I'm extremely competitive in all the many sports I have played (including minor "trash talk" in games like ping pong), but it never became personal. It was always in fun. But this is how the NBA was in those days. Again, it's not fair to single out the Pistons for a now-admitted mistake. Larry Bird, for one, acted in much the same way. He was a sore loser (which many intensely competitive players are: including Magic Johnson and Michael Jordan). Bird didn't run up to congratulate Magic Johnson when the latter's team won the NCAA championship in 1979. He sat on the bench in despair: his face in a towel.
Likewise, when the Pistons finally beat the Celtics to win the eastern conference championship in 1988, Bird (with most of the Celtics team) glumly walked off the court with no congratulations. It was Kevin McHale (I distinctly remember) who was the good sport, wishing Isiah Thomas the best in the NBA Finals (which I thought was very classy at the time). Nor was Jordan much of a good sport when we kicked his butt for three straight years in the playoffs from 1988-1990 (see a good article about "The Jordan Rules" which the Pistons utilized to shut down Jordan). He was a ferocious pouter. Bill Laimbeer had a certain point. But it was primarily a Michael Jordan put-down of the Pistons during the same series that caused Laimbeer to suggest walking off the court as a defiant reaction. A Vintage Detroit article on the incident explains:
After doing his part to rid the league of "The Bad Boys" in a "clean" series sweep, Jordan commented, "The dirty play and the flagrant fouls and unsportsmanlike conduct, hopefully that will be eliminated from the game with them gone."

He added, "I think people are happy the game will get back to a clean game." . . .

Before the series was even over, Jordan spoke about how "The Bad Boys" were bad for the game.

As Thomas noted during a 2013 recording of NBA TV's Open Court, "They (the Bulls) were up 3-0, and then, they had this press conference just totally disrespecting us as champions."
A Chicago Tribune article from that time contained more Jordan disparaging comments:
"I think we play clean basketball," added Jordan. "We don't go out and try to hurt people and dirty up the game.

"You never lose respect for the champions. But I haven't agreed with the methods they used. . . .

"I don't think people want that kind of basketball. I think they want to push that type of basketball out. . . .

"Detroit's been very successful with their style and other teams tried to copy it because they were successful, and that's not good for the game.

"We've taken the Good Boy image and walked away," Jordan added. "We may have complained about it and told the teacher, or whatever, but we never tried to lower ourselves to that level. We didn't lose our cool or our heads. We maintained our poise."
It's said that this controversy caused Jordan to want to keep Isiah Thomas off of the Olympic Dream Team in 1992, but according to John Salley, who played for both teams, it was Magic Johnson who was the main reason this happened. Magic was resentful that the Lakers lost to the Pistons in 1989 and when he came down with the HIV virus, he somehow got the notion that Isiah Thomas was spreading rumors that he was a homosexual (a thing that Thomas vehemently denies). This led to a nearly 30-year freezing-up of their previous warm friendship. They recently reconciled: which I have noted in one of my articles, including a heartfelt apology from Magic.
Michael Jordan, in The Last Dance, expressly denied any effort to keep him off the Dream Team: "You want to attribute it to me, go ahead and be my guest, . . . but it wasn't me." And it's a matter of record that Jordan has called Isiah Thomas the second-best point guard ever, after Magic Johnson.
Isiah recently observed that he was the president of the National Basketball Player Association for six years (1988-1994), and was voted as such unanimously. His point was that he couldn't have been that unpopular as a player, to get so many votes to represent other players. NBA players have a lot to thank him for:
[H]e helped establish four historic Collective Bargaining Agreements and pushed to raise the average NBA player's salary, which increased from $300,000 to $1.8 million. He also used his keen knowledge of marketing to help guide the expansion of the NBA into a multi-billion dollar industry.
This would have included people like Scottie Pippen, who certainly didn't want him on the Dream Team. One theory has it that Pippen resented remarks made after his abysmal performances in the 1989 (deciding game six) and 1990 (game seven) eastern conference finals. In 1989, he received a Laimbeer elbow a minute into the game, stuck an ice-pack on his head (causing a regretful visual) and sat out the entire rest of the game. The next year he also had a migraine headache and played 42 minutes but managed to score only two points.
This is a strong contrast to Isiah Thomas scoring 25 in a quarter on a sprained ankle in the 1988 Finals and Jordan's famous Finals game where he had a severe flu. So he developed a reputation as "soft" (some derisively calling him "Sitting Bull") and no doubt some of the Pistons made statements that Pippen wouldn't have thought much of. But we weren't the only ones. A 1997 AP article observed:
[T]he lesson learned then should not be forgotten today: There is plenty of quit in Pippen. Always was. Always will be.

When Jordan took off one entire season and most of a second to play baseball, Pippen took over the lead and the Bulls produced respectable records in both before losing to New York and Orlando, respectively, in the playoffs. But the strain on Pippen was evident.

He whined incessantly about being underpaid. He got arrested with a loaded gun in his car. A few weeks later, he got booed during a bumpy stretch and blamed it on racism. Not long after that, with Chicago down two games to none against the Knicks at home in the playoffs and 1.8 seconds left, he staged a boycott because the last play was called for Toni Kukoc.
So it wasn't just Isiah Thomas and/or the Pistons who thought this about Pippen. After the last outrageous incident, teammate Bill Cartwright tearfully rebuked Pippen in the locker room for letting down the team, and Pippen apologized. But it seems that such things have led Pippen to despise Isiah Thomas to this day, and caused him to not want him on the Dream Team in 1992. I respectfully suggest that he look at the beam in his own eye.
Charles Barkley, member of that fabled team, has said that Thomas should have been included, and member John Stockton chose Thomas as the one who installed him into the Hall of Fame. Likewise, Karl Malone stated in 2012:
First of all guys, you know, it wasn't my job to pick the team. OK, . . . It didn't matter who was out there, they are part of our team. I didn't have that kind of [influence] and I would like to think that nobody else did. There were a lot of great athletes left off that team. . . . I never had any issue with Isiah. I think guys realized that it didn't matter who was on the team. I know I could have cared less. It didn't matter to me who was on that team. I was a part of something great.
Sports commentator Michael Wilbon apologized to Isiah Thomas for mischaracterizing (on 5-4-20) the extent of Dream Team opposition to him:
My apologies to Isiah Thomas… multiple sources reached out to tell me I'm dead wrong to say 9 members of the Dream Team objected to Isiah being on the '92 Olympic team. Nowhere near that number objected. My apologies to Isiah for getting it wrong…
It's also fascinating that, after criticizing the Pistons' style of play, the Jordan-era Chicago Bulls acquired both John Salley (1995-1996) and Dennis Rodman (1995-1998): who were certainly key parts of the "bad boy" image and playing style (both rather physical power forwards). Backup center James "Buddha" Edwards was also hired to play for the Bulls in 1995-1996. Why would that be? Certainly, Jordan would have had input into those decisions. The star players of teams always do.
So the Bulls all of a sudden got three former Pistons in 1995: after Jordan had been on record excoriating the team for dirty play just four years earlier? Rodman certainly played a key role in the Jordan Bulls' last three championships in 1996-1998, averaging a league-leading 14.9, 16.1, and 15.0 rebounds. Such excellent defense was central to the "bad boys" also (Rodman had led the league in rebounds twice with the Pistons, too: in 1991-1992 and 1992-1993). Something doesn't add up there. It suggests that maybe Michael was spouting off in the heat of the moment, and perhaps thought better of it later.
There is nothing to suggest that Rodman played any differently for the Bulls than he did for the Pistons. In his first season with the Bulls (1995-1996, he had 23 technical fouls and was suspended for six games for head-butting a referee (!). But did the Bulls ultimately care about this behavior? No. And they didn't because they were winning, as a 1996 article noted:
The Bulls had the NBA title in mind when they acquired Rodman from San Antonio before the season. The Spurs wanted to jettison the league's top rebounder because they felt his selfish behavior undermined their playoff runs the previous two seasons.

Chicago was the only taker. . . .

The fact that the Bulls rarely lose — they are on pace to become the first NBA team to win 70 games — made Rodman's antics and quirks easier for everyone to dismiss.
In other words, "whatever works" (including technical fouls and overtly physical play) to win a championship is fine: which is precisely what was Jordan's and others' rap against the "bad boy"-era Detroit Pistons. It's the height of hypocrisy for Jordan and the Bulls to look down on the Pistons as "dirty" and too physical and then to acquire Dennis Rodman, who did exactly the same stuff with them, and wink at it simply because they were the best in the league. So were the Pistons in 1988-1989 and 1989-1990! So where is the beef? Rodman wound up with 212 technical fouls in his career: the fifth-highest total of anyone.
I think it all adds up to a bum rap against the Pistons. The one thing they did wrong (walk off the court without congratulating the winner), Isiah Thomas has freely acknowledged was wrong. Why, then, is it still held against him and the Pistons? No one is perfect. Larry Bird did the same, three years earlier in the same conference final, but no one holds it against him. And their style of play was widespread, at least in the eastern conference: including by the Celtics. Different styles become dominant at different times in sports. If certain things were allowed, they were. The league later changed its mind.
But we can't blame teams for successfully taking advantage of a style, as long as the league was allowing it. And that remains true whatever one may think of the physical play. As I said, I don't care for it myself. But the double standard employed in using this reasoning to single out the Pistons as a "dirty team" is unacceptable, and the so-called "bad boy" Pistons — led by the superb Hall-of-Famer Isiah Thomas and fellow guard and Hall-of-Famer Joe Dumars (whom I have had the pleasure to meet) deserve their due as one of the greatest NBA teams of all time.
***
Photo credit: Michael Jordan during the 1987-88 NBA season; by Steve Lipofsky www.Basketballphoto.com [Wikimedia Commons / Creative Commons Attribution-Share Alike 3.0 Unported license]
***