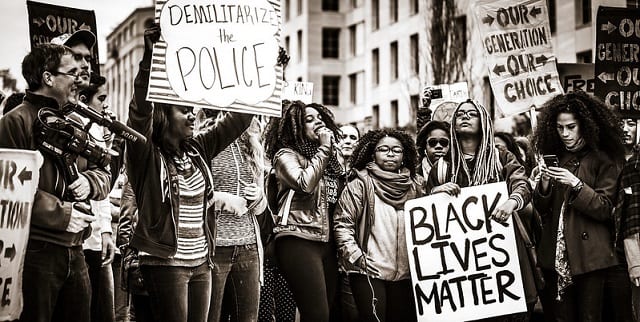 This was an exchange on Facebook with Bryson Townsend, whose words will be in blue.
*****
Where are your posts about police brutality?
The charges against Chauvin now are second-degree murder without intent, third-degree murder and second-degree manslaughter. The other three officers who stood by are being charged with aiding and abetting second-degree murder and aiding and abetting second-degree manslaughter.
Yes, I'm in favor of this development. I have yet to find anyone of any political persuasion who defends this action (which I say is murder) against George Floyd. If anyone finds a case of agreement from anyone who is not a KKK wacko (where such a view would be expected), please let me know.

*

I agree that it's extremely troubling. Just one bad apple can be comprehended, but three others watching and enabling it is beyond insane; pure evil. And they included a black man and an Asian-American and Hispanic-American, so it wasn't just the good ol' boy white man's network. It's like it represented the increasing diversity of America. And this wasn't even the South. It was liberal Minnesota: the land of Hubert Humphrey and Walter Mondale.

*

I think we more or less have to conclude that there is truly significant racism and corruption among police: even if it is a relatively small minority. It's enough for these incidents to keep happening, and enough to conclude that it is absolutely necessary to reform it now.
It's no different from sexual abuse among Catholic priests and indeed (as we are sadly finding out) in every other sector of society. There are networks that try to cover up these hideous sins. And there is tremendous corruption in government: even you and I agree that what was done with the FBI was against the rule of law and should have never occurred.
The question is the degree to which this is a problem. Do we reform the police and get rid of bad cops or do we defund them and continue trying to injure or even kill them?
*
George Floyd is merely one case amongst many of a problem that has continued to plague many Americans. Have you heard of Breonna Taylor? Elijah McCain? Philando Castile? We don't have to abolish police to be vocal about police brutality. Your platform highlights riots more than peaceful protests and the actual victims of police brutality.
*
I've been following it closely. It has to be a case-by-case basis. In the latest incident in Kenosha, the shooting victim, Jacob Blake (with a police record) has admitted that he was in possession of a knife. He was being arrested but then got up and walked to his car (apparently to get something, which may have been a weapon, for all the police know). We now have a longer video that proves this. All this guy had to do was cooperate with the police, and he wouldn't have been shot. It's not rocket science.
*
Now, I don't know why they had to shoot him seven times. It may very well have been an example of excessive force. All the facts have to be ascertained, and the only thorough, fair way to do that is with a jury trial. I am opposed to "trial by the [liberal] media." That's now how our legal system works. It's designed to be as fair and just as possible and to get at the facts, determined by an impartial jury of one's peers. Until that happens, I can't make a final judgment on it.
*
Jason Whitlock, the black sports commentator, has called for further investigation before making a judgment, and has chastised LeBron James as a "bigot" for failing to do so, and making bigoted remarks. He wrote:
I'm black. I'm not scared. I'm not terrified. . . . If you comply with police instructions, there is virtually no chance of an American citizen being harmed by police. . . .
Jacob Blake, . . . had an active arrest warrant for third-degree sexual assault at the time of the shooting. Blake has previously been arrested for pointing a weapon at people, carrying a concealed weapon into a building and domestic violence. . . .

*

When I watched the initial viral video showing police shooting Blake in the back I was outraged. I waited to calm down. I sent the video to a couple of friends and discussed it with them. We wondered why it was only 20 seconds. Why was it edited? Was it edited and then released to provoke outrage, fear and rioting?

*

I decided it was best to wait for additional information before making any sort of comment. (I'm still waiting for additional information. This column is not a defense of the police or vilification of Blake.)
LeBron James has more than 40 million followers on Twitter. Doesn't he have a moral responsibility to be informed and measured before commenting on a controversy that could inspire civil unrest? What's the harm in waiting 48 hours, 72 hours or a week? (

"Whitlock: LeBron James is a Bigot,"Outkick

, 8-26-20)
In an even
more
scathing article, Whitlock opines:
The politicization of Jacob Blake is a byproduct of political dishonesty. The prevailing sentiment propagandized by BLM that police are intentionally targeting black men is a political ploy.

Jacob Blake, George Floyd, Eric Garner and Rayshard Brooks are not examples of "systemic racism." If anything, they're examples of "systemic resisting arrest." . . .

It's a joke. The architects of the system are using LeBron James and athletes to point black people at the wrong target. The athletes are useful idiots. They've been talked into dedicating themselves to ensuring that career criminals are unharmed while resisting arrest and refusing to comply with police instructions.

The Detroit Lions canceled practice so they could speak out on behalf of a man wanted for sexual assault. The city of Kenosha is being burned to the ground on behalf of a man who wrestled with police and wouldn't comply with instructions at gunpoint.

Across the country, police kill roughly 250 to 300 black people a year. The overwhelming majority of those killed are armed and violently resisting arrest. Thousands of black people are killed by black people every year. In Detroit alone roughly 250 black people are murdered annually. The majority of the murders go unsolved.

The Detroit Lions do not care.

An unarmed black man is a million times more likely to be killed by another black man than the police. But LeBron is terrified of police? ("BLM 101: Career Politicians Who Created Systemic Unfairness are Playing LeBron and His Disciples for Suckers", Outkick, 8-27-20)
*
See also the related article: "Brandon Tatum: Jacob Blake Police Shooting Was Justified" (Tyler Stone, Real Clear Politics, 8-26-20)
*
Yet these factors make no difference to the rioters there. They're obviously not interested in the facts of the matter. Floyd was a case of true corruption, and everyone agrees with it.
*
I defend the police (i.e., as a whole, or in general terms), who are being massively lied about as if 90% of 'em are corrupt and racist (which can't be true because many are black), just like I defend the massive majority of Catholic priests who are good servants of God and must not be hated and lied about because of the 2% or so who molested children (a problem which is now seen to be in all areas of society).
*
Broad-brushing the police as evil, just as is done with many large groups (which is what Marxism does), is just as bigoted as any other form of prejudice. I'm a middle-aged suburban white guy, culturally (though not financially!) middle class, with southern ancestry, and Catholic and conservative and pro-life, so I am a target of bigotry from liberals on all those levels.
*
Don't get me started on "white privilege": with my upbringing in inner-city Detroit . . .
*
I just showed you how I have addressed brutality and endorsed police reform. I highlight the riots because they are far more prevalent than rare unjust shootings: and to balance what the liberal media does (and to encourage votes for republicans, who will oppose lawlessness, unlike many Democrat mayors).
*
One doesn't fight evil by going out and committing much more and greater evil than what one is supposedly opposing. One fights it with love, peaceful protest, civil disobedience, and reform and law: the Martin Luther King way (and the Malcolm X way in the last year of his life).
*
It is a case by case basis but my point is that these other cases are not being highlighted by your platform because they are indefensible. It's not like only black people are victims of police brutality. You're bringing up accusations of the police being racist. Who said that?
*
Of course, BLM says the police are racist. That's why black cops get taunted by moronic rich white suburban kids for not being black or Uncle Toms and all the usual "liberal white guilt" nonsense . . .
*
I'm speaking about police brutality. Do you deny that police brutality is a significant issue?
*
As I said, I am for police reform and weeding out all bad cops and unethical policing practices (whether racist or brutal or both). I think it is grotesquely exaggerated, how bad it is. You wish to defund the police? It seems that we only disagree on the degree of the problem and maybe the solution.
*
I am not entirely sure about defunding but whatever is defunded could be used to fund education and other important institutions. Police aren't the only ones who need a lot of funding. Are you familiar with
mappingpoliceviolence.org
? If you don't think it's a significant enough issue then look at those stats. Police have killed 751 people in 2020. I hope you don't think that's normal.
*
I don't have a basis to determine whether it is "normal" or not because it has to be determined on a case-by-case basis (which you agreed with above). If say, 700 of those involved suspects not cooperating with police, resisting arrest, literally attacking them with weapons, or reasonably thought to be in the attempt to do so (reaching for unknown things, etc.), then the police officer had a right to defend himself or herself. Also, what percentage is that of all arrests? It is certainly very tiny.
*
No doubt there are cases of true corruption and excess and unethical police behavior. Those officers should be prosecuted to the fullest extent of the law. I think virtually all cops would agree. No one detests a corrupt person more than others in their same group who aren't corrupt.
*
I know that many of the publicized cases were not at all what they were claimed to be, including the one that is "remembered" by "hands up" when that didn't even happen. That's just anecdotal, but I think it indicates the biases and predispositions likely in play. We have another case right now in Kenosha, where there are serious questions and it is not at all self-evident that it was police brutality.
*
But one would never know that by the riots taking place there: destroying property, including black-owned businesses (which inevitably suffer in almost all urban riots).
*
Jacob Blake did admit to having a knife in his possession, and why would someone resisting arrest go around his car and enter it? What are cops supposed to think of that? You're understandably "suspicious" if you try to do anything of that sort, while being arrested.
*
Seven shots, however, does seem to me, prima facie, to be excessive. I'd like to hear the officer explain that. At this point, it seems to me that there are decent arguments on both sides of the incident. But I would always defer to the informed judgment of a jury trial in such cases and not accept the account of the liberal media as GOSPEL TRVTH.
*
Jon Curry
, my atheist and very far left friend (with whom I wrote the paper referenced at the top), actually agreed with me:
*
I kind of agree with you. I don't see this as so much malicious on the part of the police officer as maybe more incompetent. When guns are drawn and you're ignoring police orders and reaching into your car, where we later learn there is a knife, what can we really expect of the police officer?
*
I absolutely agree police treatment of minorities and generally poorer people is an issue, but sometimes the examples that people seize on in protest are not the greatest. George Floyd was a perfect case, that's just straight murder and the other cops there are enabling it. This reveals a systemic issue, not a few bad apples. This case, though, I don't think is such a good example. There has got to be a better way to restrain someone in a safe way, so that's where you can criticize the police here, but not as if they are acting maliciously.
*
I've been doing jiu jitsu for a couple of years, I'm no expert, but I feel I could wrap an untrained person up safely and just hold them until the cuffs are on or whatever. Police, who exercise and are usually stronger than me should be able to do this and resort to guns less frequently.
*
I totally agree (stop the presses!).
***