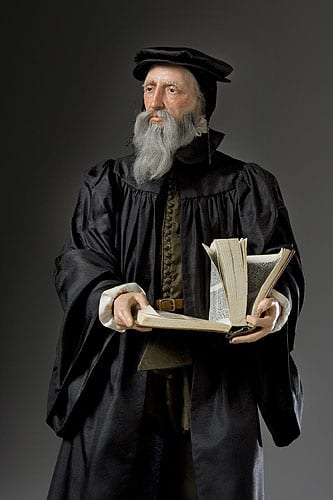 This is an installment of a series of replies (see the Introduction and Master List) to much of Book IV (Of the Holy Catholic Church) — and some of Book III — of Institutes of the Christian Religion, by early Protestant leader John Calvin (1509-1564). I utilize the public domain translation of Henry Beveridge, dated 1845, from the 1559 edition in Latin; available online. Calvin's words will be in blue. All biblical citations (in my portions) will be from RSV unless otherwise noted.
Related reading from yours truly:
Biblical Catholic Answers for John Calvin (2010 book: 388 pages)
A Biblical Critique of Calvinism (2012 book: 178 pages)
Biblical Catholic Salvation: "Faith Working Through Love" (2010 book: 187 pages; includes biblical critiques of all five points of "TULIP")
*****
III, 5:10
***
When, therefore, my opponents object, that it has been the practice for thirteen hundred years to offer prayers for the dead, I, in return, ask them, by what word of God, by what revelation, by what example it was done? For here not only are passages of Scripture wanting, but in the examples of all the saints of whom we read, nothing of the kind is seen. We have numerous, and sometimes long narratives, of their mourning and sepulchral rites, but not one word is said of prayers. But the more important the matter was, the more they ought to have dwelt upon it. . . .
We ought not to indulge our love so far as to set up a perverse mode of prayer in the Church. Surely every person possessed of the least prudence easily perceives, that whatever we meet with on this subject in ancient writers, was in deference to public custom and the ignorance of the vulgar. I admit they were themselves also carried away into error, the usual effect of rash credulity being to destroy the judgment. Meanwhile the passages themselves show, that when they recommended prayer for the dead it was with hesitation. Augustine relates in his Confessions, that his mother, Monica, earnestly entreated to be remembered when the solemn rites at the altar were performed; doubtless an old woman's wish, which her son did not bring to the test of Scripture, but from natural affection wished others to approve. His book, De Cura pro Mortals Agenda, On showing Care for the Dead, is so full of doubt, that its coldness may well extinguish the heat of a foolish zeal. Should any one, in pretending to be a patron of the dead, deal merely in probabilities, the only effect will be to make those indifferent who were formerly solicitous.
The only support of this dogma is, that as a custom of praying for the dead prevailed, the duty ought not to be despised. But granting that ancient ecclesiastical writers deemed it a pious thing to assist the dead, the rule which can never deceive is always to be observed—viz. that we must not introduce anything of our own into our prayers, but must keep all our wishes in subordination to the word of God, because it belongs to Him to prescribe what he wishes us to ask. Now, since the whole Law and Gospel do not contain one syllable which countenances the right of praying for the dead, it is a profanation of prayer to go one step farther than God enjoins. . . . I say nothing of those grosser superstitions by which they have fascinated the minds of the simple; and yet they are innumerable, and most of them so monstrous, that they cannot cover them with any cloak of decency. (III, 5:10)
Yet again, Calvin seems to have missed the portions of Scripture that his theology predisposes him to oppose. Catholics do not overlook them, and actually attempt to provide some sort of explanation:
1 Corinthians 15:29-31 Otherwise, what do people mean by being baptized on behalf of the dead? If the dead are not raised at all, why are people baptized on their behalf? [30] Why am I in peril every hour? [31] I protest, brethren, by my pride in you which I have in Christ Jesus our Lord, I die every day!
One Catholic interpretation of this fascinating passage holds that "baptized" is used not for the sacrament, but to denote redemptive suffering on behalf of the dead (analogous to prayer on their behalf) , along the lines of "baptism" used in this sense in other passages:
Mark 10:38 But Jesus said to them, "You do not know what you are asking. Are you able to drink the cup that I drink, or to be baptized with the baptism with which I am baptized?"

Luke 12:50 I have a baptism to be baptized with; and how I am constrained until it is accomplished!
The sense, in other words, is that if the dead don't rise again, why should anyone suffer and mortify themselves for them, or pray for them? 15:30-31 backs up this interpretation, because Paul links his own suffering to the preceding verse. It's also backed up by a very similar deuterocanonical passage:
2 Maccabees 12:40-45 Then under the tunic of every one of the dead they found sacred tokens of the idols of Jamnia, which the law forbids the Jews to wear. And it became clear to all that this was why these men had fallen. [41] So they all blessed the ways of the Lord, the righteous Judge, who reveals the things that are hidden; [42] and they turned to prayer, beseeching that the sin which had been committed might be wholly blotted out. And the noble Judas exhorted the people to keep themselves free from sin, for they had seen with their own eyes what had happened because of the sin of those who had fallen. [43] He also took up a collection, man by man, to the amount of two thousand drachmas of silver, and sent it to Jerusalem to provide for a sin offering. In doing this he acted very well and honorably, taking account of the resurrection. [44] For if he were not expecting that those who had fallen would rise again, it would have been superfluous and foolish to pray for the dead. [45] But if he was looking to the splendid reward that is laid up for those who fall asleep in godliness, it was a holy and pious thought. Therefore he made atonement for the dead, that they might be delivered from their sin.
Seeing how Protestant commentators grapple with the notion of "baptism for the dead" is a very interesting endeavor indeed. Calvin, desperate to avoid any hint of any sort of assistance for the dead in purgatory, seizes on a rather improbable scenario: hardly suggested by the reading.
He argues in his Commentaries that the passage refers to those who are about to die; thus the baptism is related to their own death "inasmuch as it could not be of any service to them in this world." Readers may judge whether that makes more sense than what I have suggested.
But if this Bible passage is rejected as any sort of indication of prayer for the dead, there is an even clearer one from St. Paul, where he is literally praying for a dead person, who is named:
2 Timothy 1:16-18 May the Lord grant mercy to the household of Onesiph'orus, for he often refreshed me; he was not ashamed of my chains, [17] but when he arrived in Rome he searched for me eagerly and found me — [18] may the Lord grant him to find mercy from the Lord on that Day — and you well know all the service he rendered at Ephesus.
Once again, as we would suspect, Protestant commentators are all over the ballpark with this; wishing to avoid any conclusion that it is prayer for the dead. The way they try to evade it is to claim either that Onesiphorus wasn't dead (Calvin and, e.g., Presbyterian exegetes Albert Barnes and Matthew Henry and Baptist A. T. Robertson), or that Paul wasn't praying (Robertson), with more taking the first option.
These views simply aren't coherent or believable. It's much more sensible to hold with Catholics that Paul is praying for a dead man. Everything in the text suggests it.
Now if Calvin and his followers still want to deny that the Bible ever teaches prayer for the dead, there are yet more verses in the New Testament that are crystal-clear and undeniable. Jesus and Peter and Elijah prayed for dead people: to be raised. This is prayer for the dead, and can't be considered anything but that. They prayed for a positive impact on the lives of people who were dead: to come back to earthly life.
These are unusual circumstances, but still count as biblical examples that Calvin vehemently denied existed. We're informed that the disciples also raised people from the dead (Mt 11:5; Lk 7:22) and that Jesus told them that they would and should do so (Mt 10:8).
Moreover, there are many recorded instances throughout history, including reports from St. Irenaeus, Pope St. Gregory the Great, and St. Augustine (City of God, Book XXII, ch. 8), and actual raisings said to be performed by St. Hilary, St. Ambrose, St. Martin of Tours, St. Benedict, St. Bernard, St. Malachy, St. Anthony of Padua, St. Elizabeth, St. Catherine of Siena, St. Teresa of Avila, St. Ignatius Loyola, St. Dominic, St. Philip Neri, St. Patrick, St. Francis Xavier, and many others.
In the first passage below, Jesus not only prays for Lazarus, but in a sense, to him as well, by commanding him (a dead person). The same occurred when He raised Jairus' daughter and the son of the widow of Nain. In commanding them to rise, He was simultaneously praying for them.
Likewise, when Peter raised Tabitha, the text specifically notes that he "prayed" and then commanded her. Calvin in his Commentaries, stated that Peter "speaketh unto a corpse": the dreaded "communication with the dead"). Lastly, the prophet Elijah clearly prayed (successfully) for a child to be raised.
John 11:41-44 So they took away the stone. And Jesus lifted up his eyes and said, "Father, I thank thee that thou hast heard me. [42] I knew that thou hearest me always, but I have said this on account of the people standing by, that they may believe that thou didst send me." [43] When he had said this, he cried with a loud voice, "Laz'arus, come out." [44] The dead man came out, his hands and feet bound with bandages, and his face wrapped with a cloth. . . .

Mark 5:39-42 And when he had entered, he said to them, "Why do you make a tumult and weep? The child is not dead but sleeping." [40] And they laughed at him. But he put them all outside, and took the child's father and mother and those who were with him, and went in where the child was. [41] Taking her by the hand he said to her, "Tal'itha cu'mi"; which means, "Little girl, I say to you, arise." [42] And immediately the girl got up and walked (she was twelve years of age), and they were immediately overcome with amazement.

Luke 7:14-15 And he came and touched the bier, and the bearers stood still. And he said, "Young man, I say to you, arise." [15] And the dead man sat up, and began to speak. And he gave him to his mother.

Acts 9:40-41 But Peter put them all outside and knelt down and prayed; then turning to the body he said, "Tabitha, rise." And she opened her eyes, and when she saw Peter she sat up. [41] And he gave her his hand and lifted her up. Then calling the saints and widows he presented her alive.

1 Kings 17:18-23 And she said to Eli'jah, "What have you against me, O man of God? You have come to me to bring my sin to remembrance, and to cause the death of my son!" [19] And he said to her, "Give me your son." And he took him from her bosom, and carried him up into the upper chamber, where he lodged, and laid him upon his own bed. [20] And he cried to the LORD, "O LORD my God, hast thou brought calamity even upon the widow with whom I sojourn, by slaying her son?" [21] Then he stretched himself upon the child three times, and cried to the LORD, "O LORD my God, let this child's soul come into him again." [22] And the LORD hearkened to the voice of Eli'jah; and the soul of the child came into him again, and he revived. [23] And Eli'jah took the child, and brought him down from the upper chamber into the house, and delivered him to his mother; and Eli'jah said, "See, your son lives."
That brings the total to seven passages about, or describing prayer for the dead, and another very clear one in the deuterocanon: that Calvin (wrongly) rejects as not canonical. In fact, indirectly, Jesus even commanded His disciples to pray for the dead ("Heal the sick, raise the dead, . . .": Mt 10:8). We've seen the models above, of how one raises another from the dead. They include prayer, and also talking to the dead person.
All of this is quite anathema and unthinkable to Calvin and most Protestants, but there it is, right in front of us, in Holy Scripture. Are we to follow the forbidden mere traditions of men, that go contrary to Scripture, or God's inspired, infallible Word (as the Catholic Church has done in this instance)? The choice is very easy.
***
(originally 2012)
Photo credit: Historical mixed media figure of John Calvin produced by artist/historian George S. Stuart and photographed by Peter d'Aprix: from the George S. Stuart Gallery of Historical Figures archive [Wikimedia Commons / Creative Commons Attribution-Share Alike 3.0 Unported license]
***