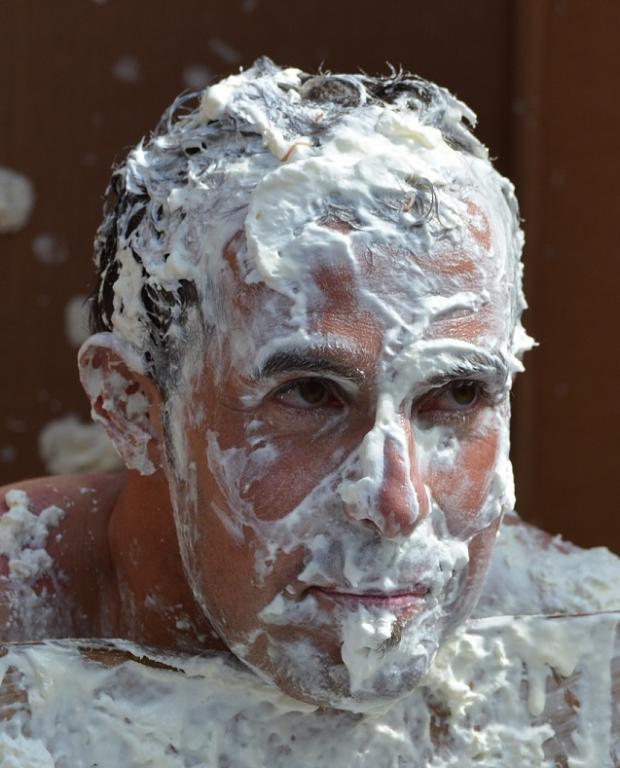 I had written on April 30th: "Low traffic again, so time for an old photo to generate some interest for theology.
We live in a strange world."
*
That was my way of satirizing and objecting to the fact that baby photos (which is what I posted here) get a lot more hits than pieces on serious theology.
*
Steve Skojec
tweeted on May 2nd
:
"Gee, Dave, why do you have low traffic? That's a head-scratcher."
Of course, I was referring in this context strictly to Facebook and the very well-known problem of the Facebook algorithm changes that have affected many Christians, pro-lifers, and conservatives. Yeah, I seem to get less traffic on Facebook than I used to, but many many people are reporting the same thing. It's not because folks allegedly like my writing a lot less than they used to (or perhaps Steve thinks they never did, for all we know, despite my four bestselling books in the field).
*
Elsewhere, I'm doing quite fine, in case Steve is prematurely rejoicing at my hoped-for demise. No doubt, I don't get the traffic he gets because negativity always sells well among certain folks. Moaning and groaning and trashing popes, the Mass, and Vatican II will draw lots and lots of hits from the usual suspects.
*
That plus the regular begging and pleading that takes place on his site, One Vader Five, will bring money in and more folks due to advertising, etc. Me, I spend very little time in overt solicitation (and never ever solicit individuals directly). I simply crank out the apologetics and defenses of Holy Mother Church day in and day out, trusting God to provide: which He has done for over 16 years now of full-time apologetics.
*
Skojec and his fellow reactionaries at The Remnant specialize in pretending that I am irrelevant and that supposedly no one reads me any more. That would be news to Google Analytics, which keeps track of my page views at Patheos (host of my blog). It shows 1,417,268 page views since I started blogging there in August 2015, for an average of 1404 page views a day the entire time. Not bad for being all washed-up, huh? I was averaging about 600 views a day on my old Blogspot blog before I moved it, so it is an increase of 134% over the last almost three years: hardly an indication of less and less readership all the time.
*
Also, the folks at National Catholic Register don't seem aware that I am out to pasture and a non-factor in the apologetics / Catholic writer world, as Steve thinks. For example, my article there, dated 4-13-18):
"Biblical Evidence for the Perpetual Virginity of Mary"
reached #1 in the Trending Column on the right sidebar of the site. It also was the most-read article a few weeks ago on the very large Real Clear Religion page. It has gotten 3289 Facebook shares as of writing.
*
I guess in Skojo's fantasy world, this means no one is reading me anymore. The real head-scratcher is not his lying insinuation about me, but rather, why anyone reads the sewer bilge that he spews out, which is almost always running down the Holy Father and Holy Mother Church. Well, we know why. It's a thing called human nature, concupiscence, and the division that the devil loves to sow. People will always flock to that. It's the reason why three pope-bashing books are currently tearing up the charts at Amazon.
*
My priorities, on the other hand, are first and foremost to (by God's grace) share and defend Catholic truth, not to be popular, fulfill itching ears willing and ready to receive the latest worthless gossip, or to get tons of hits at the expense of truth and edifying Catholic material: which is sophistry and doing the devil's bidding. I'm only concerned about traffic (insofar as I am) because what motivates me is sharing the message of the Gospel and the fullness of the faith found in Catholicism, as widely as I can:
Matthew 28:19-20 (RSV) Go therefore and make disciples of all nations, baptizing them in the name of the Father and of the Son and of the Holy Spirit, [20] teaching them to observe all that I have commanded you; and lo, I am with you always, to the close of the age."
I have to stand accountable before God one day, for what I have done with the gift and vocation that He has given me. So does Steve. God is not mocked. I hope and pray that that thought crosses his mind once in a while.
***
I just found another shot that Skojo took at me
on 19 May 2019 on Twitter
(after a previous tweet in which he talked about "enduring charitably"):
"Dave A. can't resist plugging how smart he is and all of the books he's got out that nobody's reading."
*
Facebook friend Michael Speyrer noted: "Interesting in that the video interview I linked with Steve, he talks about how it was only when he started out that he was really concerned with traffic on his page, "now I don't even look at it any more." I guess that only holds true for his own page.
*
*
(originally posted on 5-4-18 on Facebook)
*
*