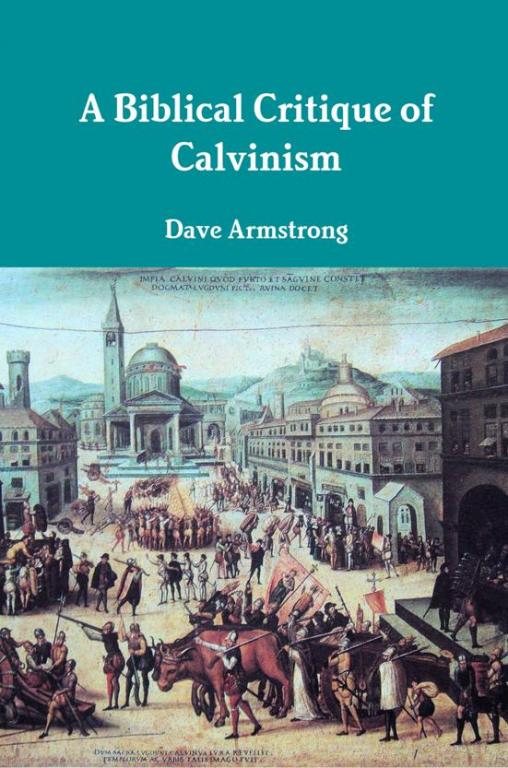 [see book and purchase information]
The following is from chapter 11 of my book, Biblical Catholic Salvation (2010), pages 103-114.
*****
Again, I shall utilize the eminent Presbyterian theologian Charles Hodge in order to properly define terms and to show what it is that Catholics oppose:
The whole question, therefore, concerns simply the purpose of God in the mission of his Son. What was the design of Christ's coming into the world, and doing and suffering all He actually did and suffered? Was it merely to make the salvation of all men possible; to remove the obstacles which stood in the way of the offer of pardon and acceptance to sinners? or, Was it specially to render certain the salvation of his own people, i.e., of those given to Him by the Father? (§ 1) . . .

These Scriptural facts cannot be admitted without its being also admitted that the death of Christ had a reference to his people, whose salvation it rendered certain, which it had not to others whom, for infinitely wise reasons, God determined to leave to themselves. It follows, therefore, from the nature of the covenant of redemption, as presented in the Bible, that Christ did not die equally for all mankind, but that He gave Himself for his people and for their redemption. (§2, 1) . . .

There are also very numerous passages in which it is expressly declared that Christ gave Himself for his Church (Ephesians v. 25); that He laid down his life for his sheep (John x. 15); that He laid down his life for his friends (John xv. 13); that He died that He might gather together in one the children of God that are scattered abroad (John xi. 52); that it was the Church which He purchased with his blood (Acts xx. 28). When mankind are divided into two classes, the Church and the world, the friends and the enemies of God, the sheep and the goats, whatever is affirmed distinctively of the one class is impliedly denied of the other. When it is said that Christ loved his Church and gave Himself for it, that He laid down his life for his sheep, it is clear that something is said of the Church and of the sheep, which is not true of those who belong to neither. . . . It is difficult, in the light of Ephesians v. 25, where the death of Christ is attributed to his love of his Church, and is said to have been designed for its sanctification and salvation, to believe that He gave Himself as much for reprobates as for those whom He intended to save. Every assertion, therefore that Christ died for a people, is a denial of the doctrine that He died equally for all men. (§2, 3) . . .

He intercedes for all for whom He offered Himself as a sacrifice. He himself, however, says expressly, "I pray not for the world, but for them which thou hast given me." (John xvii. 9.) Him the Father heareth always, and, therefore, He cannot be assumed to intercede for those who do not actually receive the benefits of his redemption. (§2, 6) . . .

Out of special love to his people, and with the design of securing their salvation, He has sent his Son to do what justifies the offer of salvation to all who choose to accept of it. Christ, therefore, did not die equally for all men. He laid down his life for his sheep; He gave Himself for his Church. But in perfect consistency with all this, He did all that was necessary, so far as a satisfaction to justice is concerned, all that is required for the salvation of all men. . . .

Admitting, however, that the Augustinian doctrine that Christ died specially for his own people does account for the general offer of the gospel, how is it to be reconciled with those passages which. in one form or another, teach that He died for all men? In answer to this question, it may be remarked in the first place that Augustinians do not deny that Christ died for all men. What they deny is that he died equally, and with the same design, for all men. (§2, 7) (Systematic Theology, three-volume edition [Charles Scribner and Company: 1871; reprinted by William B. Eerdmans Publishing Co. [Grand Rapids, Michigan, 1940]; Volume II, Part III, Chapter 8: "For Whom Did Christ Die?")
Ludwig Ott provides the Catholic counter-view:
In the year 1653, Pope Innocent X condemned as heretical the proposition that Christ died for the salvation of the predestined exclusively. D [Denzinger] 1096. In the year 1690, Pope Alexander VIII rejected the assertion that Christ offered Himself to God for the Faithful only (pro omnibus et solis fidelibus). D 1294. . . .

The universality of Christ's vicarious atonement refers to the objective Redemption only. Christ made sufficient atonement for all men without exception. The subjective appropriation of the fruits of Redemption is, however dependent on the fulfillment of certain conditions, on faith (Mk. 16,16), and on the observation of the Commandments (Hebr. 5,9; 2 Peter 1, 10). Accordingly the Schoolmen distinguish between sufficientia (adequacy) and efficacia (efficacy, success) of the atonement, and teach that Christ offered atonement for all mankind, secundum sufficientiam, but not secundum efficaciam. In other words: in acto primo Christ's atonement is universal; in actu secundo, it is particular. (Fundamentals of Catholic Dogma [Rockford, Illinois: TAN Books, 1974; originally 1952], translated by Patrick Lynch, 188-189; italics for Latin words added)
Charles Hodge, in the chapter cited above (§ 1) stated something that is quite similar to the distinction drawn by the Schoolmen, noted by Ott:
In view of the effects which the death of Christ produces in the relation of all mankind to God, it has in all ages been customary with Augustinians to say that Christ died "sufficienter pro omnibus, efficaciter tantum pro electis;" sufficiently for all, efficaciously only for the elect. There is a sense, therefore, in which He died for all, and there is a sense in which He died for the elect alone. The simple question is, Had the death of Christ a reference to the elect which it had not to other men?
In some ways, then (as in many soteriological matters, and several doctrines of TULIP), Calvinists and Catholics have considerable common ground. Often, the two positions are closer to each other than many on either side are aware of or even imagine. The issue of limited atonement is no exception.
The Calvinist error lies in asserting in a too-sweeping fashion that Jesus Christ died only for the elect (i.e., those who are actually saved in the end and go to heaven). But important (and perhaps surprising) similarities are evident in the comparison of Hodge and Ott's observations above. These should be kept in mind when we examine the biblical data.
The Catholic Church holds that man cannot save himself (contra Pelagianism and semi-Pelagianism), but because he has free will, he has to accept God's entirely free, unmerited gift of salvation. According to Calvinist thinking, on the other hand, the prisoner who is pardoned by the governor "saves himself" by accepting the pardon, rather than the governor "saving" him by setting him free. The act of accepting the pardon is not the most essential part of the transaction, but it is necessary.
An important distinction must be made between "saving oneself" and "accepting the saving that someone else accomplishes." We don't say, e.g., that a drowning man "saves himself" when he grabs onto a life preserver that someone tosses him. In a sense he participates in his "salvation," but the person who really "saved" him was his rescuer. He simply participated voluntarily in the rescue procedure.
The person who is committing suicide, on the other hand, refuses the aid of the rescue worker sent to save him, and jumps off the ledge or slits his wrist or blows his brains out. All of God's gifts have to be appropriated by man; otherwise, they lose their full meaning. God wants us to freely cooperate with His grace and love and serve Him. We are not robots.
Hodge noted that Christ died for the Church (Ephesians 5:25-27). Of course He did. But Hodge and Calvinists assume that the Church (the elect, as a Calvinist would see it) is all He died for. The text doesn't assert that. The Calvinist merely reads his prior assumption into the text. I could just as easily say, "He died for John Calvin" or "He died for Martin Luther." Saying one would not rule out the other.
Stating that He died for some does not necessarily rule out the proposition that He died for all, just as saying that "the Allied soldiers in World War II who died, died so that Europe could be free" doesn't preclude also saying, "the Allied soldiers in World War II who died, died so that the whole world could be free from Nazi and and Japanese imperialist tyranny."
This is a simple matter of logic. The elect are the ones who have appropriated God's free gift of salvation. But it doesn't follow that He is not potentially the Savior of all men or that He did not die for all men, even though He knew that many would spurn His opening up of the gift of salvation for all.
We know that God, in His merciful, loving nature (as revealed in the Bible: His inspired revelation, and His acts throughout history, would not be so unjust as to condemn a person eternally to hell, with that person having no choice or say whatever in his eternal destiny. God gives everyone enough grace to be saved if they will simply accept it. He loves all men and desires to save all men, but He won't override their free will to do so
Love is a matter of the will: wanting the best for another person. This is why we proclaim the gospel and desire to see men saved. That's not to say that no distinctions whatever can be made, as if we love perfect strangers more than our daughters or spouses. Familial and marital love will obviously be greater in the sense of affinity, affection, specific commitment, etc. Eros or romantic love is appropriate only with one's spouse.
None of these truisms suggest or necessitate, however, that God doesn't love all men or that He doesn't want all to be saved (a notion directly contrary to 1 Timothy 2:4 below). God loves all men, as the Bible teaches:
Ezekiel 33:11 (RSV). . . I have no pleasure in the death of the wicked, but that the wicked turn from his way and live . . .

Matthew 5:43-48 You have heard that it was said, 'You shall love your neighbor and hate your enemy.' [44] But I say to you, Love your enemies and pray for those who persecute you, [45] so that you may be sons of your Father who is in heaven; for he makes his sun rise on the evil and on the good, and sends rain on the just and on the unjust. [46] For if you love those who love you, what reward have you? Do not even the tax collectors do the same? [47] And if you salute only your brethren, what more are you doing than others? Do not even the Gentiles do the same? [48] You, therefore, must be perfect, as your heavenly Father is perfect. 

Luke 6:27 But I say to you that hear, Love your enemies, do good to those who hate you

Luke 6:35 But love your enemies, and do good, and lend, expecting nothing in return; and your reward will be great, and you will be sons of the Most High; for he is kind to the ungrateful and the selfish.

John 17:23 . . . so that the world may know that thou hast sent me and hast loved them even as thou hast loved me.

Romans 2:11 For God shows no partiality.

Galatians 2:6 . . . God shows no partiality . . .

Ephesians 6:9 . . . there is no partiality with him.

Colossians 3:25 For the wrongdoer will be paid back for the wrong he has done, and there is no partiality.
Compare these passages to the following three:
John 13:34 A new commandment I give to you, that you love one another; even as I have loved you, that you also love one another. 

John 15:12 This is my commandment, that you love one another as I have loved you.

1 John 4:8, 11 He who does not love does not know God; for God is love. . . . [11] Beloved, if God so loved us, we also ought to love one another.
If we are to love others as God loves us, and we're commanded to love our enemies, then it follows that God loved His enemies, too. Therefore, He doesn't love (and Jesus didn't die for) only the elect. Note how in the following passage (as in Rom 5:8 and Eph 2:3-5 above) God loved the sinners who didn't love Him back or decide to follow Him and do His will (many of whom were among the non-elect and who would end up in hell):
Matthew 23:37-38 O Jerusalem, Jerusalem, killing the prophets and stoning those who are sent to you! How often would I have gathered your children together as a hen gathers her brood under her wings, and you would not! [38] Behold, your house is forsaken and desolate.
The following passages show that Jesus died for all men; His atonement applied to all men, and that God desires that all be saved, even though some (in their free will) accept His work on their behalf and others reject it: 
Deuteronomy 30:15, 19 . . . I have set before you this day life and good, death and evil. . . . [19] . . . I have set before you life and death, blessing and curse; therefore choose life, that you and your descendants may live, 

Psalm 86:5 For thou, O Lord, art good and forgiving, abounding in steadfast love to all who call on thee. 

Isaiah 53:5-6 But he was wounded for our transgressions, he was bruised for our iniquities; upon him was the chastisement that made us whole, and with his stripes we are healed. [6] All we like sheep have gone astray; we have turned every one to his own way; and the LORD has laid on him the iniquity of us all. 

Isaiah 55:1 Ho, every one who thirsts, come to the waters; . . . (cf. 45:22; Joel 2:32) 

Zechariah 1:3 Therefore say to them, Thus says the LORD of hosts: Return to me, says the LORD of hosts, and I will return to you, says the LORD of hosts. 

Matthew 9:13 . . . For I came not to call the righteous, but sinners.

Matthew 11:28 Come to me, all who labor and are heavy laden, and I will give you rest. 

Mark 2:17 And when Jesus heard it, he said to them, "Those who are well have no need of a physician, but those who are sick; I came not to call the righteous, but sinners." 

Luke 5:31-32 And Jesus answered them, "Those who are well have no need of a physician, but those who are sick; [32] I have not come to call the righteous, but sinners to repentance." 

Luke 19:10 For the Son of man came to seek and to save the lost.

John 1:29 The next day he saw Jesus coming toward him, and said, "Behold, the Lamb of God, who takes away the sin of the world!" 

John 3:14-17 "And as Moses lifted up the serpent in the wilderness, so must the Son of man be lifted up, [15] that whoever believes in him may have eternal life." [16] For God so loved the world that he gave his only Son, that whoever believes in him should not perish but have eternal life. [17] For God sent the Son into the world, not to condemn the world, but that the world might be saved through him.

John 4:42 ". . . this is indeed the Savior of the world."

John 6:33 For the bread of God is that which comes down from heaven, and gives life to the world. (cf. 8:12; 9:5) 

John 6:51 I am the living bread which came down from heaven; if any one eats of this bread, he will live for ever; and the bread which I shall give for the life of the world is my flesh.

John 11:51-52 He did not say this of his own accord, but being high priest that year he prophesied that Jesus should die for the nation, [52] and not for the nation only, but to gather into one the children of God who are scattered abroad. 

John 12:32 and I, when I am lifted up from the earth, will draw all men to myself.

John 12:46 If any one hears my sayings and does not keep them, I do not judge him; for I did not come to judge the world but to save the world. (cf. 12:46: "light into the world") 

John 17:21 that they may all be one; even as thou, Father, art in me, and I in thee, that they also may be in us, so that the world may believe that thou hast sent me. (cf. 17:23)

Acts 2:21 And it shall be that whoever calls on the name of the Lord shall be saved. (cf. Rom 10:13)

Romans 5:6 While we were still weak, at the right time Christ died for the ungodly.

Romans 5:15 But the free gift is not like the trespass. For if many died through one man's trespass [original sin], much more have the grace of God and the free gift in the grace of that one man Jesus Christ abounded for many. [universal atonement] (cf. 5:17, 20-21)

Romans 11:32 For God has consigned all men to disobedience, that he may have mercy upon all.

2 Corinthians 5:14-15, 19 For the love of Christ controls us, because we are convinced that one has died for all; therefore all have died. [15] And he died for all, that those who live might live no longer for themselves but for him who for their sake died and was raised.. . . [19] that is, in Christ God was reconciling the world to himself, not counting their trespasses against them, and entrusting to us the message of reconciliation.

1 Timothy 1:15 The saying is sure and worthy of full acceptance, that Christ Jesus came into the world to save sinners. And I am the foremost of sinners;

1 Timothy 2:3-6 . . . God our Savior, [4] who desires all men to be saved and to come to the knowledge of the truth. [5] For there is one God, and there is one mediator between God and men, the man Christ Jesus, [6] who gave himself as a ransom for all, . . .

1 Timothy 4:10 For to this end we toil and strive, because we have our hope set on the living God, who is the Savior of all men, especially of those who believe.

Titus 2:11 For the grace of God has appeared for the salvation of all men 

Hebrews 2:9 But we see Jesus, who for a little while was made lower than the angels, crowned with glory and honor because of the suffering of death, so that by the grace of God he might taste death for every one.

2 Peter 2:1, 15 But false prophets also arose among the people, just as there will be false teachers among you, who will secretly bring in destructive heresies, even denying the Master who bought them, bringing upon themselves swift destruction.. . . [15] Forsaking the right way they have gone astray . . .

2 Peter 3:9 The Lord is not slow about his promise as some count slowness, but is forbearing toward you, not wishing that any should perish, but that all should reach repentance.
If these are people who never were saved (as a Calvinist would say), then how can it be stated that Jesus "bought them"? Believers in limited atonement think that Jesus only "buys" those who are indeed saved and of the elect.
1 John 2:2 and he is the expiation for our sins, and not for ours only but also for the sins of the whole world. 

1 John 4:14 And we have seen and testify that the Father has sent his Son as the Savior of the world.

Revelation 22:17 The Spirit and the Bride say, "Come." And let him who hears say, "Come." And let him who is thirsty come, let him who desires take the water of life without price.
Saying that Christ died for the Church (as Paul does in Ephesians) is not at all contradictory to saying that He died for all men, or for the world. But to maintain that He died only for the Church or only for the elect (limited atonement) does indeed contradict the passages above.
Therefore, since inspired Scripture aids in interpreting itself through cross-referencing, and doesn't contradict itself, limited atonement is disproven from Holy Scripture.
In conclusion, it is noteworthy that John Calvin himself did not hold to limited atonement (at least not in later years):
Which is shed for many. By the word many he means not a part of the world only, but the whole human race; for he contrasts many with one; as if he had said, that he will not be the Redeemer of one man only, but will die in order to deliver many from the condemnation of the curse. (Commentary on Mark 4:24; Harmony of the Gospels, Volume III)

He makes this favor common to all, because it is propounded to all, and not because it is in reality extended to all; for though Christ suffered for the sins of the whole world, and is offered through God's benignity indiscriminately to all, yet all do not receive him. (Commentary on Romans 5:18)
***