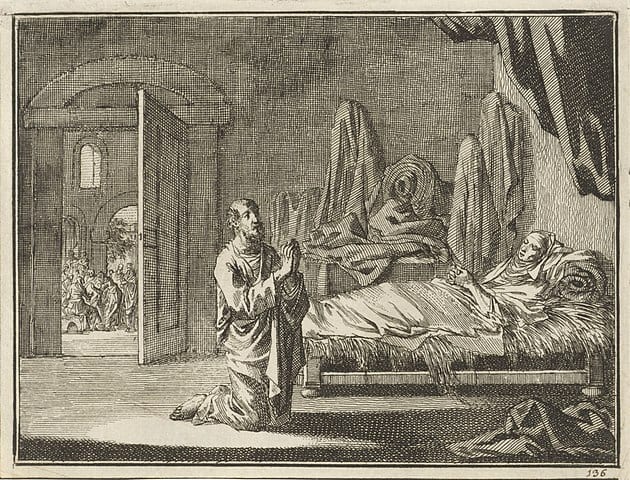 Dr. Lydia McGrew is a traditional Anglican philosopher. I am very fond of her and her work. I posted a little quotation from St. John Henry Newman (as an Anglican) about prayer for the dead and tagged her on Facebook. She showed up and we got into a great discussion (always the case with her). Her words will be in blue.
*****
Anglican Newman on St. Paul's Prayer for the Dead (Onesiphorus)
[W]hat does St Paul mean when he says of Onesiphorus 'The Lord grant him to find mercy of the Lord in that day?' [2 Tim 1:16-18; cf. 4:19] Did his prayer go for nothing? To say that he prayed that Onesiphorus might so conduct himself on earth as to receive mercy at the Judgment seems a refinement; not to say that from the run of the passage Onesiphorus seems to be dead when St Paul wrote.
— Letters & Diaries, vol. 10; To Anthony John Hanmer, 16 March 1844
*
I'm not convinced he was dead.
*
That's one way to get out of it. See:
*
*
Also, prayers for the dead are not the same as prayers to the dead.
*
Yep.
*
At this point I lean towards accommodating some type of prayers for the dead, though carefully kept in check so that they don't assume knowledge we don't have (about how or whether they are effective). I have much bigger hesitations about prayers to the dead.
*
Fair enough, given your overall position.
*
Was Peter praying for the dead with regard to Tabitha? If not, what was he praying for in 9:40?:
*
Acts 9:36-37, 40 (RSV) Now there was at Joppa a disciple named Tabitha, which means Dorcas. She was full of good works and acts of charity. [37] In those days she fell sick and died; and when they had washed her, they laid her in an upper room. . . . [40] But Peter put them all outside and knelt down and prayed; then turning to the body he said, "Tabitha, rise." And she opened her eyes, and when she saw Peter she sat up.
*
And did Jesus pray for a dead man, Lazarus? If not, what was He praying for in 11:41?:
*
John 11:41-44 So they took away the stone. And Jesus lifted up his eyes and said, "Father, I thank thee that thou hast heard me. [42] I knew that thou hearest me always, but I have said this on account of the people standing by, that they may believe that thou didst send me." [43] When he had said this, he cried with a loud voice, "Laz'arus, come out." [44] The dead man came out, his hands and feet bound with bandages, and his face wrapped with a cloth. Jesus said to them, "Unbind him, and let him go."
*
Elijah and Elisha also prayed for the dead before they were raised; therefore, they prayed for the dead, and it is recorded in Scripture:
*
Elijah: 1 Kings 17:17-24 (17:21: "Then he stretched himself upon the child three times, and cried to the LORD, "O LORD my God, let this child's soul come into him again.").
*
Elisha: 2 Kings 4:18-37 (4:33: "So he went in and shut the door upon the two of them, and prayed to the LORD.").
*
They're all certainly talking to / addressing dead people, which many Protestants tell us the Bible and Christianity absolutely forbid.
*
I don't think you're helping your case with situations where a prophet (or God Incarnate) prays for the resurrection of a dead person. Those are not the situation we are in and are not what is usually meant by prayers for the dead. What is meant by that is prayer for his state in the afterlife. I'm not, as I said, entirely closed to epistemically modest prayers for his state in the afterlife, but I think those should be kept sharply distinct from an apostle's prayer asking God to enable him to raise someone from the dead to ordinary life here on earth–a literal miracle.
*
Sure there is a difference, but I never denied that there was. So what were Jesus and Peter praying for when they prayed? What is it if it wasn't prayer for a dead person: to rise from the dead? And that is undeniably a species of prayer for the dead: just a special, very rare kind.
*
Those are not the situation we are in
*
Jesus rather matter-of-factly refers to raising people from the dead:
*
Matthew 10:8 Heal the sick, raise the dead, cleanse lepers, cast out demons. You received without paying, give without pay.
*
One may argue that these were His first disciples, and that He specifically gave them "authority" (10:1), but the rest of the chapter is usually applied to the Christian believer in general.
*
*
I just think that's a red herring. It isn't even what Protestants and Catholics are debating when they differ about prayers for the dead. By the way, it's very interesting to me that neither Protestant nor Catholic doctrine provides for an afterlife that is metaphysically indeterminate as far as whether or not the person is eventually going to go to heaven. In both systems, that is determined at the time of death. But let's admit that the places where we are most inclined (psychologically) to pray for someone dead are the places where we are worried about whether he was saved, died in a state of grace, etc.
*
In fact, the Pauline prayer you quote above seems to be a prayer about Onesiphorus's ultimate spiritual destiny. If it's legitimate and effective to pray for someone to be ultimately saved after that person has died, both Protestant and Catholic theologies are going to have to come up with an explanation for this–perhaps the prayer's affecting some timeless reality or something. Or else introduce a literally metaphysically ambiguous state after death, which neither system now has.
*
Interesting point (I'll have to think more about that). You still don't tell me what Jesus and Peter were praying for and how it is not "prayer for the dead." Special cases (granted). Nevertheless, it's still a legitimate consideration and related to the overall question at hand. There are always rare or special cases with regard to anything.
*
It's just an ambiguity on the term. I do not at all see that it provides evidence for the effectiveness of prayers for the dead in the relevant sense that Catholics and Protestants debate over. It isn't something you would pray for everyone, for example, whereas if prayers for the dead in the relevant sense are legit, one could pray them for everyone, or at least for all Christian dead, at a minimum. Prayers for a resurrection also have a completely clear meaning, which prayers for the dead in the relevant sense don't have. And so forth.
*
I guess I would posit one of two scenarios in Paul's prayer for Onesiphorus ("may the Lord grant him to find mercy from the Lord on that Day"):
*
1) By "mercy" he might mean "less 'time' in purgatory"; whereby God would extend mercy with regard to the degree of temporal punishment for sins; i.e., Onesiphorus would get to heaven in an easier fashion.
*
2) Or it is a

retroactive prayer

regarding Onesiphorus' salvation: applied backwards in time (from our perspective), but able to be prayed because God is outside of time and can apply our prayers to the past.
*
But they did pray for the dead, right? In this case, they prayed that they would be raised, which is a species of prayer for the dead. I am not denying that it is a special case. I'm not claiming for the argument more than it delivers.
*
I think it's irrelevant to the question of whether or not there is such a thing as an effective prayer for someone's better state in the afterlife. A prayer for a resurrection is a prayer for an event in this world–either as a sign to others, or to send a person back here because he's needed here, or both.
*
So by this response you keep making I will assume that you grant that it is a species of prayer for the dead, but a very rare one, so that it has no analogy or relevance to "run-of-the-mill" / "normative" [in some Christian traditions] prayers for the dead in purgatory.
*
I say it proves what it proves. It's an example of one particular type of prayer for dead people, and we have four examples in Holy Scripture: Elijah, Elisha, St. Peter, and Jesus.
*
Intercessory requests made to dead people are of course taught by Jesus in his story (not parable!) of Lazarus and the rich man (Luke 16). Abraham is prayed to and asked to grant two requests. His answer was "no" in both cases, but he never rebuked the rich man for praying to him or asking him to intercede to God.
*
In other words, a refusal to grant a prayer request is conceptually distinct from a denial that the request ought to be made at all to a [dead] creature, as opposed to God.
*
Therefore, the practice is proper, and (rather explicitly and undeniably) taught by Jesus Himself.
*
King Saul also made a petitionary request of Samuel (though he summoned him in a sinful way: through a medium). Nevertheless, it really was Samuel, and Saul did make a petition: "I am in great distress; for the Philistines are warring against me, and God has turned away from me and answers me no more, either by prophets or by dreams; therefore I have summoned you to tell me what I shall do" (1 Samuel 28:15).
*
Again, Samuel didn't say, "why are you asking me; don't you know you can only ask God for things and not dead human beings?" Instead, Samuel said: "Why then do you ask me, since the LORD has turned from you and become your enemy?" (1 Sam 28:16). In other words, in effect he says, "why are you praying at all: whether to me as an intermediary, or to God, since you have rebelled against God and He has turned from you also?"
*
None of this shows that we must never communicate with at all, or ask the intercession of, notable dead people like Samuel or Abraham. All it shows is that they turned down the requests (but because they were against God's will, rather than due to a supposed prohibition against such a thing ever happening at all).
*
*
*
***
*
*
***