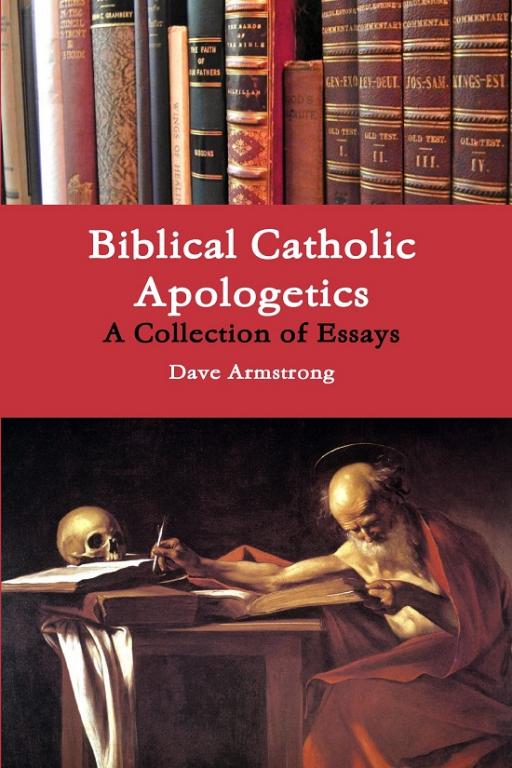 [see book and purchase information]
***
The following are a collection of short posts originally posted on my blog years ago (in one case before I had a blog), or on Facebook (since 2011). Each italicized (and green-colored) title is a different post, and the original date is included. Words of others will be in blue.
*****
Prayer for Catholic Writers and Teachers (5-5-93)
*
St. Francis de Sales, valiant defender of the faith, we beseech your intercession on behalf of our writing and teaching. May it always be faithful to sacred tradition, charitable, and efficacious in bringing souls closer to Christ and His Church.
*
St. Gregory the Great, noble and courageous successor of St. Peter, please obtain for us the graces necessary to adequately proclaim and defend God's revealed truth.
*
Glorious Lord Jesus, keep us ever mindful of Your constant presence in the Most Blessed Sacrament, ever humble, and zealous in pursuing the work for which You have empowered and called us.
*
***
*
I Certainly Waited (To Do Apologetics After My Conversion to Catholicism) (9-18-07)
*
A Lutheran who is given to ranting and raving, and who has a curious obsession with apologists of other Christian traditions, wrote recently on his blog:
*
One thing that just slays me about both Catholicism and Orthodoxy is how if you've got a high enough profile in some Protestant church body when you convert, you're suddenly an expert on your new religion. . . . I'm not saying a convert can't ever publicly defend his new religion. I'm just saying you really should make them go through an initial cooling off period or something before proclaiming them to be professional apologists, sending them on the lecture circuit, or ordaining them (seriously, ordination?).
*
Since this person has often (always irrationally and without grounds and scarcely any charity) blasted me as a prime example of a supposedly unsavory, illegitimate, embarrassing apologist and Catholic convert, I thought the fair-minded folks on his blog (and non-Catholics reading this on mine) might possibly be curious about how long I waited after I converted, to do public apologetics:
*
Received into the Church: 8 February 1991
*
1) First published article (and first time any Catholic apologetics I wrote was public): Jan/Feb 1993 (in The Catholic Answer)
[2 years + 4 mos. after my conversion]
*
2) First time having my writing included in a book: Sep. 1994 (Surprised by Truth)
[3 yrs + 11 mos. after conversion]
*
3) First time communicating Catholic apologetics on the Internet: March 1996
[5 yrs + 5 mos. after conversion]
*
4) First time having my own website: February 1997
[6 yrs + 4 mos. after conversion]
*
5) First time talking on the radio about my conversion / apologetics: 8 September 1997
[just under seven years after conversion]
*
6) First time having my book (A Biblical Defense of Catholicism) published (self-published): October 2001
[11 yrs after conversion]
*
7) First time doing full-time "professional" Catholic apologetics: December 2001
[11 yrs + 2 mos. after conversion]
*
8) First time having my book published by a "real" Catholic publisher [Sophia Institute Press]: June 2003
[12 yrs + 8 mos. after conversion]
*
9) First time on the lecture circuit: never.
[I have given a few talks to small audiences here and there, though, and one Q & A session on You Tube]
[almost 17 years after conversion and counting]
*
10) First time on EWTN television: never (have turned down offers to be on The Journey Home about five or six times now)
[almost 17 years after conversion and counting]
*
***
*
On a Confident Catholic Faith and Apologetics (1-30-14)
*
It just so happens that when I set out to defend Catholicism, I find that it invariably has the stronger case; not just because I want it to, but objectively considered. So my faith and confidence that the Catholic Church (our Mother) is what she claims to be, become stronger all the time.
*
But of course, the outsider (in direct proportion to how unsure of things they are themselves) puts that in a box as sophistry and special pleading or "self-justification".
*
That's fine. I'll keep communicating my message and sharing the pearl of great price that I was blessed to have found in 1990 unless and until I find something better (and that has never remotely occurred these past 23 years).
*
***
*
Two Good Questions About the Purpose of Apologetics, from an Agnostic (12-5-18)
*
*
(1) Are you aware of anyone who has been brought from unbelief to Christian faith purely by the path of apologetic reasoning, without ever having had a personal revelation?
*
(2) Do you think that the message of most modern-day apologetics is to strengthen the believer's faith in the face of secular opposition, or is it actually to help convert the unbeliever?
*
A: Thanks for the questions. They are good ones.
*
1) There have been lots of atheist converts to Christianity. Many times it is because of apologetics, because the purely rational / intellectual plane (we would say, hyper-rational, to get technical) is usually how they approach things. It's not from "unbelief" (usually) but even my own work has helped multiple hundreds to become Catholics or return to Catholicism.
*
2) Most conversions are of the former type (and that has the most successful effect). It usually takes something other than apologetics, or much more than only apologetics to convert souls. Ultimately, it is God's grace, as Christians believe. The evangelist is only a vessel for God's message and His grace and power to transform lives.
*
When I am replying to atheists (usually to refute their false claims and bad, fallacious, non-factual arguments about the Bible and/or Christian beliefs), I am both trying to strengthen Christians who have to be confronted with these arguments, and also trying to persuade the skeptic that — given enough refutations — they are drastically wrong, even up to and including being wrong about the existence of God and the truth of Christianity.
*
***
*
Idealism and Pragmatism (and $$$) in Apologetics (1-3-19)
*
Well, I have hit upon a series of posts that absolutely no one — Catholic, Protestant, Orthodox, or atheist –, cares about: my "Reply to Calvin" series. This proves at least two things:
*
1) I will write about anything, as long as I think it's important and should be written about, regardless of the "popularity" of the post. I think John Calvin ought to be answered because his arguments (real and imagined) and potshots against the Church have been sitting there for almost 500 years, and they are not even that difficult to refute. So many Protestants think he's unanswerable. What a joke!
*
No one cares, but I write about it anyway, because I think the topics are good to address. It's idealism and anti-pragmatism to the 1000th power. Not that I always do this (of course), but sometimes I do.
*
2) It puts an end to the idiotic charge (and it has come up many times) that I am motivated only by filthy lucre, and the supposedly lucrative opportunity at Patheos (host of my blog) to enter the Fortune 500 by means of the hundredth-of-a-cent per page view policy (I exaggerate a little, but not much). No one's reading these. I do 'em anyway, because they ought to be done by someone. Take it from me: no one's getting rich over there, and some who are getting the most hits have completely separate adequate means of income.
*
In the final analysis I do my apologetics because:
*
1) I was called by God (in 1981) to be an apologist / evangelist.
*
2) The Bible says it is a good thing to defend the faith (1 Pet 3:15; Jude 3).
*
3) I have a concern and love for souls.
*
4). . . of the power of writing and education, to positively help people.
*
Notice how $$$ is not on that list? God continues to provide our monetary needs, as He has done these last 17 years of full-time ministry. That's all I need. We get to do plenty of things we love as well (like a trip to Alaska in 2017). We're doing fine. God does provide, through people who read my articles and buy my books and those who generously donate to help maintain this work: thank you all! He's true to His word.
*
***
*
Can We "Convert" Others? / Why Argue and Wrangle with People About the Faith? (11-12-19)
*
No one can convert another… no one.
*
In the ultimate sense, that's correct. Only God can do that, by His grace. But He usually uses people as His instruments to achieve those ends, as Scripture teaches:
*
Romans 11:14 (RSV) in order to make my fellow Jews jealous, and thus save some of them.
*
1 Corinthians 1:21 For since, in the wisdom of God, the world did not know God through wisdom, it pleased God through the folly of what we preach to save those who believe.
*
1 Corinthians 7:16 Wife, how do you know whether you will save your husband? Husband, how do you know whether you will save your wife?
*
1 Corinthians 9:22 To the weak I became weak, that I might win the weak. I have become all things to all men, that I might by all means save some.
*
1 Timothy 4:16 Take heed to yourself and to your teaching; hold to that, for by so doing you will save both yourself and your hearers.
*
Jude 22-23 And convince some, who doubt; [23] save some, by snatching them out of the fire; on some have mercy with fear, hating even the garment spotted by the flesh.
*
2 Timothy 2:23-26 Have nothing to do with stupid, senseless controversies; you know that they breed quarrels. [24] And the Lord's servant must not be quarrelsome but kindly to every one, an apt teacher, forbearing, [25] correcting his opponents with gentleness. God may perhaps grant that they will repent and come to know the truth, [26] and they may escape from the snare of the devil, after being captured by him to do his will.
*
Do you argue back and forth to prove your intellect? To get [others] to see your way? I'm curious.
*
Evangelistic / apologetic dialogue is about sharing the gospel and the fullness of the faith found in Catholicism, and seeking truth. Hence, the Bible teaches:
*
Jude 3 . . . contend for the faith which was once for all delivered to the saints.
*
1 Peter 3:15 . . . Always be prepared to make a defense to any one who calls you to account for the hope that is in you, yet do it with gentleness and reverence;
*
Acts 9:29 preaching boldly in the name of the Lord. And he spoke and disputed against the Hellenists; but they were seeking to kill him.
*
Acts 17:1-4 Now when they had passed through Amphip'olis and Apollo'nia, they came to Thessaloni'ca, where there was a synagogue of the Jews.[2] And Paul went in, as was his custom, and for three weeks he argued with them from the scriptures, [3] explaining and proving that it was necessary for the Christ to suffer and to rise from the dead, and saying, "This Jesus, whom I proclaim to you, is the Christ." [4] And some of them were persuaded, . . .
*
Acts 17:17 So he argued in the synagogue with the Jews and the devout persons, and in the market place every day with those who chanced to be there.
*
Acts 18:4 And he argued in the synagogue every sabbath, and persuaded Jews and Greeks.
*
Acts 18:19 And they came to Ephesus, and he left them there; but he himself went into the synagogue and argued with the Jews.
*
Acts 19:9 but when some were stubborn and disbelieved, speaking evil of the Way before the congregation, he withdrew from them, taking the disciples with him, and argued daily in the hall of Tyran'nus.
*
Acts 24:25 . . . he argued about justice and self-control and future judgment, . . .
*
2 Corinthians 4:2 . . . by the open statement of the truth we would commend ourselves to every man's conscience in the sight of God.
*
Galatians 4:16 Have I then become your enemy by telling you the truth?
*
Ephesians 4:25 Therefore, putting away falsehood, let every one speak the truth with his neighbor, for we are members one of another.
*
Is that enough scriptural rationale for you?
*
***