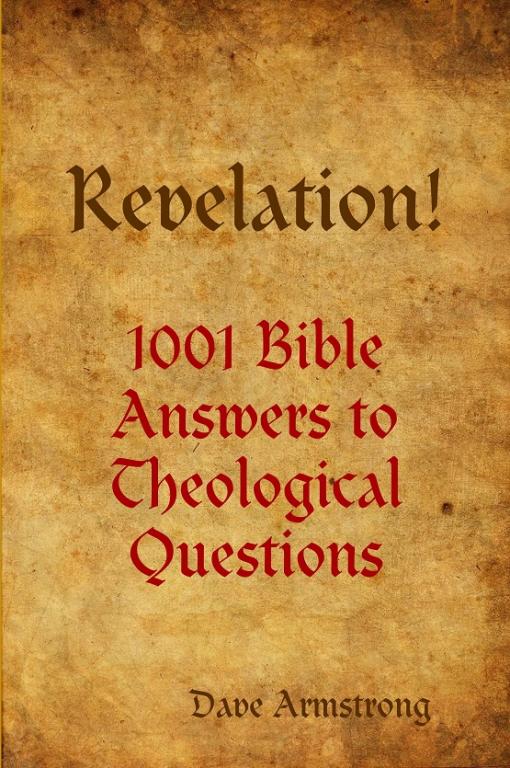 From my book above (2013). See book and purchase information. Passages are from KJV in the book unless indicated otherwise (RSV).
*****
45-1. Is faith ever associated directly with increased righteousness, in conjunction with salvation?
Romans 1:17 (RSV) For in it the righteousness of God is revealed through faith for faith; as it is written, "He who through faith is righteous shall live."
45-2. Is the absence of sin tied to salvation?
Romans 8:13 For if ye live after the flesh, ye shall die: but if ye through the Spirit do mortify the deeds of the body, ye shall live.
45-3. Is total sanctification possible to attain?
1 Thessalonians 5:23 And the very God of peace sanctify you wholly; and I pray God your whole spirit and soul and body be preserved blameless unto the coming of our Lord Jesus Christ.
45-4. Are we sanctified by faith?
Acts 26:18 To open their eyes, and to turn them from darkness to light, and from the power of Satan unto God, that they may receive forgiveness of sins, and inheritance among them which are sanctified by faith that is in me.
45-5. Are we cleansed or purified by faith?
Acts 15:9 And put no difference between us and them, purifying their hearts by faith.
45-6. Are we purified and sanctified by the blood of Christ?
Hebrews 9:13-14 For if the blood of bulls and of goats, and the ashes of an heifer sprinkling the unclean, sanctifieth to the purifying of the flesh: [14] How much more shall the blood of Christ, who through the eternal Spirit offered himself without spot to God, purge your conscience from dead works to serve the living God?
45-7. Is sanctification directly tied to salvation?
2 Thessalonians 2:13 . . . God hath from the beginning chosen you to salvation through sanctification of the Spirit and belief of the truth:
45-8. Is sanctification a process leading ultimately to salvation?
Romans 6:22 (RSV) But now that you have been set free from sin and have become slaves of God, the return you get is sanctification and its end, eternal life.
45-9. Are we sanctified by Jesus' death on the cross on our behalf?
Hebrews 10:10 By the which will we are sanctified through the offering of the body of Jesus Christ once for all.
45-10. Does God give believers a new nature, leading to righteousness?
Ephesians 4:24 (RSV) . . . put on the new nature, created after the likeness of God in true righteousness and holiness.
45-11. Does Jesus' redemption bring about our purification?
Titus 2:14 Who gave himself for us, that he might redeem us from all iniquity, and purify unto himself a peculiar people, zealous of good works.
45-12. Does God cleanse us from our "old sins"?
2 Peter 1:9 But he that lacketh these things is blind, and cannot see afar off, and hath forgotten that he was purged from his old sins.
45-13. Are we able to be cleansed from all sin?
1 John 1:7 But if we walk in the light, as he is in the light, we have fellowship one with another, and the blood of Jesus Christ his Son cleanseth us from all sin.
45-14. Are we able to be cleansed from all unrighteousness?
1 John 1:9 If we confess our sins, he is faithful and just to forgive us our sins, and to cleanse us from all unrighteousness.
45-15. Are we able by God's grace to purify ourselves?
1 John 3:3 And every man that hath this hope in him purifieth himself, even as he is pure.
45-16. Is attainment of a degree of righteousness required for heaven?
Matthew 5:20 For I say unto you, That except your righteousness shall exceed the righteousness of the scribes and Pharisees, ye shall in no case enter into the kingdom of heaven.
45-17. Are we literally "made righteous" (not just imputed righteousness)?
Romans 5:19 For as by one man's disobedience many were made sinners, so by the obedience of one shall many be made righteous.
45-18. Are we merely declared "holy" or are we to be holy?
1 Thessalonians 4:7 For God hath not called us unto uncleanness, but unto holiness.
***
Summary: I present biblical passages concerning infused justification: one of the big issues of the so-called Protestant "Reformation" (which was really a Revolt). It's in Q & A Jeopardy format.
***