by Cindy Kunsman
Amid so many painful changes that have disrupted our lives, I see the "we're better than you" theme come to the forefront in the discussion of Christianity. The Independent Fundamental Baptists (IFB) secured a role in the ranks in Quiverfull because of their focus on and contribution to Christian education. But consider their inception when they split from other neo-Evangelicals in the 1940s. They created their version of the Doctrine of Separation from "the world" – specifically separation from other Baptists who became lax on doctrine and pious personal conduct. Fundamental Baptists find their distinct identity through defining appropriate conduct and rejecting fellowship with unclean Christians. Not only does one need to be born-again to be a true Christian, one must agree upon and follow the very same standards established by the IFB. When considering folks like the Pearls, the Alexanders, the Andersons, the Duggars, and the Rodrigues Family, it may help to remember that they were birthed by the 'better-than-you' defining doctrine. Other kinds of Christians were never good enough and will never be. They are encouraged to hate us because we are considered "of the world" while they assume that we hate God and them.
Sometimes, though, I wonder if they just enjoy non-compliance as a self-gratifying habit. I'm most frustrated by the recent trend of rejecting face masks to slow the spread of the COVID-19.
In Burgess' dystopian novel, A Clockwork Orange, the British government sends its depraved, derelict protagonist to prison where he is subjected to an experimental therapy to "cure" his predilection toward criminal violence. Using extreme contrasts throughout the novel reminds me of life in Quvierfull, as both societies vilify choice instead of fostering virtue and critical thought. Torture drives out violence and torture in the book, and I cannot help but think of the Quiverful practice of blanket training: teaching infant and toddler to stay seated on a blanket on the floor through the progressive, systematic use of corporal punishment. Holiness comes through beating out sin and human failing.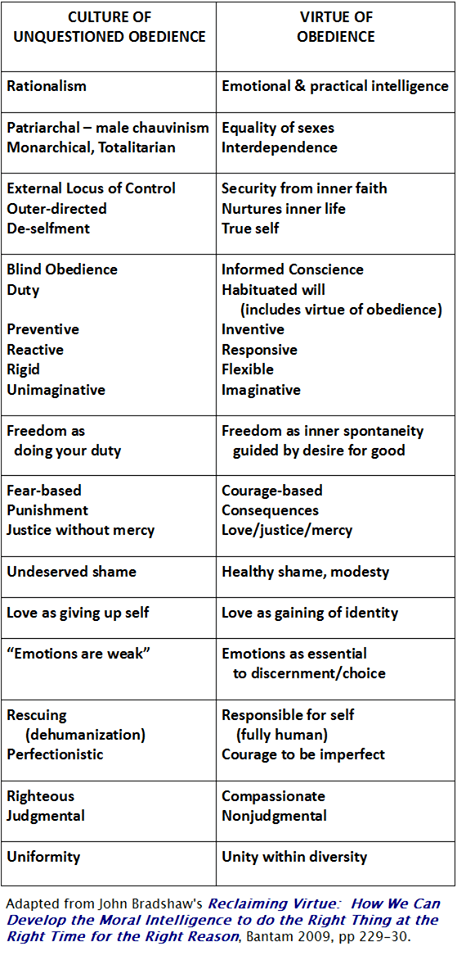 Outward behaviors and compliance become more important than inner goodness, and both societies attempt to harness behavior as the primary means of personal change. Inward change through external means does little but destroy the sensitivity of the conscience and thwart the ability to make moral choices – making a person something less than human. In both the novel and in Quiverfull, that means compliance at any cost, and genuine virtue becomes unnecessary. Not much else, but identity through compliance becomes all-important.
The next time that you see the God Squaders that vilify everyone else, consider Quiverfull's Clockwork Orange that became more important than the people that it was meant to help. Piety overrides loving one's neighbor – unless they're a potential convert.
~~~~~~
Cindy is a nurse who was raised in Word of Faith, a Second Generation Adult of cultic Christianity. She and her husband dabbled in Calvinism and Theonomy as a foil to Christian anti-intellectualism, and they were exit counseled together when the walked away from a church that embraced Gothard's teachings. Cindy escaped many Quiverfull pitfalls but became a social pariah for failing to birth a family. She's been decrying the abuses of the Patriarchy Movement since 2004, and she writes about spiritual abuse at her blog, Under Much Grace. Read more about her here.
Please feel free to post about COVID 19 on this thread.
~~~~~~~
Hey, just to piggyback onto what Cindy said here I found a site the other day when researching and refreshing my memories of the feud between NIFB's Steven Anderson and IFB's Adam Fannin. It does a great job of listing all the extra Biblical things not in the Bible promoted by Anderson. The only problem is that it is written by IFBers and presumes that the IFB (Independent Fundamentalist Baptists) are the Elect, no other religion and no other Bible but the King James Version. It is at good site to see what it is the IFB believe in too.
There's tons of toxic claims there too. Where are you Bruce Gerencser? Bruce would likely tell us that the IFB running the site are sugarcoating, glossing over, the worst of what the IFB teaches and believes.
Stay in touch! Like No Longer Quivering on Facebook:
If this is your first time visiting NLQ please read our Welcome page and our Comment Policy! Commenting here means you agree to abide by our policies but our main rule is this – Do not be a dick!
Copyright notice: If you use any content from NLQ, including any of our research or Quoting Quiverfull quotes, please give us credit and a link back to this site. All original content is owned by No Longer Quivering and Patheos.com
Read our hate mail at Jerks 4 Jesus
Watch our goofy rants on YouTube and the bad Biblical advice of Dori Dalexander.
Check out today's NLQ News at NLQ Newspaper
Contact NLQ at Suzanne.calulu@gmail.com
Comments open below