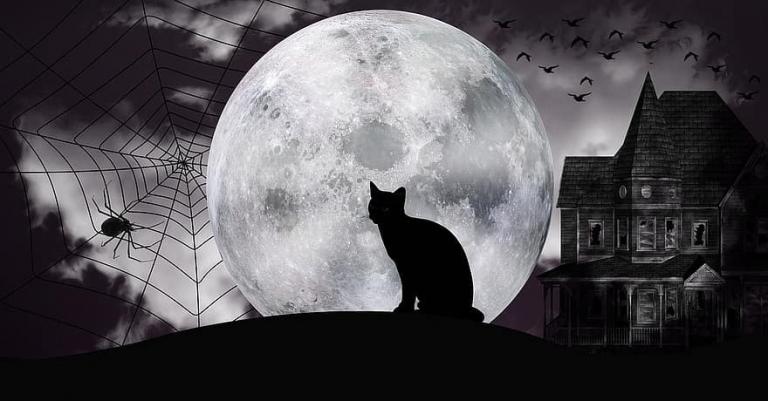 One of my new favorite things this October and Samhain season is witchy ambience music.  With these free videos, you can create the sounds of a crackling fire, a light rain, and a bubbling autumnal simmer pot.  They're especially nice to turn on to instantly create an atmosphere.
One of the best things about these is that they can help you create an environment that's suitable for magical work.  I use some of them in rituals or spells for a moving soundscape.  They are often better than using music–with no lyrics, they're less mentally demanding.  They can free the mind and let you focus on your intuition and magic.
Of course, not all of these ambience videos are suitable for magical workings.  When you find one you like, I recommend bookmarking it so you can come back to it.
They can also provide a great background sound in your home for Trick-Or-Treating and Halloween night.  Other options may include using them for meditation, writing, or reading books.  Witches with ASMR seem to especially like these videos, as they provide a buffet of satisfying and soft sounds.
Some of the videos have an ambience created only from sounds, and others have a chords or notes.  Many of the sounds cycle, repeating the same few minutes of mucic , but some of the videos have bigger changes.  I advise listening to the video in its entirety before using it for any magical practice.  That will help you know if it has the right energy for your working or not.
Another piece of advice is to choose a witchy ambience video without commercial interruptions, or at least, with commercials that only play at the beginning.
Take a look at these and see what else is out there.  You never know–you might find something particularly enjoyable that can add a little more depth and dimension to your life.
The sounds from these videos might even overpower the annoying sounds of leaf-blowers, which are particularly obnoxious at this time of the year. *
If you're interested in more witchy music, check out pagan musicians and these articles:
'Dead Can Dance' Album Dionysus
* I prefer mowing my dry leaves and mulching them into my lawn as an eco-friendly option.  It cuts down on the maintenance of the lawn.  Really, though, I'd prefer to have no lawn at all.  Can we all just make forests great again?