I was really inspired by going to Sri Shiva Vishnu temple for the panel. I've only been there a handful of times since I moved here nine years ago and always for cultural programs in the downstairs area. I know I checked out the actual temple and the murti but I actually don't even remember what it was like!
It is the biggest temple in the area, I would guess it's the biggest in this DC/Maryland/Virginia area (which also happens to have a pretty high Hindu population). So I've felt intimidated by it. Scared of not fitting in, scared of looking foolish, scared of doing something wrong.
But I had this realization as I was speaking on Saturday that all the negativity is coming from within me.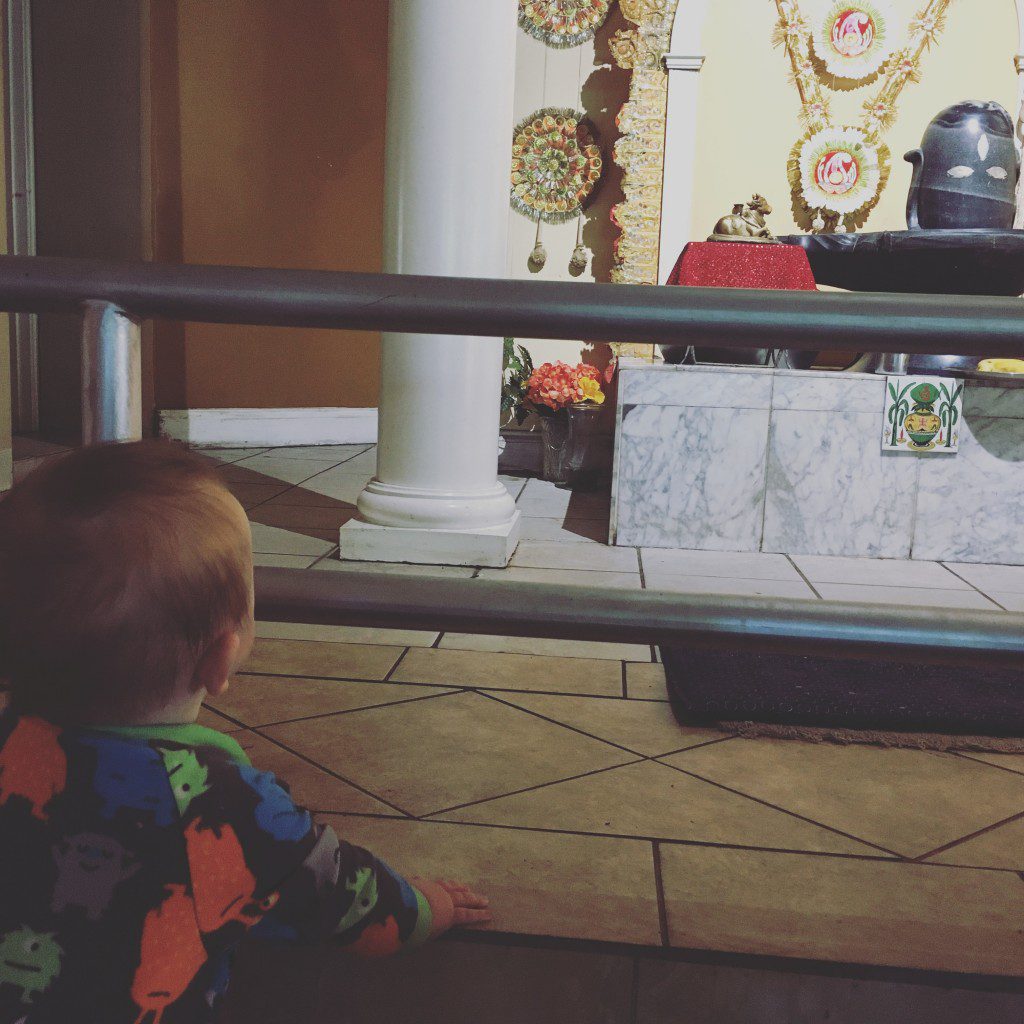 All that fear and stress is entirely in my head. In reality, the people there are very friendly and eager to help guide me. Now I've met a few regulars so that may help ease my anxiety about it too.
I've been identifying as a Hindu for fourteen years now, but visiting the temple has not been a big part of my practice. It doesn't have to be, but I would like it to be. I've missed out on having a sense of community built around my faith. While I do have online community with all of you (and I am so grateful for it!) I do long for more community in person.
My dear friend Anu invites me to go with her sometimes to a much smaller temple very close to me (Sri Shiva Vishnu is less than 20 minutes, though, so it's not like it's far). It is intimate and lovely. Sometimes there is no one else there besides us and the priests. We haven't gone in a while because she started a new job and it's harder to get there. I would like to keep doing that but I would also like to start bringing Garrick Ravi to Sri Shiva Vishnu regularly.
I was thinking perhaps Saturday mornings because Brad has a thi chi class then so it would just be the kiddo and me. I don't know how crowded it is on weekends, though, so maybe a weekday morning would be better. Afternoon is out because I run out of steam as the day goes on and even when I plan to do afternoon things they rarely come to fruition. I have many weekday morning plans with my mom group but I could pick a day to dedicate to visiting the temple.
I think I will check it out next Saturday and see how it all feels. I'll let you know!
New to this blog? Check out these posts:
Why Am I Called "The White Hindu"?
New to Hinduism? Learn more here:
Hinduism 101: What Do Hindus Believe?
Your First Visit To A Hindu Temple
—-
Thank you to my wonderful Patreon supporters…
Brian Hanechak
Amit Agarwal
Don Moir
(views expressed here are mine alone and do not reflect opinions of my supporters. Links within the text may be affiliate links, meaning that if you purchase something I get a small commission for recommending it. I only recommend things I truly believe in)