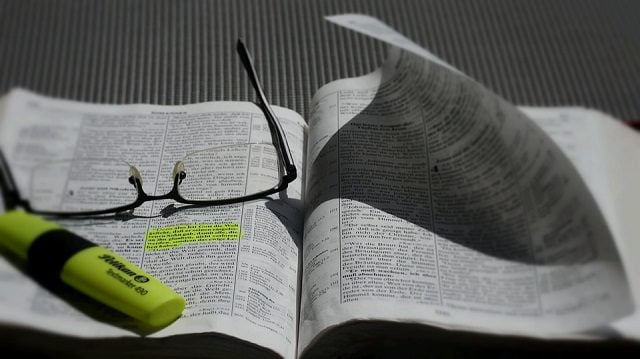 ***
(1998)
***
1 Paul and Timothy, servants of Christ Jesus, To all the saints in Christ Jesus who are at Philip'pi, with the bishops and deacons: 2 Grace to you and peace from God our Father and the Lord Jesus Christ. 3 I thank my God in all my remembrance of you, 4 always in every prayer of mine for you all making my prayer with joy, 5 thankful for your partnership in the gospel from the first day until now. 6 And I am sure that he who began a good work in you will bring it to completion at the day of Jesus Christ. 7 It is right for me to feel thus about you all, because I hold you in my heart, for you are all partakers with me of grace, both in my imprisonment and in the defense and confirmation of the gospel. 8 For God is my witness, how I yearn for you all with the affection of Christ Jesus. 9 And it is my prayer that your love may abound more and more, with knowledge and all discernment, 10 so that you may approve what is excellent, and may be pure and blameless for the day of Christ, 11 filled with the fruits of righteousness which come through Jesus Christ, to the glory and praise of God. 12 I want you to know, brethren, that what has happened to me has really served to advance the gospel, 13 so that it has become known throughout the whole praetorian guard and to all the rest that my imprisonment is for Christ; 14 and most of the brethren have been made confident in the Lord because of my imprisonment, and are much more bold to speak the word of God without fear.
15 Some indeed preach Christ from envy and rivalry, but others from good will. 16 The latter do it out of love, knowing that I am put here for the defense of the gospel; 17 the former proclaim Christ out of partisanship, not sincerely but thinking to afflict me in my imprisonment. 18 What then? Only that in every way, whether in pretense or in truth, Christ is proclaimed; and in that I rejoice. 19 Yes, and I shall rejoice. For I know that through your prayers and the help of the Spirit of Jesus Christ this will turn out for my deliverance, 20 as it is my eager expectation and hope that I shall not be at all ashamed, but that with full courage now as always Christ will be honored in my body, whether by life or by death. 21 For to me to live is Christ, and to die is gain. 22 If it is to be life in the flesh, that means fruitful labor for me. Yet which I shall choose I cannot tell. 23 I am hard pressed between the two. My desire is to depart and be with Christ, for that is far better. 24 But to remain in the flesh is more necessary on your account. 25 Convinced of this, I know that I shall remain and continue with you all, for your progress and joy in the faith, 26 so that in me you may have ample cause to glory in Christ Jesus, because of my coming to you again. 27 Only let your manner of life be worthy of the gospel of Christ, so that whether I come and see you or am absent, I may hear of you that you stand firm in one spirit, with one mind striving side by side for the faith of the gospel, 28 and not frightened in anything by your opponents. This is a clear omen to them of their destruction, but of your salvation, and that from God. 29 For it has been granted to you that for the sake of Christ you should not only believe in him but also suffer for his sake, 30 engaged in the same conflict which you saw and now hear to be mine.

 * * *  

servants: Gr. doulos: Mt 20:27; 25:21; Rm 1:1; 1Co 7:22; Ep 6:6; Ti 1:1; Jm 1:1

bishops: Gr. episkopos: Ac 20:28; 1 Tm 3:2; Ti 1:7; 1Pt 2:25; cf. Ac 1:20; 1Tm 3:1

deacons: Gr. diakonos: Mt 23:11; Mk 9:35; 1Co 3:5; 2Co 3:6; 6:4; Ep 3:7; Cl 1:23; 1Th 3:2; 1Tm 3:8,12

day of Jesus Christ: Rm 2:5,16; 1Co 1:8; 5:5; 2Co 1:14; Ph 1:10; 2:16; 1Th 5:2,4; 2Th 2:2; 2Pt 3:10,12

fruits of righteousness: Mt 7:16,20; 2Co 9:10; Gl 5:22; Ep 5:9; Ph 1:22; Cl 1:10; Hb 12:11; Jm 3:17-18

Spirit of Jesus Christ: Jn 14:16; 15:26; 16:7,13-15; Ac 16:7; Rm 8:9; Gl 4:6; 1Pt 1:11

progress: Ph 1:12 (RSV: advance); 1Tm 4:15 (cf. Lk 2:52)

joy: Gr.kara: Rm 14:17; 15:13; 2Co 8:2; Gl 5:22; 1Th 1:6; Jm 1:2; 1Pt 1:8; 1Jn 1:4; 2Jn 12

the faith: (i.e., Christian doctrine, or Apostolic Tradition): Ac 6:7; 14:22; 16:5; Gl 1:23; Ep 4:5,13; Cl 1:23; 2:7; 1Tm 1:2; 4:1; 5:8; 6:10,21; Ti 1:13; Jd 3

stand firm: Rm 5:2; 11:20; 14:4; 1Co 15:1; 16:13; 2Co 1:24; Gl 5:1; Ep 6:11-14; Ph 4:1; Cl 4:12; 1Th 3:8; 2Th 2:15; 1Tm 5:20; Hb 3:6; 14; 1Pt 5:12; Jd 24;

Gospel: Gr. evangelion=gospel (e.g., Mt 11:5; Lk 9:6; Ac 8:25; 16:10; Rm 15:20; 1Co 9:16,18; 15:1-3; 2Co 11:7; Gl 1:8-11; 1Th 2:9; 1Pt 1:12,25; CCC 80-84,95,113,120,126). Contrary to common non-Catholic teaching, gospel (good or glad news) in Holy Scripture is more or less synonymous with both tradition (cf. 1Co 11:2; 2Th 2:15; 3:6) and word of God (cf. Ac 8:14; 1Th 2:13). All are predominantly oral (cf. Rm 10:14-18; 2Tm 1:13-14, 2:2) and are delivered (cf. Lk 1:1-2; Rm 16:17; 1Co 11:23; 15:3; 2Pt 2:21; Jd 3) and received (cf. Gl 1:9,12; 1Th 2:13). Tradition (Gk. paradosis) itself is extolled in Holy Scripture (as above) when referring to Christian, apostolic Tradition, as opposed to corrupt human traditions, or traditions of men (cf. Mt 15:3,6; Mk 7:8-9,13; Cl 2:8). The biblical writers not only positively embrace Tradition, but also regard their own gospel proclamations as of a piece with Sacred Tradition, as the foregoing demonstrates.

Defense and confirmation of the gospel: Here the Apostle is referring implicitly to the task and notion of Christian apologetics (from Gk. apologia=defense or justification; cf. Ac 22:1; 25:16; 1Co 9:3; 2Co 12:19; Ph 1:16; CCC 156-159). St. Paul is often described in Scripture as reasoning or arguing (usu. Gr. dialegomai=dialogue and cognates) with both Jews and Gentiles (e.g., Ac 9:29; 17:2,17; 18:4,19; 19:8-10, 24:25). Likewise, our Lord Jesus contended with spiritual and theological error (e.g., Mk 12:18-28 and many disputes with the Pharisees), and presented empirical proofs of His Resurrection (Jn 20:24-29; Ac 1:3). Jesus did not oppose reason to faith (Lk 10:27). It is imperative for all Christians to cultivate a rational, credible faith (cf. e.g., 1Pt 3:15, Jd 3) and to develop effective ways of evangelization (Ac 17:22-34; 1Co 9:19-23).

Word of God: See above commentary on Gospel. The phrases word of God or word of the Lord in Holy Scripture more often refer to oral preaching or proclamation (Gr. kerygma) of the gospel (or prophecy, as commonly in the OT) than to the written, inspired word of God (cf., e.g., Mt 13:19; Lk 3:2; 8:9-15; 11:28; Ac 4:31; 6:7; 12:24; 13:44-49; 19:20; Rm 10:8; 1Th 1:8; 2Th 3:1; 1Pt 1:25). Jesus Himself is referred to as the Word (Gr. logos) in Jn 1:1,14 (cf. 2Pt 3:5-7; Rv 19:13).

Destruction: Gr. apolia: does not mean annihilation or utter non-existence, as some sects falsely teach, but rather, eternal punishment in hellfire, as Greek lexicons universally attest. It is used in Rv 17:8,11 in reference to the beast. Related passages Rv 19:20 and 20:10 inform us that the beast (along with the devil and the false prophet) will be tormented day and night forever and ever. The same tragic fate awaits human beings who reject God (cf. Mt 25:41,46; 8:12; 10:28; 13:24-30,36-43,49-50; Mk 9:43-48; Hb 10:28-29; Rv 14:10-11; 20:15; 21:8; CCC 1033-1041). The cognate apollumi=destroy (found at Mt 10:28) provides a similar illustration. The over-literal interpretation of annihilation applied to many instances of apollumi produces manifest absurdity (e.g., Mt 10:6; Lk 15:6,9,24; Jn 18:9). Proper hermeneutics requires a comparison of scripture with scripture, an appreciation of context, and an understanding of Greek and Hebrew definitions.

Suffer for his sake: Christians are not released from the possibility of suffering, simply because Christ suffered for us, as some wrongly and harmfully teach. Quite the contrary: St. Peter tells us to expect suffering for and even with Christ as a norm and glory of the faith (1Pt 4:12-19). Many other passages concur (Mt 10:22; Jn 15:18; Ac 5:41; 14:22; Rm 5:3-5; 8:15-18; 2Co 1:4-9; 6:4-10; 12:7-10; Ph 3:7-11; 1Th 3:3; 2Th 1:4-5; 2Tm 1:8; 2:3; 3:12; Hb 5:8; Jm 1:2-4; 1Pt 2:20-21).See also commentary for Ph 3:10 ("Like him in his death") and Cl 1:24 ("In my flesh I complete what is lacking").

* * *


1 So if there is any encouragement in Christ, any incentive of love, any participation in the Spirit, any affection and sympathy, 2 complete my joy by being of the same mind, having the same love, being in full accord and of one mind. 3 Do nothing from selfishness or conceit, but in humility count others better than yourselves. 4 Let each of you look not only to his own interests, but also to the interests of others. 5 Have this mind among yourselves, which is yours in Christ Jesus, 6 who, though he was in the form of God, did not count equality with God a thing to be grasped, 7 but emptied himself, taking the form of a servant, being born in the likeness of men. 8 And being found in human form he humbled himself and became obedient unto death, even death on a cross. 9 Therefore God has highly exalted him and bestowed on him the name which is above every name, 10 that at the name of Jesus every knee should bow, in heaven and on earth and under the earth, 11 and every tongue confess that Jesus Christ is Lord, to the glory of God the Father. 12 Therefore, my beloved, as you have always obeyed, so now, not only as in my presence but much more in my absence, work out your own salvation with fear and trembling; 13 for God is at work in you, both to will and to work for his good pleasure. 14 Do all things without grumbling or questioning, 15 that you may be blameless and innocent, children of God without blemish in the midst of a crooked and perverse generation, among whom you shine as lights in the world, 16 holding fast the word of life, so that in the day of Christ I may be proud that I did not run in vain or labor in vain. 17 Even if I am to be poured as a libation upon the sacrificial offering of your faith, I am glad and rejoice with you all. 18 Likewise you also should be glad and rejoice with me. 19 I hope in the Lord Jesus to send Timothy to you soon, so that I may be cheered by news of you. 20 I have no one like him, who will be genuinely anxious for your welfare. 21 They all look after their own interests, not those of Jesus Christ. 22 But Timothy's worth you know, how as a son with a father he has served with me in the gospel. 23 I hope therefore to send him just as soon as I see how it will go with me; 24 and I trust in the Lord that shortly I myself shall come also. 25 I have thought it necessary to send to you Epaphrodi'tus my brother and fellow worker and fellow soldier, and your messenger and minister to my need, 26 for he has been longing for you all, and has been distressed because you heard that he was ill. 27 Indeed he was ill, near to death. But God had mercy on him, and not only on him but on me also, lest I should have sorrow upon sorrow. 28 I am the more eager to send him, therefore, that you may rejoice at seeing him again, and that I may be less anxious. 29 So receive him in the Lord with all joy; and honor such men, 30 for he nearly died for the work of Christ, risking his life to complete your service to me.


* * *

humility: Mt 11:29; 23:12; Ac 20:19; Ep 4:2; Cl 2:18,23; 3:12; Jm 4:6,10; 1Pt 5:5-6

exalted: Nh 9:5; Ps 18:46; 118:16; Is 2:11,17; 5:16; Ac 2:33; 5:31

name of Jesus: Is 45:23; Mt 18:20; Jn 1:12; 3:18; Ac 4:12,18-19; 1Co 1:2; 6:11; Ep 1:20-21; Cl 3:17; 1Jn 3:23. Occurs over 90 times in the NT.

Lord: Gr. Kurios (overt declaration of the divinity of Jesus): Ps 110:1 (cf. Hb 1:8); Jn 20:28; Rm 10:9; 14:8-9; 1Co 8:6; 12:3; Cl 2:6,10; 1Th 4:15-16; 1Tm 1:1 (cf. Ti 2:13; 2Pt 1:1)

obeyed: Lk 11:28; Ac 5:29; Rm 1:5; 2:13; 6:17; 10:16; 15:18-19; 16:25-26; 2Th 1:8; Hb 5:8; 1Pt 1:2; 1Jn 2:3-4; 3:22,24; 5:2-3

work: Jn 6:27,29; 9:4; Ac 13:2; Rm 16:3; 1Co 3:13-15; 15:58; 16:10; 2Co 6:1; 9:8; Gl 6:4; Ep 4:12; Cl 1:10; 2Th 2:17; 2Tm 3:17; Ti 3:1; Hb 6:9-12; Rv 22:12

children of God: Mt 5:9,45; Jn 1:12; 11:52; Rm 8:14,16,19,21; 9:8; Gl 3:26; 4:5-6,28; Ep 1:5; 5:1,8; 1Th 5:5; Hb 2:10-14; 12:5-10; 1Pt 1:14; 1Jn 3:1-2,10; 5:2,19; Rv 21:7

labor: Gk. kopiao: Mt 11:28; Jn 4:38; Rm 16:6,12; 1Co 15:10; 16:16; Gl 4:11; Cl 1:29; 1Th 5:12; 1Tm 4:10; 5:17; Rv 2:3

libation: Gk. spendomai: also at 2Tm 4:6 (cf. Rm 12:1; 15:16). LXX uses this term with regard to OT sacrificial offerings: Ex 29:12,38 ff.; Lv 4:7 ff.; 23:37; Nm 29:36 ff.; Is 53:12

honor: Mt 15:4; Jn 5:23; 12:26; Rm 13:7; 1Tm 5:3,17; 1Pt 2:17

Being of the same mind: Jesus prayed at the Last Supper (Jn 17:20-24), for believers to be perfectly one, even as He and His Father were one. St. Paul and other Apostles repeatedly and sternly warn against divisions, schism, strife, and disunity (cf. Rm 13:13; 16:17; 1Co 1:10-13; 3:3; 11:18-19; 12:25; 2Co 12:20; Ph 2:2; 1Tm 6:3-5; Ti 3:9; Jm 3:16; 2Pt 2:1; CCC 820-822).

Form of God: morphe=form: the essential attributes and nature of deity are shown in the form. This is a clear and unambiguous statement of the divinity of Jesus. The related word metamorphoomai=transfigured or transformed is used with regard to the Transfiguration of Jesus (Mt 17:2; Mk 9:2; cf. Rm 12:2; 1Co 15:44 ff.; 2Co 3:18), though with primary reference to Jesus' human form. Morphe is used in a similar sense at Mk 16:12 (cf. Lk 24:16). See CCC 554-556,568.

Equality with God: isos=equal: also appears at John 5:18, where Jesus called God his own Father, making himself equal with God (cf. Jn 10:30-33). The NT frequently asserts that Jesus is God – the Second Person of the Holy Trinity (e.g., cf. Mk 9:37; Jn 1:1-4,14,18; 8:58; 13:19; 14:9; 17:11; 20:28; Ac 20:28; Rm 9:5; Cl 1:15-19; 2:9-10; 1Tm 3:16; Ti 2:13; 2Pt 1:1; Hb 1:3,8).

Emptied himself: kenoo=empty. In becoming man, God the Son had to necessarily empty Himself of certain conditions or prerogatives of Deity and Godhood. But He remained fully God and fully Man (the doctrine of Hypostatic Union, definitively developed at the Council of Chalcedon in 451). Arian-influenced sects have misinterpreted related verses such as Jn 14:8 (. . . the Father is greater than I) as if Jesus were lesser in essence than God the Father; inferior; alas, a mere created being. Yet Holy Scripture teaches that the Father, in a sense, also "receives" from the Son (e.g., Jn 16:15,23). Jesus subjects (hupotasso) Himself to the Father (1Co 15:28), that God may be all in all (KJV), but this does not at all imply inferiority, since He also was subject (hupotasso) to Mary and Joseph (Lk 2:51), and since Cl 3:11 asserts: Christ is all and in all. See CCC 456-476,480-482.

Under the earth: Cf. Rv 5:3,13. It seems likely that souls in hell are neither able nor willing to praise God (perhaps suggested by Mt 8:29; Lk 4:34; 8:28). God refuses to receive prayer, praise, or worship from an unrepentant sinner (e.g., Ps 66:18; Pr 1:28-30; Is 1:15; 59:2; Jn 9:31; Hb 10:38). Therefore, it is reasonable to conclude that under the earth in these passages refers to a third state in the afterlife – purgatory (see Mt 12:32; Lk 16:19-31; 1Co 3:11-15; CCC 1030-1032).

Work out your own salvation: Catholics believe that man has a free will to either cooperate with (1Co 3:8-9), or resist (Mt 13:22) God's free, gracious gift, which He desires to give to all (2Pt 3:9). Pelagianism, in contrast, is the heresy of self-salvation, apart from God's necessary saving grace. The notion of instantaneous salvation is refuted in many passages which warn against falling away from the faith (cf. Mt 13:20-21; 1Co 9:27; 10:12; Gal 5:1,4; Cl 1:23; Hb 3:12-14; 6:4-6; 10:23-39; 2Pt 1:10; 2:15,20-21; Rv 2:4-5). We must persevere in good works and obedience, if we are to be saved (cf. Mt 5:20; 7:16-27; 16:27; 25:31-46; Lk 18:18-25; Jn 6:27-29; Ac 26:20; Rm 2:5-13; 1Co 3:13; 4:5; 15:10,58; 2Co 5:10; Gl 5:6; 6:7-9; Ep 2:8-10; Cl 3:23-25; 1Th 1:3; 2Th 1:11; Ti 1:15-16; 3:5-8; Hb 5:9; 6:9-10; 10:24; Jm 1:22-27; 2:14-26; 1Pt 1:17; CCC 1266,1446,1987,1987-1995,2018-2020). The related doctrines of merit and differential reward are also taught in the NT (Mt 5:11-12; 6:3,18; 10:42; 12:36-37; 25:14-30; 1Co 3:8; 1Ti 6:18-19; CCC 2006-2011,2023-2025). 

* * *


1 Finally, my brethren, rejoice in the Lord. To write the same things to you is not irksome to me, and is safe for you. 2 Look out for the dogs, look out for the evil-workers, look out for those who mutilate the flesh. 3 For we are the true circumcision, who worship God in spirit, and glory in Christ Jesus, and put no confidence in the flesh. 4 Though I myself have reason for confidence in the flesh also. If any other man thinks he has reason for confidence in the flesh, I have more: 5 circumcised on the eighth day, of the people of Israel, of the tribe of Benjamin, a Hebrew born of Hebrews; as to the law a Pharisee, 6 as to zeal a persecutor of the church, as to righteousness under the law blameless. 7 But whatever gain I had, I counted as loss for the sake of Christ. 8 Indeed I count everything as loss because of the surpassing worth of knowing Christ Jesus my Lord. For his sake I have suffered the loss of all things, and count them as refuse, in order that I may gain Christ 9 and be found in him, not having a righteousness of my own, based on law, but that which is through faith in Christ, the righteousness from God that depends on faith; 10 that I may know him and the power of his resurrection, and may share his sufferings, becoming like him in his death, 11 that if possible I may attain the resurrection from the dead. 12 Not that I have already obtained this or am already perfect; but I press on to make it my own, because Christ Jesus has made me his own. 13 Brethren, I do not consider that I have made it my own; but one thing I do, forgetting what lies behind and straining forward to what lies ahead, 14 I press on toward the goal for the prize of the upward call of God in Christ Jesus. 15 Let those of us who are mature be thus minded; and if in anything you are otherwise minded, God will reveal that also to you. 16 Only let us hold true to what we have attained. 17 Brethren, join in imitating me, and mark those who so live as you have an example in us. 18 For many, of whom I have often told you and now tell you even with tears, live as enemies of the cross of Christ. 19 Their end is destruction, their god is the belly, and they glory in their shame, with minds set on earthly things. 20 But our commonwealth is in heaven, and from it we await a Savior, the Lord Jesus Christ, 21 who will change our lowly body to be like his glorious body, by the power which enables him even to subject all things to himself.

* * *

rejoice: Ps 33:1; 64:10; 97:12; 104:34; Is 41:16; 61:10; Jl 2:23; Hb 3:18; Jn 20:20; Ph 4:4,10; 1Th 5:16; 1Pt 4:13; Rv 19:7

evil-workers: Ps 37:1; Mt 24:48; 25:41; Lk 6:45; Jn 3:20; 5:29; Rm 1:30; 2:9; 13:4; 2Co 11:13; 2Tm 2:9; 3:13; 1Pt 3:9-17; 4:15

faith: Gr. pistis: Rm 1:17; 3:28; 4:11,13; 5:1; 9:30; Gl 3:11,24; 5:5-6; Hb 11:7; Jm 2:20-26

know him: Ex 33:13; Jr 4:22; Hs 2:20; 5:4; 6:3; Jn 8:55; 14:7,9,17; 16:3; 17:3,25; Rm 1:21; 1Co 1:21; Gl 4:9; Ph 3:8; 1Jn 2:3,13-14; 3:1,6; 4:2,6-8; 5:20

mature: Gr. telios (often perfect in KJV): Mt 5:48; 19:21; 1Co 2:6; 14:20; Ep 4:13; Cl 1:28; 4:12; Jm 1:4; 3:2

example: Jn 13:15; Ac 20:35; Rm 4:12; 1Co 10:6,11; 1Th 1:7; 2Th 3:9; 1Tm 4:12; Ti 2:7; Hb 8:5; Jm 5:10; 1Pt 2:21; 5:3

enemies: Mt 22:44; Lk 10:19; Ac 13:10; Rm 5:10; 11:28; Jm 4:4 (cf. Mt 12:30; 1Tm 4:1; 2 Tm 2:17; Ti 1:16; Hb 3:12; 10:39; Jm 4:4; 2Pt 2:1,20-22; Jd 4)

Savior: Lk 1:47; 2:11; Jn 4:42; Ac 5:31; 13:23; Ep 5:23; 1Tm 1:1; 2:3; 4:10; 2Tm 1:10; Ti 1:3-4; 2:10,13; 3:4,6; 2Pt 1:1,11; 2:20; 3:2,18; 1Jn 4:14; Jd 25. This title is equally applied to both the Father and the Son: a proof of Jesus' divinity (cf. Ps 106:21; Is 43:3,11; 45:15,21; 49:26; 60:16; Hs 13:4)

subject all things: (the omnipotence of Jesus): Mt 28:18; Jn 2:19 with 10:17-18; Jn 3:35; 5:21; Ac 17:18; Cl 1:17; Heb 1:3; 1Pt 3:22; Rv 1:18; 3:7 (cf. Nh 9:6; 1Tm 6:13)

Flesh: cf. 2Co 11:16-30. St. Paul's intention is not to denigrate Jewish pedigree, righteousness, etc. as a bad thing, but rather, to contrast the far better personal knowledge of, and trust in, Christ (3:7-9). Analogously, in Rm 2:17-29 he stresses the spiritual superiority of the circumcision of the heart (2:29; cf. Gl 6:12-15).

Righteousness from God: Here the Apostle firmly refutes the later heresy of Pelagianism, whereby man in his own effort can become righteous, and attain unto salvation. Righteousness and merit derive wholly from God: supernatural grace. Our responsibility is to cooperate with this grace (3:10,12-13), which is neither merely extrinsic or forensic justification (separate from cooperation or free will), as some teach, nor instantaneously attained (3:12-14). The Council of Trent entirely concurs with this Pauline understanding, in its Canon I on Justification:
If any one saith, that man may be justified before God by his own works, whether done through the teaching of human nature, or that of the law, without the grace of God through Jesus Christ; let him be anathema.
Like him in his death: In order to attain the resurrection from the dead (by justification) Paul teaches that we must first be made conformable unto his death (KJV; cf. Rm 8:29; 12:1; 1Co 15:31; 2Co 1:5-9; 3:18; 4:10; Gl 2:20; 6:14,17; Cl 2:12-14; 1Pt 4:1,13; CCC 628,1220). Justification is, therefore, necessarily a sanctifying process (1Co 6:11) involving striving and suffering, as opposed to a legal proclamation by God. Many Christians – contrary to St. Paul's parallelism here – emphasize the attainable likeness of resurrection (e.g., Ph 3:21; 1Jn 3:2), but not the corresponding likeness of the cross and suffering (cf. Rm 6:3-8; 8:13,17). See also commentary for Cl 1:24 ("In my flesh I complete what is lacking") and Ph 1:29 ("Suffer for his sake").

Resurrection from the dead: all persons who are saved will receive resurrected and glorified bodies (cf. Jb 19:26; Mt 22:30-32; 27:52-53; Lk 14:14; 20:35-38; Jn 5:21-29; 6:39-40,44,54; 11:25; Ac 17:18,32; Rm 8:11,23; 1Co 6:14; 15:12-54; 2Co 4:14; Rv 20:5-6; CCC 988-1004,1015,1017).

Press on toward the goal: St. Paul often teaches that eschatological salvation and justification involves a process of perseverence, and is neither the result of a one-time commitment nor guaranteed (cf. Mt 10:22; 24:13; Lk 21:19; Rm 2:5-13; 11:20-23; 1Co 1:18; 4:4-5; 9:25-27; 10:11-12; 15:1-2; 2Co 11:3; 13:5; Cl 1:21-23; 1 Tm 4:1; 5:15; 6:20-21; Hb 2:1; 3:6,12-14; 4:1,14; 6:4-6,11-12; 10:26-29,35-38; 12:1-3,25,29; 1Pt 5:8; 2Pt 1:9; 2:20-22; 3:14-17; 2Jn 8; Rv 2:5,10,26; 3:11; 22:19).

Imitating me: The biblical injunction to imitate holy Christians (who, in turn, imitate Christ: 1Co 11:1; 1Th 1:6) is largely the basis for veneration of the saints (cf. 1Co 4:16; Ph 4:9; 2Th 3:7-9; Hb 6:12; 11:1-39; Jm 5:10-11).

* * *


1 Therefore, my brethren, whom I love and long for, my joy and crown, stand firm thus in the Lord, my beloved. 2 I entreat Eu-o'dia and I entreat Syn'tyche to agree in the Lord. 3 And I ask you also, true yokefellow, help these women, for they have labored side by side with me in the gospel together with Clement and the rest of my fellow workers, whose names are in the book of life. 4 Rejoice in the Lord always; again I will say, Rejoice. 5 Let all men know your forbearance. The Lord is at hand. 6 Have no anxiety about anything, but in everything by prayer and supplication with thanksgiving let your requests be made known to God. 7 And the peace of God, which passes all understanding, will keep your hearts and your minds in Christ Jesus. 8 Finally, brethren, whatever is true, whatever is honorable, whatever is just, whatever is pure, whatever is lovely, whatever is gracious, if there is any excellence, if there is anything worthy of praise, think about these things. 9 What you have learned and received and heard and seen in me, do; and the God of peace will be with you. 10 I rejoice in the Lord greatly that now at length you have revived your concern for me; you were indeed concerned for me, but you had no opportunity. 11 Not that I complain of want; for I have learned, in whatever state I am, to be content. 12 I know how to be abased, and I know how to abound; in any and all circumstances I have learned the secret of facing plenty and hunger, abundance and want. 13 I can do all things in him who strengthens me. 14 Yet it was kind of you to share my trouble. 15 And you Philippians yourselves know that in the beginning of the gospel, when I left Macedo'nia, no church entered into partnership with me in giving and receiving except you only; 16 for even in Thessaloni'ca you sent me help once and again. 17 Not that I seek the gift; but I seek the fruit which increases to your credit. 18 I have received full payment, and more; I am filled, having received from Epaphrodi'tus the gifts you sent, a fragrant offering, a sacrifice acceptable and pleasing to God. 19 And my God will supply every need of yours according to his riches in glory in Christ Jesus. 20 To our God and Father be glory for ever and ever. Amen. 21 Greet every saint in Christ Jesus. The brethren who are with me greet you. 22 All the saints greet you, especially those of Caesar's household. 23 The grace of the Lord Jesus Christ be with your spirit.


* * *

book of life: Ps 69:28; Rv 3:5; 13:8; 17:8; 20:12,15; 21:27

forbearance: (also, patience): Rm 2:4; 8:25; 9:22; 2Co 6:6; Gl 5;22; Ep 4:2; Cl 1:11; 3:12; 1Tm 3:3; Ti 3:2; Hb 6:12; Jm 3:17; 5:10; 1Pt 2:18; 2Pt 3:15

thanksgiving: Gr. eucharistia: 2Co 4:15; 9:11-12; Ep 5:4; Cl 2:7; 4:2; 1Th 3:9; 1Tm 2:1; 4:3-4; Rv 4:9; 7:12. Eucharisteo (Last Supper and Communion): Mt 15:36; 26:27; Mk 8:6; 14:23; Lk 22:17; Jn 6:11,23; 1Co 11:24

peace of God: Lk 24:36; Jn 14:27; 16:33; Rm 1:7; 8:6; 15:13,33; 1Co 1:3; 7:15; 2Co 1:2; Gl 1:3; 5:22; Ep 1:2; Ph 1:2; Cl 1:2; 3:15; 1Th 1:1; 2Th 1:2; 3:16; 1Tm 1:2; 2Tm 1:2; 2Jn 3; Rv 1:4

hearts: Jr 31:33; Mt 15:8; Lk 16:15; 24:32; Jn 14:1,27; Rm 3:5; 2Co 1:22; 3:2-3; 4:6; 6:13; Gl 4:6; Ep 3:17; Cl 3:15; 4:8; 1Th 3:13; 2Th 2:17; 3:5; Hb 10:16,22; 1Pt 3:15; 1Jn 3:19; 5:10

true: 2Co 7:14; Ep 5:9; 1Jn 2:8; 5:20; 3Jn 12; Rv 21:5; 22:6; Truth: Jn 8:32,45-46; 14:6,17; 15:26; 16:7,13; 17:8,17,19; 18:37; Rm 1:18,25; 1Co 13:6; 2Co 13:8; Gl 4:16; Ep 4:15; 2Th 2:10-13; 1Tm 2:4; 3:15; 2Tm 2:15,18,25; 1Pt 1:22; 2Pt 1:12; 1Jn 4:6; 3Jn 8

Have no anxiety: This does not mean "do not ever worry about anything whatsoever," but rather, ultimate trust and firm faith that our loving and merciful God is in control of everything, in His Providence (Ps 119:151), and that His assistance and peace of mind (Ph 4:7) can always be obtained through prayer (Ps 145:18). Such rock-solid reliance on God is a common biblical theme (cf. Ps 23:4; 27:14; 34:4-10; 37:4-8; 46:1-2; 94:17-19; 118:6; Is 26:3-4; 41:10; 66:13; Lm 3:57; Jr 17:7-8; Mt 6:25-34; 11:28; 13:22; Lk 21:34; Jn 14:16-18,27; 2Co 7:4-6; Hb 12:2-3; 13:5-6; 1Pt 3:14,17; 4:19; 5:7-10; Rv 2:10).

Learned and received and heard and seen in me: A noteworthy instance of the authoritative nature of apostolic transmission (received), oral proclamation (heard), and godly example (seen). The Christian Apostolic Tradition (paradosis=tradition) is both delivered and received (cf. 1Co 11:23; 15:1-3; Gl 1:9,12; 1Th 2:13; 2Th 3:6). In context, it is clear that this is usually an oral proclamation (cf. Is 59:21; Lk 10:16; Rm 10:17; 1Co 11:34; Gl 3;2,5; Ep 3:3; 2Jn 12; Rv 3:3), as opposed to a written word encapsulated in Holy Scripture – though indeed much of it (but not all: Jn 20:30; 21:25) later was recorded in Scripture, by the inspiration of God, recognized by authoritative Church Councils. Oral traditions nowhere found in the OT have been authenticated in the NT (e.g., Mt 2:23; 23:2-3; 1Co 10:1-4; 2Tm 3:8; Jm 5:17). Clearly, the 16th century notion of sola Scriptura, or Scripture Alone as the rule of faith, is not itself the biblical teaching on authority. At 2Co 3:1-6, St. Paul even uses the written word as a metaphor for oral transmission of the gospel message ( ! ) – one could see in the Corinthians what was passed on to them by the Apostle: . . . you show that you are a letter of Christ delivered by us, written not with ink but with the Spirit of the living God . . . (2Co 3:3). See also related commentary for Ph 1:5 ("Gospel") and 3:17 ("Imitating me").

I can do all things: (cf. Nh 8:10; Ps 37:24; 46:1-2; 55:22; 59:9; 62:5-8; 73:26; 145:14; Is 40:29-31; Rm 16:20; 1Co 15:10; 2Co 12:9; Ep 1:19; 6:10-12,16; Cl 1:11; 1Th 1:5; 2Th 3:3; 2Tm 1:7; Hb 13:19). The magnificence of God's strengthening assistance is perhaps most strikingly expressed by St. Paul at 2Co 9:8: And God is able to provide you with every blessing in abundance, so that you may always have enough of everything and may provide in abundance for every good work. See also the commentary immediately below.

God will supply every need: (cf. Ps 145:16; 1Co 10:13; 2Co 1:4-5,9; Hb 2:18; 2Pt 2:9). God supplies our needs by means of the power of His indwelling in our hearts (Ex 31:2-3; Jn 14:23; 1Co 3:16; 2Co 6:16), and by His grace, which comes in various measures, according to our need and the task set before us (Ac 4:23; Rm 12:6; Ep 4:7; Hb 4:15-16; Jm 4:6; 1Pt 4:10; 2Pt 1:2). See also the commentary immediately above.