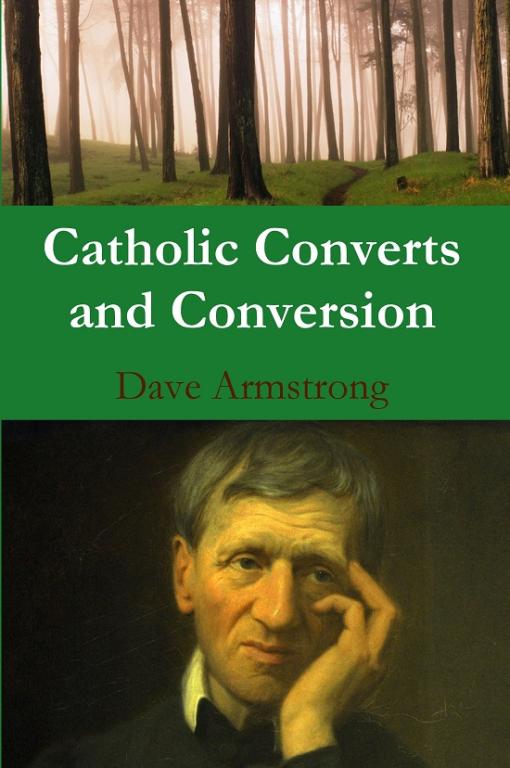 [237 pages. Completed on 8 April 2013 and published by Lulu on the same day]
[cover design by Dave Armstrong]
***
— for info. on purchasing a paperback or e-book, go to the bottom of the page —
INTRODUCTION
***
The early 1990s were a very exciting time in the Catholic world, in terms of an increasing flow of converts into the faith, and the advent of the "modern apologetics movement." Dr. Scott Hahn, a former Presbyterian minister (and anti-Catholic) was received into the Church at Easter 1986, and immediately started making a splash with his exciting conversion testimony: delivered in a way that only a former evangelical pastor can do it!
Meanwhile, Karl Keating, trained as an attorney, began publishing The Catholic Answers Newsletter in August 1986 (evolving into the magazine, This Rock, four years later). In 1988, his book, Catholicism and Fundamentalism (San Francisco: Ignatius Press) was published, and shortly thereafter, he formed Catholic Answers: the largest and (by far) most influential Catholic apologetics organization.
Thus, 1986 may be regarded as the starting-date of the current "Catholic apologetics / influx of converts revival" — with Hahn and Keating as the two founding fathers (Hahn being the convert and Keating the lifelong, or "cradle" Catholic). It is now 27 years old and flourishing, with the massive help of the Internet: another innovation of the 1990s, EWTN, and Catholic radio.
But these two "fathers" were by no means alone. Many more became involved in apologetics outreach; notably, Patrick Madrid and Fr. Peter M. J. Stravinskas (cradle Catholics), and Jimmy Akin, Mark Shea, Thomas Howard, and Peter Kreeft (all converts).
Also, during this period, in 1993, Marcus Grodi began The Coming Home Network. It provided pastoral support for Protestant clergy and others who were becoming Catholics or already convinced. Many are familiar with Marcus' EWTN television show, The Journey Home. I later worked for CHN (2007-2010) as a staff moderator on their Internet forum.
Moreover, the Defending the Faith conferences at the Franciscan University of Steubenville, provided a fertile meeting ground for all of these connected movements to network together.
In metro Detroit, where I grew up and still reside, we had a little apologetics / conversion revival of our own. I became convinced of Catholicism by October 1990; and my non-denominational pastor from 1986 to 1989, Al Kresta (now a Catholic radio talk show host and author), returned to the Church a few years later, followed not long after by the conversion of Steve Ray, who is well-known as an author, public speaker, and host of the Footprints of God video series.
I had been friends with both men since 1982. We were all rapt admirers of the Presbyterian popular apologist, Francis Schaeffer (1912-1984). Steve had personally studied with him, Al portrayed him in a play, and I named my Protestant campus ministry after a phrase of his ("true truth"). How odd and completely unexpected that we now all found ourselves in the Catholic Church!
Al and I were privileged to have our conversion stories included as the last and second-to-last entries in Pat Madrid's huge bestselling book, Surprised by Truth (San Diego: Basilica Press, 1994), while Steve told his story in his volume, Crossing the Tiber (San Francisco: Ignatius Press, 1997).
Apologist, author, and cradle Catholic Gary Michuta was also active in southeast Michigan by the mid-90s (when I first met him), giving talks and publishing a magazine, Hands-On Apologetics, that might be described as Michigan's version of This Rock.
It's been a long and exciting journey for all of us in the apologetics movement, and especially for those who are converts or "reverts." I'll tell my story at some length in Part II of this book. Part I is devoted to various analyses of the conversion process, while Part III consists of a collection of older conversion stories (now in the public domain) that have a timeless quality: highlighting reasons for becoming Catholic (that is, apologetics).
This book provides (from many different angles and approaches) explanations of "how and why" men and women become Catholics or return to the Catholic Church after having left it. I hope and pray that this book will be an encouragement and aid to faith and confidence to those already Catholic, and a persuasive tool, by God's grace, for those who are on the road to the Catholic Church, or who may yet to be persuaded to embark on that narrow but exceedingly bright road.
To my fellow Michigander apologists, who are converts, have returned to the Church, or experienced a great personal revival as Catholics: Al Kresta, Steve Ray, and Gary Michuta. I treasure your friendships and the wonderful work that you do for Holy Mother Church. Carry on, brothers!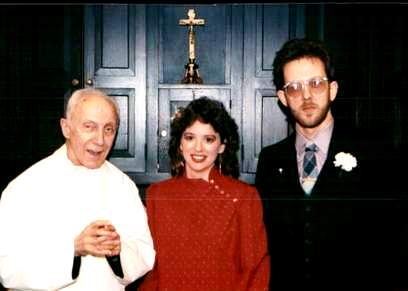 I was received into the Catholic Church (and Judy returned to it), on 8 February 1991 (I was 32), by the eminent catechist and author, Servant of God,  Fr. John A. Hardon, S. J.
*
[photograph by Tom McGlynn]
Dedication (p. 3) [read above]

Introduction (p. 5) [read above] 
PART I:
ANALYSES OF CATHOLIC CONVERSION
***
1. Conversion to Catholicism: Is it Usually Reactionary and Emotional, or Proactive and Rational? (p. 11) [online excerpt: Facebook]
2. Catholic Mariology, Authority, and Various Other Qualms of Protestants Considering Conversion (p. 21)
3. Dialogue on Irrational Hostility to Catholic Conversion Stories (Particularly Scott Hahn's) (p. 31)
4. Conversion and Historical Ecclesiological Arguments (p. 39) 
5. Replies to 101 Questions for "Romanist" Converts (p. 45)
6. St. Augustine's Confessions as the Prototype of Today's Better-Known Catholic Conversion Stories (p. 61)
 ***
PART II:
MY OWN CONVERSION SAGA 
***
7. My Journey: From Clueless Spiritual Curiosity through Heartfelt Evangelicalism, to the Fullness of Catholicism (p. 69)
[early life] ["Great Depression" spiritual crisis] [books read while evangelical] [description / summary of this section] [all four excerpts were posted on Facebook]
 ***
PART III:
TIMELESS CONVERSION STORIES
(EMPHASIZING APOLOGETICS ELEMENTS) 
***
8. Dom John Chapman (p. 145)
9. James Britten (p. 151)
10. Dom Augustin Daniels (p. 157)
11. W. T. Gorman (p. 163)
12. Hartwell de la Garde Grissell (p. 169)
13. George Hare Patterson (p. 173)
14. C. Kegan Paul (p. 181)
15. Walter Croke Robinson (p. 189)
16. W. O. Sutcliffe (p. 199)
17. C. J. Watts (p. 203)
18. Charles Fisk Beach, Jr. (p. 207)
19. Harriet Brewer Churchill (p. 215)
20. Susan L. Emery (p. 219)
21. Julia G. Robins (p. 223)
22. Justine Bayard Ward (p. 233)
Last updated on 3 June 2023