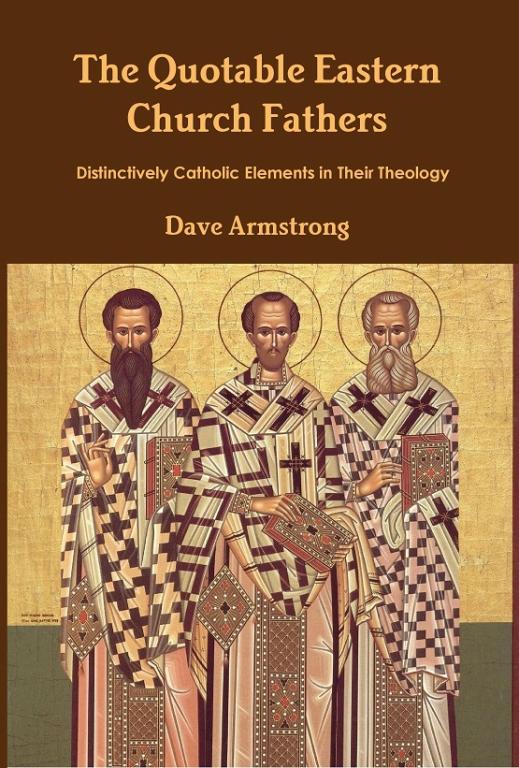 [completed on 8 July 2013, 303 pages, and published at Lulu on the same day]
[cover design by Dave Armstrong]
— For purchase information, go to the bottom of the page —
***
Misc.
***
*
*
*
Introduction and Sources
***
This collection is devoted to documentation of examples of "distinctively Catholic" theological beliefs or doctrines in the Eastern Church fathers; that is (very broadly speaking, or generalizing), ones in harmony with historic Catholic teaching but differing in some way from one or more strains of Protestant theology (including liberal theology) or Eastern Orthodox views.
*
Quotations will be drawn from the "Three Holy Hierarchs" of Eastern Christian Tradition: St. Basil the Great (c. 330-379, abbreviated as "B"), St. John Chrysostom (c. 345-407, "JC"), and St. Gregory Nazianzen (c. 330-c. 390, "G"). St. Athanasius (c. 297-373, "A") is usually added to this list, and these are the Four Great Eastern Doctors of the Church.
*
Additionally, the following four fathers are included: St. Cyril of Alexandria (c. 376-444, "CA"), St. Ephraim [or, Ephrem] of Syria (c. 306-373, "E"), St. Cyril of Jerusalem (c. 315-387, "CJ"), and St. John Damascene [or, John of Damascus] (c. 676-749, "JD"). All eight men are designated as "Doctors" of the Catholic Church.
*
Quotations are drawn from the public domain works listed below; using the abbreviations in quotation marks, as a quick reference. All of these sources are found online at the magnificent Christian Classics Ethereal Library website. I am greatly indebted to it for making the compilation of this book far easier than it would have been, prior to the Internet.
*
Early Church Fathers: Nicene and Post-Nicene Fathers Series 1 ["NPNF1-"] (Philip Schaff, editor, Edinburgh, 1889, 14 volumes).
*
Early Church Fathers: Nicene & Post-Nicene Fathers Series 2 ["NPNF2-"] (Philip Schaff and Henry Wace, editors, Edinburgh, 1900, 14 volumes).
*
A Library of Fathers of the Holy Catholic Church, Anterior to the Division of the East and West, Translated by Members of the English Church ["LFC43" / "LFC47" / "LFC48"] (Oxford: James Parker & Co. / Rivingtons, 1881; Volumes 43, 47, and 48).
*
Commentary on Luke ["CL"] (St. Cyril of Alexandria, translated by R. Payne Smith, Oxford University Press, 1859).
*
S. Ephraim's Prose Refutations of Mani, Marcion and Bardaisan, by C. W. Mitchell, Vol. 1 of 2 ["EPR"] (London: Williams and Norgate / William Clowes & Sons, Ltd., 1912).
*
St. John Damascene on Holy Images, Followed by Three Sermons on the Assumption ["JDHI" / "JDA"] (translated by Mary H. Allies, London: Thomas Baker, 1898).
* 
Index of Topics
Angels, Guardian 11
Angels, Veneration of 11
Apostasy (Falling Away from the Faith or Salvation)
13
Apostolic Deposit 15
Baptism and Being "Born Again"
22
Baptism and Justification
/ Sanctification 24
Baptism, Method or Mode of 29
Baptism, Schismatic or Heretical 31
Baptismal Regeneration 31
Bishops and Church Government 35
Caesaropapism, Falsity of 37
Celibacy and Consecrated Virginity 38
Children, Salvation of 40
Church, Indefectibility of 43
Church, Infallibility of 43
Confirmation, Sacrament of
45
Conscience, Examination of 46
Contraception; Contralife Will 46
Denominationalism; Sectarianism 58
Development (of Doctrine) 60
Dissent (from Catholicism)
61
Eucharist and Salvation 62
Eucharist: Closed Communion 65
Eucharist: Real Substantial Presence 66
Eucharist: Transubstantiation 74
Evangelical Counsels 76
Evil 78
Faith Alone (Falsity of) / Antinomianism 81
Fasting and Abstinence 94
Free Will and God's Foreknowledge 98
God: Anthropomorphism 100
God: Circumincession / Coinherence /
Perichoresis
102
God: Creation
Ex Nihilo
105
God: Holy Spirit /
Filioque 
Issue 106
God: Immutability, Simplicity, and Self-Sufficiency 113
God: Sustainer of Creation 123
God the Father: Invisible in His Essence 125
God the Father:
Monarchia
/
Principatus 
of
127
Grace: Degrees or Greater Measure of 131
Grace, Irresistible (Falsity of) 131
Hardening of the Heart 132
Hell (Eternal Punishment) 134
Images, Icons, and Statues: Use and Veneration of 140
Jesus Christ: Supposed "Ignorance" of Certain Matters
145
Justification, Infused (Sanctification) 149
Justification, Ongoing / Multiple 153
Mary: Bodily Assumption of 155
Mary: Mother of God (
Theotokos
) 157
Mary: New Eve; Second Eve
163
Mary: Perpetual Virginity of 163
Mary: Virginity
In Partu 
(During Childbirth) 168
Mass, Sacrifice of (and the Crucifixion)
172
Mortification and Self-Denial
176
Original Sin
; Fall of Man 
178
Orthodoxy (Correct Beliefs) 179
Paganism and Christianity
181
Papacy; Popes; Papal Primacy 182
Penance /
Temporal Punishment of Sins 185
Peter: Successors of (as Popes) 195
Prayer (of the Righteous)
196
Priests:
Alter Christus
196
Priests; Sacrament of Holy Orders
196
Priests and "Call No Man 'Father'" 199
Purgatory; Preparation for Heaven in the Afterlife (and This Life) 200
Rationalism (in Opposition to Faith) 201
Reprobation; Causes of Damnation
206
Rule of Faith / "Three-Legged Stool" (Bible-Church-Tradition)
214
Sacraments and Salvation 219
Sacraments:
Ex Opere Operato
219
Saints: Awareness of and Contact with This World
220
Saints, Invocation and Intercession of 224
Saints, Veneration of
225
Salvation, Instant (Falsity of) 237
Salvation, Moral Assurance of 240
Scripture: Deuterocanon 246
Scripture: Hermeneutics (Interpretation) 254
Scripture: Inerrancy and Infallibility 255
Scripture: Inspiration of
256
Scripture: Old Testament 258
Scripture: Perspicuity (Clearness of) 260
Scripture: Septuagint (Ancient Greek Translation) 265
Sin: Mortal and Venial 265
Suffering, Redemptive (Participation in Christ's Suffering) 266
Synergy: Cooperation with God's Grace as "Co-Laborers" 269
Theosis; Deification; Divinization
274
Total Depravity (Falsity of); Human Nature 280
Works, Good (in Grace)
295
Works of the Law / "New Perspective on Paul" 296
Worship (Latria) 297


Excerpts
[all on Facebook unless otherwise specified]
 *
 *
*
 *
 *
 *
 *
 *
 *
*
 On Synergy: Cooperation with God's Grace as "Co-Laborers"
Citation of Ecclesiasticus [Sirach] as Scripture
On the Spiritual Benefits of Baptism
On the Falsity of "Faith Alone"
On the Moral Assurance of Salvation
On Free Will and God's Foreknowledge (Romans 9)
On the Veneration of the Saints
On the Definition of the "Gospel"
St. Athanasius
On God as the Sustainer of Creation
On the Power of the Sign of the Cross
On the Falsity of Caesaropapism
On Theosis; Deification; Divinization
On the Rule of Faith ("Three-Legged Stool" of Bible | Tradition | Church)
On Mary, Mother of God (Theotokos)
St. Basil the Great
 
 On Oral Tradition as Authoritative, Even Concerning the Doctrine of God
On the Falsity of Instant Salvation
To St. Athanasius, Suggesting That the Pope Should Suppress Heresies and Schism in the Eastern Church
On Faith and Reason

On the Supposed "Ignorance" of Jesus Christ (The Last Days)
On Mary, Mother of God (Theotokos)
St. Gregory Nazianzen
On the Perspicuity of Scripture and the "Me, My Bible, and the Holy Spirit" Mentality
***
***
Last updated on 25 September 2020.